This article originally appeared May 2017.
For more than a decade St. Thomas foreign language dean Bill Dooley has served as an apostle of the human spirit, frequently chaperoning student groups to Central America to provide humanitarian welfare and promote the advancement of social reforms.
He has mastered a familiarity with such excursions, "a definite comfort level.  I've done them so often I could probably organize and execute them blindfolded."
However, the most recent seven-day stay that would take nearly two dozen Eagle students to Cuba brought a decided swirl of doubt and apprehension.
"Yes, this time I was a bit more nervous," Dooley admits.  "What do you expect when you enter a Communist country?  You don't really know."
The auspice was an educational and cultural exchange with everyday Cuban citizens, placing a value on just talking to people, extending kindness and sympathy to other human beings.
After a split between beleaguered Havana and an organic farming area six hours into the rural wilderness, Dooley marveled that "I've never been prouder … just fantastic … never an issue from any front.  The students never had to be asked to do anything … never had to be prompted.  They were more than willing to engage with people who simply wanted to tell their story.
"One older Cuban who must have been close to 90 described the relationship between the United States and his country … said it wasn't all our fault … wasn't all your fault … it was both of our faults.  And that was surprising to hear.  It has really stayed with me."

As expected the Eagles were greeted by a Havana stuck in a 1950s time warp … working-class neighborhoods dotted with decaying apartments and crumbling buildings on streets clogged by uncollected trash … never-ending parades of classic American cars rattling through ramshackled roads … political propaganda displayed on faded billboards … much of Cuba's capital city in a dire state of disrepair thanks to years of hardship under Communist rule, the lingering effects of more than a half-century of the U. S. economic embargo, and the collapse of the Soviet Union with the sudden end of its decades-long economic patronage.
Yet Dooley was at times overwhelmed simply by "the warmth of the Cuban people … so welcoming … their perseverance astounding.  Given the Communistic rule I anticipated something more along the lines of North Korea.  But people would sit down with you.  They were curious what we had to say, and in turn we became more and more curious what they had to say."
The St. Thomas students were guided through historic sites, museums, schools, farm cooperatives and other places that provided a rare glimpse into a way of life that has been closed to Americans for generations, "the hotel where (notorious gangster) Al Capone used to stay … Chinatown where there are no Chinese restaurants … just the signs."  
The students traveled with collective eyes and ears alert to bring back an accurate picture of what Cuban life is actually like, discovering that the people are, in general, markedly and warmly disposed to Americans.
Matthew Harris '17 spent "an hour talking with an older woman in the casa de los ancianos … learning about her life … a history teacher … a regular church goer at the cathedral.  She told me what she thinks about the U.S. … asked me what I thought about (President) Trump and (former President) Obama.  I was surprised she was that interested and aware of American events."
Dooley grew up fascinated by the Caribbean's largest and, arguably, most intriguing island, just 90 miles from his Tampa-St. Petersburg community which housed a strong Cuban population with influences that carried beyond the iconic Ybor City neighborhood.
Dooley remembers that traveling to Cuba was "something that always captivated me.  I had a number of Cuban friends growing up and many of my language teachers were from Cuba (following the Mariel Boatlift which brought more than 125,000 Cuban refugees to south Florida between April and September 1980).  When I saw this chance, I thought this would truly be a once in a lifetime opportunity.  In a few years, there will likely be a Starbucks on every corner.  The change is happening.  Soon Cuba will not resemble at all what it looks like now."
No doubt that the inevitable McDonald's will soon open in Havana's first mega-mall.
The struggling country of 11 million people has been moving slowly toward free-market changes, with measures to further ease trade, travel and financial restrictions in place for decades.
Full-throttled tourism on the island is booming in the wake of the normalization process initiated by the United States and Cuba in 2014.
A century-old shopping arcade has morphed into a temple of conspicuous capitalism touting brands such as Chanel, Mont Blanc, L'Occitane and Lacoste, leaving older Cubans stunned at the sight of goods worth more than a lifetime's state salary.
But the St. Thomas entourage also encountered an urban decay that somehow provides a huge part of the city's unique charm, absorbing the sights and Afro-Cuban sounds less than two years since the official reopening of the long-shuttered U.S. embassy in Havana and only four months after El Comandante Fidel Castro died after 50 years as Cuba's maximum leader of Communist revolution and totalitarian government.
Some of which is a Cuba Juan Castillo '18 has gained "from textbooks.  And I had seen the television version but I wanted a smash immersion of reality."
Castillo had previously visited Dominica, a sovereign island in the Eastern Caribbean, and found Havana's "architecture to be a real mix.  The city itself almost resembles the U.S. but the rural areas are much more Caribbean."  
Harris had joined Dooley's previous calls to Costa Rica and Nicaragua where "the emphasis was more tightly described 'mission work.'  The poverty and deprivation was extreme.  You returned from those trips feeling you have many more individual advantages.  The contrast with the Cuba experience is more from a pure political standpoint.  The people are provided for in many ways … housing, jobs, education, farming equipment.  This trip was much more about learning the Cuban culture and engaging the people."
Which was the exact chord Dooley hoped to strike, aside from the satisfaction that the Eagle students developed a deeper and broader context for the long and tangled history between two former Cold War foes.
"My greatest takeaway was that they returned with a greater appreciation and understanding of another culture," Dooley says.  "I wanted them to see that we're really not all that different as people … the same dreams … the same desires … the same needs.  There's much more in common than there is different.  What we discovered working on the farms or in the senior center was that the only real barrier is language and that can easily be overcome."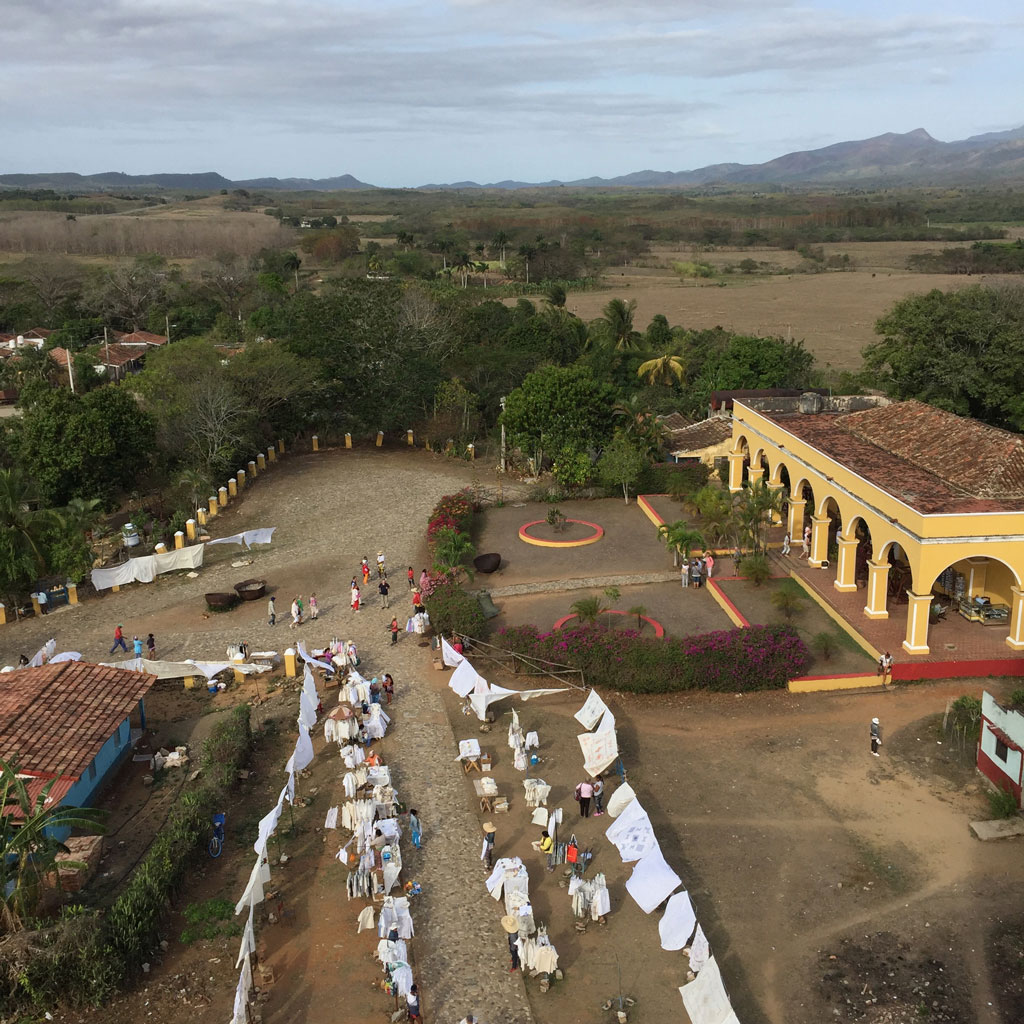 Among the Eagles who participated on the cultural exchange visit to Cuba were Henry Adair '18, Henry Batt '18, Julian Cantu '17, John Cordes '19, Johnathan Evans '19, Josh Falcone '18, Diego Garcia '18, Noah Kotlarek '18, Jacob Lara '19, Alex Lee '18, Matthew O'Connor '19, Plato Pappas '19, Gabriel Rios '18, Haden Ritchie '18, Thomas Roberts '18, Matthew Soto '18, Ryan Wagner '18 and chaperone Rafael Garcia.
Catholic.  Basilian.  Teaching Goodness, Discipline and Knowledge since 1900.