Benjamin Lauzon '24 blazed to a top-10 result while Brett Koehn '22, Patrick Bourg '23, and Emilio Castaneda '21 packed a trio of sizzling times to pace Eagle Cross Country to a third consecutive second-place standing at the TAPPS 6A State Championships.
The Eagles totaled 59 points to decisively separate from San Antonio Central Catholic, El Paso Cathedral, San Antonio Christian, and Fort Worth Nolan for the runner-up position and push three-time state champion San Antonio Antonian College Prep.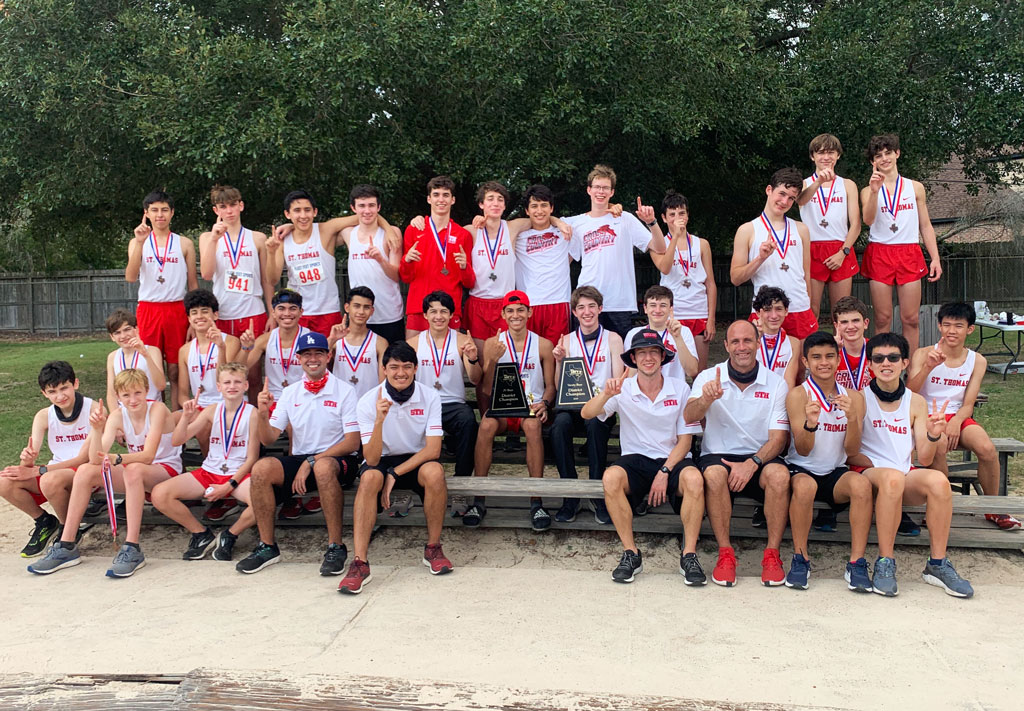 Lauzon clocked the 5,000 meter layout at the Midway ISD course outside of Waco in 17:00.7 to seize eighth place.  He was the only freshman runner among the top 22 performers.  Koehn (17:06.2), Bourg (17:10.2), and Castaneda (17:11,5) closed collectively to capture 10th, 11th, and 12th overall. Richard Gerlach '21 (17:31.0) crossed in 18th to complete the impressive St. Thomas team total. 
The latest state results concluded a richly rewarding season in the 16th campaign for Nathan Labus who has been associated with the program for a quarter century.  High school distance runners traditionally have no offseasons and grueling training programs in the chase for excellence. But in the age of COVID-19, all athletic routines were rattled in response to the coronavirus pandemic. The intrinsic motivations and necessary resolve for a team to selflessly dedicate to a campaign no one could guarantee would finish reflects the superior championship culture instilled by Labus and embraced by his scholar-athletes.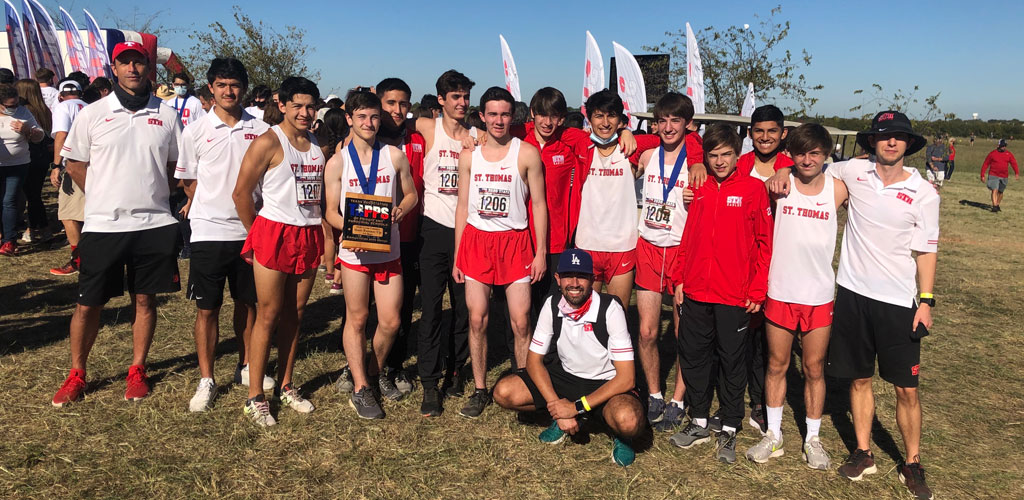 "I'm so proud of how the team stepped up and competed," Labus says.  "They ran with heart, passion, and for one another. We have such a great group of guys this year. I would also like to recognize our assistant coaches … Danny Hernandez (Class of 2008), Holden Hollingsworth, and Michael Erickson. We would not have accomplished what we did if it was not for them."
Eagle Fight Never Dies!