St. Thomas annually honors the spiritual bond that unites Eagle scholars and their fathers with the traditional Father/Son Mass, a morning liturgy and affirmation of faith which speaks to the very fabric of the school's Basilian identity.
Continuing its vigilant response to the coronavirus pandemic, St. Thomas rebooted the 2020 celebration into two socially distanced events in Granger Stadium – one each for the Aquinas and Basil student groups on November 4 and 5.
President Fr. James Murphy, CSB served as the principal celebrant and authored an inspiring homily for a devout gathering that included many second-generation Eagles as well as supportive grandfathers and mentor fathers in attendance.
We have been entrusted with a Basilian legacy to pass on to those who come after us because that tradition is not ours to own. I would suggest that our current student body will pass on a greater resilience (after enduring Hurricane Harvey and COVID-19) that future Eagles will receive … a greater understanding of authentic brotherhood that perhaps has not always been perfect in the past … but we work toward a higher ideal in how we care for each other, how we stand for each other, and how we speak of and for and with each other. We are a blessed and holy community made more blessed and more perfect each and every day by how we love each other.
President Fr. Murphy encouraged Eagle scholars to embrace conversations with previous St. Thomas generations and "then think for yourself what values and what hopes do I want to pass on to my children because those values are not yours to own but to nurture and be allowed to flourish. Let that be our prayer today as we honor the members of our community who have passed by living our faith the best we can."
President Fr. Murphy believes prayer has been "a powerful weapon as the St. Thomas campus effectively copes with the pandemic. We will continue to grow in our faith and to strengthen our prayerful resolve. I encourage our constituents to join our regular Masses and worship opportunities, praying for St. Thomas and for all our needs."
St. Thomas Campus Ministry seeks to foster the individual and communal faith of students, faculty, and staff in ways that position the community first and assure individual respect and safety. Masses are available through Facebook Live Mondays and Fridays at 7:20 a.m. and Sundays at 9:00 a.m. Additionally, devotions to the rosary, Tuesday's with Thomas, and Liturgy of the Hours are valuable spiritual engagements that often ignite personal reflection.
As St. Thomas shifts the Eagle Hybrid Learning Model exclusively to remote status after the Thanksgiving holiday, the Mother/Son Mass will be reset for the spring semester, most likely in April.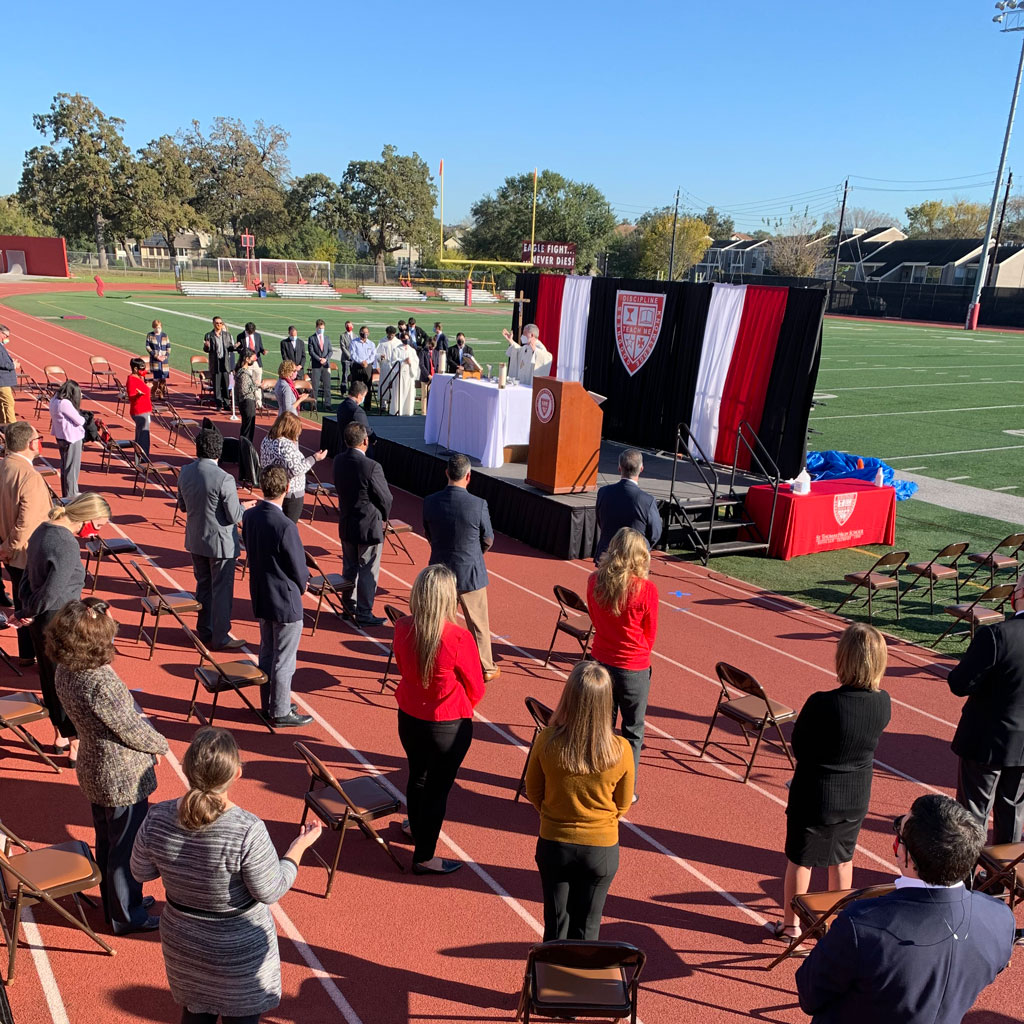 Catholic. Basilian. Teaching Goodness, Discipline and Knowledge since 1900.