As the pandemic roiled the country more than nine months after it landed on these shores, the St. Thomas community remained united in a confident commonality in a tumultuous time.
Graduates believe they owe to St. Thomas the best of what they've become, and also owe to the school the best of what they are passing on to their sons and daughters. They were imparted with the value of philanthropy, even (or especially) during the slow and scattershot reopening of the country.
The collective strategies that are sustaining St. Thomas in response to COVID-19 challenges also required adjusting the elegant Auction & Gala. The highly-anticipated event that annually fortifies the St. Thomas bonds and financially benefits the school's General Fund went virtual to assure the safety of all involved due to the pandemic concerns and mandates.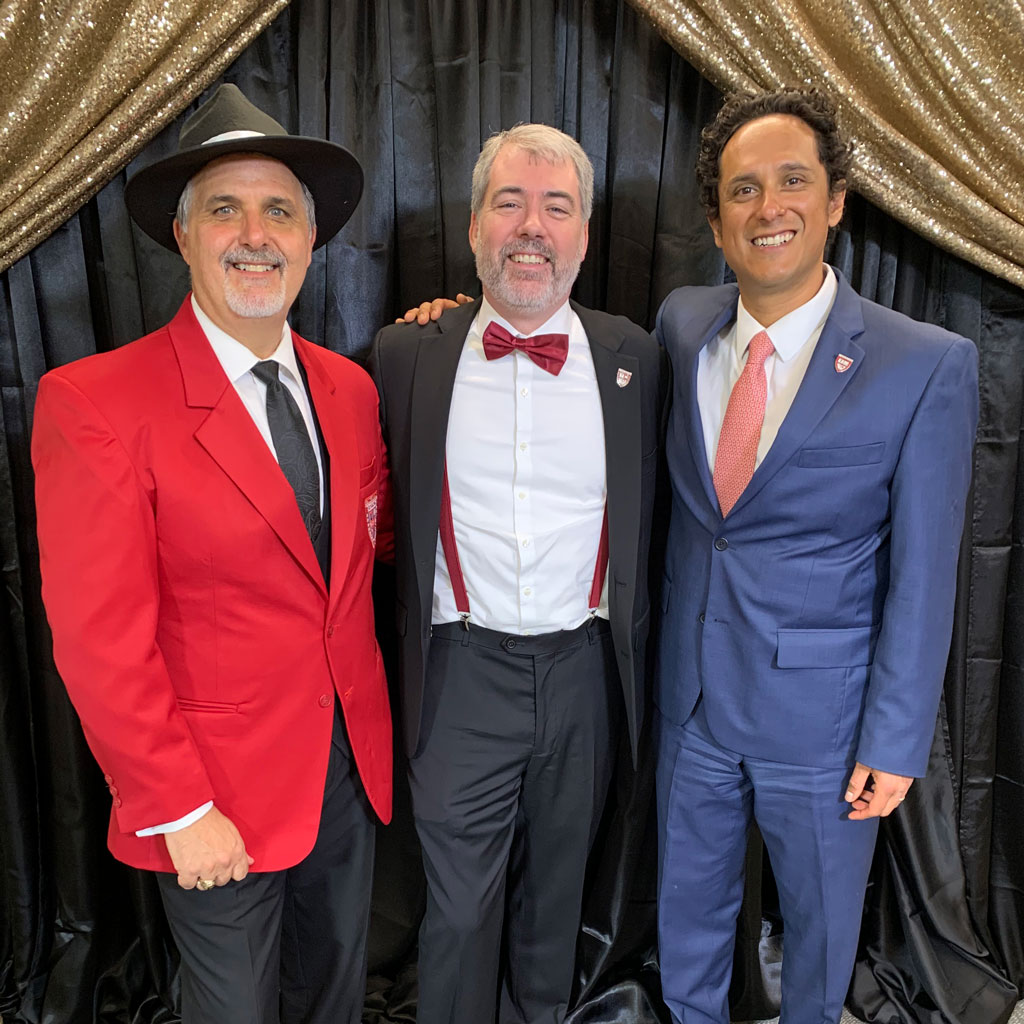 President Fr. James Murphy, CSB was joined by Principal Aaron Dominguez '96 and Vice President for Advancement Mark deTranaltes '83 as the live presenters on the school's STHCatholic YouTube channel. On November 7, no matter where Eagle supporters were residing, in Houston or outside the city, state, or region, they could join an uplifting evening filled with fine food and Basilian fellowship. Whether interacting alone or sharing in a watch party with friends or family, The 20's Roar Again brought together alumni, donors, and underwriters to support the remarkable legacy of St. Thomas.
"Health and well-being were paramount, and while we couldn't gather in typical fashion, we were thrilled to connect in the true values of goodness, discipline, and knowledge," deTranaltes says. "To make the kind of impact that duplicates an in-person fundraiser, it was important for us to provide our audience with a real-time experience. The excitement and sense of community that captivates donors to participate thrived in our online bidding and giveaways. We were blessed with an overwhelming response."
St. Thomas proudly partnered again with Damian's for gourmet catering as patrons indulged with a feast for the eyes and palate, all while celebrating with heart. They were wowed and tempted by specialty silent auction items. Bidders seized the most exclusive experiences during the evening's live auction and helped raise life-altering funds. The biggest and best night of the St. Thomas year would not be curtailed.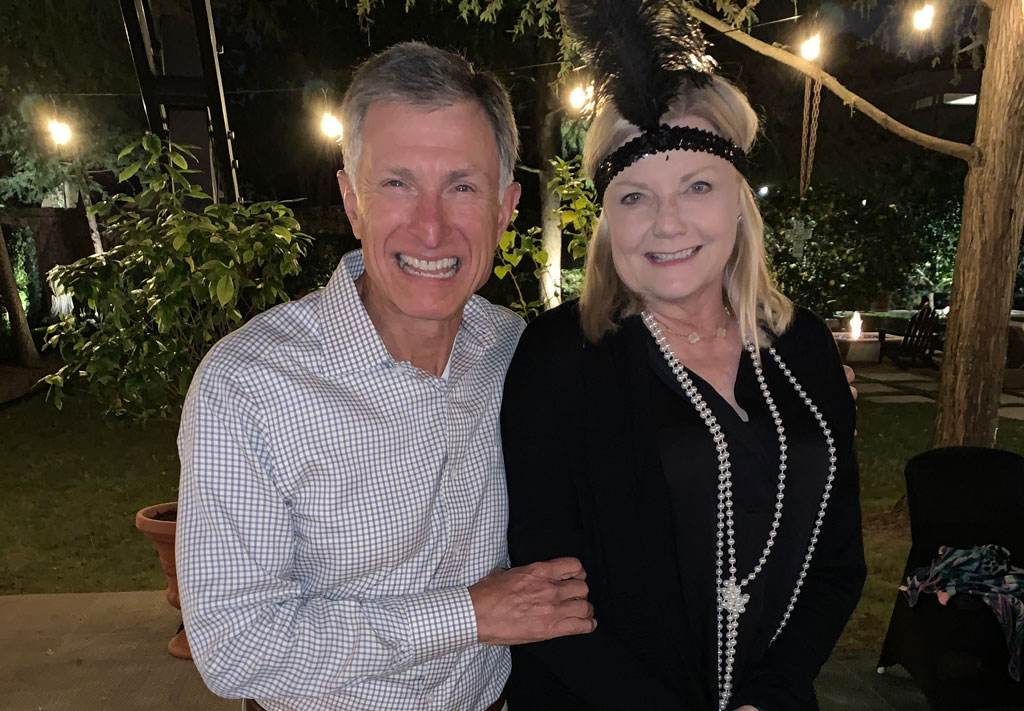 Esteemed graduate John Rathmell '75 was acclaimed for his lifetime success and contributions to the community and institution he cherishes with equal depth and measure. He is the president of Lockton Marine & Energy at Lockton Companies, part of a global professional services firm that has grown to become the world's largest privately held, independent insurance broker. Rathmell played an integral role in the 4500Forever capital campaign, the most ambitious in St. Thomas history raising more than $60 million for property acquisition to expand the campus north boundary. He has also continued on the school's Board of Directors following his emphatic tenure as president from 2014-17.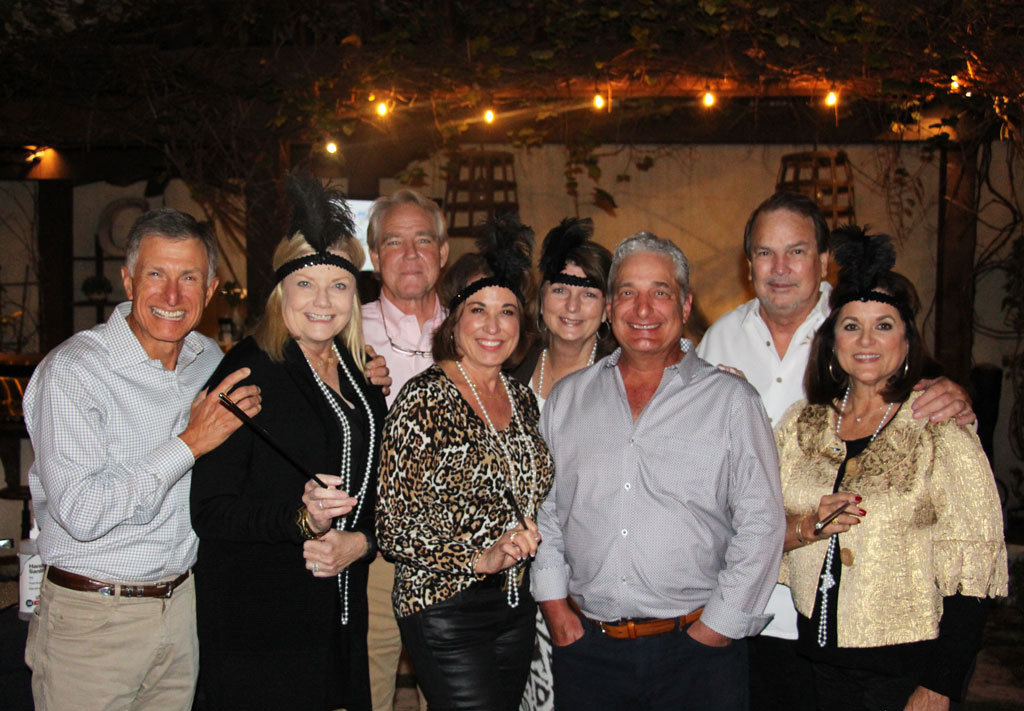 Rathmell reveled during the festivities with his wife Peggy; Vicki and Dana Grams '75; Rosanne and Dr. Chris Patronella '76; and Carol and John Rynd '75.
"It is humbling and gratifying to be recognized in such a way," Rathmell says. "When I looked at my life several years ago, I recognized that St. Thomas clearly had a great influence on who I became as a person. I had to give back. It was important for me to become more involved with the community, establish new relationships with the Basilians. And now through the property purchase and fundraising, my long-lasting friendships are even stronger and more powerful … wonderful and deeply rewarding. I tell people I'm from St. Thomas. I wear it like a badge."
Director of Special Events & Volunteer Coordinator Catherine Chandler teamed with co-chairs Christine and Keith Cummins; Julie and Jack Perry; and Catherine and John Rentz. Their passionate collaboration ignited action for an unmatched college preparatory experience where scholars grow in their faith and learn a devotion in service to others.
"That personal connection to St. Thomas was an inspiration to our volunteers and sponsors," deTranaltes says. "Their efforts energized our shared goals to ensure our continued success and to safeguard an accessible St. Thomas for future generations."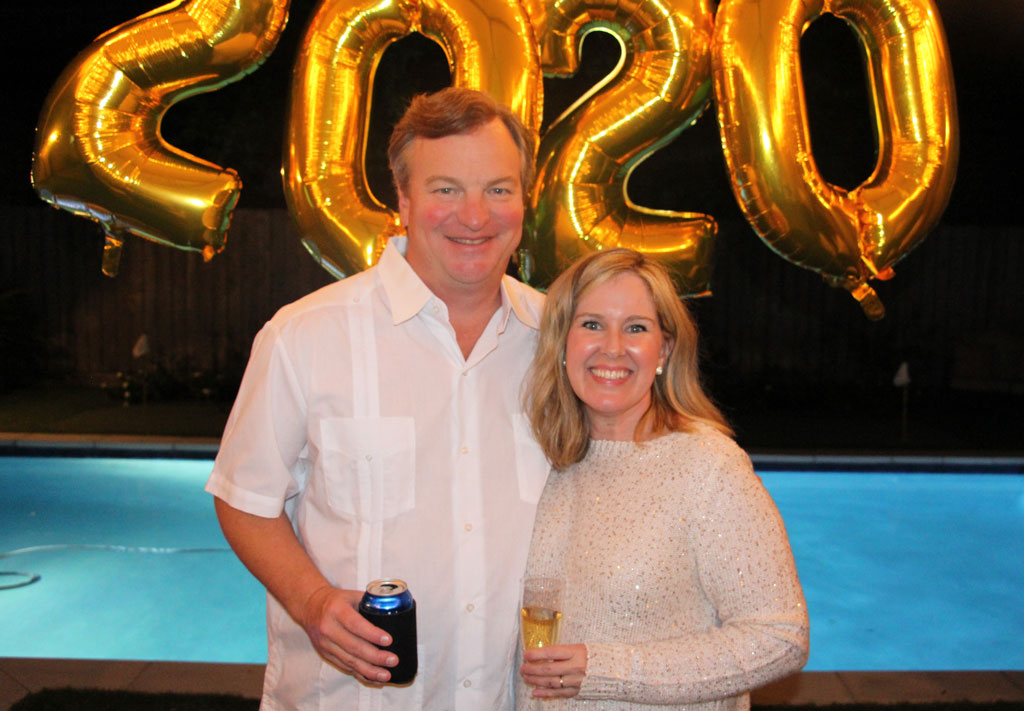 For generations, a litany of Eagle graduates has reached out to lift the institution – selfless loyalty that proves consequential in promoting Catholic Basilian ideals. For the past decade, Angie and Posie Clinton '91 have been vibrant St. Thomas ambassadors giving in a variety of roles. This year that commitment extended to hosting their usual Auction & Gala cast – Jennifer and Thomas Brandino '91; Jennifer and Brian Cronin '91; Rachel and David Hanse '91; Stella and Stephen Smith '91; and Emily and Trey Burke '94.
"We couldn't think of not being involved with St. Thomas in a meaningful way," Clinton says. "Tradition matters, whether it's on campus or here at home. When you see all the turbulence throughout 2020 … public health, lockdowns, economic crisis, social unrest … you center on the most important elements in your life. And for our group, St. Thomas qualifies among the most important."
As the institution continues to adjust to a COVID-impacted academic year, hope springs eternal that the pandemic will soon be corralled. But even in the face of hardships unprecedented in modern times, affirmations of the power and resilience of the St. Thomas' spirit have emerged.
"This extraordinary situation with the coronavirus requires applying everything we are as Eagles – leadership, integrity, excellence, respect for each other – to navigate daily demands," Fr. Murphy says. "It is so affirming to see us move forward together during this disruptive time. Our auction night is yet another example of why we absolutely believe we will emerge as a stronger community."
Eagles had once again looked at each other in the eye with calm, courage, and conviction, even if socially distanced. And they had chosen to focus on the ever-expanding horizon.
Catholic. Basilian. Teaching Goodness, Discipline and Knowledge since 1900.