This article originally appeared in April 2018 and was included in the 'Eagles' Nest' Spring 2018
Now that Jay Vaughn '15 has speed-raced to his degree from Texas A&M … studied in Spain among architectural savants… hip-hopped (at times, literally) from one Euro tapas playpen to another … skydived Dubai … taken stay within the ghettos of India … been received by kings and queens (just kidding, perhaps) … gauged and curried financial investors for his very own crafted startup while enterprising and leveraging an original software feature unlike any of his competitors … established a college scholarship program … all within closing time to his 21st birthday and all, when at age four, doctors were warning mom and dad he would never walk … isn't it time for what's next?
There's next, and there's Next. Lowercase next is about adjustment. To the weather, to the traffic. It's about dealing with change. Of place. Of circumstance.
What's Next, uppercase? Undefinable fury and undeniable intelligence and unbridled compassion and carefree charisma packaged to influence if not change the world.
What's Next? Jay Vaughn, that's what.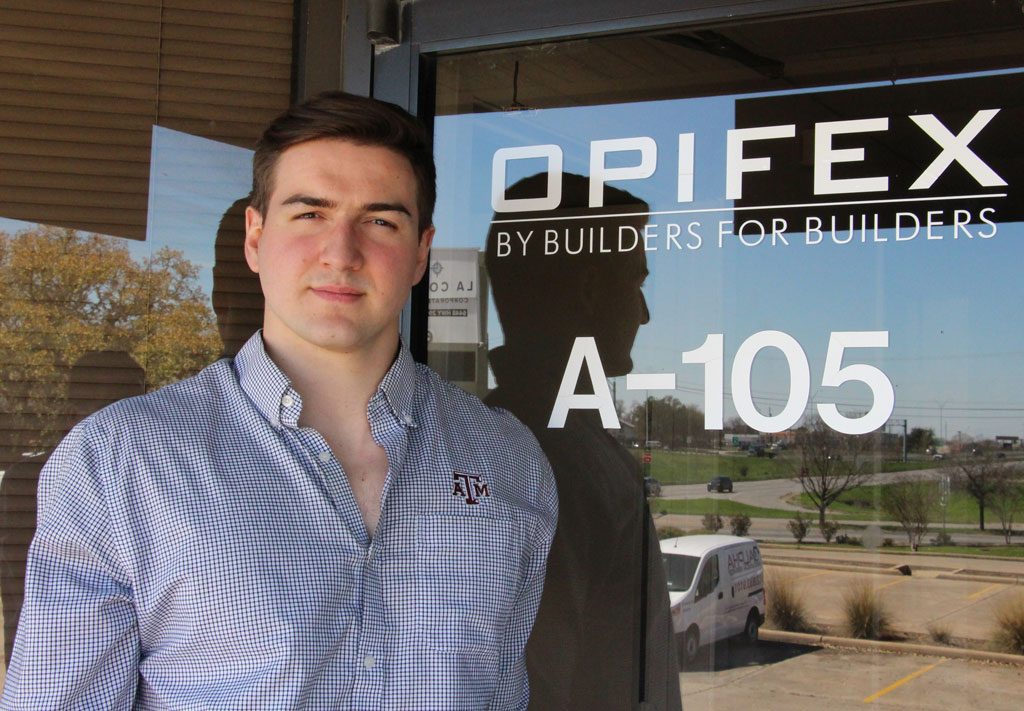 And the immediate next for Next is forging a premier construction equipment rental company in Austin. Vaughn's Opifex (Latin for craftsman, artisan, inventor) carries the brand "By Builders For Builders" with the full intent of continuing award-winning distinction in an industry where the Vaughn name is a gold standard synonymous with construction excellence and deals deep in the hundreds of millions of dollars.
And regardless of how far, how high Vaughn's border-less ambitions and altruism vault him, his first-day foray will be forever embossed on his brain.
"My first rental is a pump and I am so proud," Vaughn says. "Then I get a call from the client … pump is broken … so we thought. I couldn't believe it. Cancel my immediate schedule … meet him on the job site … start problem-solving. The pump still not working. In short time, I'm knee deep in mud trying to figure out the issue And I'm thinking … I could be almost anywhere else … back on the A&M campus … sleeping late after partying with my friends … back in Spain … working for Vaughn Construction … any number of options.
"And yet, I could not have been happier. This was mine. My company. My pump which wasn't working, and then it was. I'm making this happen."
Vaughn admits to temporarily tapping into an inner Jack Sparrow, mounting the sail like the boss and riding the ship as it sinks beneath the surface, epically stepping right from the top of the mast onto the dock at precisely the opportune time.
And since that slightly inauspicious entry to business reality, Vaughn is proving to be Sparrow-like suave, savvy and savage owing any situations he's a part of, metaphorically jumping straight into the mouth of the Kraken with a healthy dose of signature swag and saving-the-day optimism.
"I have great belief in my business concept and model," Vaughn says. "But the most important thing is to believe in yourself."
Such uncommon confidence is embedded in the Vaughn family bedrock.
Jay's grandfather Joe Vaughn '62 began working in construction as a laborer at age 12, eventually climbed through the trades and founded Vaughn Construction in 1988. One of the largest contractors in Texas, and a leading builder of healthcare, research, and higher education facilities throughout the state, oversaw many expansion and renovation projects on the St. Thomas campus, including the Lloyd Posey Webre Building.
Following Joe's death in 2014, Vaughn Construction remained family owned, steered by three fraternal kingpins. Jay's father Tom '85 is the chairman and chief executive officer, uncles Bill '87 the vice president/preconstruction director and Mike '89 the president.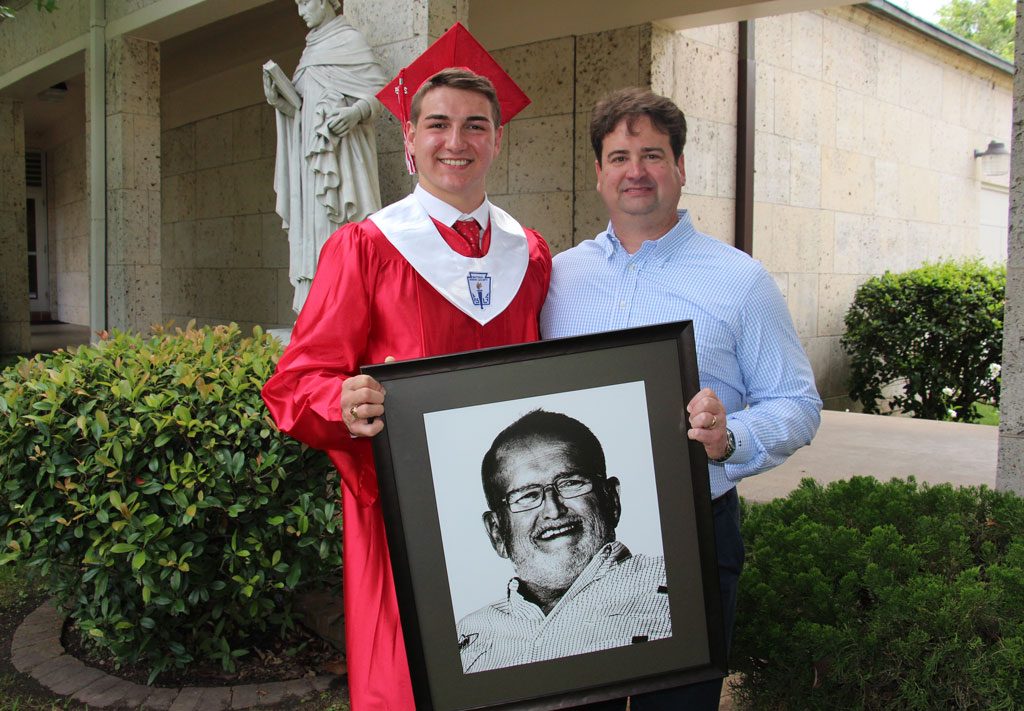 Jay followed their lead, springboarding from St. Thomas to Texas A&M. After slam-dancing through the Aggie Construction Science curriculum in less than three years, Vaughn carefully and strategically plotted a presence in Austin's tech sector, one of the top area's for venture capital funding in the country, with $800 million invested in 2016 according to the Austin Chamber of Commerce.
With the private equity flowing like the restless vibes from melody makers along the Red River music district, Vaughn aims to take full advantage of the extremely collaborative and social nature of the diversified ecosystem that fosters and encourages entrepreneurship.
"The plan is to be a rental company with software answers for business solutions, bringing analytics into the marketplace," Vaughn says. "I built a module to create daily and weekly reports automatically … easy to read PDF … what is being rented … for how long … decreases redundancy … increases efficiency. Rent from me and I'll provide the program as a value-add. When I approach superintendents who I would argue are among the smartest, most aware professionals in America, who have been managing multimillion-dollar capital projects about twice as long as I've been alive, I have to deliver some impact."
Vaughn brainstormed his concepts while engrossed in a 2017 internship with Luis Vidal+Architects, one of the largest and most progressive firms in Spain with a reputation for its large-scale public buildings. A St. Thomas contact, Arturo Chavez '85 (Senior Principal, Page Southerland Page, Inc.), provided the connection to a practice renowned for Madrid Airport's Terminal 4, Zaragoza Airport, and Heathrow Terminal 2, plus several hospital projects across Europe and Latin America, as well as museums, master planning, interior designs and product designs.
An extensive apprenticeship is mandatory for the A&M degree plan but Vaughn admits "not everyone goes international."
"I wanted to become fluent in Spanish," he says. "The Hispanic population in Texas is only going to continue to expand. I think it's irresponsible to want to own a large construction company and not be able to communicate effectively with a large sector of the labor force. It's respect.
"The immersion worked. The firm forced me out of my comfort zone. My superiors told me 'Your Spanish isn't great. You're going to learn.' We would be involved in projects, I would break into English and they would just ignore me. I learned very technical Spanish as it relates to construction. One of the major reasons I was there."
Vaughn also cultivated a sincere appreciation for the "right brain/left brain" genius shared by architects and construction managers in relation to project completion, gaining a valuable (if not essential) industry-collective mindset. He returned to Houston convinced he was ready to rock.
"I decided my business idea was too good to wait so I threw down the hammer, took 17 hours in the summer (of 2017) and then 19 in the fall to graduate in December," Vaughn says. "When I met with the academic advisors as a freshman and told them I was finishing in three and half years, they said that's not practical, the requirements are too demanding. With a semester internship, this is is essentially a four and half year process. When I shrank the timeline again, initially there was skepticism within the department but I guess I won them over. The faculty and advisors couldn't have been more supportive."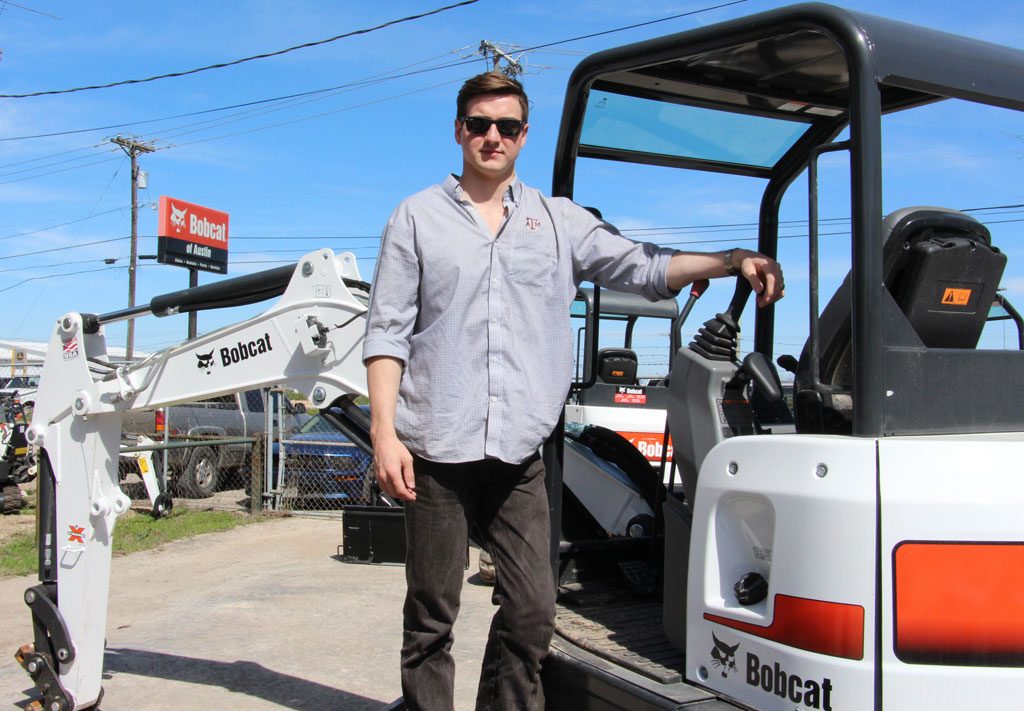 Vaughn's accelerated exit through academia was fueled by what his father would refer to as the Vaughn family "builder's spirit" and his mother's inspiring motivation to become "a striver. Whatever your aspiration, pursue it."
And such direction was never adjusted as Vaughn endured a life-long physical struggle prompting an act of adaptation to behold.
As an infant Vaughn was inexplicably stricken by vaccine-derived polio in his left leg, the extremely rare case of a disease prompted by the very remedy commonly used to prevent it.
Even without a left calf muscle and only 20% strength in his left hamstring, Vaughn sought normalcy, remained active in athletics through elementary school and St. Thomas, including a varsity career with Eagle Basketball. His perceived disability was often offset by intense physical therapy and mental discipline, as well as a gargantuan appetite for success and gregarious personality.
Vaughn's quality of life was then dramatically enhanced in 2011 when he was fitted with a dynamic bracing system – lightweight, custom-fit, black carbon fiber – that provided substantially more lower limb support.
Quickly realizing the device was cost prohibitive to many in the general population, Vaughn petitioned Blue Cross Blue Shield with a seven-page document detailing the life-altering impact. The health insurance giant took heed and altered its coverage policies to assure greater accessibility.
With a defy-the-odds attitude, Vaughn approached his father for consultation in weighing his immediate post-graduate options.
"His response was, 'It doesn't really matter what I think. What do you think is best?' I signed a five-figure lease agreement in Austin the next week."
That 2,000 square foot warehouse is along the U.S. Highway 290 industrial strip with immediate access to the Interstate 35 corridor for prime positioning. Vaughn is growing his inventory organically, from pumps to fans, generators to dump buggies, skid-steer loaders to hammerhoes.
"If a constructor calls and requests whatever and I don't have whatever in stock, I'll go out, make the purchase and secure the business," Vaughn says.
Vaughn currently serves as his lone full-time associate. He's in talks to add an upcoming A&M graduate in May and perhaps a third in August.
As Opifex expands, so will the company's dedicated stewardship. Vaughn is convicted when he says one of the most important lessons learned through his life is that very few people control their "thing."
"In many ways, we are a product of our environments. If I had been born in India with my physical challenge, I'm not getting out, right? The fundamental reason I can control my thing, who I am, who I may be, is that I have two loving educated parents who are willing to invest in me. I've been blessed, part of a select few. I believe it's essential for those like me to be leaders. So, as my company grows, we want to have a positive impact on communities."
With that objective, Vaughn is teaming with his former St. Thomas and A&M classmate Joseph Buckle '15 to provide the Saint Joseph Scholarship Fund catering to those with physical disabilities.
"The goal is to create a million dollar endowment during the next 10 years that pays for students with physical disabilities to attend college," Vaughn says. "The mission statement is 'activate ambitions through academic achievement.'
"When I was in high school I always thought athletics would be the ticket to gain a certain amount of equality and acceptance, and as I got older I planned to get kids involved in sports, sponsor athletic teams. The immediate payoff is awesome and the confidence building can be significant. But there's a ceiling. How long can you actually participate? Why not show the physically challenged they don't have to be like everyone else, but can still attend Texas A&M and graduate magna cum laude. Right now we have $20,000 in pledges.  The short-term goal is to raise $100,000 this year and award a $15,000 gift in August. It's just the start."
Sometimes what's Next is a retrofit, in this instance driven by the gene for giving, alive and passing through generations.
In 2013, a state-of-the-art 500 square-foot Vaughn Construction Student Collaboration Area at Texas A&M was made possible by a $150,000 gift from the company, part of the Francis Hall renovations which at the time were among 45 projects totaling more than $600 million that the company had built on the eight Texas A&M System campuses.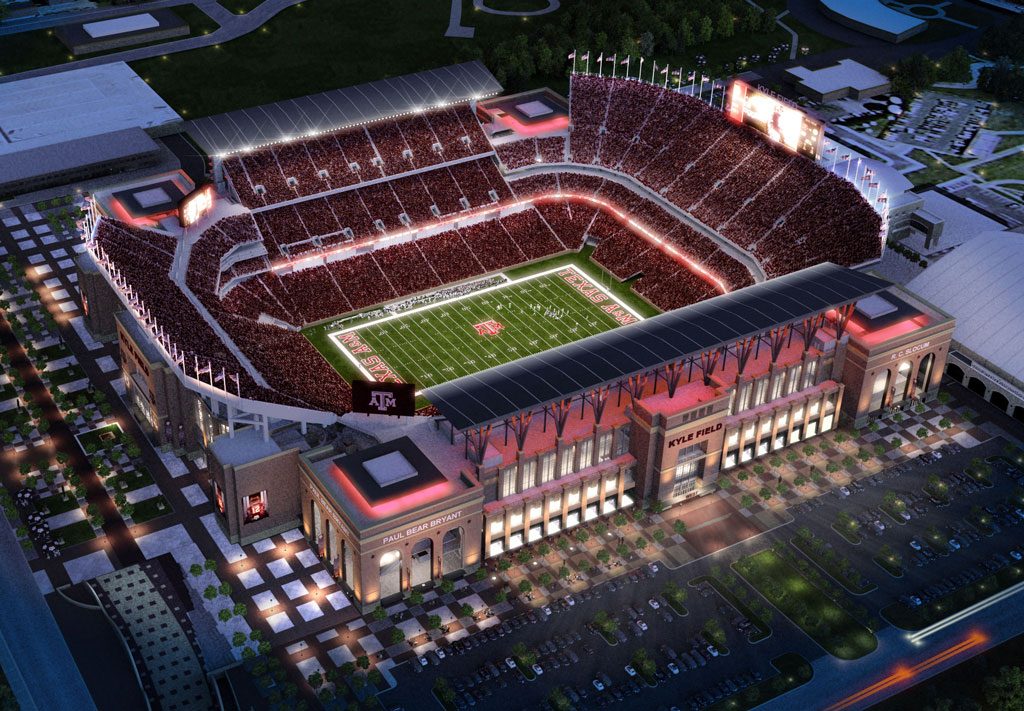 In September 2015, Vaughn secured a partnership in a joint venture for the redevelopment of Texas A&M's historic Kyle Field, and delivered the largest collegiate athletic construction project in history, at more than $1.3 million under budget.
The company has also established the Vaughn Construction Endowed Scholarship in A&M's College of Architecture, awarded each year to a construction science student based on academic achievement and financial need.
The ethic for such philanthropy was firmly rooted by patriarch Joe Vaughn who remains among the most cherished St. Thomas alumni largely for his years as a longtime Board member. He greatly supported scholarship students, not simply serving on the Financial Aid Committee but often reading each of the applications himself in order to connect more deeply with those who sought the Eagle experience but simply could not afford the full cost of attendance.
Jay's mother Suzanne possesses an extensive history in the nonprofit stratum, including a decade of relentless leadership in a series of high-profile fundraising efforts and brand enhancing initiatives for St. Thomas worth more than a million dollars.
The Next is extending that Vaughn family legacy with a determination to pair incredible purpose in equal proportion to professional gain, the former forever in lockstep with latter.
"There are core values I learned at St. Thomas that students simply don't capture at any other school," Vaughn says. "So much of what I gained was an understanding of how to be a man by genuine definition … try to be the best person, best husband, best father … that the world is much larger than yourself.
"Think about Round-Up. I was part of the Senior Board … two dozen 18-year-olds raising a half a million dollars (for St. Thomas tuition assistance). We took ownership of something beyond our abilities and experience … and wouldn't be denied. And that's not altogether different than my situation right now. On the surface, starting my company is way bigger than what I should be able to handle. But we'll see."
Still, implicit in the designation of Next is … not quite there yet. Vaughn is very much a work in progress buoyed with an insatiable I can do this, I can figure this out tenacity regardless of unforeseen obstacles.
"During my internship, I was returning from a weekend trip in the South of France," Vaughn says. "The train stalls out and stops. My traveling partner and I were not going to wait so we jump out … hitchhike to the airport. I had some extra time so I try to find some lunch … step off the bus … and my brace shatters. Oh, #$%&. I had to hop on one foot back to the bus … get through the airport … fly to Madrid … get through that airport to the taxi stand … up the stairs back to my apartment with all my stuff. I managed Spain from France on one leg.
"After that, I thought I could do almost anything."
Almost anything – next for the Next.
Catholic. Basilian. Teaching Goodness, Discipline and Knowledge since 1900.