St. Thomas was emphatically proud to officially dedicate the Jane and Bill Joplin '54 Campus expansion, the latest priority project to support the school's immediate strategic plan, and promote the success of Eagle student-athletes in competition, in the classroom, and in the community.
The Joplin Campus, named to recognize the extraordinary philanthropy of Jane and Bill during the 4500Forever and 4500Forever Finish Strong capital campaigns, contains four vital components, all different in their use, but all four supplying Eagle student-athletes with a superior mental and physical training and preparation facility.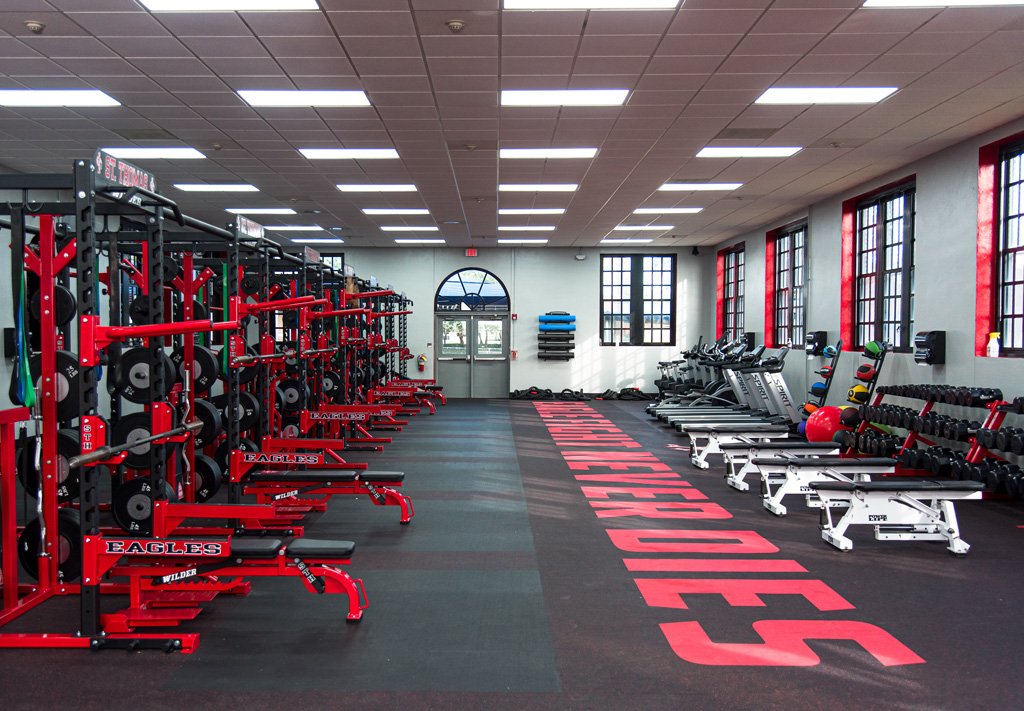 "Our commitment, as one of the preeminent college preparatory institutions in Texas and the region, has never been stronger," President Fr. James Murphy, CSB says. "The Joplin Campus is another chapter in advancing Eagle Athletics and more broadly the St. Thomas footprint. Our athletic program has allowed us to open the doors of this institution to our city and beyond our state in unique ways. We're blessed to upgrade the day-to-day accommodations and resources for our student-athletes. We truly thank the donors and contributors who stepped forward to make this happen and propel St. Thomas to take this very important next step."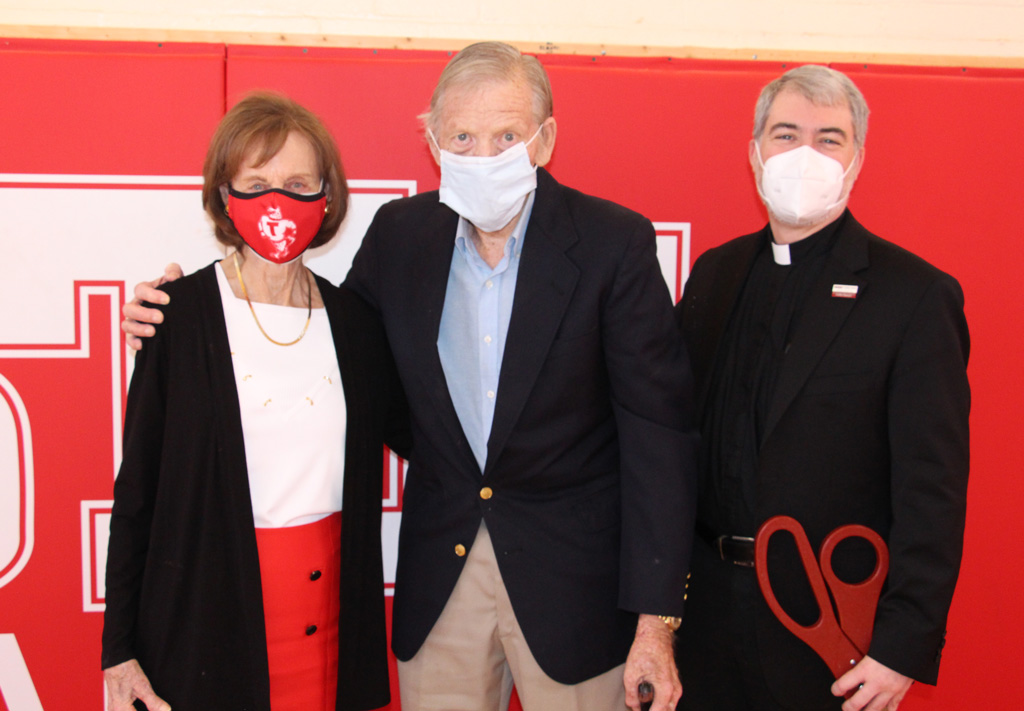 The Joplins were center stage for the rousing ribbon cutting on November 18. The stirring salute united a legion of galvanizing St. Thomas and 4500Forever leaders including fellow champion donor Al Clay '61; Principal Dr. Aaron Dominguez '96; Suzanne and Danny Grant `78; Kurt Hanson '83; Andy McStay '69; John Rathmell '75; John Rynd '75; and Fr. Ronald Schwenzer, CSB, the first president in school history (2006-2012) and the 23rd St. Thomas principal.
Also attending were representatives of the Hillenbrand Foundation and the Charity Guild of Catholic Women.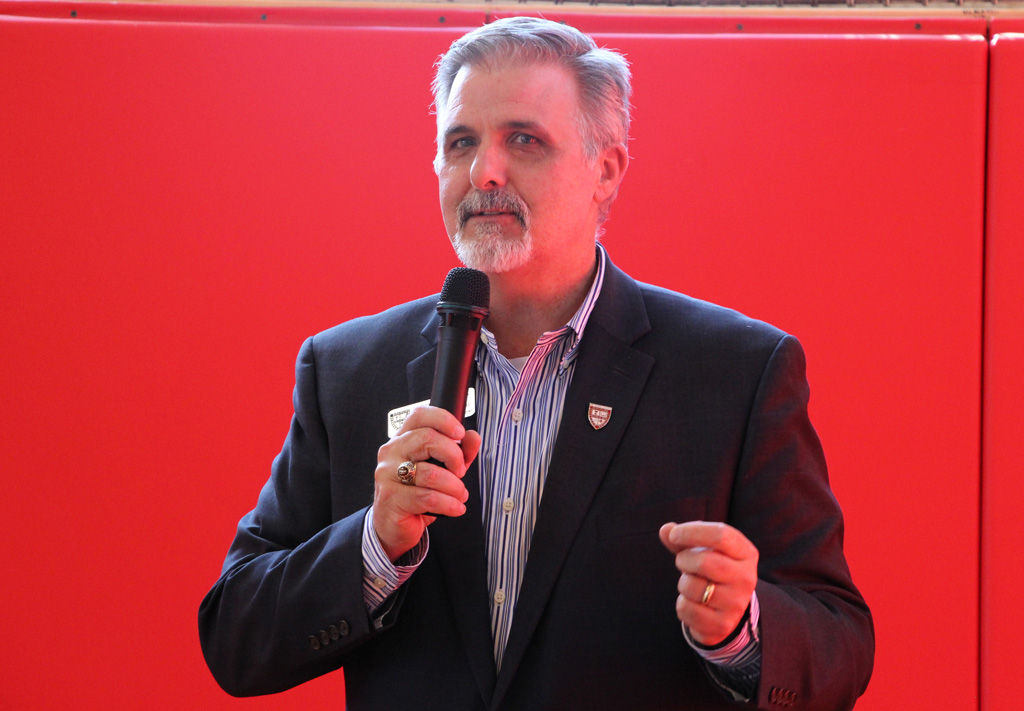 "We are profoundly grateful to the many members of the St. Thomas family for their remarkable generosity," says Vice President for Advancement Mark deTranaltes '83, who played an integral role during the most ambitious capital campaign in the institution's chronicle. "St. Thomas is an esteemed academic institution with a prestigious athletic brand, and we understand the responsibility to uphold those high standards for excellence. Giving across all areas of the school is vital to the success of our pursuits. Whatever we achieve, we will always strive to achieve more."
Director of Operations Troy Froboese and Chief Engineer Duane Fuchser coordinated an all-encompassing effort and delivered a more cohesive and appealing athletic core, partnering with Vaughn Construction, Architectural Floors, Bauer Sport Floors, BSN Sports, and FTO Installations.
The extensive renovation includes more than 20,000-square feet devoted to enhanced practice amenities and locker rooms for Eagle Basketball and Eagle Wrestling, plus a complex for strength and conditioning, and sports medicine to be utilized by all Eagle student-athletes.
The jaw-dropping 3,760-square foot weight room offers state-of-the-art, custom equipment and one of the most comprehensive free-weight and exercise machine facilities in Houston while ensuring a safe environment.
The technologically advanced 3,000-square foot sports medicine center emphasizes specialized diagnostic stations for therapy to promote rapid recovery. The area provides ease of use and access to service all 12 varsity sports plus significant operational and office space for the distinguished training staff headed by Chris Valdez, L.A.T. in association with Memorial Hermann Sports Medicine and Rehabilitation.
"We're competing in the ever-changing landscape of college preparatory. The Joplin Campus is designed to inspire, fortify, and celebrate our accomplished student-athletes," Athletic Director Mike Netzel says. "The wide-spread impact allows their daily routines to be much more efficient and will allow them to realize their full potential both on the field and in the classroom."
Strength and cardiovascular training are the foundation of any aspiring athletic program – honing muscle and motivation to perform at optimal levels for sustained periods. The challenge demands maintaining proper habits and rest patterns within consistent year-round workout routines. The Joplin Campus expanse furnishes a functionality that allows clustered groups to simultaneously maximize their training.
"This will serve as the hub for Eagle Athletics and will play a huge role in our continued quest to be the very best," Netzel says. "The coaches and performance staff now have additional flexibility and space to better prepare our student-athletes to strive for championships. Athletics is one way St. Thomas can create a recognizable identity. Achievement on the fields and courts presents opportunities to showcase our institution."
The transformation directly supports the championship standards of two select sports and validates their reputations among the premier private programs in Texas. Eagle Basketball has advanced to consecutive TAPPS 6A regional finals following back-to-back state semifinals in 2016 and '17. Eagle Wrestling earned third place at the 2020 TAPPS state championships after finishing as the 2019 state runner-up in both TAPPS and Texas Prep State, the program's best results since the 2011-13 state title three-peat.
"The Joplin Campus closely represents the great tradition of excellence of Eagle Athletics and the high caliber of St. Thomas as a whole," Netzel says. "Our basketball and wrestling efforts are gaining measurable momentum. We are determined to capitalize on that."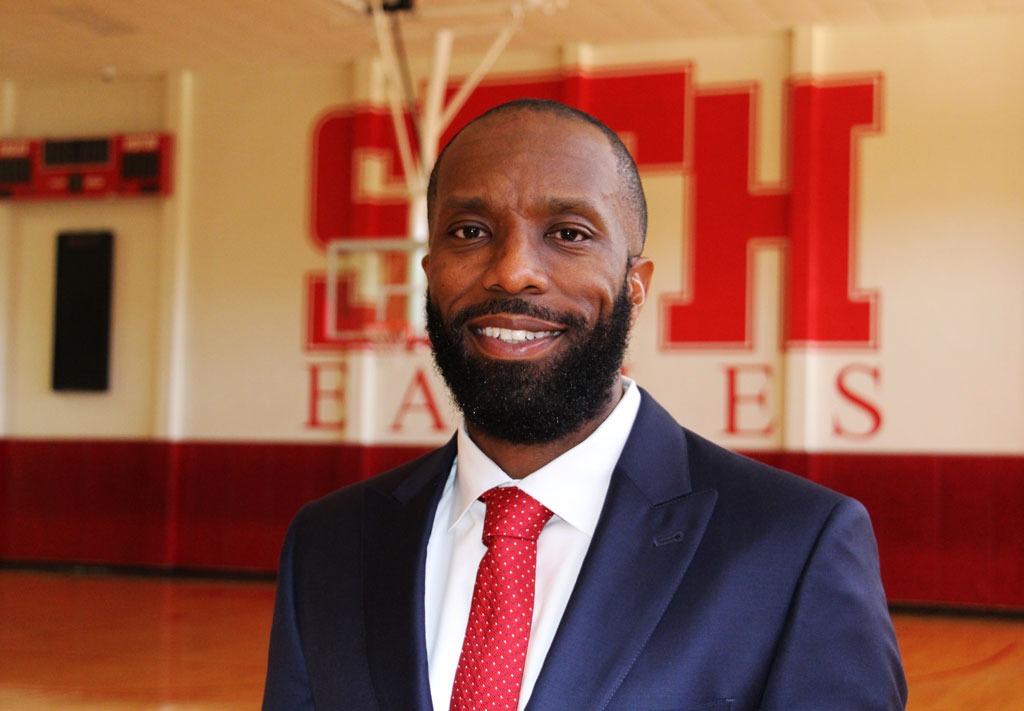 In April, Karnell James was promoted as the next leader of Eagle Basketball after serving as an assistant for the previous two years. His debut season coincides with the opening of the Joplin Campus, the perfect complement to Reckling Gymnasium which will continue hosting high-quality, game-day experiences for St. Thomas students and supporters, as well as a tribute to the school's history and its Athletic Hall of Fame.
"Reckling is one of the most heavily used facilities for our athletic department and campus community. At times it is honestly overtaxed," Netzel says. "The Joplin Campus will give us options for practices, coaching, and individual training without scheduling conflicts throughout the academic year and during off-seasons. That dynamic elevates the already positive experiences of all of our student-athletes."
In December 2015, the Basilian Fathers and the St. Thomas Board of Directors honored Jane and Bill Joplin by dedicating the expanded St. Thomas footprint in their name following their legacy leadership gift. Their lead donation with additional pledges reflected a depth of engagement by alumni, parents, students, and friends who contributed at all financial levels to ensure the future of the school and its Basilian mission.
Eagle Fight Never Dies!