Colin '83 and Harry Hageney '22 house St. Thomas in their souls.
Kirk and Michael Douglas had their films … George and George W. Bush their presidential politics … Rupert and James Murdoch their mega-media millions … Woody and Arlo Guthrie their guitars … Archie, Peyton, and Eli Manning their spirals. And Colin and Harry V have their precious 4500 Memorial Drive.
For the father and son duo, the shared passion for St. Thomas is a true family affair that originated with Harry III '45. Homer obviously never saw the Hageneys coming, the epic Greek poet observing that "rarely are sons similar to their fathers."
"It's humbling to see Harry walk the same hallways and occupy many of the same classrooms as I did, and to share that legacy with my dad," Hageney says. "The Basilian value system is no different regardless of the generation. I remember my father talking about that. He attended during the first years after the school relocated to Memorial Drive (from downtown) and went to school with two future bishops. Bishop (Brendan) Cahill (Diocese of Victoria) was one of my classmates."
The father's wisdom was always welcomed but his voice of reason was cut short all too soon, the value of his advice suddenly shut silent. Harry III passed when Hageney was only 10 years old. Yet, the bondlines to St. Thomas were already embedded if not destined.
"My Father/Son Masses as a student were always awkward," Hageney says. "There was a void for me. When I sat with Harry during his freshman year, I had to take a deep breath. It was an emotional moment. St. Thomas has taken on such a connection that we share. If Harry were attending another school, we obviously wouldn't have that."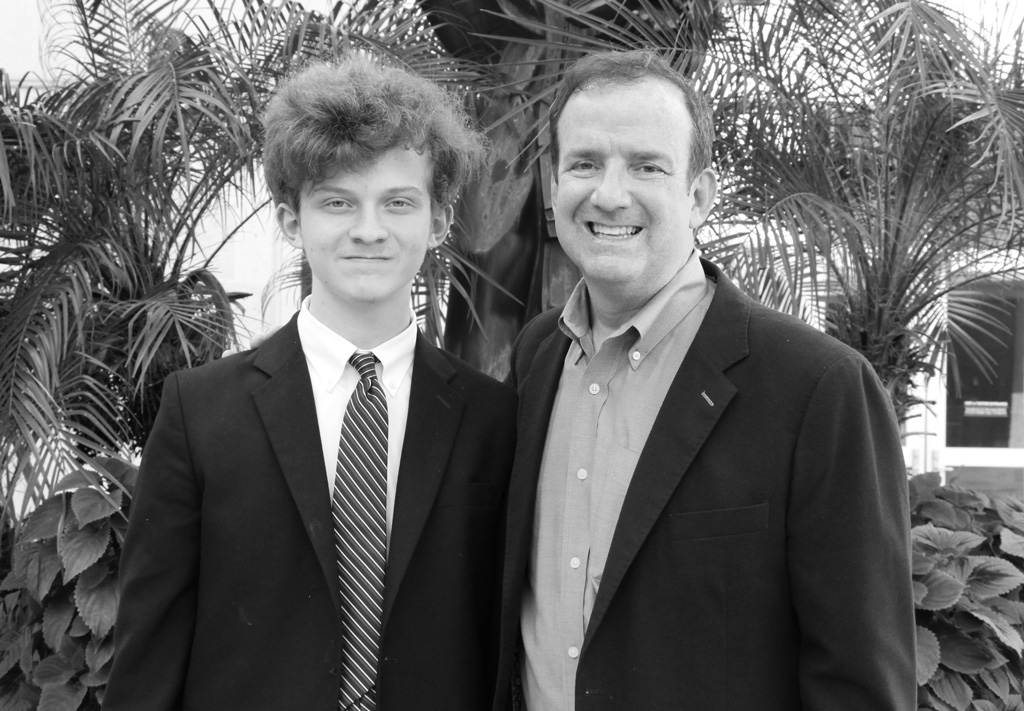 It's not always like this between a dad and his boy. They may find themselves walled off by the elder's rigidity, by the youth's rebelliousness, by hardheadedness all around. Colin and Harry discovered common ground rooted in the Basilian credo Teach Me Goodness, Discipline, and Knowledge.
Hageney is gratified to see how far St. Thomas has advanced in the previous 40 years – academically, culturally, and physically – while remaining true to its moral foundation. Yet, the choice to continue the family heritage was Harry's to determine, with the caveat that whatever that decision, always make the best of that option to your ability.
"I grew up knowing St. Thomas and that my family had this long association for a reason. The academics are definitely rigorous," Harry says. "But for me, there's more. During one recent theology discussion on baptism, the question was Where were you baptized? And I answered, Right here on campus in the chapel. And everyone was sort of shocked. That's our family and this school. I'll probably name my son Harry and send him to St. Thomas, too."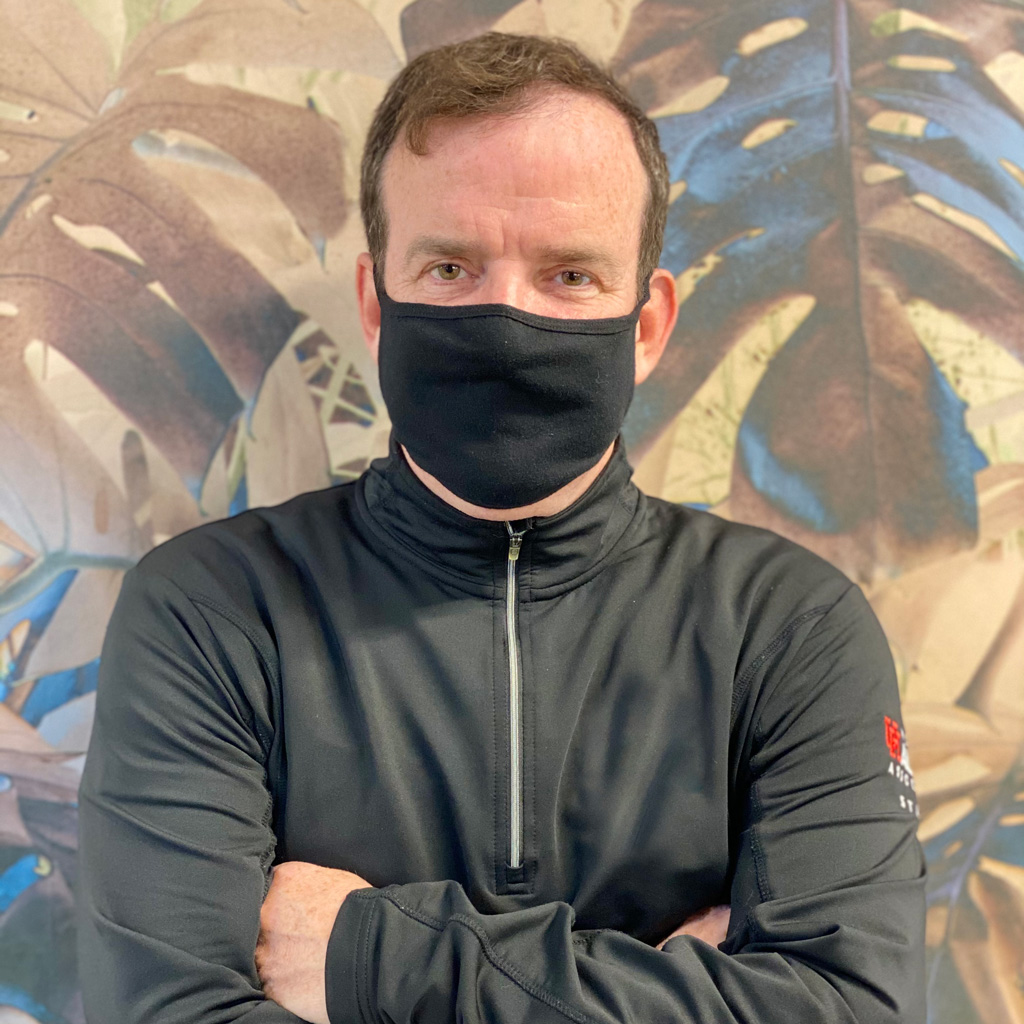 Unforeseen in Harry's academic career was a full-frontal collision with the coronavirus pandemic. He and his fellow Eagle scholars have been forced to face COVID-19 and the uncertainties, interruptions, and stresses that have accompanied Zoom school, hybrid learning, and limited social interaction. But in times of turmoil, Harry, as well as many of his St. Thomas brothers, have turned to their religious traditions and the campus community, relying on the importance of cultivating a rich inner life.
"This COVID year has revealed just how prepared St. Thomas is for any situation," Harry says. "The teachers have been so supportive, not only with the academic demands but also helping students stay connected with each other. I feel bad for the freshmen. We've all had to make the adjustments but they don't have any idea of the real day-to-day St. Thomas. They only know the last few months. The upper classes have drawn from their previous years."
Hageney's overt intentions weren't to remain entwined with St. Thomas throughout his adult life. He graduated from the University of Houston's famed Conrad N. Hilton College of Hotel and Restaurant Management, then in 1994 made a defining career move to technology marketing. He consulted for St. Thomas in a communications role "that originally was a contract for 90 days. I stayed for four years."
The relationship resulted in Hageney ushering the school into the digital age with its first professional website, influencing various capital campaigns, and rebranding the St. Thomas crest and monogram, both of which will be embossed on the junior ring that Harry will receive in the spring of 2021.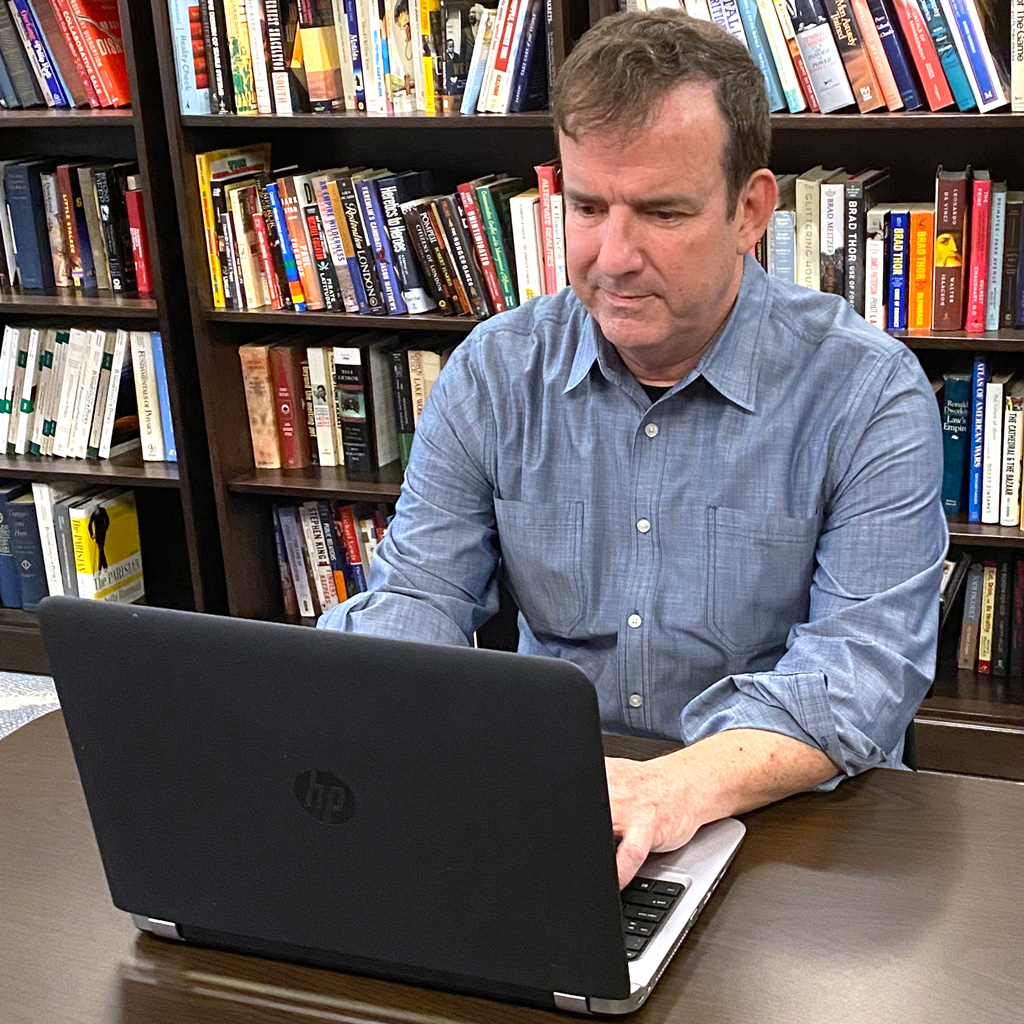 Hageney launched his entrepreneurial dream in 1997 and in 2000 the full force reality began to take definitive shape. As founder, president, and chief marketing officer of Bullpen Marketing, he is the primary strategist for an agency that is fiercely dedicated to uniting clients and the community, driven by a common vision with collaborators to build a future they all believe in.
What started as a "job evolved into a mission" to empower Catholic education, charities, and non-profit initiatives with pointed, poignant creatives. He incrementally leveraged his reputation to develop his client base throughout Greater Houston and outside the region. Bullpen's inventory has expanded to nearly 100 private schools, crafting their websites, direct-mail programs, advertising, and other forms of strategic action. The agency's acclaimed and award-winning custom services stretch from the Archdiocese of Galveston-Houston to Basilian St. Anne Catholic School in River Oaks to the St. Patrick School in Chatham, New Jersey, the state's oldest Catholic school, founded in 1872.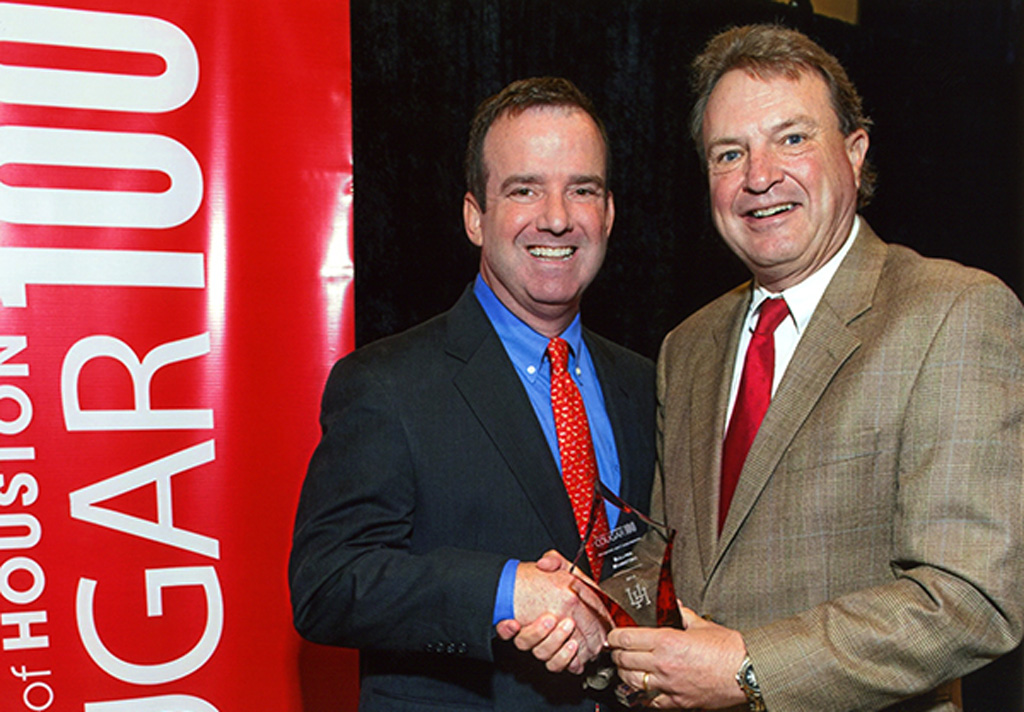 Bullpen Marketing was named in 2014 to the inaugural University of Houston's Cougar 100, the world's fastest-growing UH alumni-owned and alumni-led businesses.
Whether it's the annual Steps For Students fundraiser benefiting 59 Catholic primary schools or the 100th-anniversary celebration of the Charity Guild of Catholic Women, the manifesto is clean and concise – to care. And with every decision leading to the greatest possible impact.
"Bullpen started with just me. And then a salesperson. And another salesperson. Now it's a staff of more than a dozen … creative directors, digital designers, and account managers," Hageney says. "Last year was our best year. 2020 will not be our best year because of the pandemic. Our goals are to do good and energize our clients to do the same. That will always be our purpose. It's not, Let's make a lot of money. But, rather, Let's do a lot of good."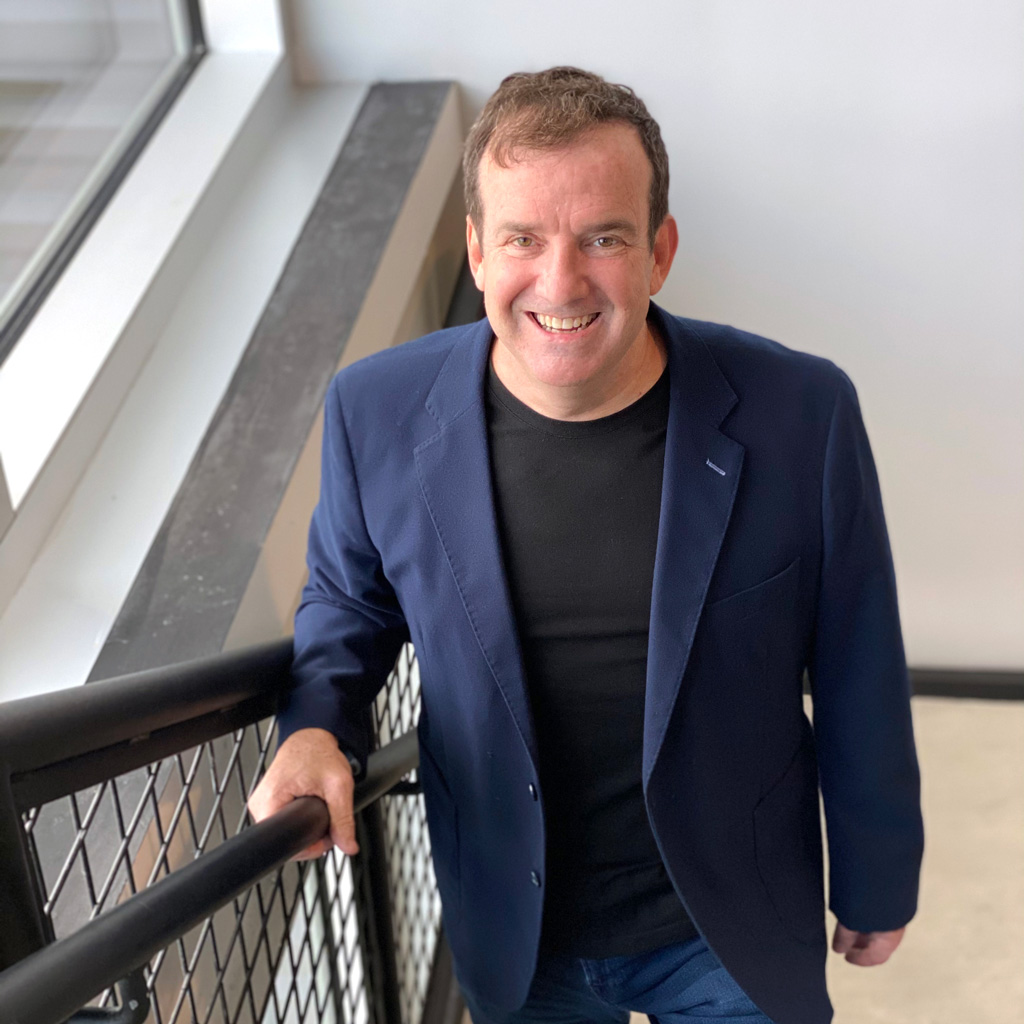 Hageney serves on a wide-ranging series of boards including Catholic Charities of the Archdiocese, Incarnate Word Academy, and the Marketing Communications Committee of the University of St. Thomas. He's been a volunteer with the American Marketing Association (AMA) since 1996 and has served on the Professional Chapters Council for six years, including a year as president. In 2010, he was awarded AMA's International Volunteer of the Year.
"St. Thomas provided a great foundation for my success," Hageney says. "Not just the academic educational advantage but developing as a person. It is where I learned how to have integrity in business, compassion for others, and a zest for life.
"I remember my teachers in grade school as good. But at St. Thomas, they were inspiring. My lasting example – I was encouraged to join the band, to play the trombone. I wasn't very good at the beginning but I quickly and dramatically improved my skills and confidence. I could have majored in music in college and pursued that path for the rest of my life. I never imagined that for myself."
Nor did Hageney anticipate that his slide and mellifluous sounds would take him on one of the most envious campus thrill rides of a lifetime. As a member of the UH Marching Band, he had the opportunity to also perform with the Cougar Brass Pep Band during basketball games, thereby punching a ticket for an era of aerial hoop wizardry never before seen, courtesy the outrageous Phi Slama Jama crew featuring Clyde (The Glide) Drexler, Michael Young, the then-Akeem (The Dream) Olajuwon, Larry (Mr. Mean) Micheaux, and the mercurial Benny Anders.
Hageney traveled the country with the careening Cougars, guaranteed a choice, shock-and-awe seat for the up-close, oh so personal dazzling dizzy dunk shows. The swoop raids on the rim took him through the NCAA tournament to Seattle's since-demolished Kingdome for UH's third consecutive Final Four and back to back national title tilts. Only Brent Musburger and Billy Packer enjoyed more prime vantage points to eyewitness the righteous tomahawk repertoire.
Fast break to the present and the campus routine is simply Colin and Harry, father and son. Each the other's greatest admirer, both with fingerprints on the authentic Eagle experience, even if those stamps are separated by nearly four decades. And next year the soon-to-be grad and dad will be joined by a third – Colin Jr. – as a member of the Class of 2025. All subtle threads in the tapestry that covers St. Thomas history and includes the Hageney patriarch.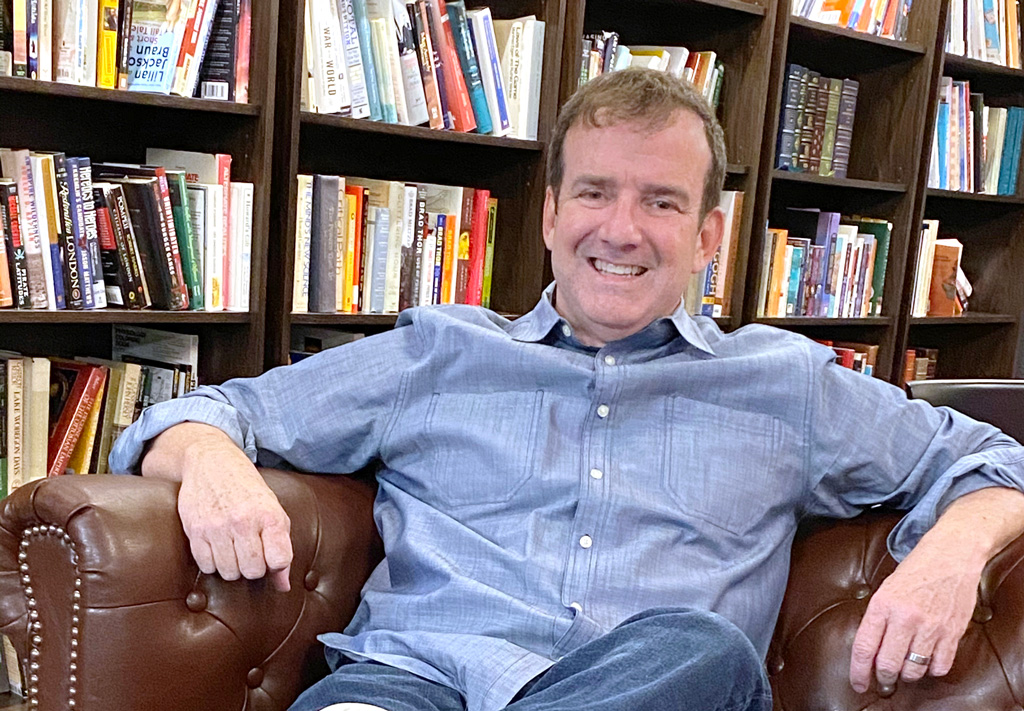 "You don't really appreciate St. Thomas until you leave St. Thomas," Hageney says. "It's impossible to understand the true measure and meaning of this education while you're a high school student. I've told Harry that only when he matures and reflects will he realize that this is truly a special place. There will be a cluster of memories and tenants he will hold for the rest of his life. When I come back to this campus, it's as if I'm coming home."
Catholic. Basilian. Teaching Goodness, Discipline, and Knowledge since 1900.