St. Thomas emphatically closed the most difficult season in the history of Texas high school football with a night of raucous Red & White revelry that included celebrating the first National Signing Day for the Class of 2021.
A terrific trio of scintillating talents sat center stage in Reckling Gymnasium for a final rousing roar as teammates, flanked by family members snapping pictures and swapping hugs. Receiver Cameron Bonner '21, 2020 Elite 11 quarterback Maddox Kopp '21, and tight end Drake Martinez '21 – all ranked among the Houston Chronicle Top 100 Class of 2021 – had soaked up memorable on-the-field moments that fueled a third consecutive undefeated district championship for Eagle Football and extended the district winning streak to 15 straight games. Their early signing encores served as a launch to the four years ahead and a salute for the four that preceded.
Kopp and Martinez cemented verbal commitments to the University of Houston and Colorado St. that had been on the public books for months. Bonner exercised the recruiting process into December. After collecting and carefully evaluating more than two dozen Power 5 offers, he opted for Baylor University only 48 hours before completing the National Letter of Intent.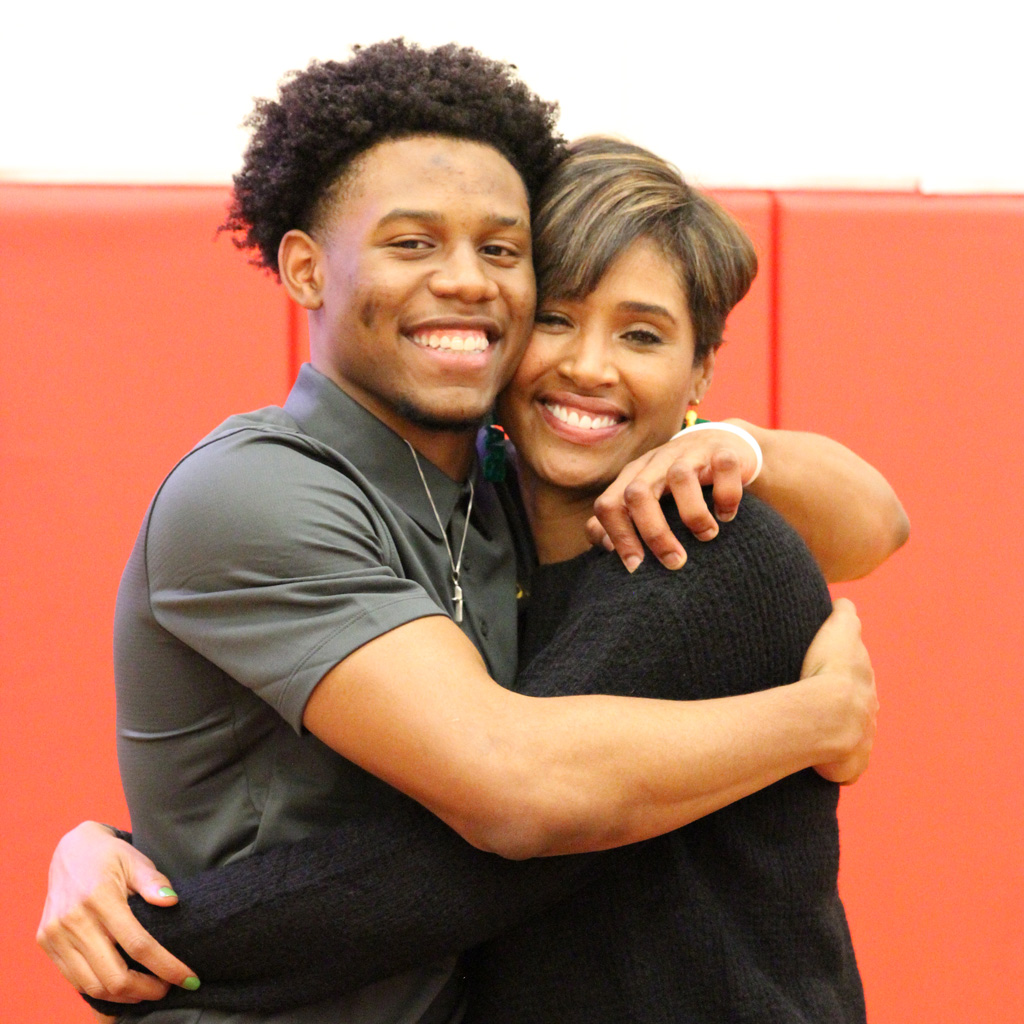 "Happiness … excitement … a new beginning" were among the sensations swirling during Bonner's triumphant night. He joins the first recruiting class of head coach Dave Aranda with 15 of the 18 players coming from the state of Texas.
"Baylor wants me to play receiver. To have that chance in the Big 12 has always been my dream," Bonner says. "And the goal was to have a home where I could be throughout college. So many student-athletes are on the move, transferring from school to school. I knew Baylor was the right fit for me."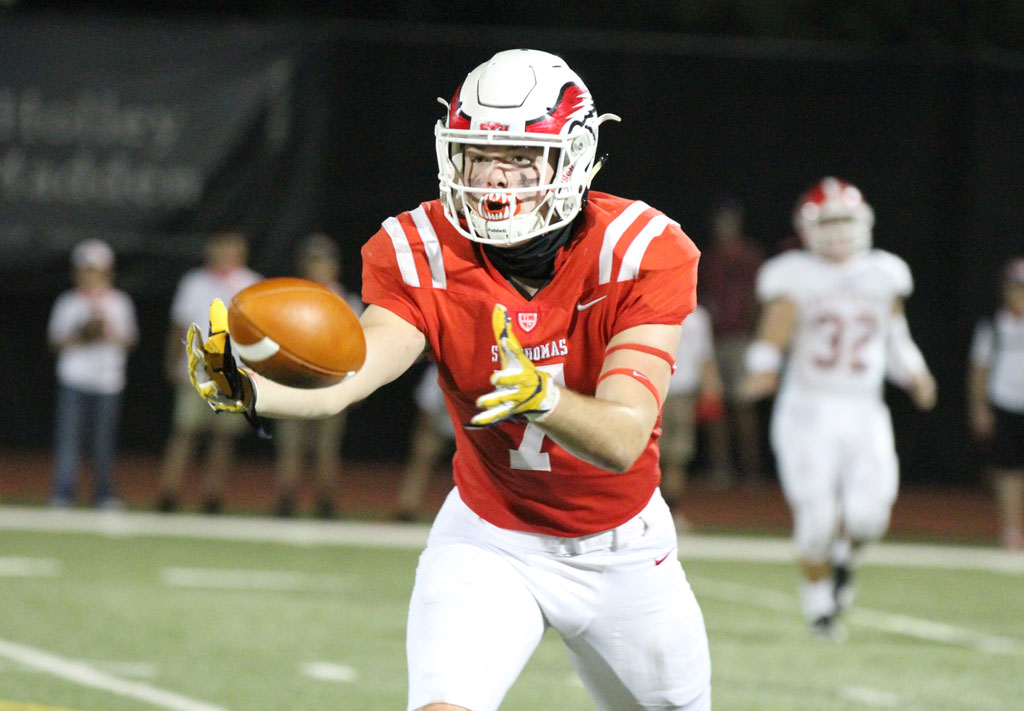 Martinez was one of the few prospects who made an actual on-campus visit before Zoom calls and virtual tours became the mandated norm during the pandemic. He was extended the opportunity from Colorado St. in March and stayed true to his May verbal pledge to second-year head coach Steve Addazio.
"It was almost magical once I stepped on campus," Martinez says. "I built great relationships with the coaches, especially (tight ends) coach (Cody) Booth. The first impression was so strong that I was comfortable and never second-guessed the decision. I'm confident that they'll put me in the best position to be successful."
Unstoppable receivers can make life so much easier for a quarterback, even one as seasoned and skilled as Kopp. Over time, with enough pressure, a defense and its secondary are going to bust. Bonner broke for eight touchdowns in his abbreviated seven-game senior send-off and racked 20 did-you-see-that scoring receptions over two seasons while averaging a jaw-dropping 24 yards per catch. Martinez increased his senior production to 693 yards to finish with 1,240 and 11 touchdowns as an Eagle.
Kopp proved to be his same unflappable self throughout 2020, providing the resiliency and toughness that were among his career hallmarks – along with more than 6,000 passing yards and 57 touchdowns with only 17 interceptions.
"Signing night was so emotional for me, everything I felt for my family and the St. Thomas coaches to make this chance possible," Kopp says. "There's joy. There's relief in making it official. I'm so appreciative of everyone in the Cougar family for welcoming me and I look forward to what's next."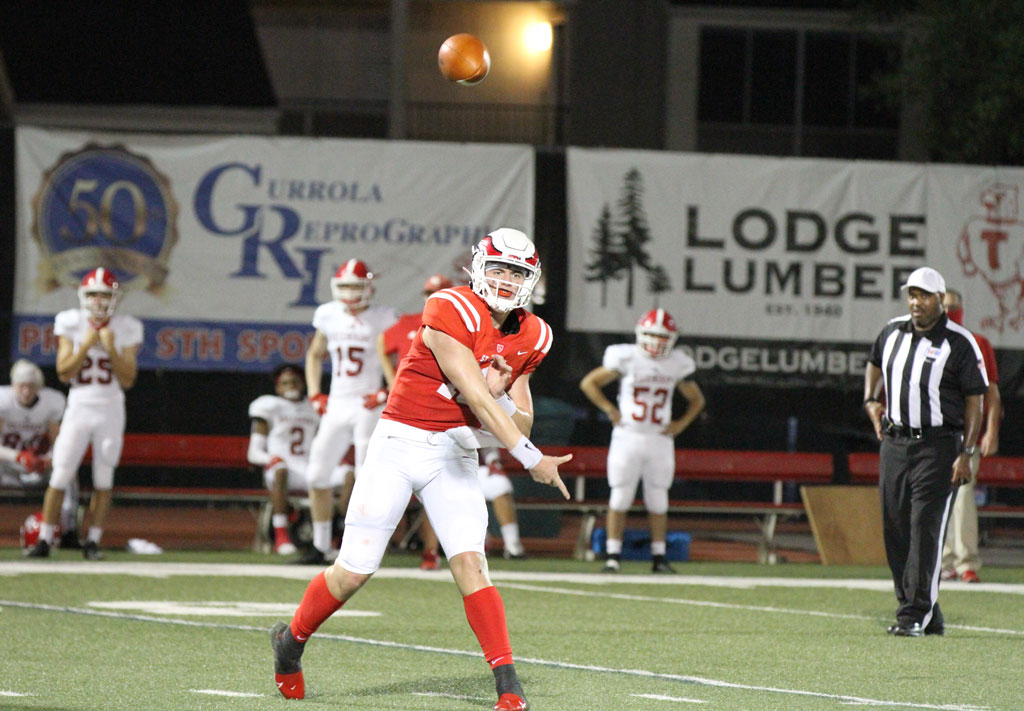 Kopp quarterbacks with a commanding calm in the tsunami storm of defensive duress. And given his lineage and background, he was seemingly born and groomed to play football, blessed by his family's roots and shaped by many demonstrative choices, large and small. He follows three brothers who extended their scholar-athlete careers to the Division I level.
Anderson '19 was the leading force and scorer for Eagle Basketball in 2019 while pushing St. Thomas to the TAPPS 6A regional finals. He's made an immediate impact at Lamar University where he was named 2020 Male Freshman of the Year. That same season Miller was the leading scorer as a sophomore for Northwestern basketball. Braden played tight end at Vanderbilt where he was a three-time All-SEC Academic Honor Roll member.
But the formidable bloodlines don't fully account for the due diligence and gut-burn-to-be-great moxy that Maddox embraced to develop his longing into a reality.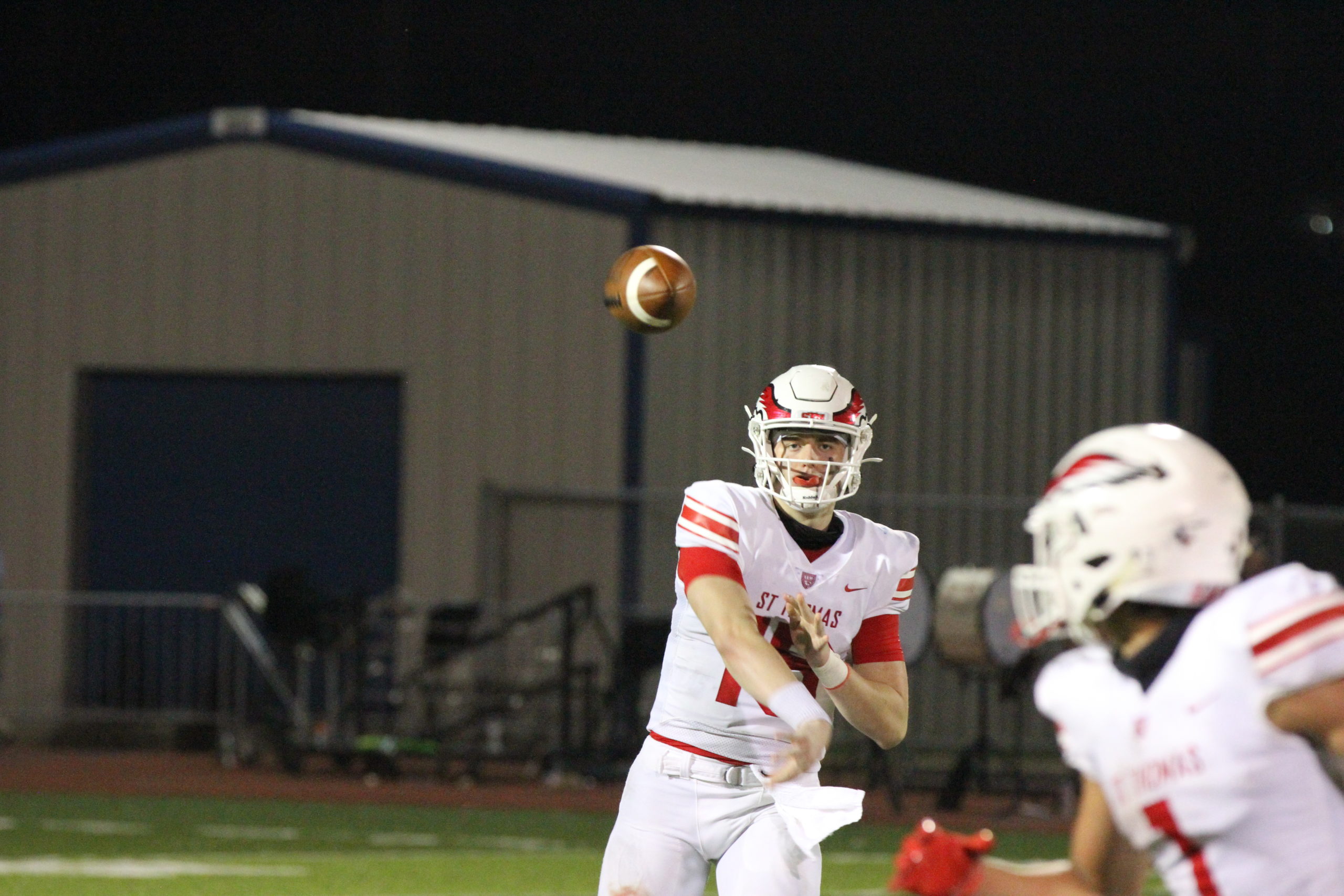 "My brothers were great motivators," Kopp says. "They made me look in the mirror and recognize how I needed to continually get better. My ethic and drive started with them and ignited my passion. But I had to put the work in myself. I couldn't rely simply on their successes to pave the way."
Trying to hold back this Eagle threesome, as opponents discovered on a weekly basis, was like trying to hold back water with your hands. Bonner, Kopp, and Martinez are each nominated for offensive player of the year by the Touchdown Club of Houston and will be recognized on January 27 at the 9th Annual Private High School Awards Dinner.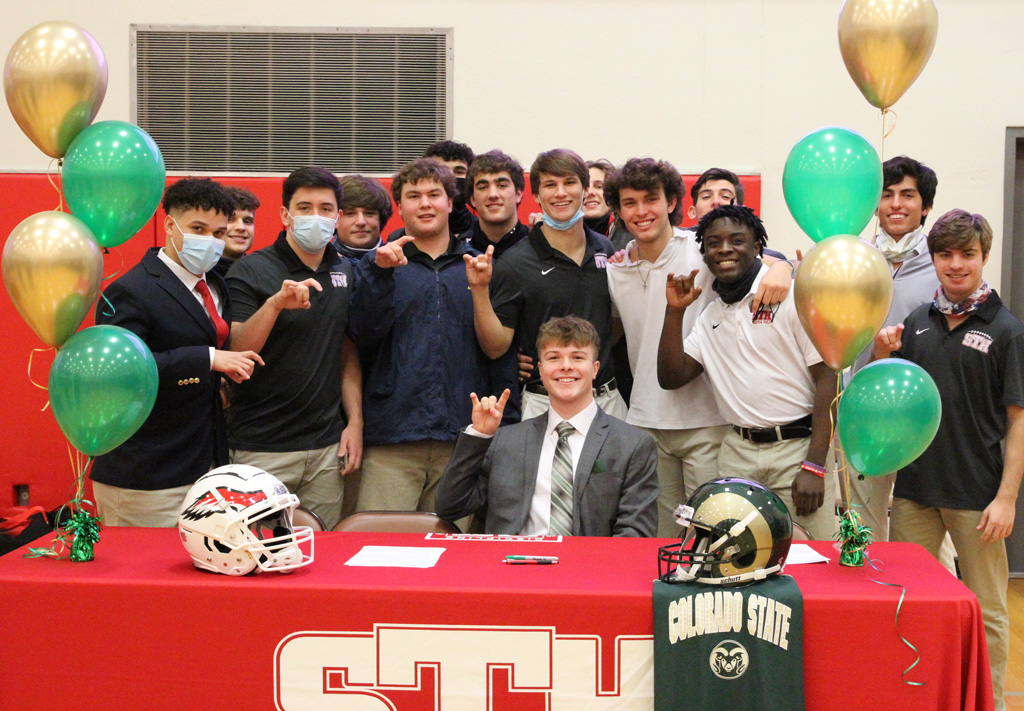 Their legacy will not be limited to a final season result that didn't meet the St. Thomas' standard of constant improvement. Theirs was a team that may, in fact, be remembered as one of the school's greatest, playing through COVID-19 and clearing the unimagined hurdles in its way. Eagle Football led by Principal Dr. Aaron Dominguez '96, Athletic Director Mike Netze, and Head Coach Rich McGuire  persevered during months of coronavirus protocols, hybrid academic learning, and heightened uncertainty. The week-in, week-out trials through nine games were met without a single St. Thomas cancellation.  Five games were hosted at Hotze Field inside Granger Stadium.  The last four with families and fans present.  And all without moderate or serious health issues from any scholar-athletes, coaches, or staff.
If there's an asterisk to a truncated season, circumstances should magnify the achievements, not diminish them.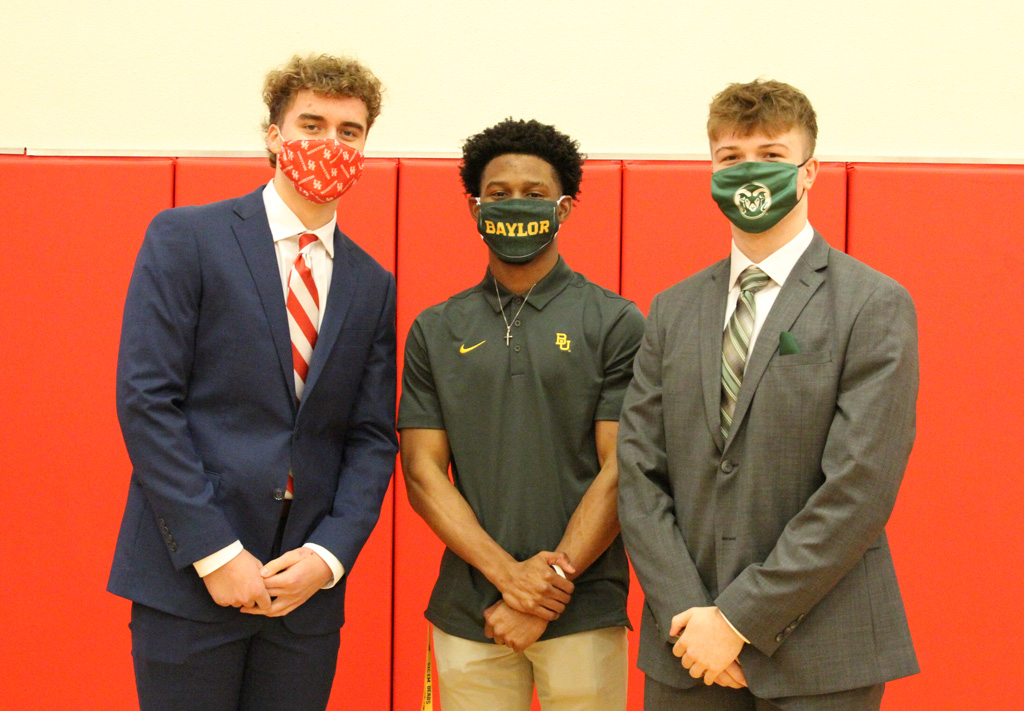 Bonner, Kopp, and Martinez served not only as the pillars for a seven-win campaign into the TAPPS Division I regional final, but a Champions For Life credo that carries profound significance beyond hashtag status. The just rewards were basking in a grand finale night with justified confidence that the best is yet to come.
Eagle Fight Never Dies!