For 121 years, notable St. Thomas graduates have personified the Basilian credo Teach Me Goodness, Discipline, and Knowledge. The most acclaimed former scholars with exceptional contributions to their professions and communities are saluted with the school's highest alumni distinction.
On January 23, the Eagle Family elevated five transformative leaders who have embraced the St. Thomas spirit at its best. The 16th Hall of Honor event took place as a socially distanced, invitation only celebration in Cemo Auditorium.
Recognized for their long-lasting, significant impacts far beyond the St. Thomas campus were Raymond Bourgeois '70, Albert William Clay '61, Colonel Timothy DeWayne Gatlin '95, William Ferdinand Joplin '54, and the Most Reverend George Arthur Sheltz '63. The 2021 recipients reflect the broad and deep domain of a St. Thomas education and experience.
This is the third in a series.
Colonel Timothy DeWayne Gatlin '95
As a United States Army Colonel, Tim Gatlin embodies selfless duty and determination with a lifelong commitment to mission. A career soldier among those who share a brotherhood and a bond unbreakable, bravery unbridled, an honor unmistaken. He left St. Thomas having given his all to the Eagles, then the same to his unit, forever for his God and country.
For more than two decades, Colonel Gatlin has been one of those American citizens curiously allergic to the comforts of conventional living, on a constant quest to prove himself, to search for meaning, to change the world, always with a hope to help those in need that pushed him to take big swings.
Colonel Gatlin has steadily risen through the ranks of command since receiving his Bachelor of Science in Economics from West Point in 1999 while lettering three years in the Black Knights football program. His decorations include the Bronze Star Medal and the Meritorious Service Medal. Gatlin also received his Masters in Social Organizational Psychology and Leadership from Columbia University in 2010 as an Eisenhower Leader Development Fellow.
The commander of 1st Battalion, 37th Field Artillery Regiment was named to the 2016-17 White House Fellows, one of America's most prestigious programs for leadership and public service. The position is reserved for select individuals who typically spend a year working as a full-time, paid Fellow to senior White House staff, Cabinet Secretaries, and other top-ranking government officials.
Colonel Gatlin owns more than two decades of experience in the integration and synchronization of combat arms operations. He has presented and published on topics including leadership, state-sponsored development programs in Iraq, and regionally aligned forces. Gatlin co-founded the Excel Scholars Initiative, an enrichment program dedicated to diversifying the West Point cadet leadership and faculty pools by launching minority cadets into leadership roles and contention for prestigious postgraduate programs.
Colonel Gatlin preceded his brothers Greg '98 and Kevin '02 at St. Thomas, the threesome choosing decidedly different paths living the principles of Teach Me Goodness, Discipline, and Knowledge.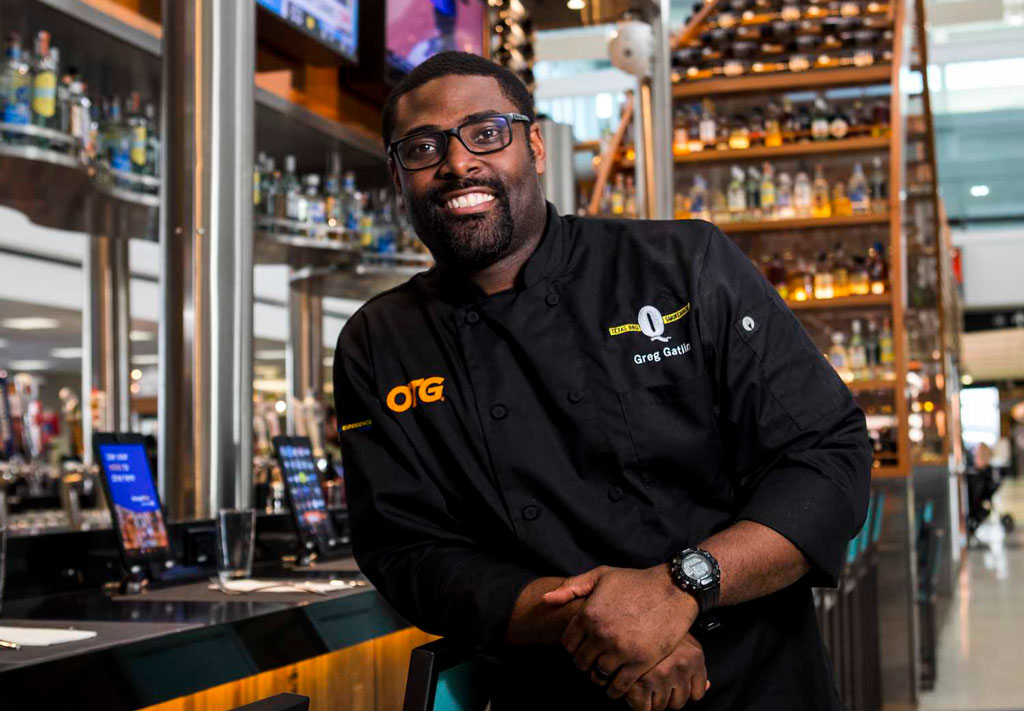 Greg transitioned from Eagle Football state champion to daredevil defensive back at Rice University to the world of corporate real estate to a 2010 deep dive into the barbecue business with his parents Mary and Henry. In quicksilver fashion, he vaulted into one of the state's most respected pitmasters. Kevin has joined and fortified the family's enterprise after graduating from the University of Houston and a distinguished tenure teaching and coaching at St. Pius X.
St. Thomas owns a long, rich history with military service and clear respect for the military academies. The affinity may be a sense of shared values, as both institutions emphasize honor, ethics, teamwork, and dedication to achieve a greater good in bringing out the best qualities in young people.
Some of the stories are woven into Eagle lore, a revered part of its tradition, such as the Honorable George Cire '40, U.S. District Judge, Southern District of Texas, and recipient of the Silver Star and Purple Heart while fighting in World War II; and David McNerney '49 who received the Medal of Honor for his outstanding courage when his unit was ambushed in an isolated village in VietNam during his fourth tour of duty.
Colonel Gatlin now joins both in the exclusive Hall of Honor, triumphantly continuing St. Thomas' legacy with the armed forces. Throughout his restless duty, he matched the chaos and uncertainty with uncommon courage. Even if relatively anonymous, his is a name among those immortal without exception. Never Captain America with wanderlust. But indomitable. Capable of any challenge he dreamed.
Catholic. Basilian. Teaching Goodness, Discipline and Knowledge since 1900.