For 121 years, notable St. Thomas graduates have personified the Basilian credo Teach Me Goodness, Discipline, and Knowledge. The most acclaimed former scholars with exceptional contributions to their professions and communities are saluted with the school's highest alumni distinction.
On January 23, the Eagle Family elevated five transformative leaders who have embraced the St. Thomas spirit at its best. The 16th Hall of Honor event took place as a socially distanced, invitation only celebration in Cemo Auditorium.
Recognized for their long-lasting, significant impacts far beyond the St. Thomas campus were Raymond Bourgeois '70, Albert William Clay '61,Colonel Timothy DeWayne Gatlin '95, William Ferdinand Joplin '54, and the Most Reverend George Arthur Sheltz '63. The 2021 recipients reflect the broad and deep domain of a St. Thomas education and experience.
This is the fourth in a series.
William Ferdinand Joplin '54
Outside the insular world of Texas oil and energy, penetrating professional achievement and anonymity are not mutually exclusive.
For years Bill Joplin was a prominent presence in Houston's defining industry and champion philanthropist while keeping a relatively low public profile. He began his exploits partnering with his family's Oil & Gas Supply Company. He and brother John '42 then founded, operated, and sold a series of highly profitable entities – Oil & Gas Manufacturing Co., Bush Manufacturing Co., Turbines Hispano Ogasco, Inc., and Sound Optics Systems, Inc. In 1974, their confidence bursting, the brothers acquired Hutchison-Hayes International, Inc., later Hutchison-Hayes Separation, which was brokered and moved in 2008.
In November 2014, Joplin's identity would be a mystery no more within the St. Thomas campus community. He emerged from the shadows to provide a raging wave of momentum in the final stages of the 4500Forever capital campaign. The staggering $6 million matching donation from Joplin and his wife Jane triggered a seismic shift in contributions. During 11 weeks, commitments worth more than $14 million empowered St. Thomas to close on a property acquisition that would advance future academic programs, vibrant campus life, scholarship, and creative work of consequence to the city, the state, and beyond.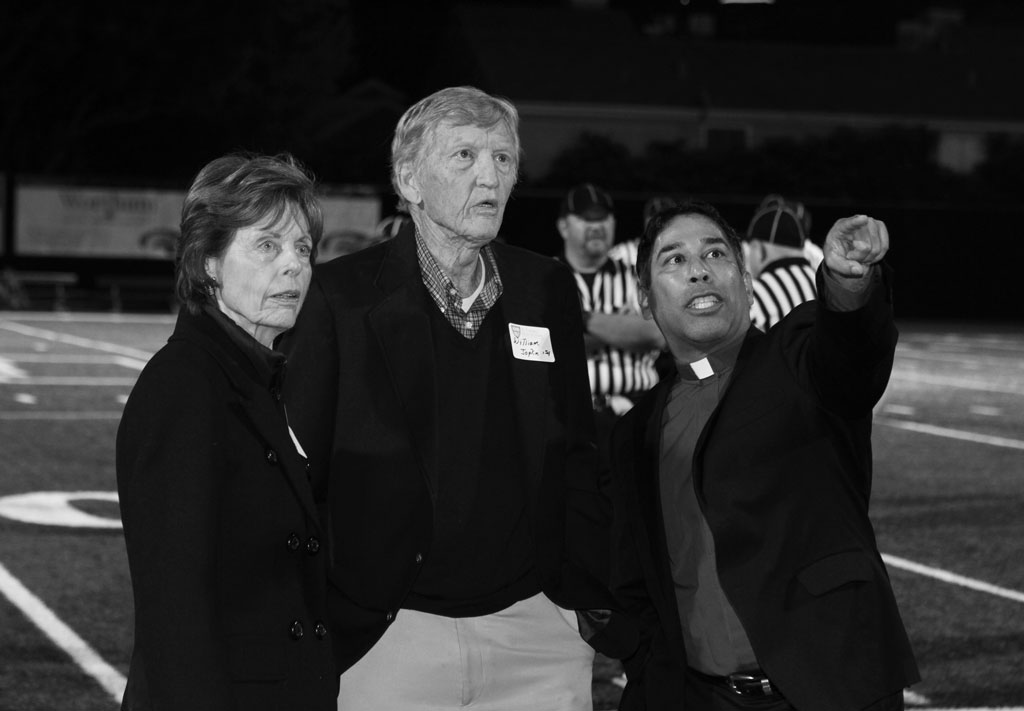 At a time when St. Thomas was working to accelerate its purposeful impact in the world, Joplin thought that "very seldom in life do you have the opportunity to make a real difference. And the campaign needed someone to step up in a big way. And I said to myself, 'I can do it.'"
Former St. Thomas President Fr. Kevin Storey, CSB, now the current Superior General of the Congregation of St. Basil, recognized that 4500Forever required a thunder-bolt jolt to catapult the campaign to completion. "Bill was an answer to our prayers, no doubt about it. He guaranteed the success of the campaign."
Joplin had been a consistent St. Thomas financial contributor for decades but never approached a commitment of such multi-million dollar proportion. He offered not a gift from generational wealth but rather a contribution inspired through self-examination, the generosity from an every man out of gratitude rather than extravagance.
The Basilian Fathers and the St. Thomas Board of Directors acknowledged the Joplin's far-reaching benevolence by naming the expanded footprint for the two bold and daring Eagle supporters.
In November 2020, St. Thomas was extremely proud to officially dedicate the Jane and Bill Joplin '54 Campus expansion. The latest priority project will promote the success of Eagle scholar-athletes in competition, in the classroom, and in the community. The Joplin Campus contains four vital components, all different in their use, but all four supplying a superior training and preparation facility. The extensive renovation includes more than 20,000-square feet devoted to enhanced practice amenities and locker rooms for Eagle Basketball and Eagle Wrestling, plus a complex for strength and conditioning, and sports medicine.
Joplin owns a deep passion and distinguished history of service to St. Thomas. His son Richard '84 continued the family legacy, one that carries a stirring and emotional recollection.
Joplin describes how during his high school years his family once faced financial stress. His father, unable to meet the next tuition payments, arrived on campus fully prepared to remove his older brother from the enrollment. The Basilians would have none of it, instructing the father to leave John in class and simply pay when the dollars became available.
The loyalty and compassion left an indelible mark embossed within Joplin to this day. And as the Hall of Honor inductee tells it, "that was one of the best investments St. Thomas ever made."
Catholic. Basilian. Teaching Goodness, Discipline and Knowledge since 1900.