The picture that emerges is of a typical patriarch and successor. Once, and then again.
Lodge Lumber, 3.0.
Succession but without all the HBO antics and back-stabbing.
What John W. (Jack) Lodge Jr. launched from ground zero to good … was passed to John W. III who catapulted the family business to grand … and is now guided by John W. (J.W.) IV '04 into the third generation of success approaching gargantuan.
"There is no ceiling to what this company can accomplish," says the reigning agent of change.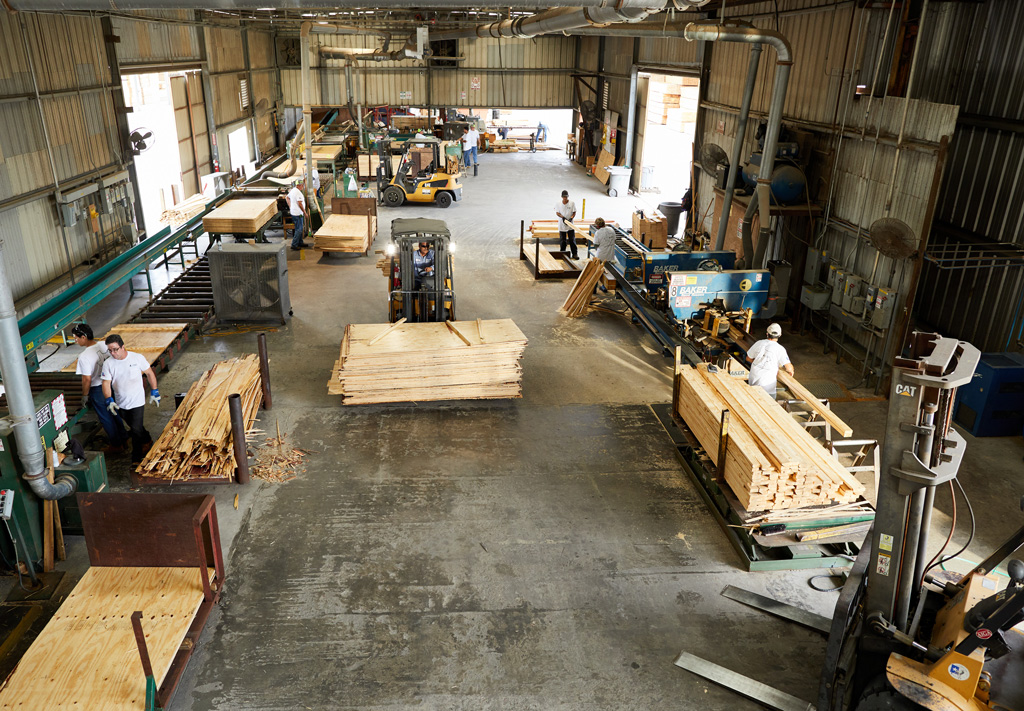 Lodge Lumber Company is approaching its 100th anniversary. What has morphed from the most modest of beginnings is a forestry product provider for a wide array of industrial and commercial industries. They serve chemical storage and distribution, manufacturing and shipping, equipment and fleet management, pile driving and heavy construction.
"We don't do home building," Lodge says with well-rehearsed humor.
The gregarious scion has piloted the company's day to day operations as vice president since 2018 with a decided reverence to the past and a flexed confidence to meet whatever the future mandates. And in the daily grind to face aggressive business targets and respond to competitive threats, Lodge consistently relies on the Basilian bedrock embedded during his years at St. Thomas to calibrate his corporate – and moral – compass.
"There's no question that my time in high school impacts the way I work and how I interact with my team and customers," says Lodge. "There was such diversity within that St. Thomas experience. I was surrounded by students across socioeconomic and cultural tiers with a variety of interests and perspectives. We were all challenged to discover ourselves outside our comfort zones. I would move from an English class to a science lab to an art project to a golf tournament and there were no barriers, just an appreciation for how people may be different but ultimately the same. It's a lesson that I apply every single day within our business. And in my life."
Historically, in a family-run operation, there would be two partners. One is the inside guy and one is the outside guy. The outside guy is the face of the business. The inside guy crunches numbers, does the books, and worries about getting product out the door. The two partners work as a unit, collaboratively and without hierarchy, each one indispensable to the other.
But for three generations of Lodges, that dual identity was held primarily by a single individual occupying seemingly incongruous (if not stereotypical) roles. And in an era where the pace of change in all aspects of execution is accelerating rapidly, the core purpose within Lodge Lumber remains constant and non-negotiable – service to the customer.
Jack Lodge returned to Houston from World War II and founded Lodge Lumber Company from a single 8×10 building. He was armed with one forklift, a truck, and a pole trailer. The city's postwar economy was booming and its residential neighborhoods developing, exploding. Lodge Lumber slowly became the foremost supplier to utility contractors for hardwood timbers.
His son John III started working for the company when he was fourteen years old. He drove industrial vehicles, helped pull orders, and assisted anywhere he was needed. John soon came on board full time and the transfer of responsibility was eventually underway. During the second generation of management, he introduced a series of shrewd yet bold decisions and investments as president and CEO that provided Lodge Lumber with seismic expansion and vertical integration.
"My dad was the catalyst behind the company's growth," says Lodge. "It was after the oil bust, the mid-1980s into the 1990s. He had a vision and developed corporate relationships that continue to thrive nearly a half-century later. And he instilled in our staff that at the end of the day, the most important quality is to take care of our customers. That's it. That's all we have to do. Just make it right."
Just as his father before him, J.W. flashed an early eagerness and interest in the family business. His father patiently nurtured and positioned him to learn from the ground up.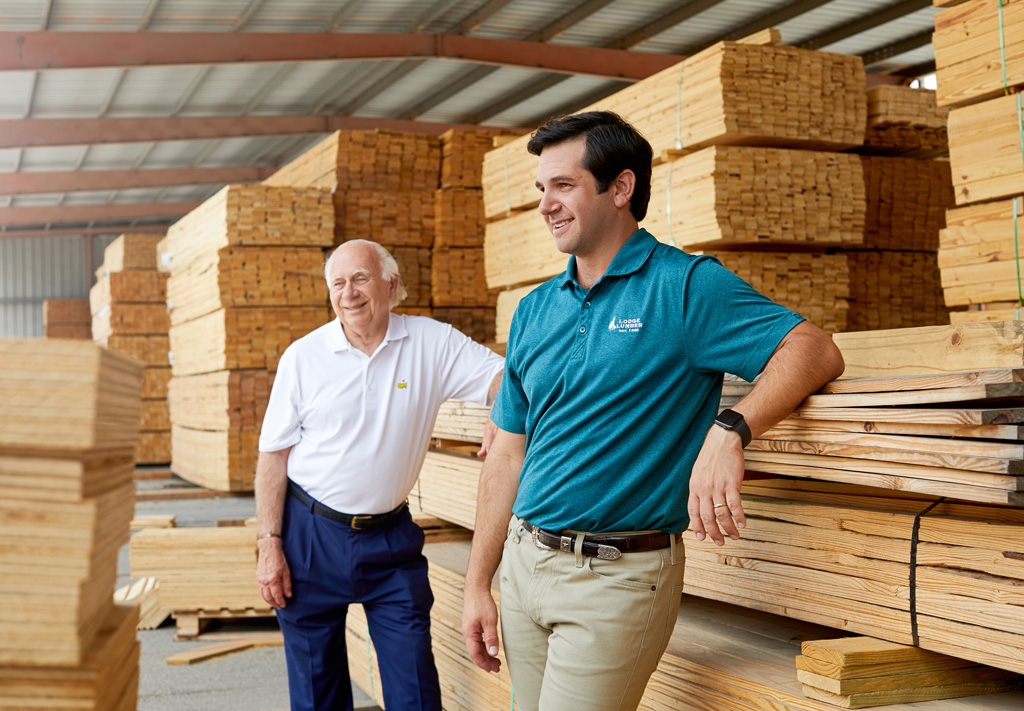 "It started when I was five, six, seven years old, and I would spend school holidays and Saturdays here with my dad," says Lodge. "There was so much activity. Each occasion seemed larger than life. Then during the summers all through high school and college, I worked maintenance, mowed property, and painted buildings. I operated saws, loaded trucks, managed inventory. What I knew was an inch thick and a mile wide. This has been in my blood for a long time. It's what I always knew I wanted to do with my life."
After playing golf and earning his degree in business administration in 2008 at St. Edward's University, the plan was in place that J.W. would eventually assume the baton and leadership within Lodge Lumber. He began to sharpen his skills. As his performance, prominence, and stature grew steadily, so did his extensive knowledge of the company and interaction with the management team. Astute and ambitious without the sterile insistence of being the boss, Lodge proved to be a formidable addition. He demonstrated mounting conviction over the years and the same discipline, earnestness, and attention to detail that he gathered at his father's knee. For the most part, the two are a virtual mind meld with only subtle differing proclivities and strengths. To this day they work in adjacent offices, frequently calling out to each other for counsel.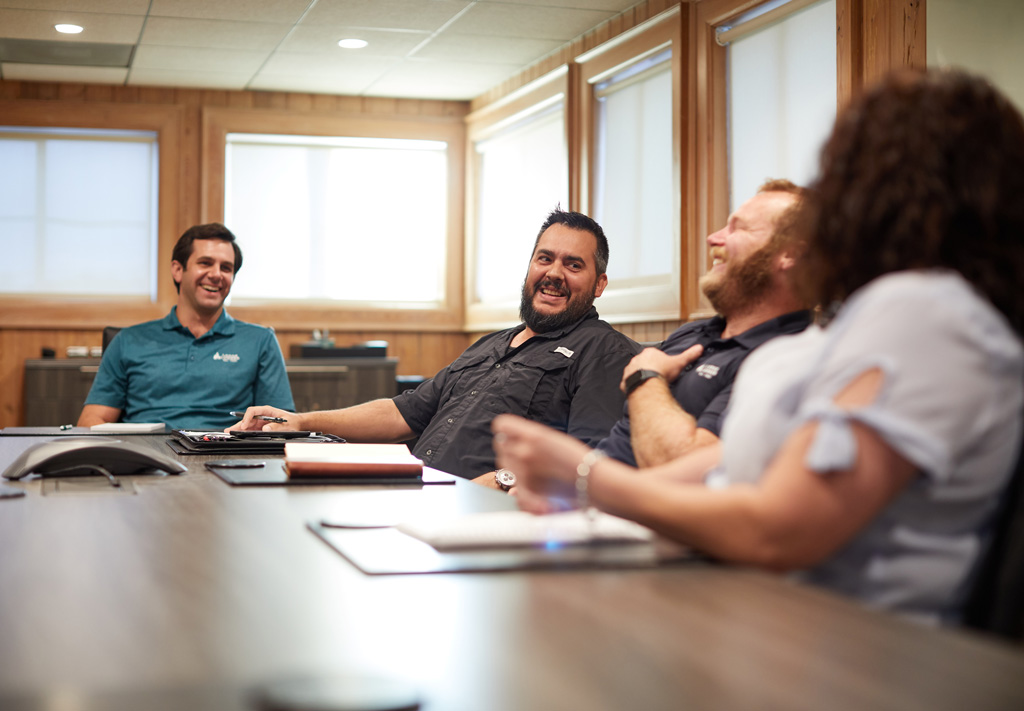 "What drew me to this industry is the dynamic base of clients, and that's what still excites me," says Lodge, fully animated by the unpredictable nature of the enterprise. "We do physical work. Vendors are shipping and delivering here every day. Our trucks transport refined inventory. Oil field equipment is headed outside the country. It's robust movement that is an integral part of the supply chain. No day is the same."
Lodge is blessed with not only his father's passion and professional acumen but also his mother's generous spirit. Janet Lodge was a tireless volunteer for decades for a myriad of causes associated with St. Thomas, St. Michael Catholic Church, The Regis School of the Sacred Heart, and as a member of the Charity Guild of Catholic Women before passing away with cancer in 2016.
"My mother instilled in me that you always give back, especially to those who helped get you where you are," says Lodge. "She was involved in so many important ways but often behind the scenes. She was part of Habitat for Humanity to rebuild homes in New Orleans after Hurricane Katrina. Her example was selflessness and strength."
Qualities that Lodge embraces as an engaged and devoted parent with his wife Alice. Their son Will represents the first legacy student at Regis.
"It's years away but I see him attending St. Thomas," says Lodge. "The school has played such an essential role in my formation. There's a desire to keep that connection."
Navigating within the lumber sector is a uniquely rugged, cyclical proposition. Pricing and supply are often volatile. In addition to creating innovative strategies and products to meet their requirements, Lodge Lumber is mindful that best practices and sustainability go hand-in-hand. Cognizant of the environment, they are stewards of natural resources and committed to green initiatives that minimize waste and pollution. The company also understands the power of philanthropy and actively supports a host of Houston-based charities and nonprofits, including Houston Methodist Hospital, Texas Children's Hospital, the Navy Seal Foundation, the Houston Food Bank, and the Astros Golf Foundation.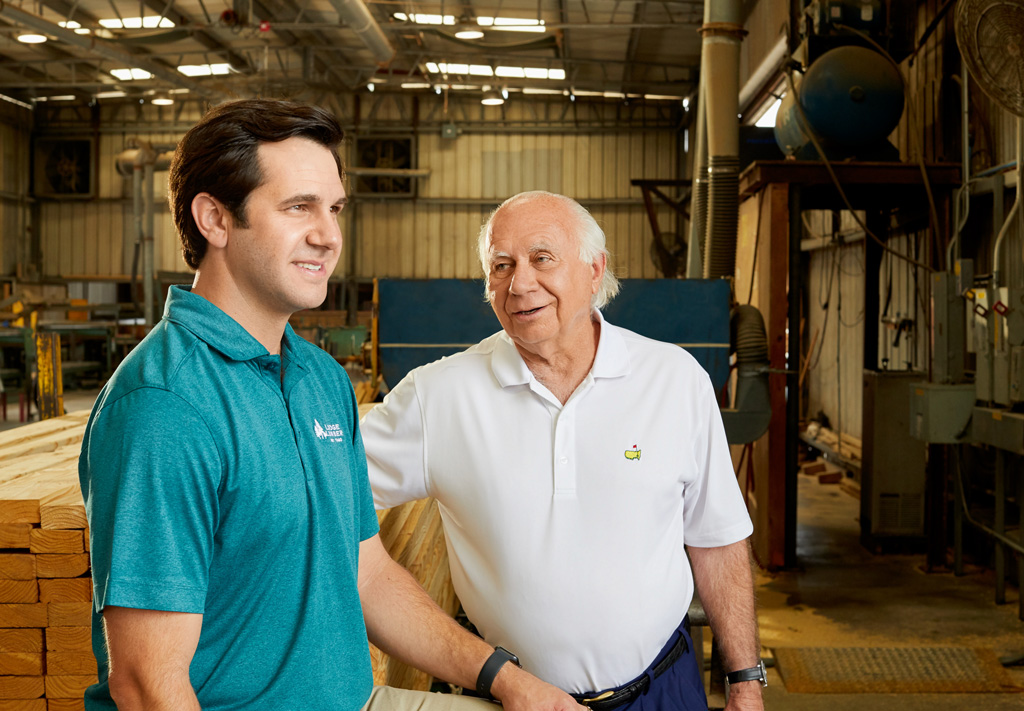 Eventually, Lodge will lead without his father by his side. What he will continue to bring is exactly what Lodge Lumber's anchoring ideology demands – fundamentals, resiliency, sound economics, and tactical enterprise-building. But there is more in play than a clear corporate vision, a North Star to guide all aspects of the evolving operational and management priorities. Lodge projects the promise to inspire loyalty and admiration among close associates. His is the gift to feel a connection beyond a paycheck.
"This company has an incredible foundation and we can continue to grow this business significantly," says Lodge. "I'm not sure I understood that full potential five years ago. Regardless of our ongoing direction, we'll never abandon our family roots, what our business, our family, our name represent. The culture was instilled by my grandfather – work hard and celebrate the blessings each and every day."
Catholic. Basilian. Teaching Goodness, Discipline and Knowledge since 1900.