Designated hitter Vincent Ori '21 drove in four runs while Will Rizzo '21 (Texas A&M) and Grant Stringer '21 combined to allow only one earned run as Eagle Baseball swept a two-game set with St. John XXIII, 5-1 and 10-2.
The Eagles (14-7-1, 5-1) continued a torrid pace in winning five of six games, outscoring the opposition 41-16.
Rizzo (110 pitches, 74 strikes) was dominant into the seventh inning on the road, striking out eight and allowing seven hits. A pair of two-runs innings staked sufficient support with Ori delivering a sacrifice fly in the second and a sharp RBI single in the fourth. Third baseman Jacob Cueva '22 also provided a line drive double to score right fielder Peter Corbett '21.
The Eagles immediately secured the follow-up contest at Fr. Wilson Field. They led 5-0 after two at bats and doubled their total with a five-run fifth. Ori and left fielder Braydan Salinas '23 each knocked in two runs while Corbett, Max Chung '21 (UT-Dallas), and catcher Bradley Batterson '21 collected RBIs in the runaway.
Stringer cruised through five innings (82 pitches, 48 strikes). He faced only 21 batters and punched out six. Chung tossed two scoreless innings of relief with two strikeouts.
Previously Colin D'Elia '21 singled in the 8th inning for the game-deciding run and  Rizzo followed with a scintillating shutout as St. Thomas defeated Beaumont Kelly in back-to-back outings to open the district race with consecutive victories.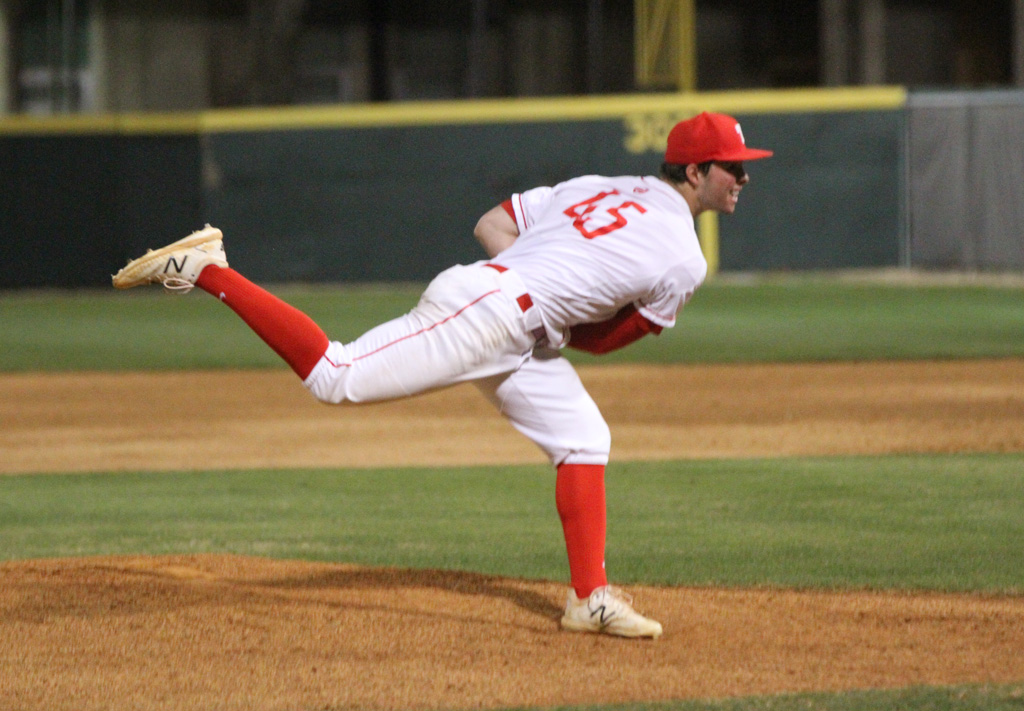 Rizzo (73 pitches, 46 strikes) struck out eight and allowed only one hit over five innings at Fr. Wilson. The bludgeoning support assault started with a four-run first inning and an 11-0 avalanche margin after three.
Ori and catcher Batterson combined to drive in four runs. Stringer and Chung each delivered an RBI. The Eagles also took full advantage of four walks and three Kelly errors for a third straight victory.
In the series opener, St. Thomas built a 7-0 cushion with Batterson racking an RBI single in a three-run first inning and a two-run base hit in the third to score Ori and Corbett. Third baseman Drew Tolson '21 (Beloit College) added a clutch two-out RBI for the emphatic count before requiring the extra inning rally.
The Eagles seized nine Kelly walks, another three errors and a wild pitch to post the win. Shortstop Eddie Villegas '21 scored four runs and Chung contributed two hits plus an RBI.
St. Thomas roared to eight wins in its first 10 games, including a near no-hitter from Rizzo at Fr. Wilson against Clear Falls. He rocked into the final inning while striking out 13 in a dominant 3-1 victory. The right-hander was in total control throughout with his most commanding career start (100 pitches, 66 strikes), punching out the side in the fifth and sixth innings before allowing a lead off single in the seventh. Rizzo was one out away from the shutout when Clear Falls managed its only run. He surrendered only two hits and lead off walks to start the second and third innings.
Senior left fielder Jarun Shelby's one-out two-run single in the third producing the first runs of the game. In the next frame center fielder Chung came up clutch with two outs, driving home Tolson with a sharp single to left.
Eagle Fight Never Does!