Prepare ye! Spellbound by Godspell.
To usher in the spring, St. Thomas Theater rolled out a thoroughly refreshing and relentlessly perky production of the 1971 American-tribal-love-rock-Jesusical. Renowned director Dan Green shaped a vivid blend of imagery, emotion, soundscape, and music to create an amazingly impactful experience. His fresh-faced, likable cast embraced the material with the eagerness of new converts. Among the dynamic headliners from a deep, captivating star-studded senior class, Leo Wilson '21 and Bishop Yokubaitis '21 appeared in their 11th show-stopping St. Thomas presentations.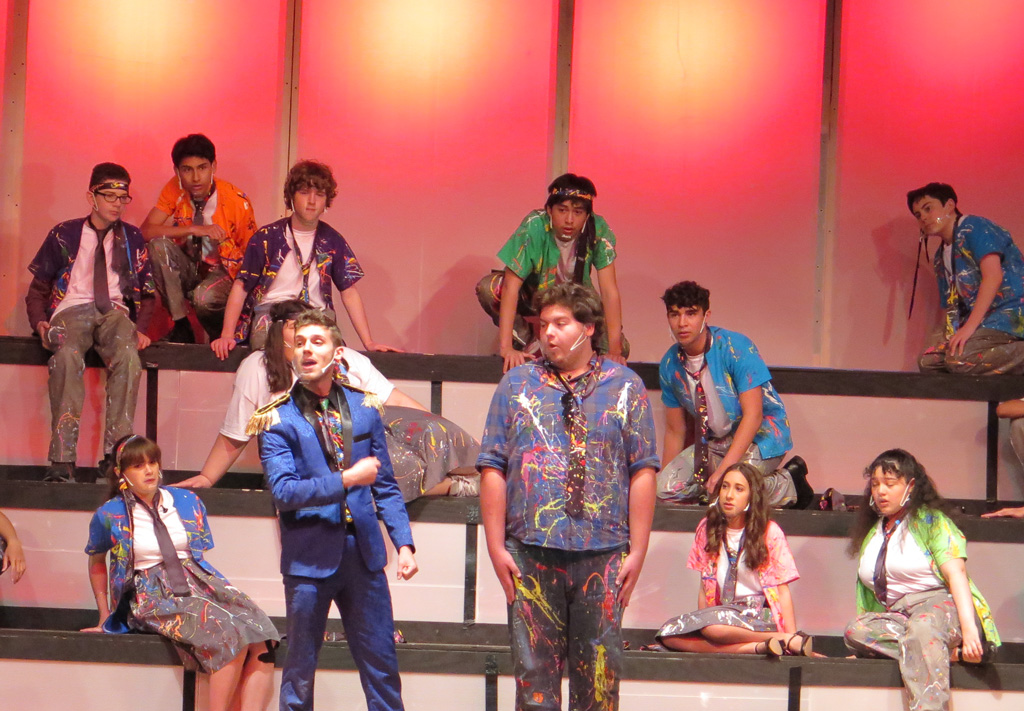 Based very loosely on the Gospel According to St. Matthew, Godspell is not so much a linear story but a series of parables transformed into singable teaching moments with updated contemporary language and a breezy, infectious score.
"With the pandemic being such a crushing force for the better part of a year, I wanted something that would lift everyone's spirit," Green says. "You can do this play with a smaller group and have enough fun parts to spread around the talent. The world needed all the joy it could muster so we thought we would bring it out."
The Show Must Go On
The whole St. Thomas enterprise had a kum-ba-Yahweh quality.  Smart, and smartly prepared to perform the 50-year-old gem within the boundaries of COVID-19 sensitivities. St. Thomas Theater presented its first production since the coronavirus lockdown. Historical and social context counts in how a work of art is perceived, and any kind of in-person encounter with flesh-and-blood practitioners was a revival in every sense.
Allelujah!
"I'm always humbled by how the students commit and the quality they deliver," Green says. "I was particularly moved by this group in these circumstances. There are honestly no words to describe my admiration given the trials of the pandemic and how they overcame the challenges to invest."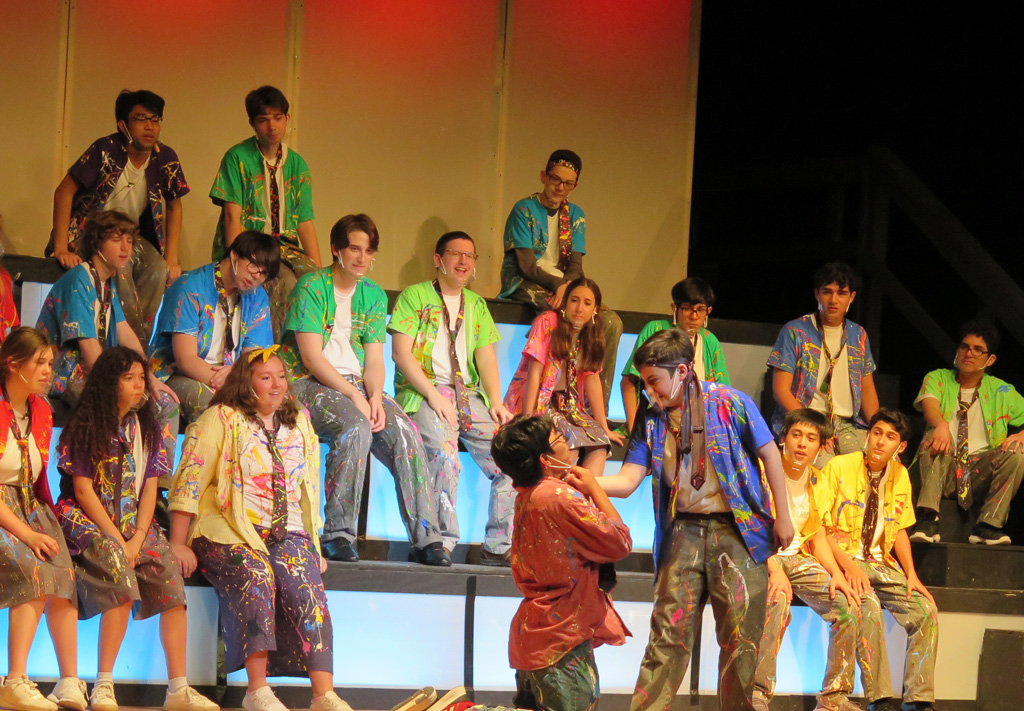 Godspell was touching and illuminating, an exercise in youthful exuberance with actors seemingly bopping, bouncing, and bounding non-stop across the stage.
Red Bull not required.
Given its Biblical base, the romping dance numbers and beautiful ballads remain strangely irreverent, at times wacky, and most often endearing. This extravaganza shined most through the vocally adept artists bringing great precision to solos and cohesive balance to the chorus. And though technology has advanced beyond imagination in the intervening years since the 1971 breakthrough, the original spirit has remained. Godspell still felt like an evangelical service in which everyone was expected to put their hands in the air and whoop.
Wilson made for a charismatic Christ figure, successfully capturing the boyish enthusiasm of this musical-comedy Messiah. Gus Boettcher '21 (in his eighth St. Thomas performance) intermittently exuded dramatic intensity in the dual roles of John the Baptist and Judas. The big-voiced, big-hearted cast of savvy kids featuring Yokubaitis, Hunter Cummins '21 (Socrates), Hayden Diamond '21 (Herb), and Noah Mims '21 (Jeffrey) thundered a parade of traditional tunes such as "Day by Day," "Turn Back, O Man," "Learn Your Lessons Well, "Prepare Ye the Way Of The Lord," and "By My Side" with clarity, conviction, and a radiant gratitude for the chance to be there.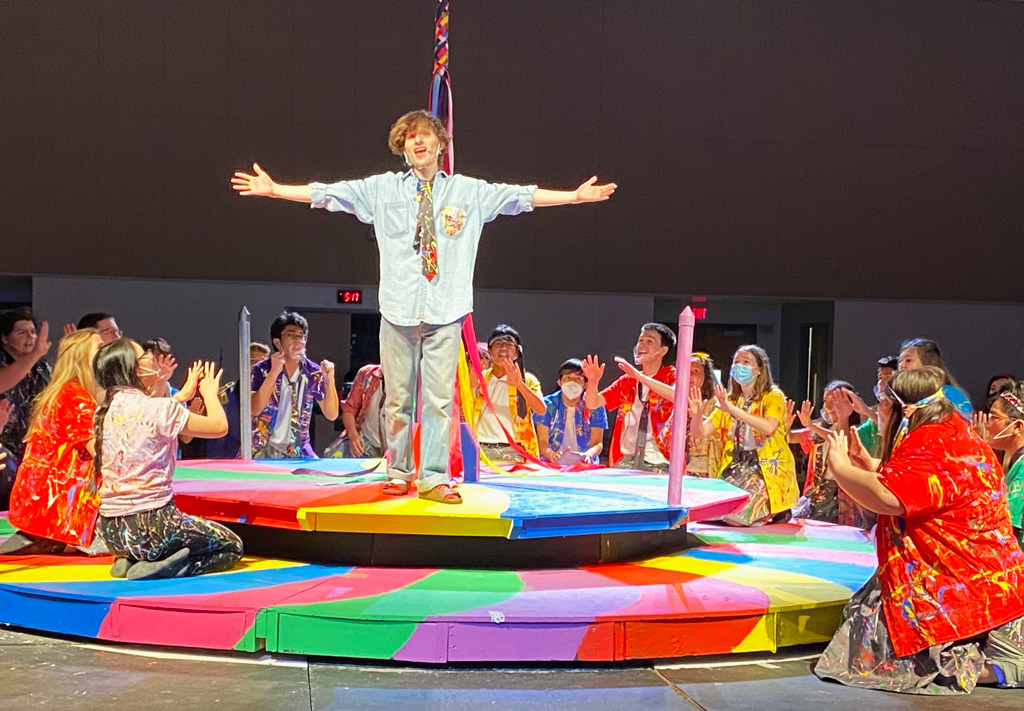 "Leo is an immense singer with so much experience in comedic roles," Green says. "He was asked to play a more human character than the rest of the ensemble and rose to the demands. Gus has incredible natural timing and body control, always aware of how to play off the audience. The juxtaposition of his magnetism against the everyman quality of Wilson was exciting to see unfold.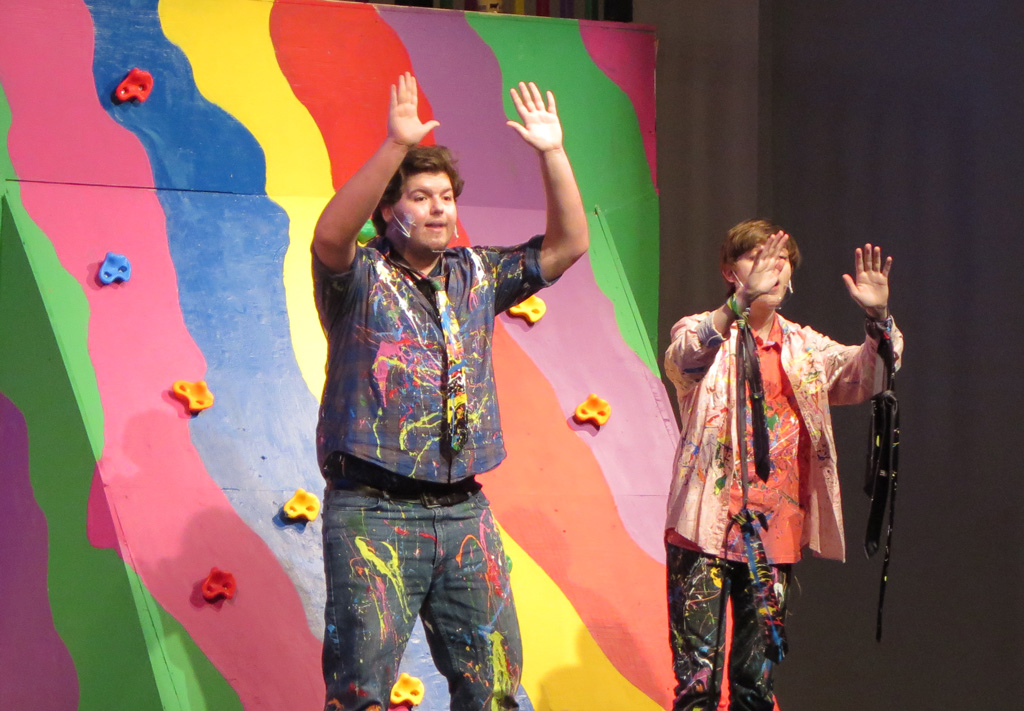 "Bishop was the workhorse. He always has the right attitude to pair with immense talent and intelligence. I could give him the phone book and by the end I would want to listen to him read. Hayden was vital in building energy within the group and getting them on the same page. (Senior) Benito Moreno-Garza controlled the soundboard for the first time. Avery Garig (Gilmer and Incarnate Word Academy '21) and Sara Roldan (Robin and IWA '21) could have led any show I selected. I'm amazed at the immense talent we are going to lose after this year. It's similar to (Major League Baseball super agent) Scott Boras coming in, raiding the 2017 (World Series Champion) Astros, brokering deals and suddenly they're all gone."
The thrilled March audiences in Cemo Auditorium were reminded through clarion voices and fresh, zestful personalities of the lively simplicity and openness that has made Godspell an ageless show widely performed in schools, summer stock repertory, and regional playhouses for generations. Yet, Green was determined not to merely churn an alma mater-like rendition. The director's directive was to be relevant to today's youth and keep the play ticking along at a fervent pace. Spicy guest appearances included St. Thomas President Fr. James Murphy, CSB and Steve Green '68. And once again, Godspell celebrated the idea that the spiritual life is of paramount importance. Among the many parables enacted with pep were several reminding that an obsession with material achievement will land you on the wrong side of the fence come judgment day.
Sensational Send-Offs
Godspell marked the climax of two scintillating St. Thomas acting careers. The multi-faceted Wilson is the first four-time TAPPS all-state choir performer in school history, and the son of St. Thomas Choral Director and faculty member Josh Wilson (2020 Grammy Award-winning member of the Houston Chamber Choir), who was involved in his 18th STH production.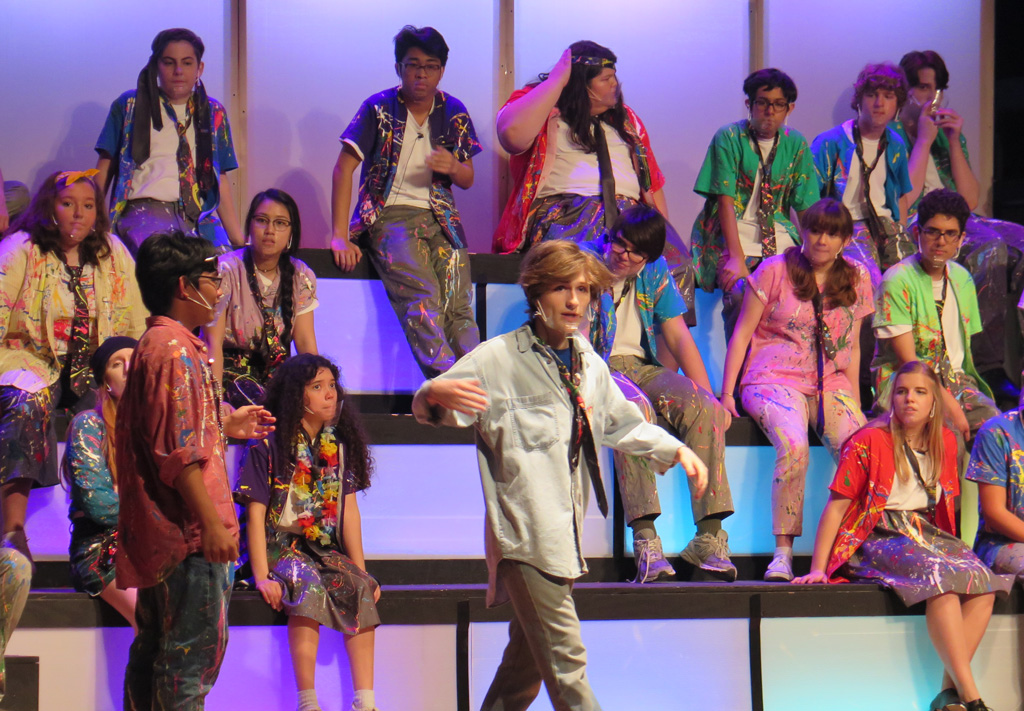 Wilson the younger and Yokubaitis were introduced to the St. Thomas program through family connections while still precocious grade-schoolers. Before enrolling as freshmen, they had each appeared in such classics as Macbeth, Fiddler on the Roof, Much Ado About Nothing, The Mouse That Roared, Oklahoma! and The Three Musketeers. The Yokubaitis family tradition now extends to Bishop's sister Zoe (Joanne and Incarnate Word Academy '23), already with six St. Thomas plays on her resume.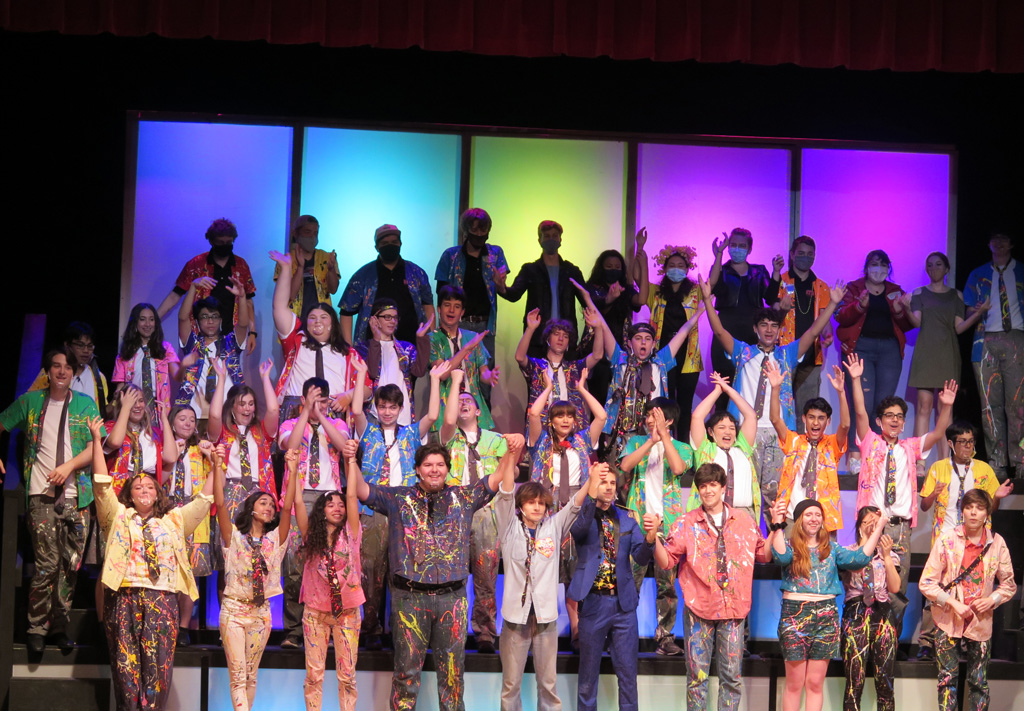 "This weekend was a very emotional experience for me because of how long I've known Leo and Bishop, and watching them develop over the years," Green says. "Early on I recognized their potential and was confident they would put in the effort. There's a scene where six-foot-four Bishop puts a hammer hug on Leo who is all of five-foot-eight and it's an endearing moment. I couldn't help but recall their first shows. It's much more than gratifying to see those two young men excel knowing what they represent in their best moments."
The unrivaled set construction skills of faculty members Phil Gensheimer and Daniel Bryant '93 were again in full dazzling display with set crew coordinator Adam Gensheimer '21 integral in crafting the final design. He and student construction manager Arthur Clarke '21 tag-teamed on their eighth consecutive production and helped devise a wonderfully minimalistic atmosphere that enabled the kaleidoscope lighting to accent the space.
At The Beginning
Godspell launched as ultra-catchy genre-hopping pop songs by a young Stephen Schwartz and a kind of sort of New Testament story arc conceived as a non-musical master's thesis by the late John-Michael Tebelak. One of several biblical-themed musicals from the 1970s, Godspell joined Two By Two (think Noah's Ark), rock opera Jesus Christ Superstar, and Joseph and the Amazing Technicolor Dreamcoat in that decade. With a five-year run Off-Broadway before opening at Broadway's Broadhurst Theatre in June 1976, Godspell was a monster hit a half-century ago, running more than 2,000 performances and later turned into a sickly-sweet sentimental movie.
Catholic. Basilian. Teaching Goodness, Discipline and Knowledge since 1900.