Acclaimed St. Thomas scholars Gus Boettcher '21 and Patrick Pham '21 have earned the National Speech & Debate Association's Academic All American distinction. The coveted award recognizes academic rigor, champion speech and debate success, and personal excellence.
Fewer than 1% of the more than 141,000 members of the National Speech & Debate Association share such recognition – students who have completed at least five semesters of high school; earned the degree of Superior Distinction in the Honor Society (a total of 750 or more merit points); achieved rigorous criteria for GPA and/or test score requirements; and demonstrated outstanding character and leadership.
Pham is the 2021 St. Thomas valedictorian having achieved the highest rank within his class based on the calculation of their four-year grade point averages. He and Boettcher are both two-year members of the St. Thomas Chapter of the National Honor Society and achieved permanent membership into the prestigious St. Thomas Club – champion scholars with a minimum 4.0-grade point average for seven consecutive semesters.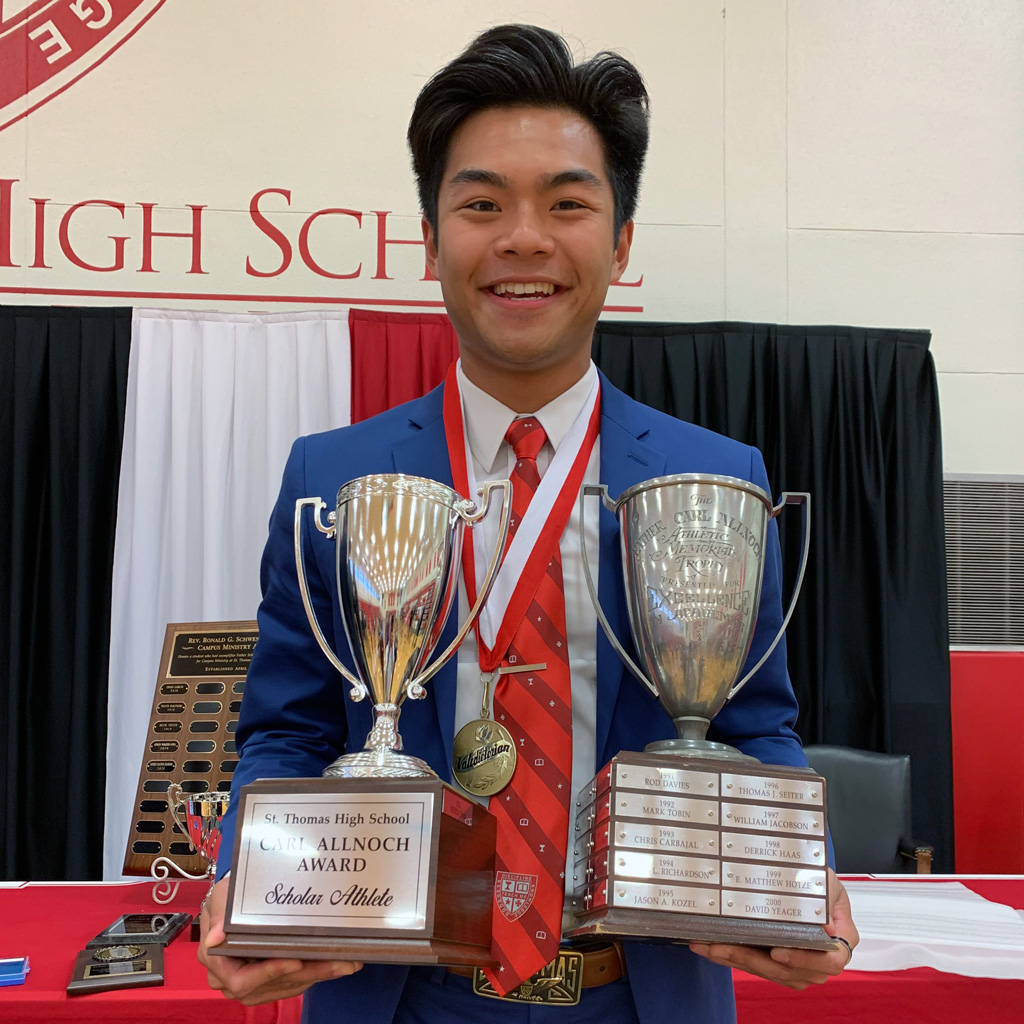 Previously Pham accepted the Rev. Carl M. Allnoch, CSB Athletic Memorial Trophy for Excellence in Academics, in honor of the 16th principal of St. Thomas. The two-sport student-athlete was an important contributor during the unprecedented four-year ascent of Eagle Swimming that included consecutive TAPPS state championships in 2019 and 2020.
Boettcher was selected for the Rev. Albert R. Gaelens, CSB Award, given to the senior student who best embodies the school motto of Teach Me Goodness, Discipline, and Knowledge. The student body vice president will attend Vanderbilt University while Pham is enrolling at the University of Texas at Austin.
In addition to earning significant renown in the most prestigious forensic competitions in the country, the two were vibrant performers appearing in a series of robust productions staged by St. Thomas Theater and inspiring senior leaders in the 2021 Round Up student fundraising initiative. The annual raffle ticket sales generated nearly $600,000 for St. Thomas tuition assistance, the half-million-dollar mark crashed for the sixth year in a row.
Catholic. Basilian. Teaching Goodness, Discipline and Knowledge since 1900.