The St. Thomas Class of 2021 proved to be a pipeline pumping streams of superlative high-octane performance as if West Texas Intermediate was bursting at $70 per barrel and the eyes of the energy sector were in perpetual spin cycle.
The salutatorian, officially second to but one, not only met but exceeded his own outsized four-year expectations.  Most importantly for Hayden Diamond '21, he set a sterling standard while also clearly flashing a unique IQ for people. His demeanor and his cultural mindset were fervid additions to the student community, the effects both immediate and long lasting.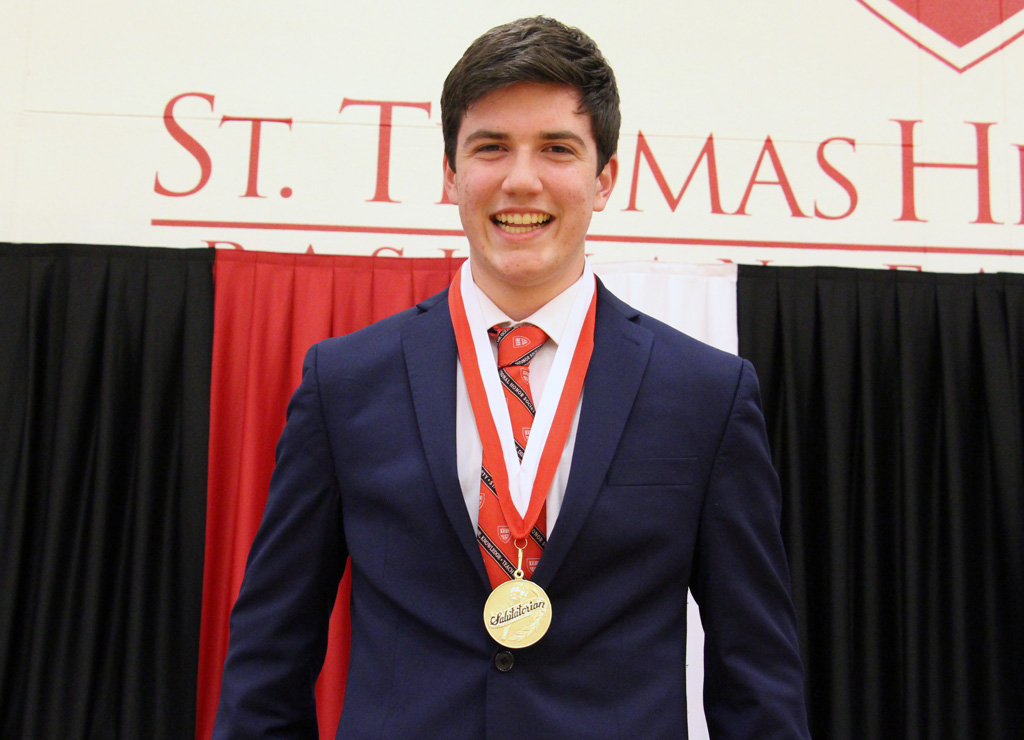 "I was motivated to always do my best," Diamond says. "And I quickly realized that any goal at St. Thomas would be attainable if I was willing to commit to excellence. The biggest reason was that the faculty and counselors are not here to only execute required duties. I was challenged academically and as a person because people cared about me, what was happening in my life, and what was needed for me to reach my dreams."
Diamond joined a superlative cast of 2021 scholars as two-year members St. Thomas Chapter National Honor Society and served as the 2021 parliamentarian. He earned permanent membership into the St. Thomas Club – elite students with a minimum 4.0-grade point average for seven consecutive semesters. He contributed mightily to seven productions in the prestigious St. Thomas theater program, including Frankenstein, Guys & Dolls, Shakespeare's A Midsummer Night's Dream, and Godspell. He was a riveting influence in the raucous Round Up fundraising initiative that smashed records and staggered the imagination by generating nearly $600,000 for St. Thomas tuition assistance.  Diamond placed sixth overall with individual sales totaling $11,120.
Off-campus, Diamond volunteered as a summer graduate assistant counselor at DECATS Houston – an intensive three-week enrichment program for gifted middle school students that also emphasizes character development, communication skills, and executive functioning.
But Diamond's most defining moment was in responding to shredded Lake Charles, Louisiana in October 2020. The working-class city of roughly 80,000 people was eviscerated by a direct assault from Hurricanes Laura and Delta, some of the most powerful storms to hit Louisiana. Thousands of residents were displaced, victims during an extraordinary series of national misfortune on top of a pandemic. In a slog toward recovery, Diamond answered the dire needs of a city overlooked in a year of disaster and unrest.
"After witnessing the devastation caused by Hurricane Harvey, I knew what Lake Charles was facing," Diamond says. "I have family there and felt a need to do something. I organized a drive for necessities, teamed with my father (Sean) and (senior) Michael Bevers to accept donations. We got out the word, collected enough items over a matter of days to load an 18-wheeler, and got the items into the city for distribution at a small Catholic church."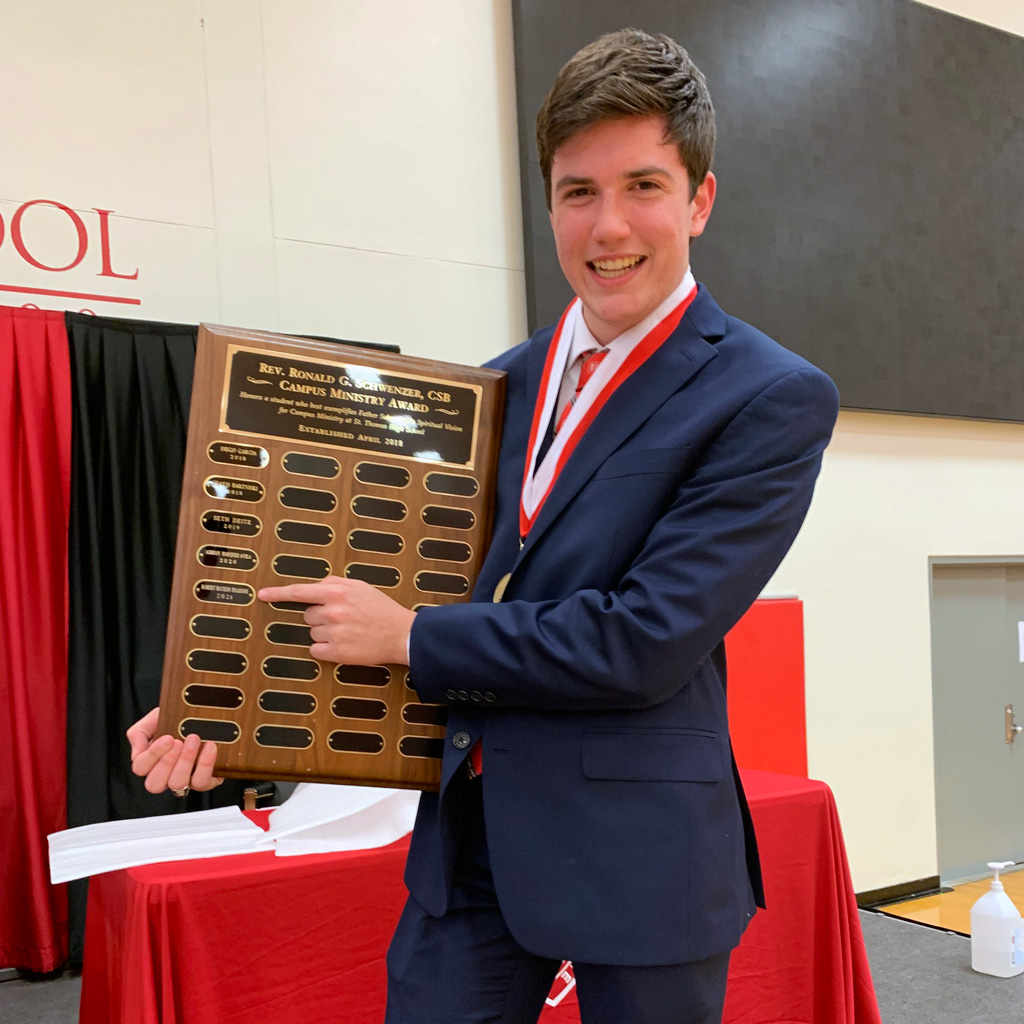 For his compelling relief efforts and many less obvious compassionate acts throughout his St. Thomas career, Diamond received the 2021 Rev. Ronald G. Schwenzer, CSB Campus Ministry Award for most exemplifying the Man of St. Thomas motto of Faith, Service, and Leadership. "Service has always been a driving force in my life. It's rewarding to give to the less fortunate and allows you to have a greater appreciation for what you have."
Diamond entered St. Thomas from St. Martha Catholic School in Kingwood with a specific purpose, but he never anticipated the richly rewarding possibility awaiting him his junior year. Even with a full commitment to a rigorous AP curriculum and a full array of discretionary projects, Diamond was pulled to join an inner circle of friends – valedictorian Patrick Pham, Griffin Gregory, and National Merit semifinalist Dylan Michaels – igniting Eagle Swimming to unprecedented heights.
"I had played soccer my entire life but never competed in swimming," Diamond says. "This was an established group that had won the program's first-ever state championship and was looking to repeat. Not much room for a rookie. But I was welcomed with such enthusiasm even though I was starting at ground zero. The coaches spent extra time with me working on technique."
The dividend of Diamond's due diligence was a contributing role in the 2020 Aqua Eagles successfully defending their state title and posting a strong second-place finish as a 2021 encore.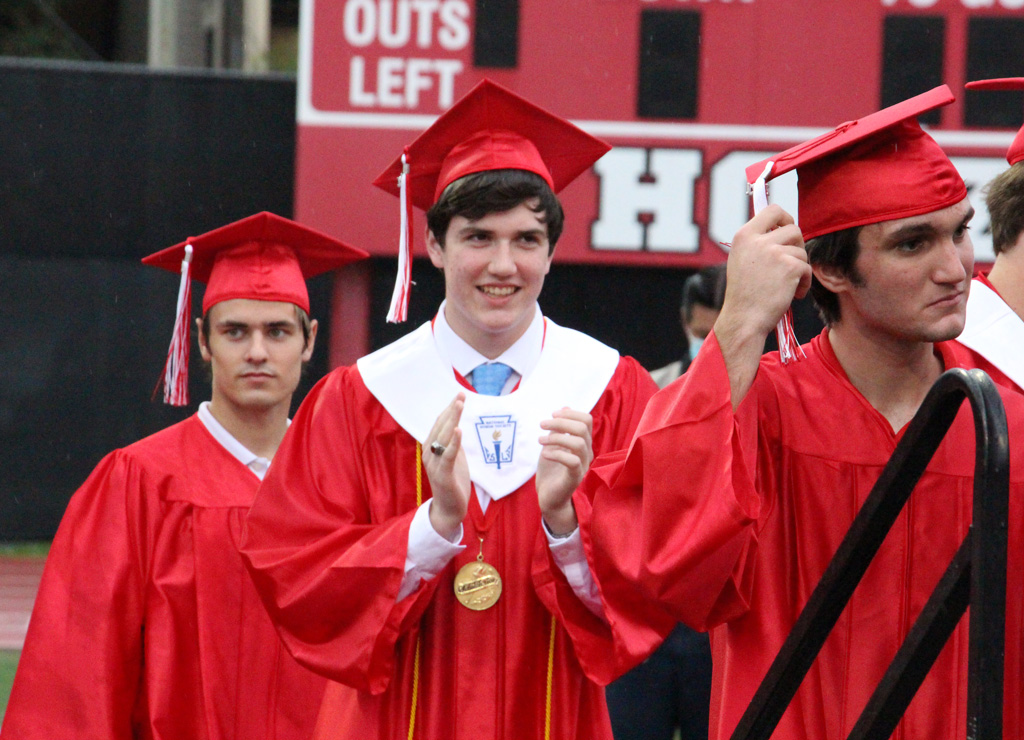 "I never saw myself playing in that kind of situation and the lesson will last me a lifetime," Diamond says. "Never be afraid to take a risk. That first week and first month of practice were rough. I was exhausted after workouts. But I stuck it out and learned the value of seizing every opportunity that comes my way."
Next on Diamond's docket is the Honors Program at the Mays School of Business at Texas A&M University. "What's exciting is that I don't yet know what career path I ultimately want to pursue. I intend to perform academically the best I possibly can. And I want to fortify the moral character that I've built so far. Service to others will always be a priority in various forms. But I'm excited to see all what A&M has to offer, in and outside of the classroom, and start the adventure. In some ways, I anticipate the journey will include developmental and incremental goals similar to what I encountered at St. Thomas."
Catholic. Basilian. Teaching Goodness, Discipline and Knowledge since 1900.