By every metric, their lives and careers were outrageous St. Thomas successes. They crafted renowned academic acclaim with signature style and resounding selfless leadership. They flashed an exhaustive effervescence with a mature command and composure well beyond their years.
The phenomenal threesome from St. Cecilia Catholic School arrived independently together as freshmen and remained perched at peak positions atop the Class of 2021, an improbable buddy movie boldly unfolding on the Eagle campus in real time.
Patrick Pham, the 2021 valedictorian and president of the St. Thomas Chapter of the National Honor Society who received the Rev. Carl M. Allnoch, CSB Athletic Memorial Trophy for Excellence in Academics. 2021 student body president Luke McLane, the Principal's Service and Leadership Award recipient. And his vice president, National Commended Scholar Gus Boettcher, the Rev. Albert R. Gaelens, CSB Award winner.
Exulted, inspiring examples of gain through goodness, discipline, and knowledge. Best friends before and now, often inseparable. And an integral element of their bond – mutual amazement.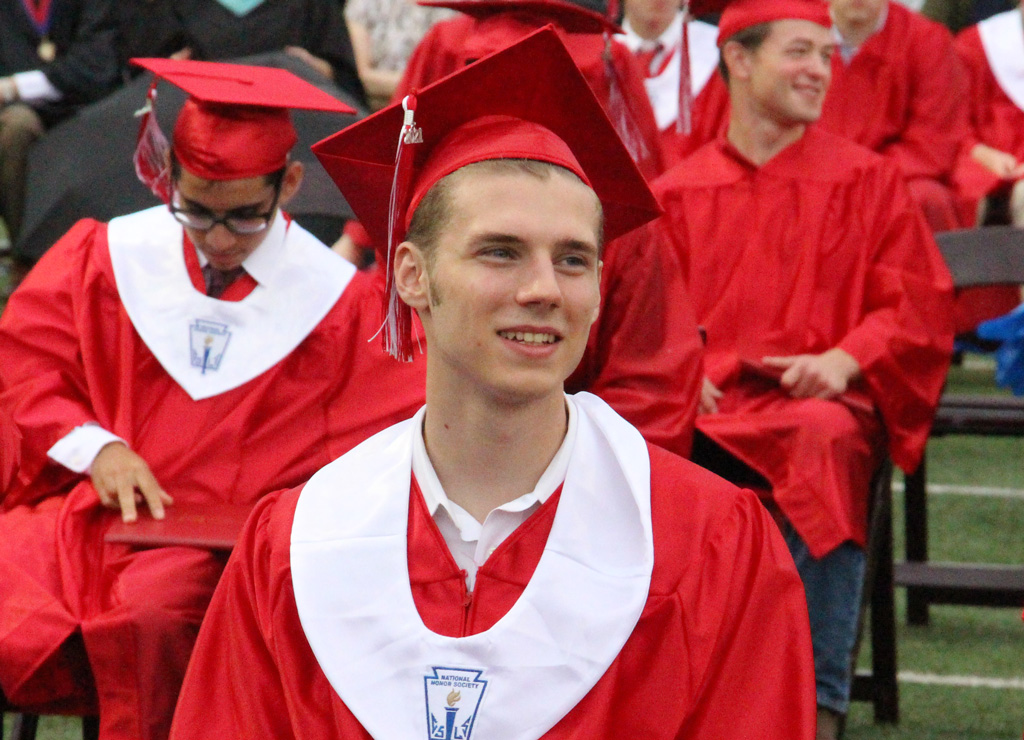 Boettcher wrote "one of my college essays about Patrick and Luke and how I value our relationship. I wouldn't be where I am without either one. Patrick knows how to get what he wants. I'm the idealist, the dreamer. He's the pragmatist who navigates the details. We've all grown up together."
Pham and McLane routinely sport wry grins and boundless energy. Bubbly and outgoing. Boettcher is similar but the persona doesn't always translate. For him, there's a fine line between the public and private, and a part of his personality remains steadfastly on one side, a tad more reserved and focused. Despite some subtle demarcation between them, the Fab Three unanimously chime that "we bring the best out of each other."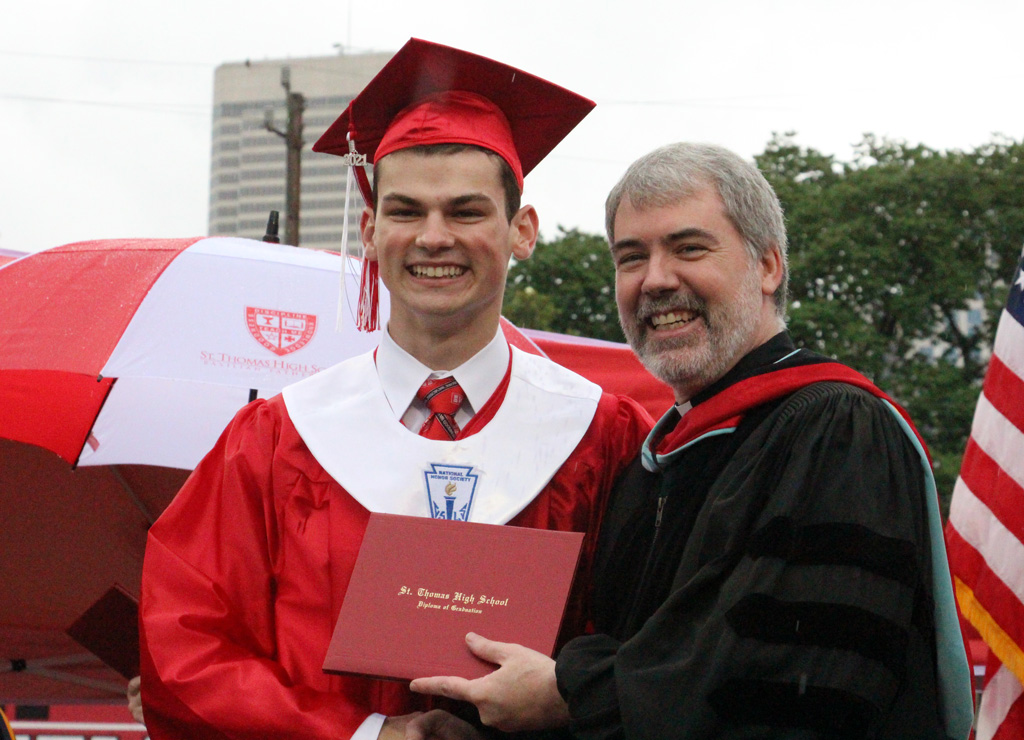 "Gus and Patrick are an essential part of who I've become," McLane says. "They're passionate, always competitive within the group in a healthy way. Our freshman year they were non-stop out of the gate. Without their example, I may not have had the same drive. We all had similar goals and I quickly saw I had two partners blazing the path."
Pham was the first to commit to St. Thomas. An extensive scholarship package titled the decision in the direction he was desiring. He had known McLane since kindergarten, who was the next to determine without the slightest shove of group text pressure.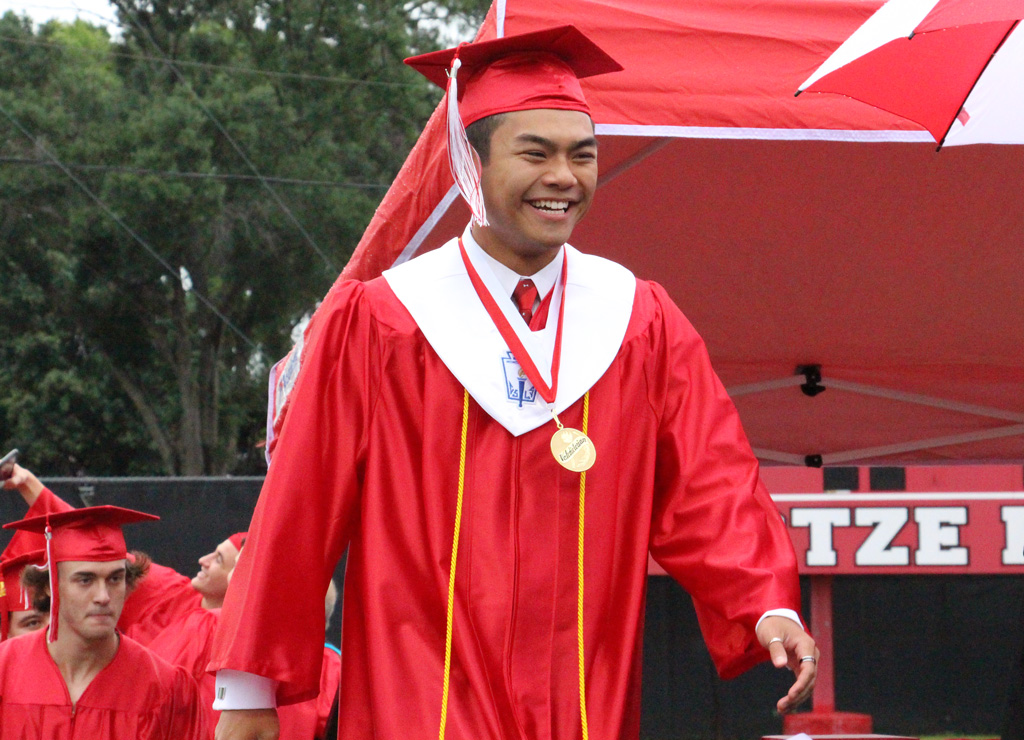 "I knew Patrick was decided but high school is an important decision and I wasn't basing my choice on my friends," McLane says. "When I visited and shadowed other college preparatory schools, there was no juice. No one appeared excited to be there. Rigid. Formula. I saw St. Thomas as much more organic, a community where I could have an impact. I was confident the administration would value my input and listen to what I had to say to make St. Thomas better. I made my call but refused to tell (Patrick and Gus)."
Two down, one to go.
Boettcher was "headed somewhere else. But Patrick mentioned something extremely meaningful. He told me, 'You'll do well regardless of where you go, but if you're going to make the best memories, wouldn't that be with us?' He helped open the door that St. Thomas offered the most diverse culture for what I wanted, where I could thrive holistically."
And in a class full of gifted freshmen who arrived on campus as question marks still to be answered, Pham proved to be an exclamation point engraved in stone.
He was an explosion, a tsunami who swallowed up everything and anything in his way, a natural kinetic state that created the sensation of always moving forward without revealing an illuminating portion of his past.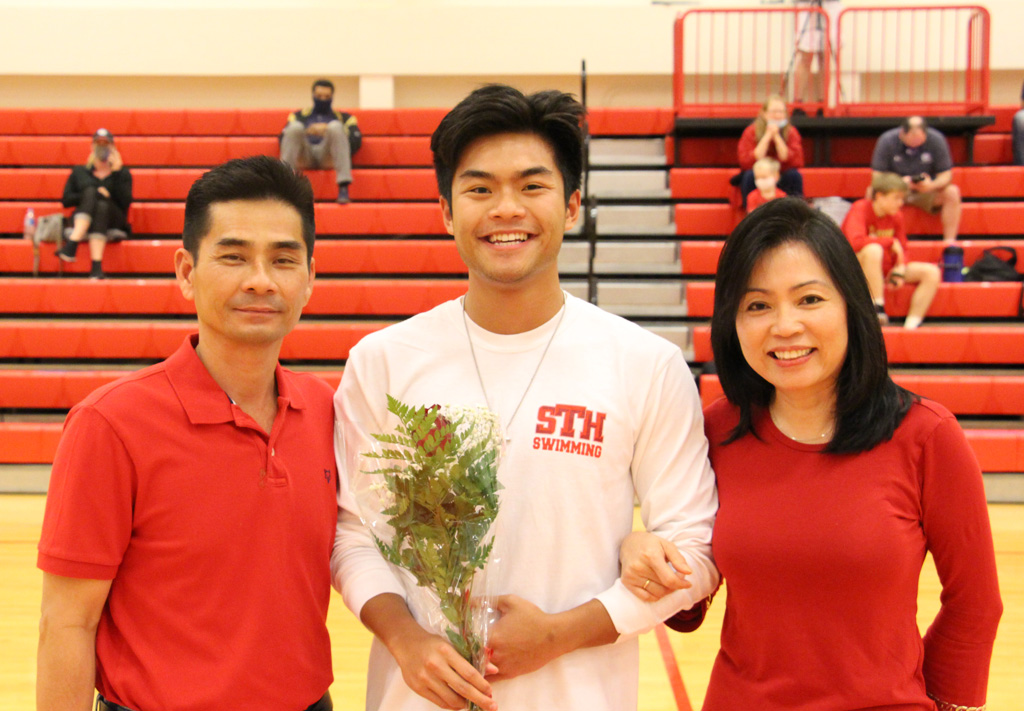 "My mother (Tracy Pham) arrived in the United States when she was 18 and my father (Phillip) in his early 20s. No formal education for either. But they adapted and forged a successful life," Patrick says. "My parents are genuinely uplifting examples of perseverance and compassion. In many ways, I represent everything they have worked for, everything they have dreamed. I've learned from my parents that we are on this Earth to pay it forward. All that I've accomplished is a testament to their sacrifices and will to overcome."
During four whirling, overarching years, Pham and his insatiable cohorts personified the multi-faceted St. Thomas experience, pouring through seemingly every crevice on campus. They were two-year members of the National Honor Society who graduated as permanent members of the St. Thomas Club – elite scholars with a minimum 4.0-grade point average for seven consecutive semesters. They were nationally recognized performers in the celebrated St. Thomas speech and debate program and earned significant merit in the most prestigious competitions in the country. They teamed as vibrant artists appearing in a series of robust productions staged by St. Thomas theater. Pham also contributed to state championship breakthroughs for Eagle Swimming and Eagle Track and Field.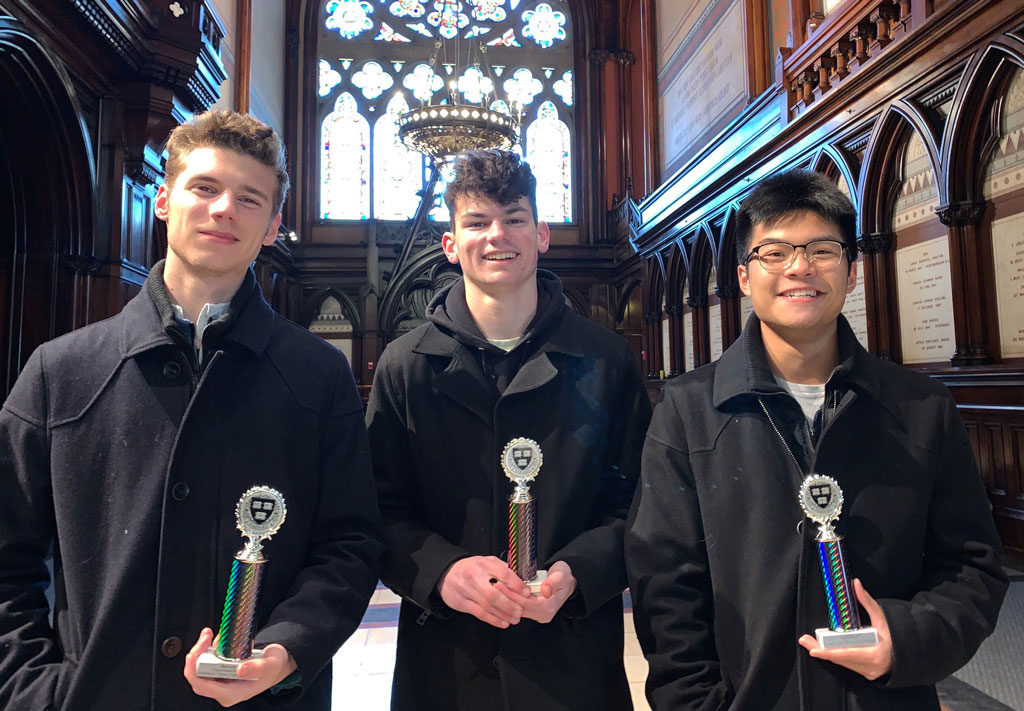 The preposterous achievement extended from St. Thomas student journalism and media to the Archdiocesan Youth Council and the Boy Scouts of America, from voracious volunteerism to Life Team leadership to classically trained piano.
But it was in forensics that Pham and Boettcher discovered acute stardom as a titanic tandem, culminating with All American distinction from the National Speech & Debate Association.
"I knew I was good, but once we expanded to the national circuit, I became obsessed," Pham says. "I was mesmerized by the most accomplished and saw how they sized up judges, almost customizing the performance to what the discerning eyes wanted to see. How to control a room, the nuances – you can't teach it. I cultivated and polished those skills and will take them with me to help create more meaningful relationships with colleagues and contemporaries."
While often playing alongside the indefatigable machine that was Pham-demonium, Boettcher seemed to relish the role of straight man. His gut burn to be great, while fierce, was more of an under-the-surface simmer.
"It was much more speech than debate where you're basically acting as a character," Boettcher says. "The interpretation is almost liberating, powerful, and free. Patrick and I authored a senior story centered on our grandfathers. We set the stage blocking, the editing, and brought the story to life. That personal, creative expression was indescribable."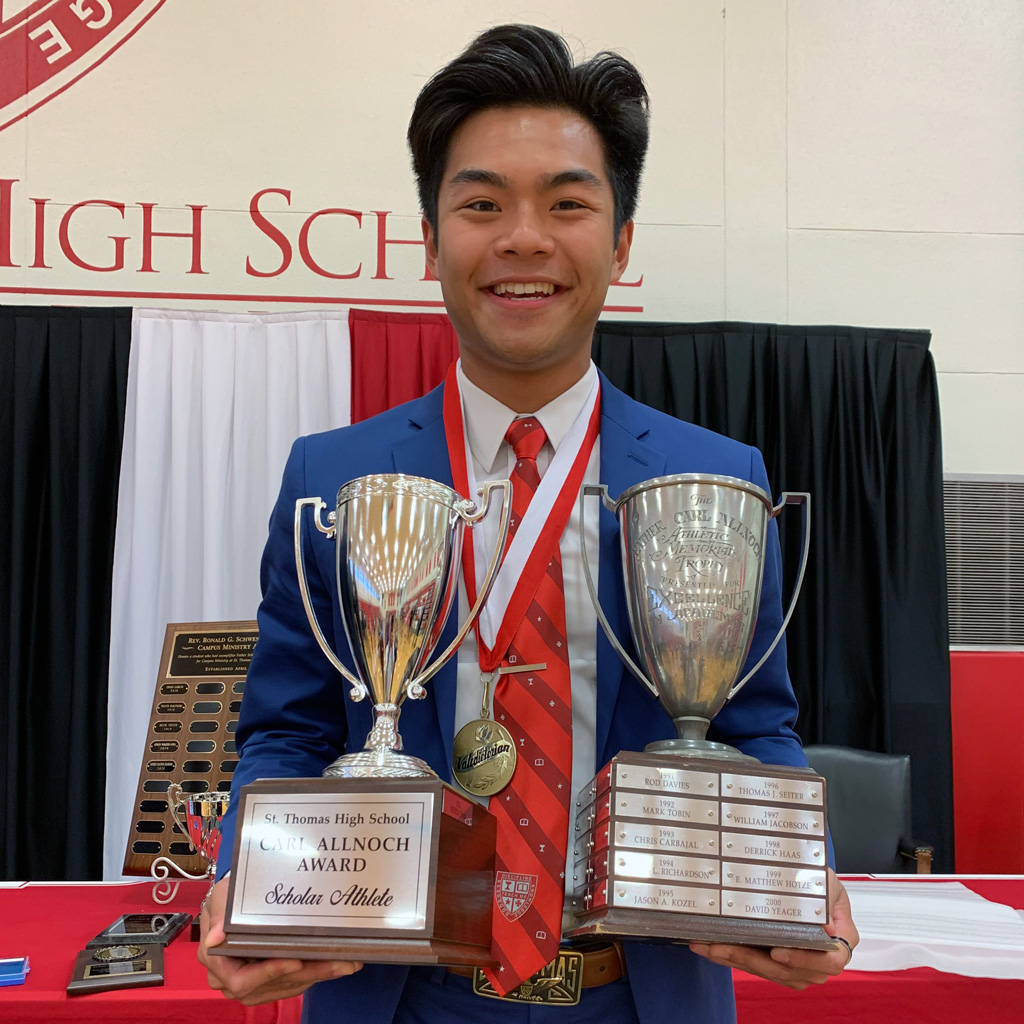 The spotlight, both literal and figurative, is only so big.  Pham rocketed with a sheer, irresistible force of personality and contagious, megawatt celebrity during an 18-month takeover of ups, downs, and sideway upheaval through the pandemic. Yet, as the terrific trio unspooled a wealth of individual wizardry, there was no divide, no jealousy. They emerged in equal measure to capture identities on campus and beyond.
Their crowning masterstroke was stoking and fueling the latest record-smashing Round Up eruption. The unmatched student body fundraiser overcame Mount Everest-esque odds to total nearly $600,000 in raffle ticket sales. All monies contribute directly to St. Thomas tuition assistance, a Basilian tradition for nearly a century.
"That Round Up was the most striking takeaway of my four years," Boettcher says. "The senior board accepted a challenge that was thought to be unapproachable. We pushed each other as if it were almost a day job. The attitude was 'no excuses.' And it was all real-world applications – delegating responsibilities, being accountable to others, knowing when to shut up or stand your ground, never losing confidence in yourself. Incredibly rewarding. And fun.
"With personal success, the satisfaction is not as lasting as you might expect. Sometimes the rush of a state championship is gone by the next day. But the Round Up effect was much larger than ourselves and much more practical."
And unquestionably speaks to the brotherhood. Yes, The Brotherhood. The vast latticework of Eagle alumni who passed through the same hallways nurturing a kinship, not merely connections. To outsiders, the sort of sticky-sweet self-mythologizing may create a collective suspicion for St. Thomas. But skeptics turn true believers once they've occupied the hollow walls.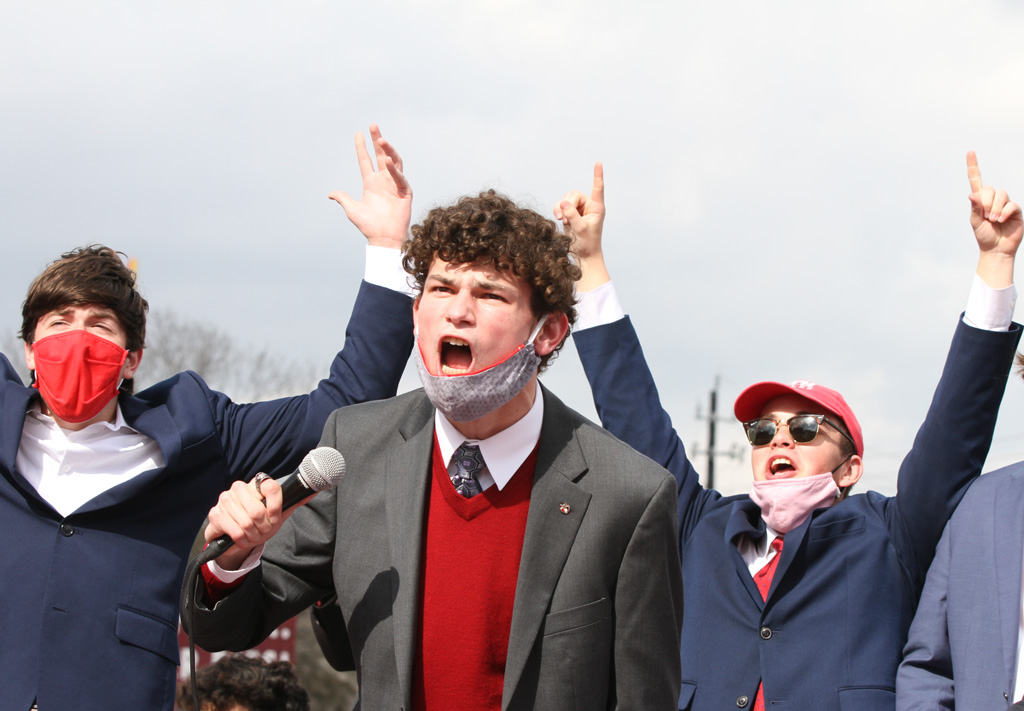 "My freshman year was favorable right away but, honestly, I wasn't convinced that the brotherhood that gets talked about so much was real," McLane says. "Round Up that year sold me and I knew that the (2021) freshmen needed that same reassurance. With the COVID limitations, they didn't have an accurate understanding of how St. Thomas works for every student. How could they with all the restrictions? As a senior class, we had to corral that group and trigger that fire, that brotherhood. We were not going to be denied."
McLane is one of more than 30 Eagle scholars from the graduating class accepted into Texas A&M University. He plans to study "physics and engineering, perhaps an astrophysics track to pursue a role with NASA." But McLane has already soared to searing heights serving as the student body president as "my payback for what St. Thomas did for me my first two years – the community, the experiences that I would not have gotten anywhere else. I can't express how those times helped build me as a man, my character. I never believed that was the school's responsibility. Their job was to educate, but the faculty and staff made it a priority to do so much more. When I reflected, I was so grateful. I knew that if I had the chance to be thankful, I had to do my best to give back to the school that gave so much to me."
The Fab Three's unique blend of profound personality and performance was punched without regard to class ranks, Q ratings, and Instagram raves – wunderkinds remembered as ambitious and outgoing, thoughtful and charming.  Their friendship propelled them to each become better together.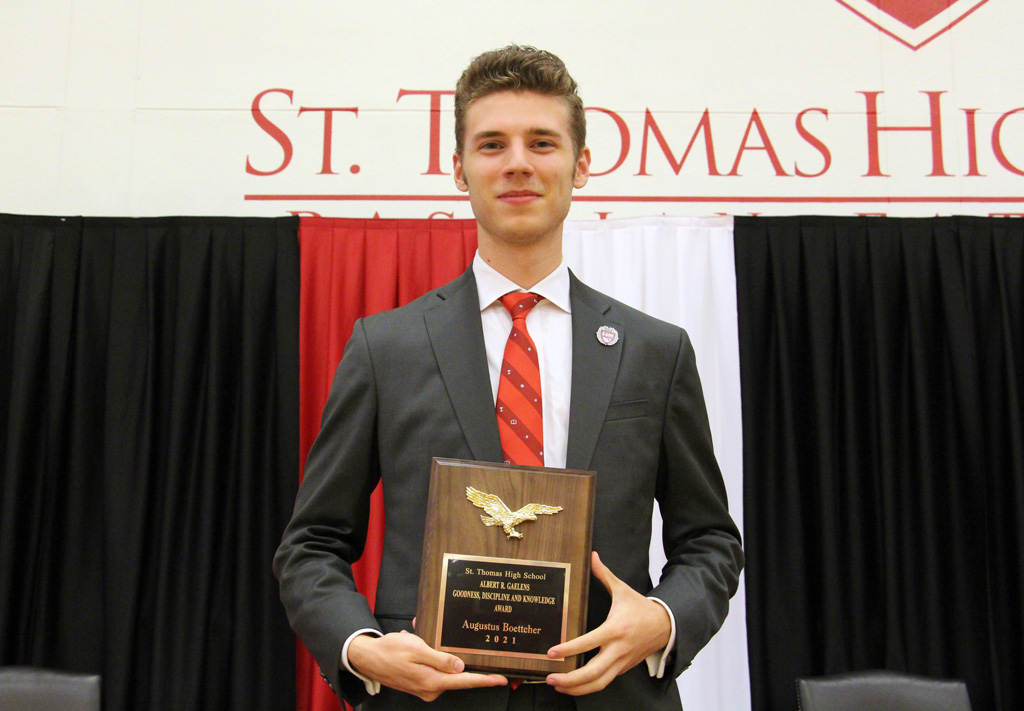 Boettcher is attending Vanderbilt University with a focus on human organizational development, business psychology, and political science. Pham was accepted into the Canfield Business Honors Program at the University of Texas at Austin where he'll study marketing and finance. He succinctly speaks for the three of a rare kind, inexorably linked, comets gaining speed and trajectory on the far horizon.
"My years at St. Thomas were anything and everything I could have imagined when I arrived as a freshman," Pham says with delight. "I'm proud to say that I don't have a single regret. I surrounded myself with committed students, embraced every extra-curricular opportunity, engaged in wide-ranging communities, sought meaningful relationships with the faculty, created friendships that I expect to last deep into my adult years, and made an impact on the campus community. I leave with a true sense of fulfillment."
Catholic. Basilian. Teaching Goodness, Discipline and Knowledge since 1900.