Kevin Silva '21 never should have entertained a senior-only quicksilver stay at St. Thomas.
He never should have left his family and friends and life as he knew it for a great unknown 1,700 miles across 10 states away from his home.
He never should have dropped absurdly out of nearly nowhere (well, actually, Long Island, New York) to emphatically impact an Eagle Football season and resurrect his personal performance from a myriad of injuries.
He never should have been presented with substantial – and against-all-odds – scholarship opportunity to extend his student-athlete career at Trinity University.
He never should have "fell in love" with a Basilian community he had no right to know existed six months before his arrival.
Kevin Silva never should have sought St. Thomas as a sanctuary for gridworld survival and a real-world reprieve.
But he did. Because of the coronavirus pandemic. He was confronted with the "hardest decision of my life. And it ended up as the best decision of my life. And I expect to look back in 30-40 years and say the same thing."
A Leap of Faith
In the early months of 2020, Silva was living with his mother Laura and his two brothers in Smithtown, Long Island, and primed for a grand football finale at St. Anthony's High School in South Huntington (founded in 1933 by the Franciscan Brothers of Brooklyn).
Silva had started only four games as a junior linebacker while on the bounce from assorted knee cartilage and ankle ligament issues. Now he was healthy, hungry to make amends for lost time and ignite last-second interest from college coaches.
But Silva's highly anticipated, sensational senior sendoff was about to be short-circuited by the coronavirus creating world-wide havoc and shutting down high school football in New York in the fall.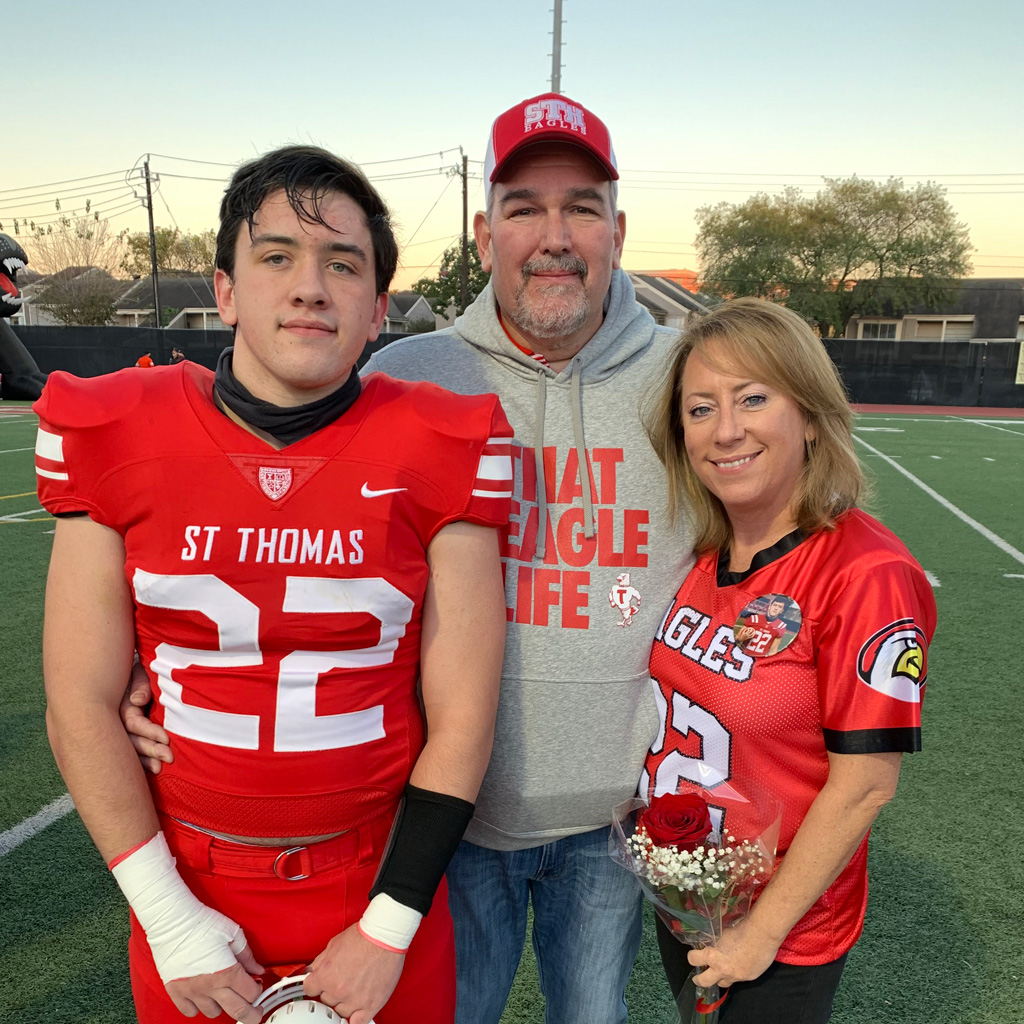 Silva's father Rick was working on a long-term professional project in Houston.  He offered his son the proposition to relocate and seek a one-and-done roll of the dice with St. Thomas, playing out a season on the field, albeit under utterly foreign circumstances.
Silva's less than subtle response: "No way."
Reluctantly, Kevin continued to weigh the option in his mind. He gathered intel, researched what St. Thomas was presenting, met with head coach Rich McGuire, and slowly came to a bottom-line realization.
"There was only one question I had to answer," Silva says. "'If I don't make this move, will I always regret it?' It became obvious that I had to try."
You must have really wanted to play football.
Yes.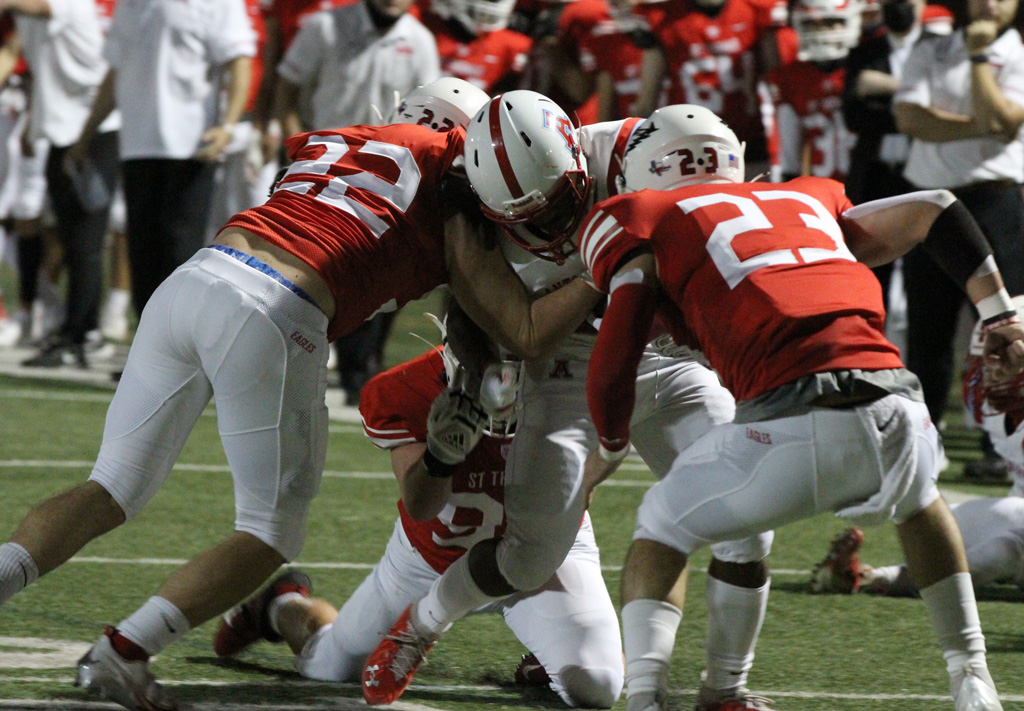 "I had no guarantees but I was confident in my abilities," Silva continues. "I had just moved into the townhouse that first week when I met teammates at the O Athletik gym in The Heights. There were COVID restrictions at the time but we got together and created a bond. By the time we began practice, there was a connection. (Senior) Cameron McCurry in particular reached out and made me feel welcomed. He was one of the best leaders on the team. He took charge, great attitude. All he cared about was us getting better. We kept it rolling."
Slow Start, Fabulous Finish
Silva measured in as a 6-1, 215-pound wrecking ball meant for mayhem. But his St. Thomas debut against El Campo and a fleet of game-breaking blurs made for a rude reception to Texas high school football.
"That first game was a bit of a shocker," Silva admits. "It was a much faster game, a much stronger game than what I was used to. I was on and off. But I adjusted. The next week, 14 tackles, a sack, and a tackle for loss."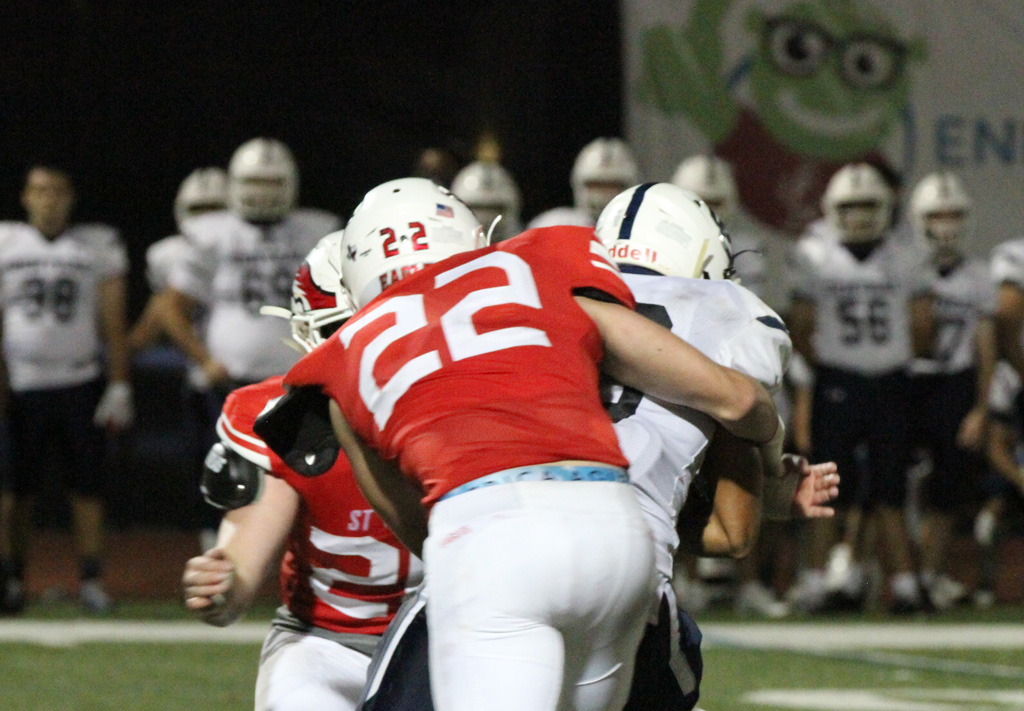 Silva proved to be a pivotal force during a 7-3 campaign that produced a third consecutive undefeated rampage to the district title. Lost in the numb and stun of the regional playoff defeat to Midland Christian was his uber-active sledgehammer performance – 21 bone-rattling tackles to front a marauding defensive effort through the second and third quarters.
Silva exited as a TAPPS first-team all-state and academic all-state selection. He was named to play in the Bayou Bowl high school all-star game on June 12 that will feature elite players from the Greater Houston area. But the ultimate reward for Silva's gamble on himself arrived days before his graduation. He was struck with a stunning development from Trinity University.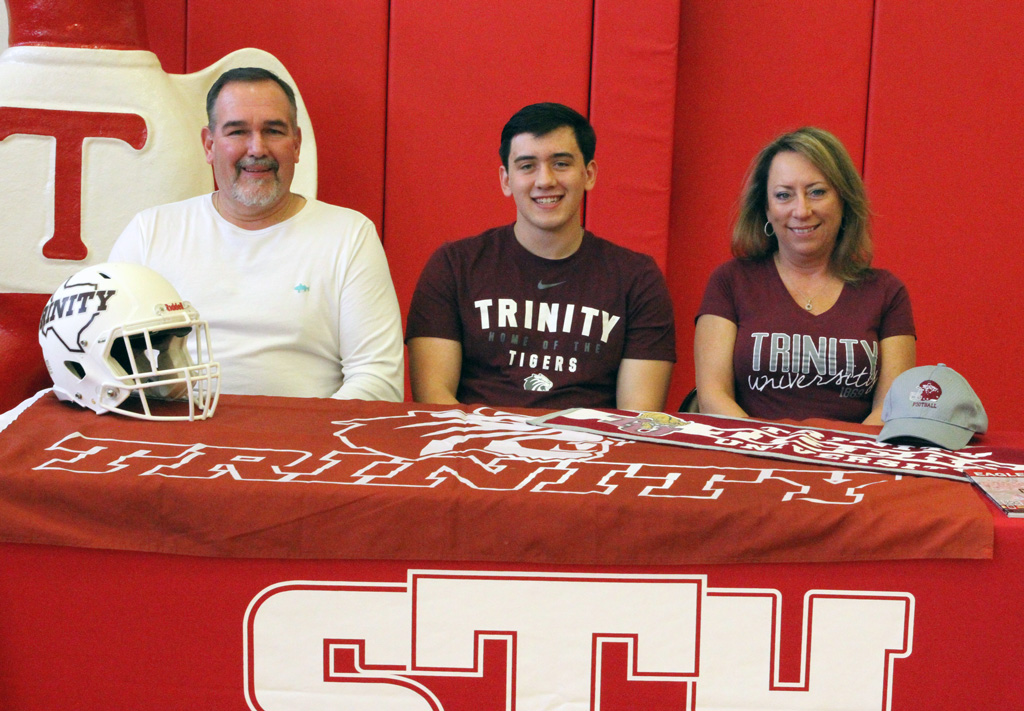 From the largest and most competitive applicant pool in the school's history, Silva was gifted the $23,000 President's Scholarship, renewable for four years of undergraduate study for a total value of $92,000. He'll now continue his scholar-athlete career in the NCAA Division III Southern Athletic Association with a program steep in championship tradition. Trinity shared the conference title in 2019 with an 8-2 overall record, its 16th crown since 1993.
"Before coming to Houston, I had talked to some colleges but nothing hit," Silva says. "The visit with the Trinity coaches went well. They want to win, that's their standard. And it's always great when someone wants you. Just like at St. Thomas, I wouldn't have come without coach McGuire making me feel comfortable. You have to push in life but sometimes you need some pull, too."
The Twain Meets
And a native New Yorker banging bodies in the Bayou Bowl is simply another flashpoint among the never-ending contradictions and misconceptions that Silva navigates between his two always outsized worlds.
"My friends back home think I'm living in the wide-open spaces," Silva says with obvious amusement. "They ask about the cattle and trucks and farms. My friends here think I left Midtown Manhattan and Times Square. The reality is St. Thomas is much more of an urban area than where I lived in Long Island. Houston is the 'big city.' I laugh all the time when I hear both sides talk."
Moving forward, Silva will gladly pledge to a split allegiance, certainly loyal to his New York origins while greatly appreciative for his adoptive state serving yet again as a canvas upon which outsiders project their hopes and dreams, the next Davy Crockett gone to Texas.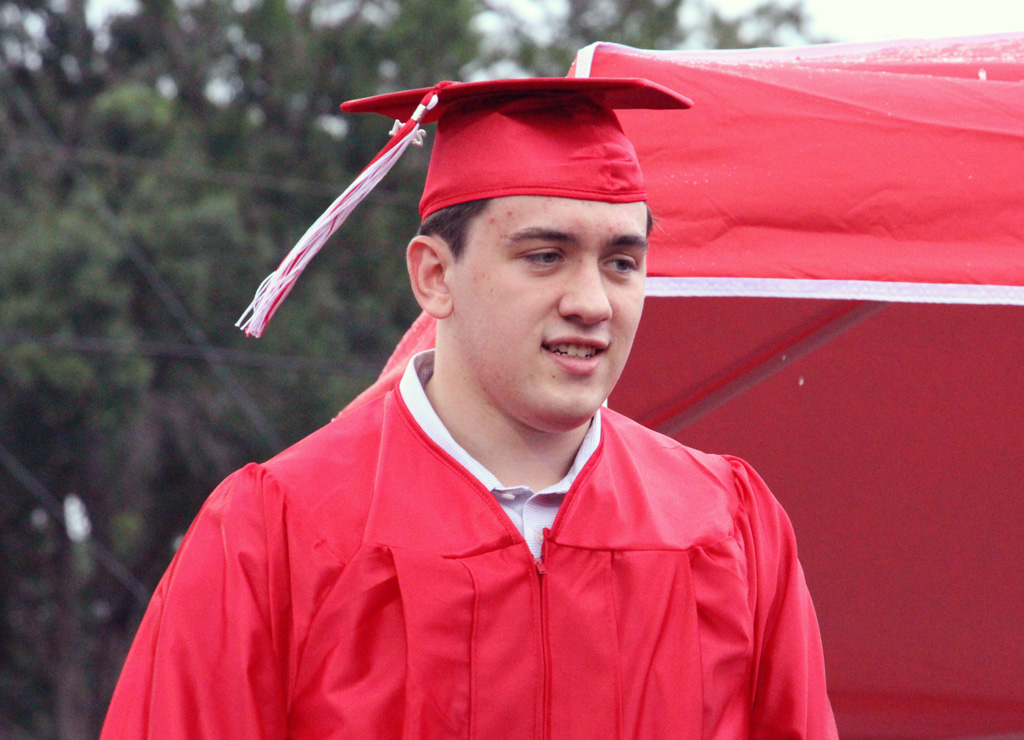 "I can't say enough about all the great people who made this happen for me," Silva says. "They supported me in ways I'm not sure I understand. And why? They had nothing to gain. That's why I love St. Thomas."
It never should have happened. Those words never should have left Kevin Silva's lips. But they do with a respect that registers off the Richter. Because what shouldn't have happened, did and will shape Silva tomorrow, and next month, and for years deep into his adult life.
Catholic. Basilian. Teaching Goodness, Discipline and Knowledge since 1900.