Pablo Tager '21, the soccer player, possessed a wickedly creative, ball-striking skill set that separated him even from the pack of polished, promising players. Growing up in Texas, however, the football player in Pablo Tager was perhaps always percolating to perform.
The pinnacle of Tager's soccer career came as an acclaimed performer for St. Thomas, a proclaimed linchpin in a program that reached three consecutive TAPPS state tournaments and a regional final during his four-year career.
The summit of his football success, during which he became a rapid-rising high school kicker in a mere matter of months, still lies in front of him with a prime opportunity awaiting at the University of San Diego.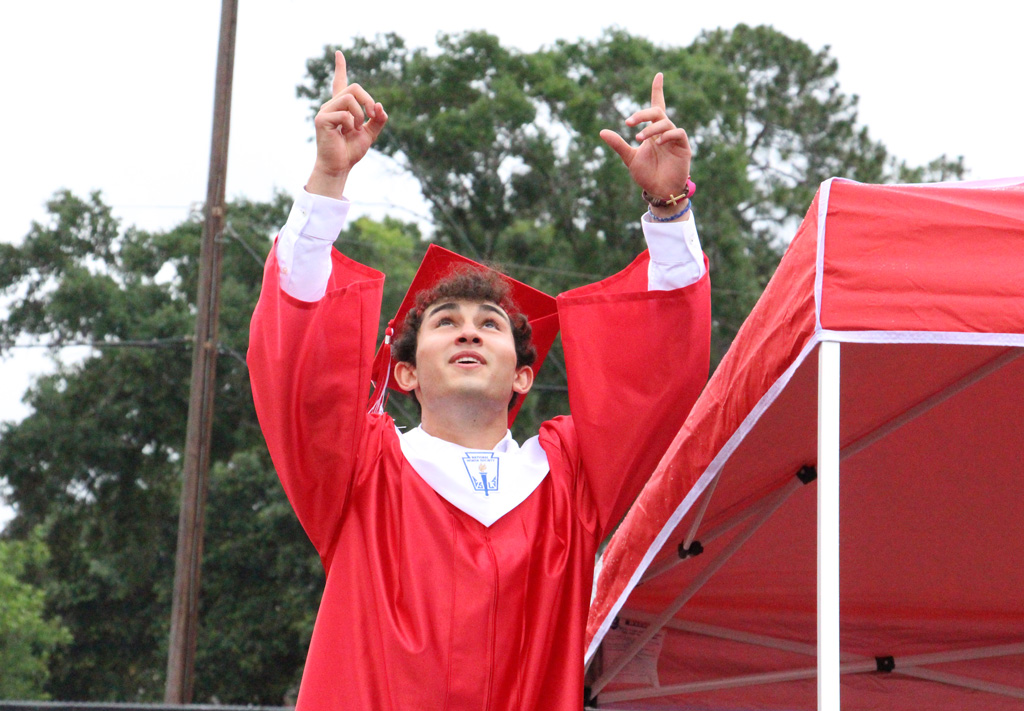 That scope of scholar-athlete experience is what drew Tager to choose St. Thomas as an incoming freshman from the Regis School of the Sacred Heart rather than accept an enticing invitation from the Houston Dynamo U.S. Soccer Development Academy. His stepfather Dr. Marc Longo '81 and uncle Victor '85 had consistently preached the all-encompassing value of the Basilian educational model – uncompromising academics, uncommon brotherhood, and the credo of goodness, discipline, and knowledge.
"I knew the relationships that I would develop at St. Thomas would be superior to anything elsewhere," Tager says. "And I don't regret that decision for an instant. Playing for my school and my teammates drove me to become a better player, to play harder for something larger than myself."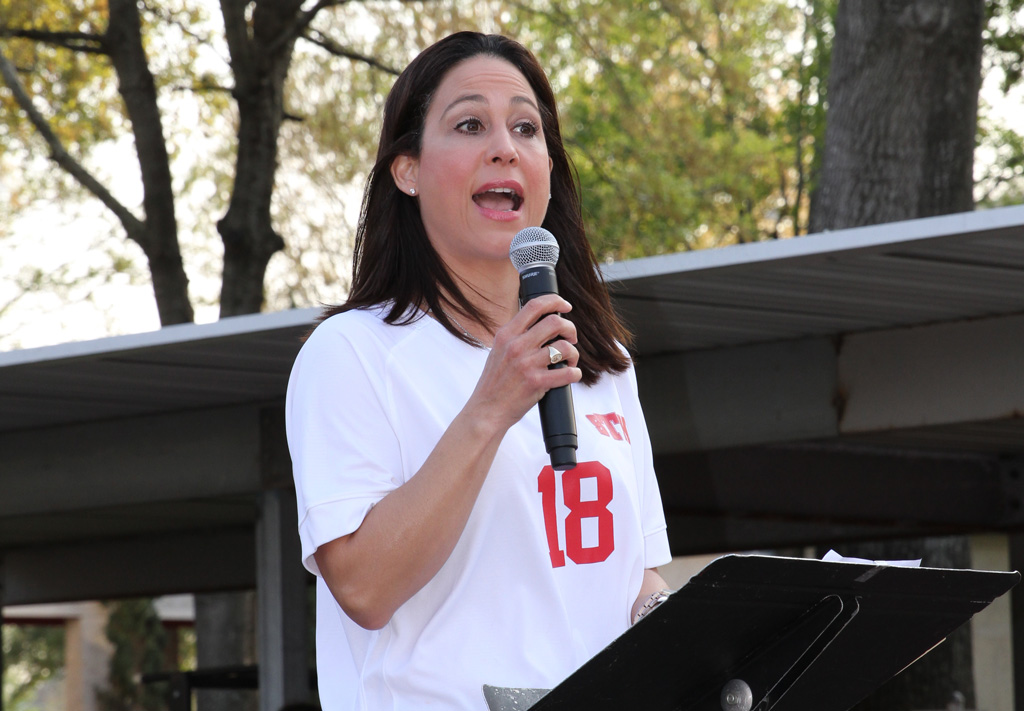 But it is Tager's mother Paola who provides the family's unequivocal voice singing the praises of the St. Thomas education. Her passionate testimony in March detailing the benefits of Pablo's multi-tiered college preparatory experience, including membership in the National Honor Society, captured and enthralled an audience of parents from the Class of 2025.
"I understand all the sacrifices my family has made for me to attend St. Thomas, all the advantages that so many other students don't have," Tager says. "The way I reward them is to put maximum effort into everything I do, in the classroom and on the field. Making them proud means a great deal to me."
Unconventional Crash Course
Tager's direct assault on his senior soccer season took an unexpected and decided detour just as the academic year was launching under duress of the pandemic.
Head football coach Rich McGuire was hunting a suitable replacement for the all-state standard set in 2019 by kicker Paul Langemeier '20. Tager was drafted, then cajoled to fill the void. "They needed someone. My friends pushed me to give it a try. It was as simple as that."
Less than simple was the immediate transition. Tager's sublime raw talent required an immediate crash course in technique. Rarely in soccer are two shots in a game ever the same; the quick switch to football demanded a golfer's mentality and a robotic foot-striking action. And Tager didn't know the fundamental rules of the game. And he didn't know how to put on his uniform. Or his helmet. His private kicking coach Nick Gatto assisted in shrinking Tager's learning curve heading into the weeks of the season-opening contest with El Campo. And with some basics beneath him, all was certain once the novice swung his leg and his thunderous right foot connected to send a projectile sailing deep end-over-end into the skies.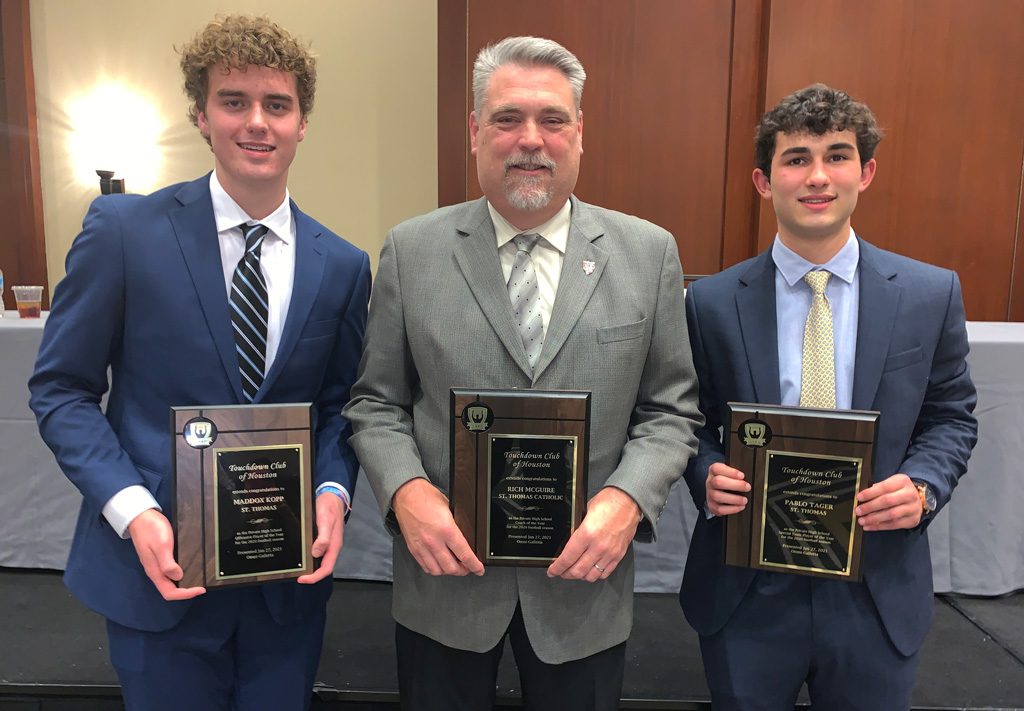 In December at the same private school awards night that the Touchdown Club of Houston toasted McGuire and quarterback Maddox Kopp for individual superlatives following the 2020 season, Tager was named special teams player of the year, stamping a convincing seal of approval in the succession from inaugural winner Langemeier.
"To be recognized along with coach McGuire and so many teammates who were also nominated at their positions made the night special," Tager says. "It reflected what kind of program St. Thomas has and I was honored to play a part in that. I worked hard to improve knowing that I was being relied on when I was needed."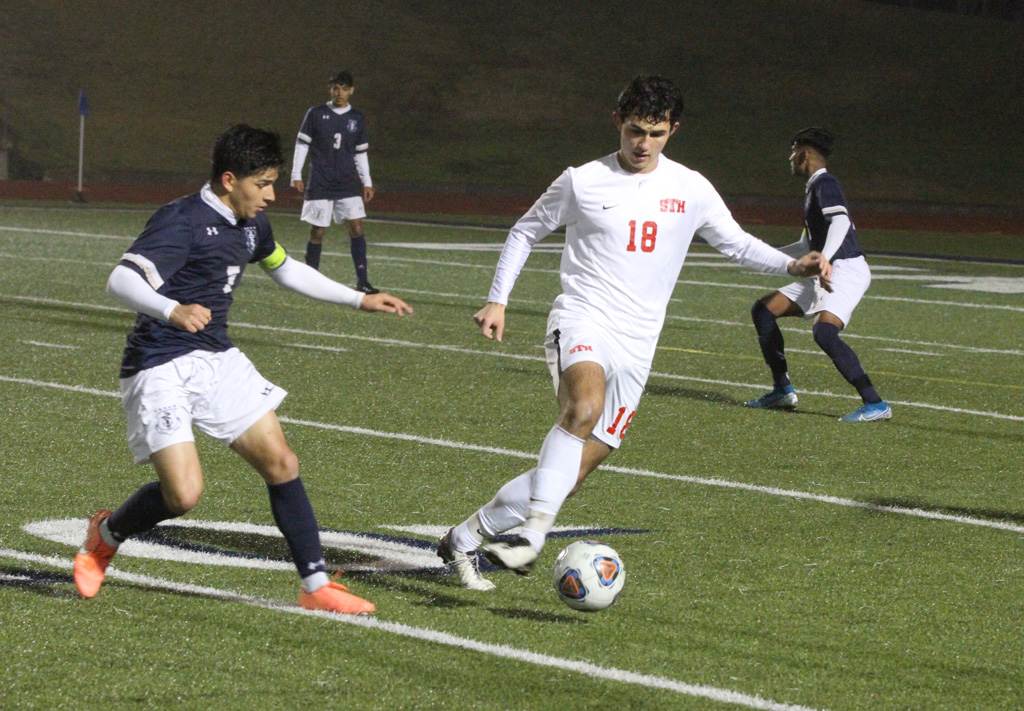 Tager quickly returned to his more familiar fútbol to terrorize teams start to finish throughout a fabulous finale. He cashed his 21st goal of the campaign in a 4-2 verdict over San Antonio Antonian that launched the playoffs. In the regional final against nemesis San Antonio Central Catholic, Tager twice found the net in an otherwise disappointing 5-3 heavyweight defeat that sealed the St. Thomas season. Tager was selected for all-state distinction for the third consecutive year and was named All-Greater Houston Private by The Chronicle.
Bold Break from Beautiful Game
Yet, for all the attention and acclaim lavished upon him early and often on the pitch, Mr. Big Boot envisioned that a bold break from the beautiful game would provide his preferred entry to compete at the collegiate level.
"The match academically with the college destinations I had in mind was with football, a higher ceiling for growth and success," Tager says.
Tager's sought to enhance his profile and carve interest from college scouts through a series of specialty kicking camps throughout the region. In January, he was teeing up at the mothership of all stadiums, the colossal Jerry Jones pleasure palace the Dallas Cowboys call home, featuring among otherworldly amenities, the world's largest 1080p HDTV video board.
"It was the day after the Rose Bowl and all the branding was still on the field," Tager says. "It was a huge stage and I was going head to head with some of the better kickers moving on to college. I knew I had to elevate my game and make an impression on the people who counted."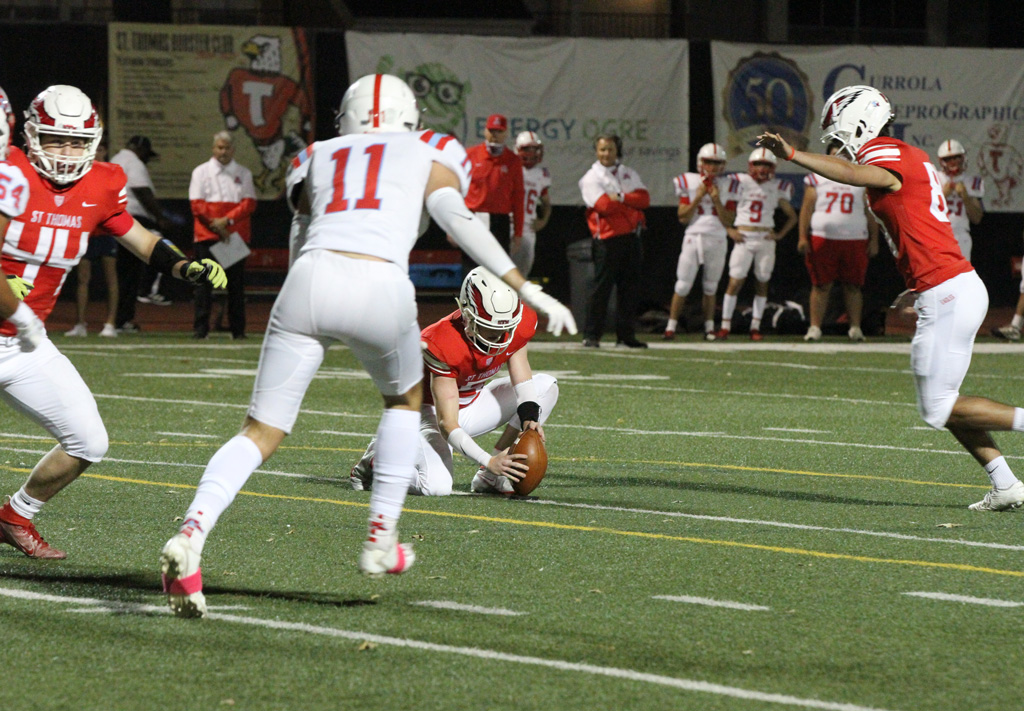 Cali Here He Comes
Tager posted a max five-star rating from the JerryWorld exercise and proceeded to sift through his options. He arranged a visit to the USD campus where his Torero escort was one-time Eagle record-smashing quarterback Michael Keating '16. The virtues of an under-the-radar FCS power in the Pioneer Football League coupled with the stunning Southern California setting and vibe were irresistible. Tager was taken before punching his return ticket to Houston.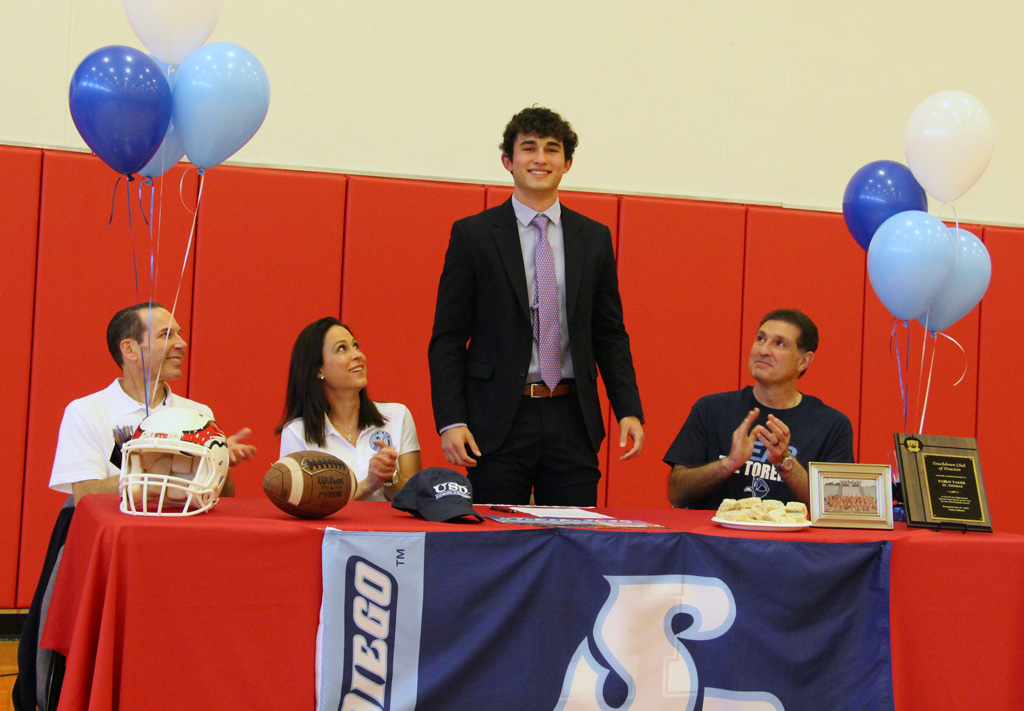 "It was the perfect fit, both academically and athletically. I'm thrilled to be a part of what they have moving forward," Tager says with assurance. "My drive is to be the best in every aspect of my life and St. Thomas played a big part in my having that attitude. The curiosity to constantly discover and learn will motivate me forward throughout my life."
Catholic. Basilian. Teaching Goodness, Discipline and Knowledge since 1900.