GAMEDAY CENTRAL
WEEK ONE – HOTZE FIELD INSIDE GRANGER STADIUM

Needville 28
Eagle Football 35
WHAT YOU NEED TO KNOW
Transfer quarterback Jake Wright '22 threw for 343 yards and four touchdowns to four different receivers in his scintillating St. Thomas debut while his backup turned running back Caleb Davis '23 crashed in for a short-range game-deciding touchdown with 1:15 remaining to give Eagle Football a dramatic victory to open the 2021 campaign.
The thrillamatic verdict in front of a packed house is the first season-opening win for St. Thomas since defeating Kinkaid 27-20 to launch 2016.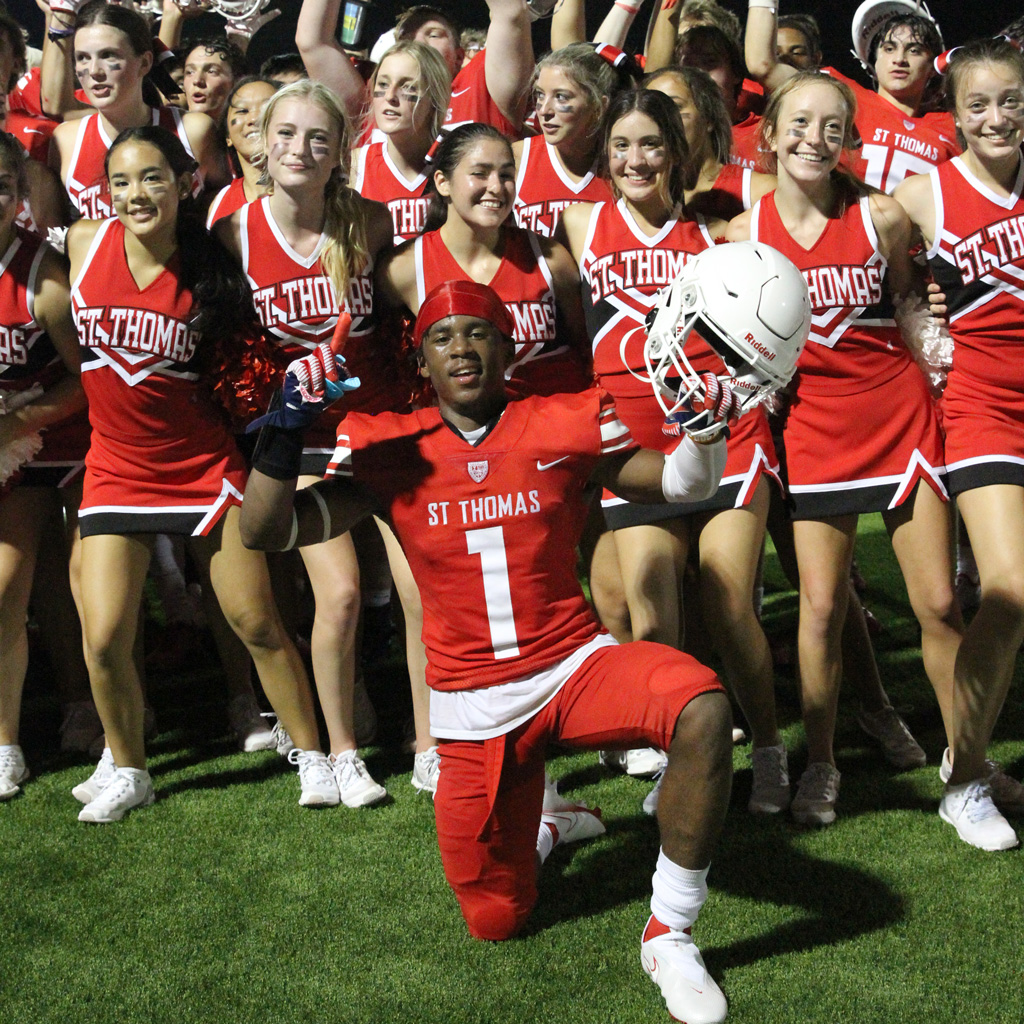 TURNING POINT
Supreme cover cornerback Marquis Kiatta '24 and uber-aggressive safety Davis broke up consecutive throws to seemingly open Needville receivers in the end zone in the final 4:00 to give Eagle Football possession at their own 32 with the scoreboard knotted at 28-28.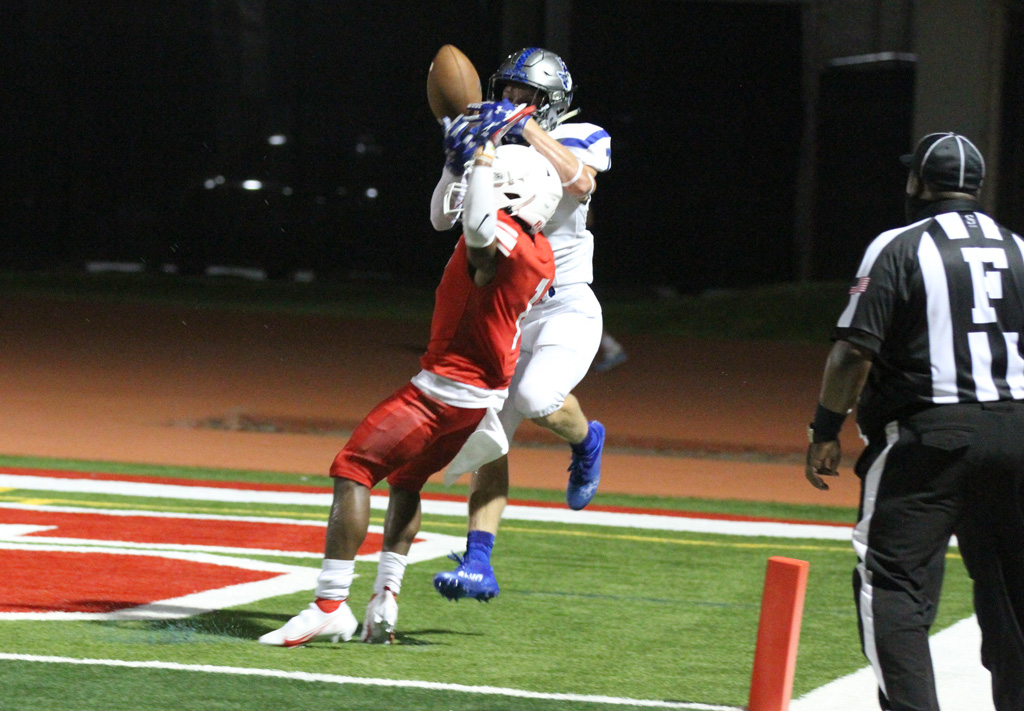 Quickly operating from near midfield, Wright continued a near precision perfect night (24-31) with an explosive connection to receiver Caleb McClure '23 down the middle of the field that carried to the brink of the Needville goal line.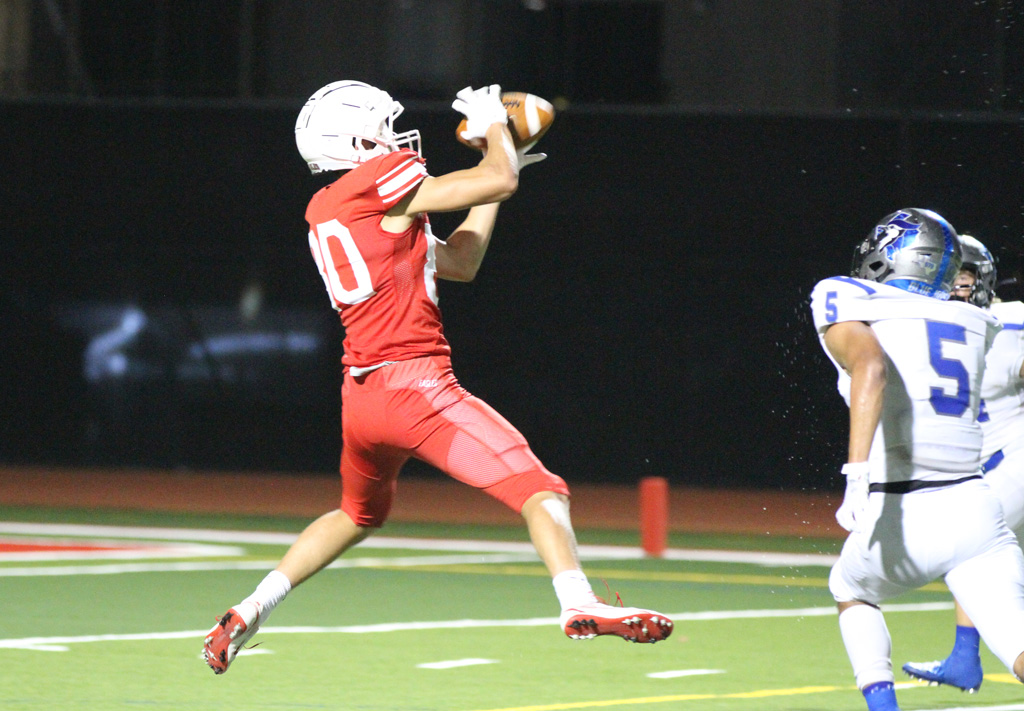 Davis, in relief of starting running back Johann Cardenas '24, needed two cracks to carry the final four years and give St. Thomas it's first lead since 7-0 late in the first quarter.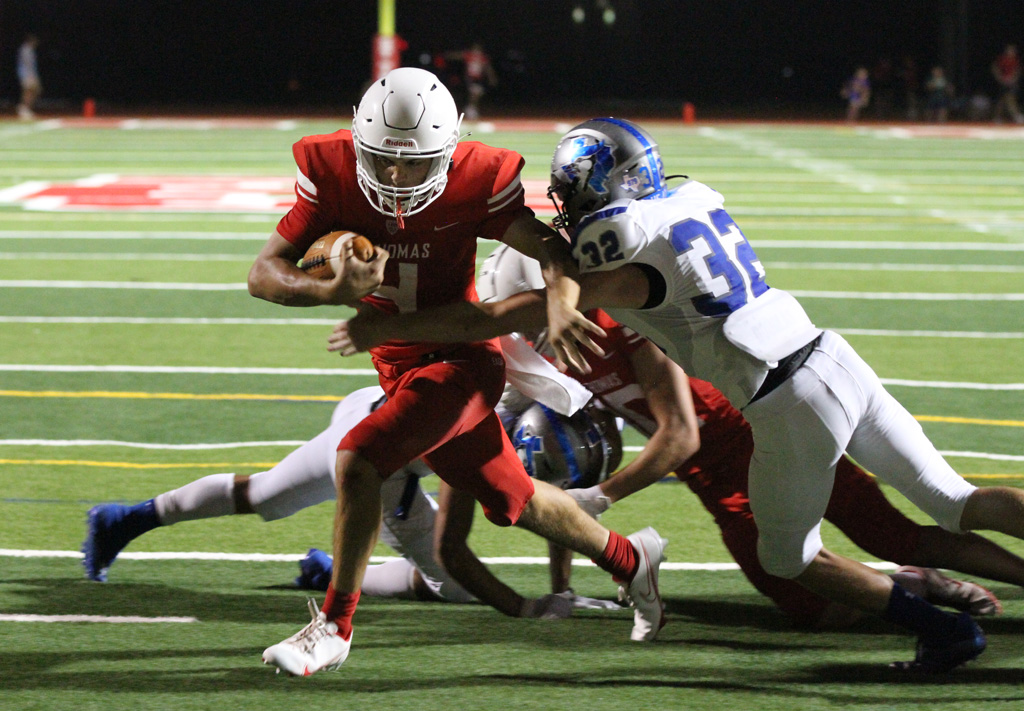 FRIDAY NIGHT FIVE
1. Wright is the son of Brian Wright who is in his second season as head coach at Division II Pittsburg State in Kansas. Previously he was the offensive coordinator and quarterbacks coach at Toledo for four seasons and the offensive coordinator at Florida Atlantic from 2012-15.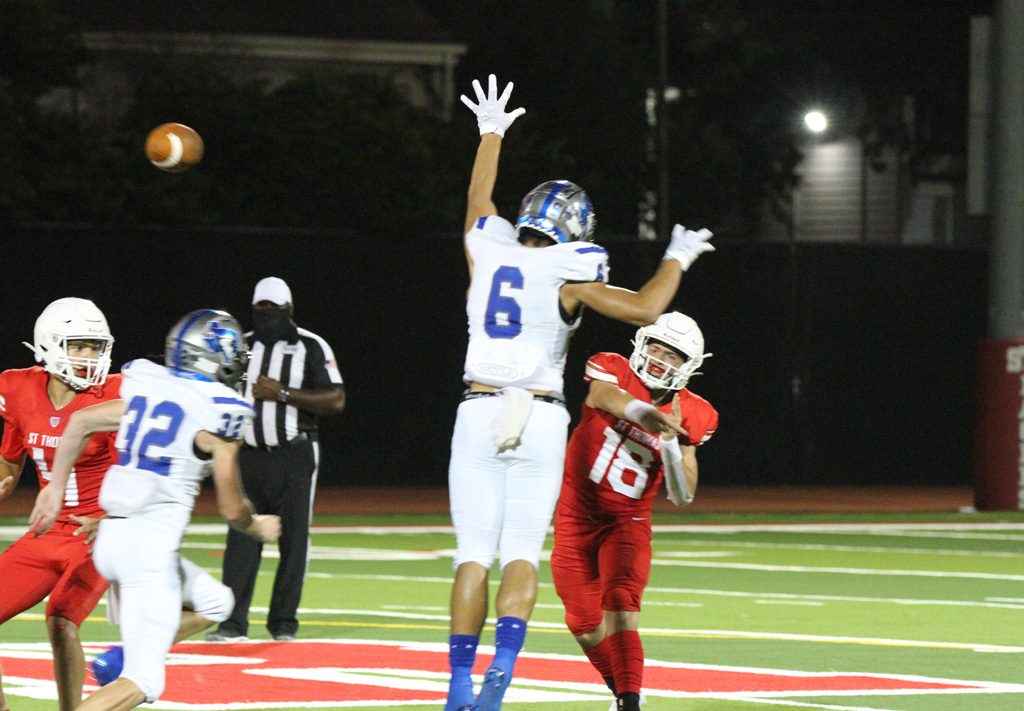 2. Offensive coordinator Matt Hudson tailored a meticulous game plan and Wright executed with the strictly prescribed efficiency of a Japanese bartender. On the second St. Thomas series, he completed 6-6 for 57 yards and delivered a deadly accurate ball to receiver Shaffer Henderson '23 who burned solo coverage in the right corner of the end zone for the first points of the season.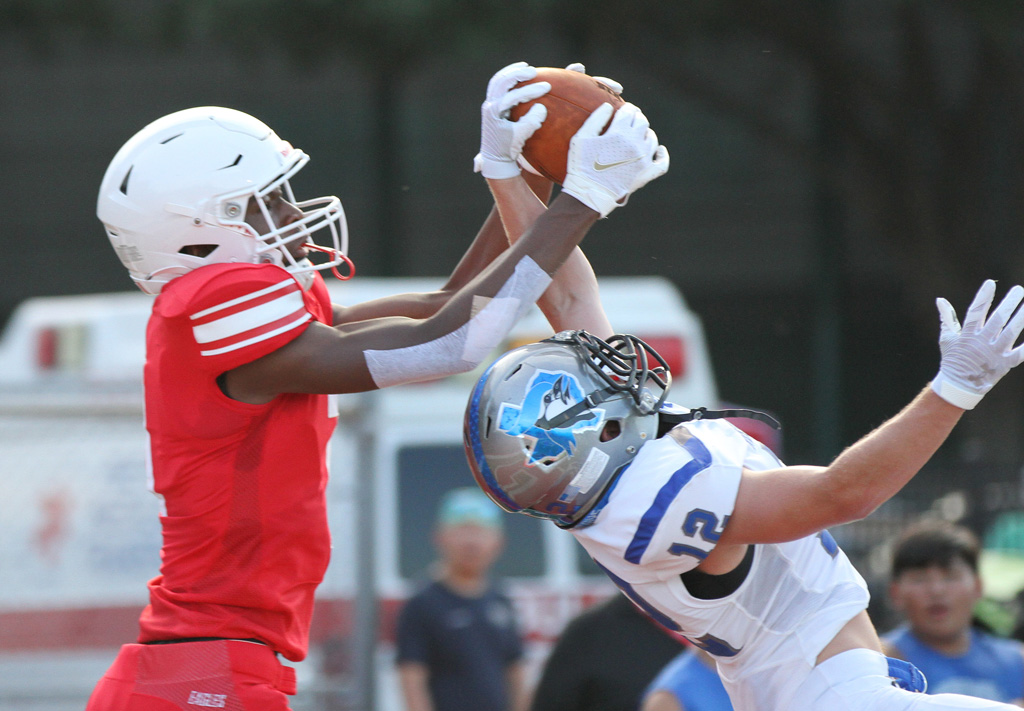 3. In the closing seconds of the first half, Wright carved 5-6 in a drive that ended with a six-yard toss to Joe Rick Madden '22 (4 catches for 47 yards) that evened the score 14-14.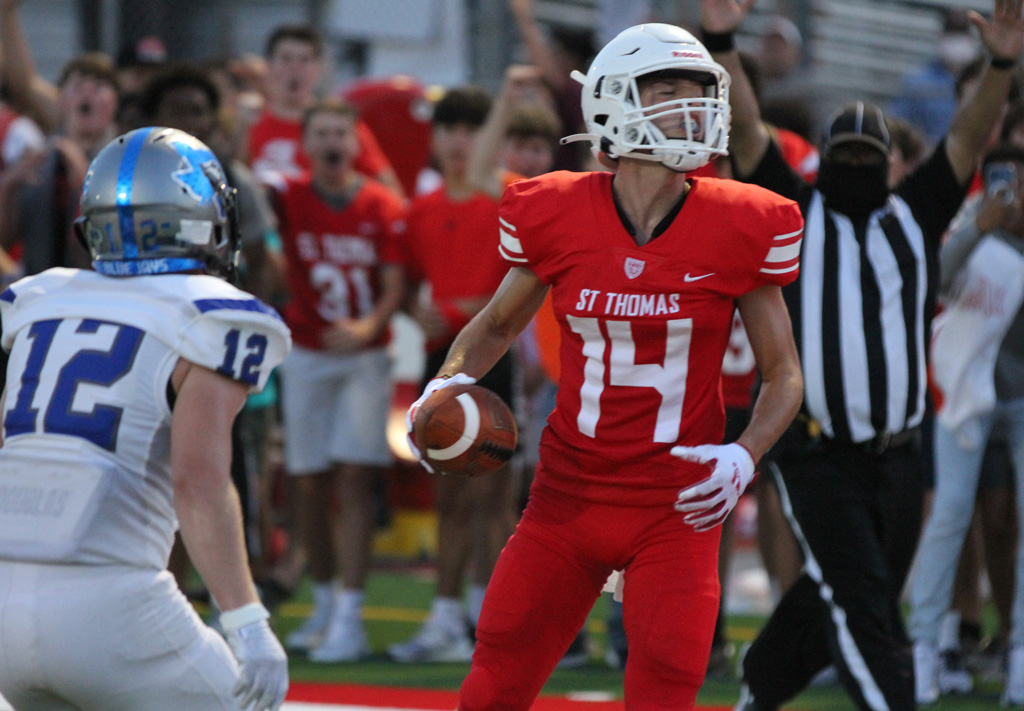 4. After Needville pushed ahead 21-14 midway third quarter, Wright orchestrated a crisp 70-yard march, drilling 5-6 for 62 yards, capped with a five-yard payoff to Thomas Robinson '24 for the third tie of the evening.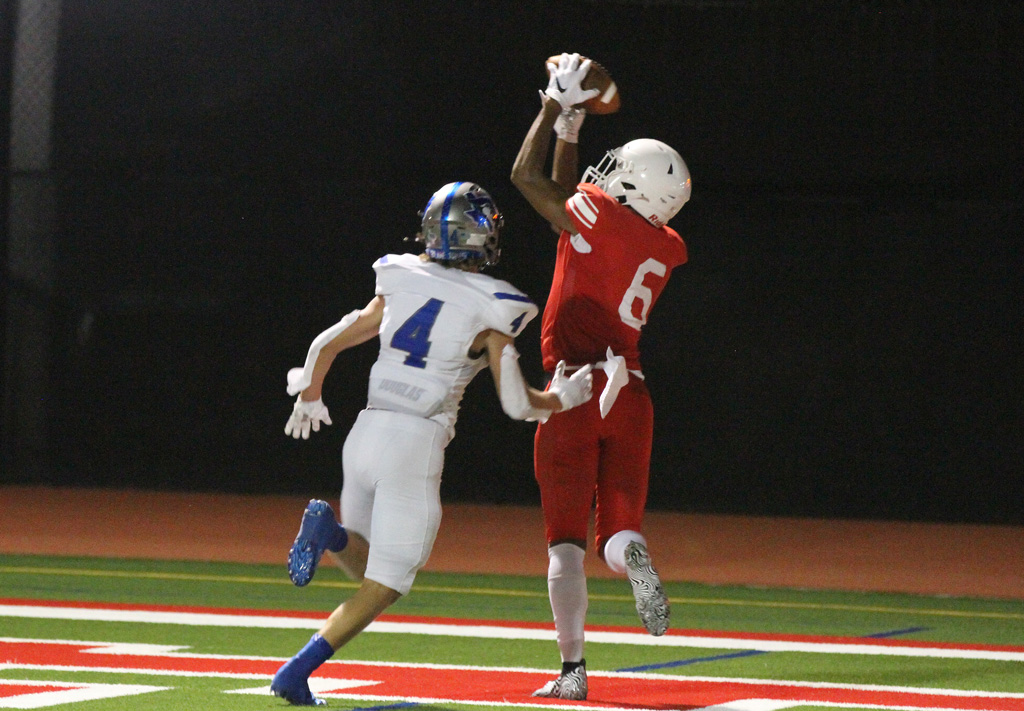 5. Wright and receiver Cameron Price '22 (12 catches for 215 yards) needed only one pitch-and-catch with less than 5:00 left in the third stanza to answer a Needville kickoff return touchdown. Price pulled in a tight throw on the left sideline, exploded into the second level and outraced an overmatched Needville secondary 64 yards to the end zone for 28-28.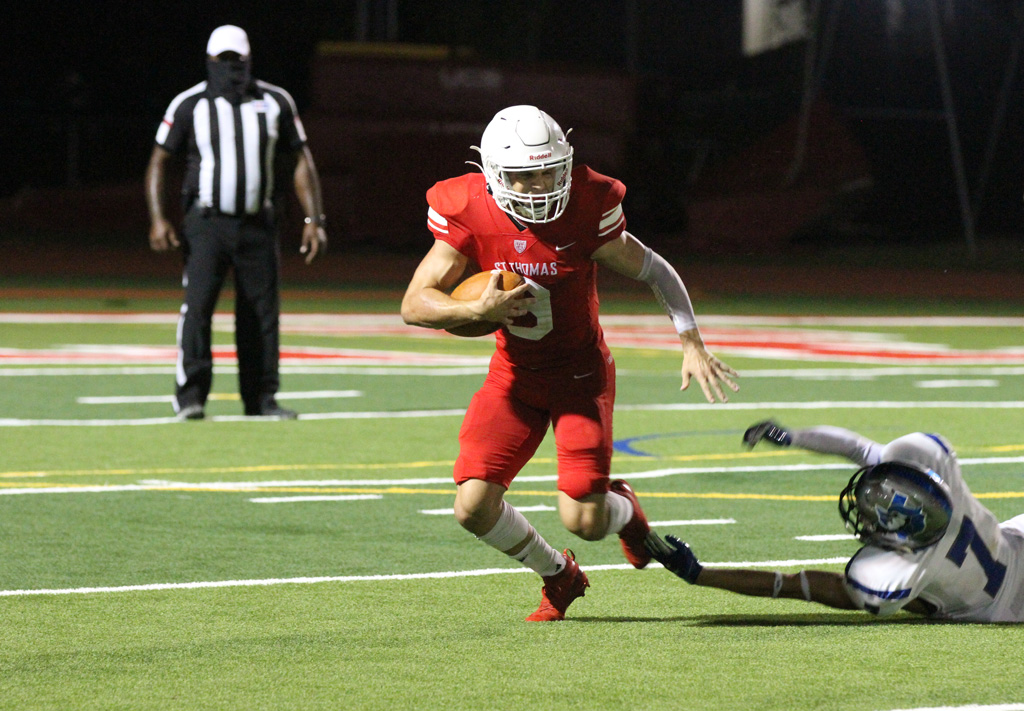 VENI VIDI VICIOUS
The Eagle defense hammered relentless, robust and rousing results in their opening salvo of the season, as fearsome as they were fun. McGuire and coordinator Ray Davis will be bullish on the front seven moving forward given what they witnessed at linebacker and in the defensive trenches against a rich run-heavy attack that unintentionally paid proud homage to the sledgehammer halcyon days of Darrell Royal and Emory Bellard.
Tommy Donofrio '24 seized a critical momentum turn with an interception at the Eagle goal line to keep the count 28-28 heading into the fourth quarter.
Mayhem machine Tegan Spencer '22 (10 tackles), Zach Rocha '23 (13 tackles) and defensive back Andrew Cromwell '22 roamed with four-alarm intent until the final threat. Jack Ward '23 (16 tackles) and Gavin Mott '22 stuffed Needville's last chance at the Eagle 39-yard with a tag-team stop that sealed the victory in the closing ticks.
STATE OF PLAY
The anxiety of Week One set in with equal doses of the inevitable updraft of optimism that comes every August.  Eagle Football faced an offseason reboot, not rebuilding in the classic connotation of the word, but not quite reloading either. New quarterback. New offensive line. New defense.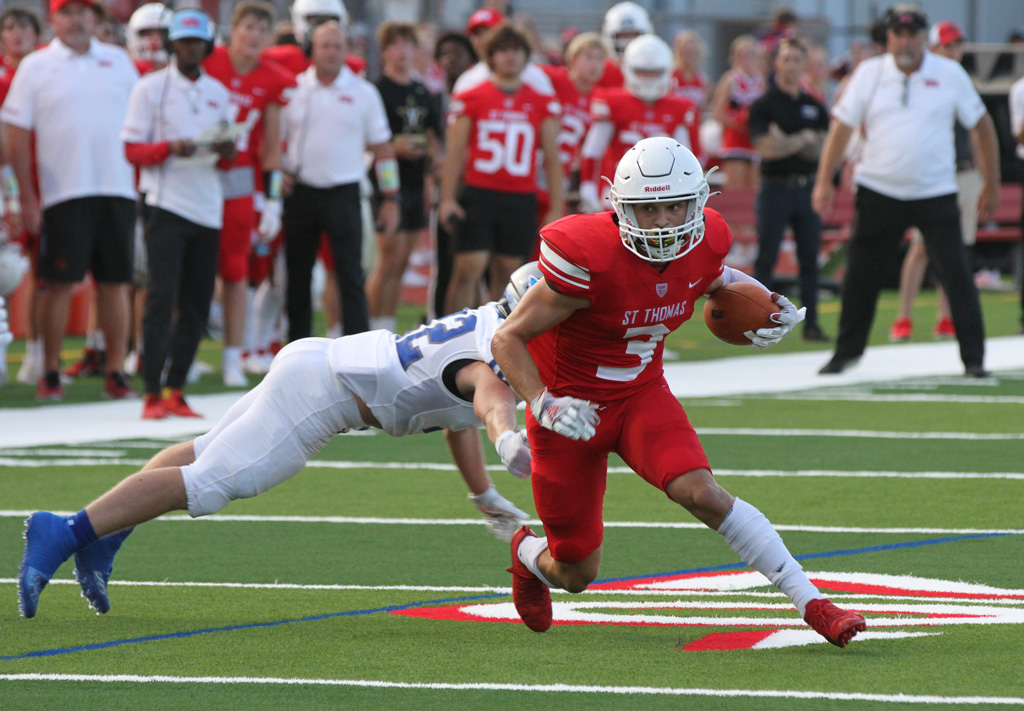 Wright carried the position in the preseason to earn QB1. But actually seeing that performance immediately meant infinitely more than hoping you would see it. He flashed remarkable poise and patience in the pocket, and enough arm and athleticism in his introduction to Texas Friday Night Lights to look like a bona fide starting quarterback for a program that wants to contend. He, Davis, and Kiatta are among the new arrivals providing easy answers.  Questions obviously remain elsewhere with a roster that returns only two starters.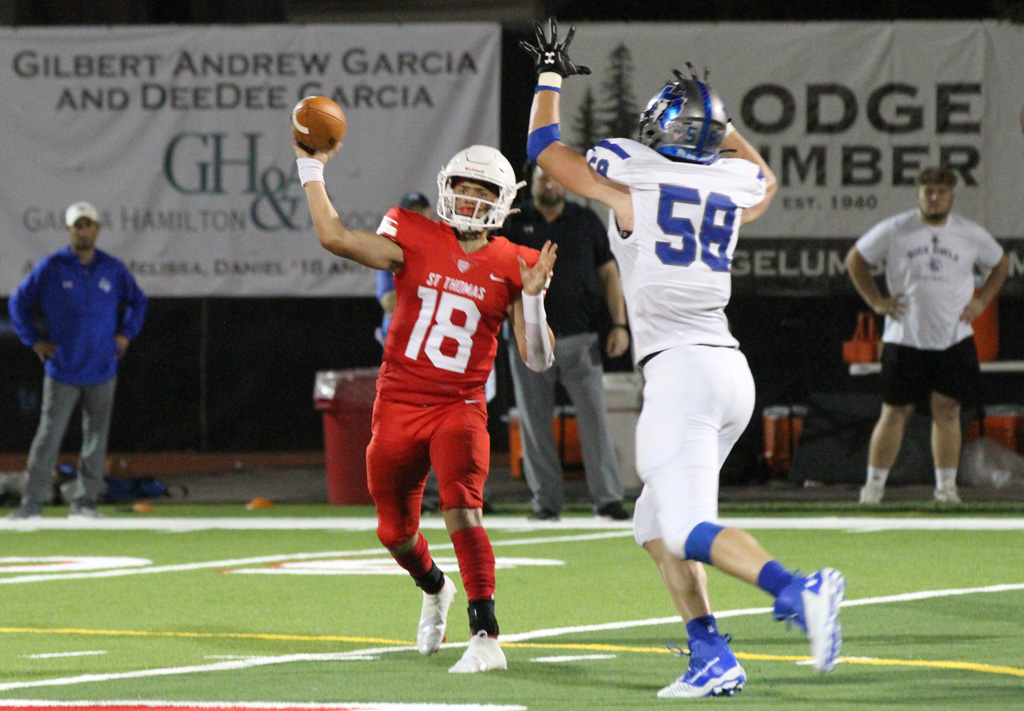 ut no doubt lies in the aerial grab game where Price remains the Eagle's most dangerous, determined receiver and the corps is doing more collective good than they have before.  A St. Thomas season of record-smashing yards after the catch and contact is simmering toward eruption.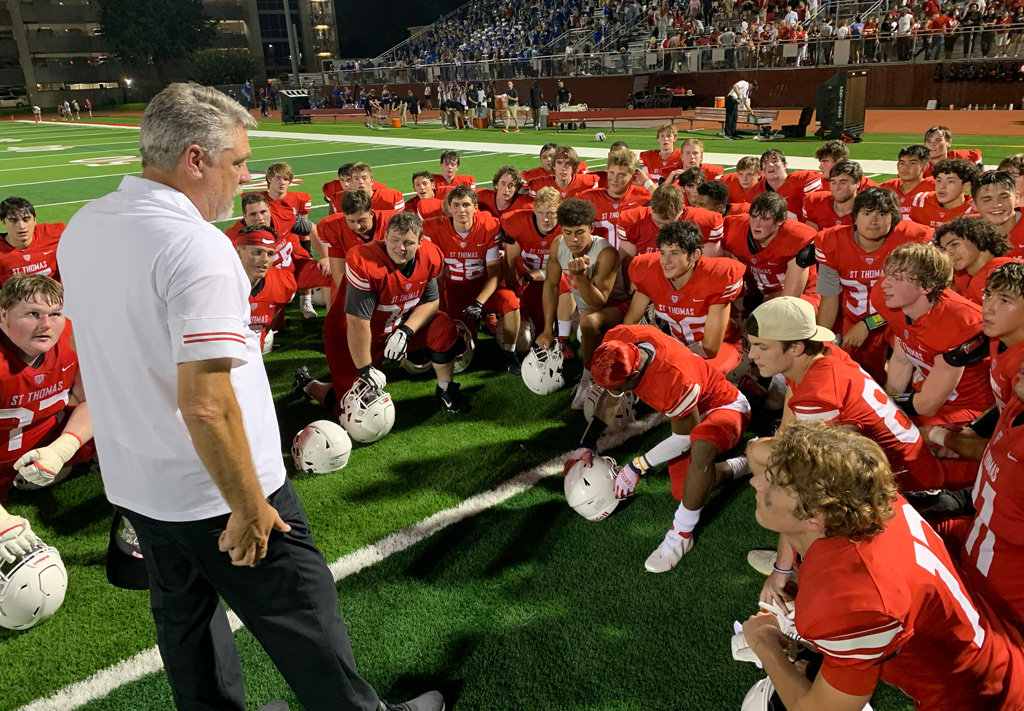 McGuire continues to create the urgency of now and keep the standards at championship caliber levels.
¡UNO!, ¡DOS!, ¡TRÉ!
McGuire begins his fifth season as head honcho and ups his overall record to 26-19. His 15-3 district mark includes 14 straight victories and three consecutive undefeated titles.
The Eagles snapped a two-game series skid after surrendering the deciding points in the final 90 seconds in a 35-34 home defeat in 2019. St. Thomas has now won seven straight regular-season games on the field (along with a forfeit) since the 0-2 beginning to the truncated 2020 COVID-19 season.
Granger Stadium was upgraded during the summer with Hellas Turf featuring the patented Helix Technology. The system provides optimal shock absorption and excellent control in all weather conditions. Surface temperatures on a synthetic turf field with the Hellas organic infill will be up to 40 degrees cooler than a regular synthetic turf field.
UPCOMING
The inaugural four-team Catholic Bowl at the Ford Center at The Star indoor stadium connected to the headquarters of the Dallas Cowboys will pair Eagle Football against Plano John Paul II. The football stage is also an opportunity for cultural exchange and authentic Catholic identity between three rising powers within the highest TAPPS ranks and an out-of-state college preparatory institution founded in 1930.
John Paul II is not far removed from the most successful season in its history. In 2019, the Cardinals gained their first-ever TAPPS Division I state championship final while snapping a 58-game district losing streak that spanned nearly 10 years.
Eagle Fight Never Dies!