St. Thomas announced its ambitious 2021 football schedule that will offer the launch of a promising four-team Catholic Bowl event in collaboration with the Dallas Cowboys and equal split of 10 home-and-away games beginning August 27 at Hotze Field inside Granger Stadium. The Eagles will face six district opponents with two October travel dates to San Antonio, a rare visit to North Dallas, one open week, and the annual series with St. Pius X again positioned away from the traditional regular-season finale.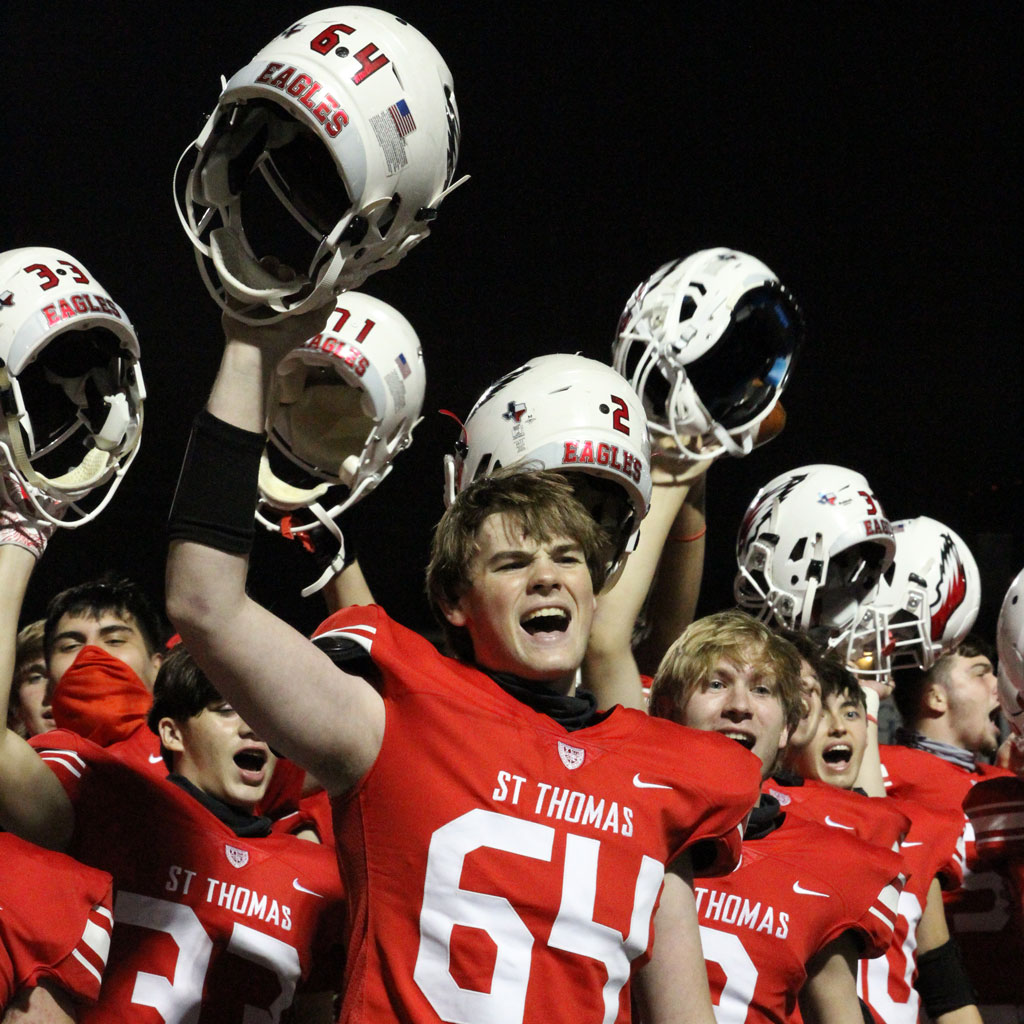 Eagle Athletics is again partnering with HomeTown Ticketing to implement a contactless and cashless solution for fans and guests attending events at Granger Stadium.
The Eagles are aiming to maintain measurable momentum after finishing the COVID-19 racked 2020 season with seven straight regular-season wins and its third consecutive district championship. St. Thomas closed out 2019 with nine victories in 11 games and reached the TAPPS Division I state semifinals for the first time since 2014-15.
2021 St. Thomas Football Schedule
(Home games BOLDED; all games 7:00 p.m. unless otherwise noted)
Aug 27: vs. NEEDVILLE
Sept 4: Catholic Bowl vs. Plano John Paul II in Frisco, 3:00 p.m.
Sept 10: at Kinkaid
Sept 17: vs. HOUSTON CHRISTIAN
Sept 24: vs. ST. JOHN XXIII
Oct 1: at San Antonio Central Catholic
Oct 8: vs. SAN ANTONIO CHRISTIAN
Oct 15: at San Antonio Antonian
Oct 22: at St. Pius X
Nov 5: vs. TOMBALL CONCORDIA LUTHERAN
GAME-BY-GAME
AUG 27 • VS. NEEDVILLE
The season opener at Hotze Field inside Granger Stadium will renew a two-year set with a UIL 4A Division I outfit that finished 2020 7-6 in the area round of the playoffs.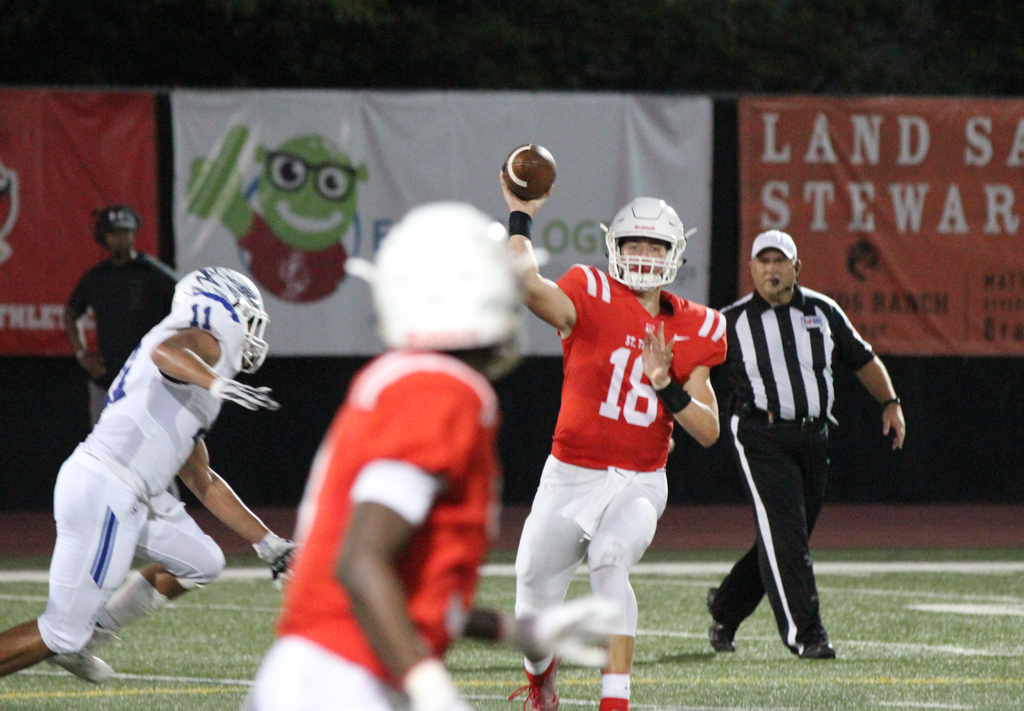 The Eagles will look to snap a two-game series skid after surrendering the deciding points in the final 90 seconds in a 35-34 defeat in 2019 at Hotze Field inside Granger Stadium. Quarterback Maddox Kopp '21 (Houston) tossed for 343 yards and three touchdowns in his second varsity start while receivers Josh Crissmon '20 and Cameron Bonner '21 (Baylor) provided a series of game-breaking moments. Kopp's laser to receiver Spencer Kryger '20 pushed St. Thomas in front 34-27 inside of six minutes remaining in the game.
SEPT 4 • VS PLANO JOHN PAUL II
The inaugural four-team Catholic Bowl at the Ford Center at The Star indoor stadium connected to the headquarters of the Dallas Cowboys will seize football as an opportunity for cultural exchange and authentic Catholic identity between three rising powers within the highest TAPPS ranks and an out-of-state college preparatory institution founded in 1930.
Plano John Paul II is not far removed from the most successful season in its history. In 2019, the Cardinals gained their first-ever TAPPS Division I state championship final while snapping a 58-game district losing streak that spanned nearly 10 years.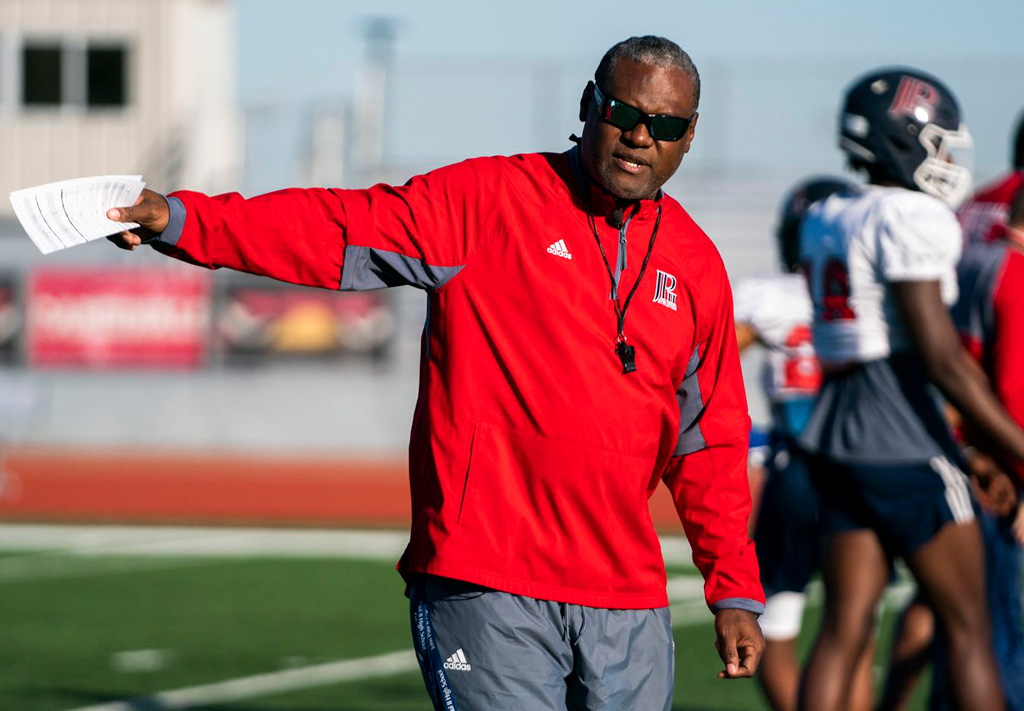 The transformation was crafted by head coach George Teague (yes, the former Dallas Cowboy, Terrell Owens-blasting safety) who played nine NFL seasons after being selected in the first round in 1993 by the Green Bay Packers.
Teague took over JPII in 2017 on the heels of three straight 0-10 seasons. He was chosen by the Cowboys as their 2019 Don Shula NFL High School Coach of the Year Award nominee.  Teague now focuses exclusively on athletic duties with Mario Edwards assuming the head coaching duties after a five-year NFL career and serving as the director of player development at Florida St. from 2012-19.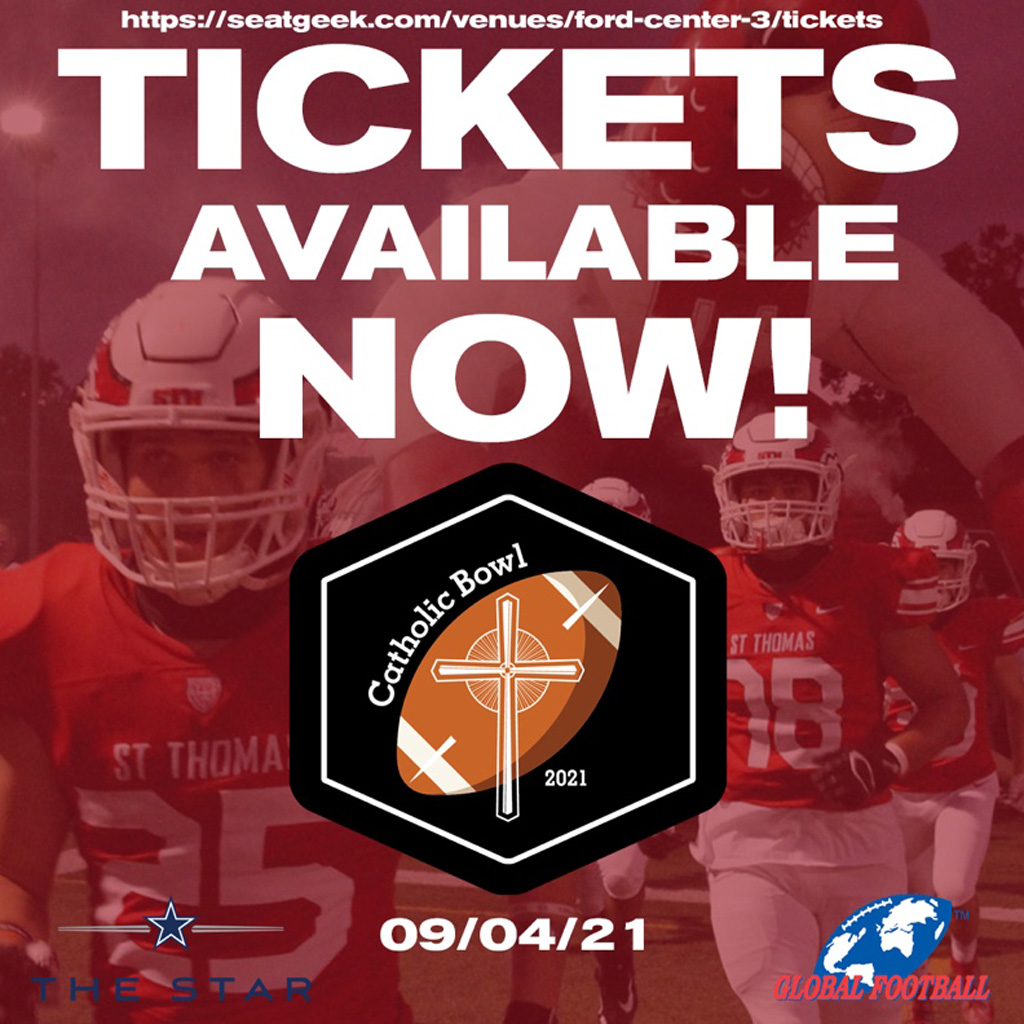 CLICK HERE to purchase tickets.
SEPT 10 • AT KINKAID
The private school programs will meet for the sixth time in eight years with interruptions courtesy Hurricane Harvey in 2017 and COVID-19. In that mix Eagle Football posted three consecutive season-opening victories over the Knights by a combined margin of 109-51.
In 2019, Kopp threw for 244 yards and two touchdowns, Bonner grabbed two scores and a rejuvenated Eagle defense rarely bent and never broke in a 27-10 victory at Barnhart Stadium.
SEPT 17 • VS. HOUSTON CHRISTIAN
A one-time district series will be renewed for the first time since 2011 when Eagle Football settled for a split of regular season games after a 50-0 runaway on the road. St. Thomas enjoyed a sweep in 2010, first 24-21 and then 17-7.
SEPT 24 • VS. ST. JOHN XXIII
The Eagles will begin district competition resuming a brief series that flashed a 49-0 Red & White rout in 2014 followed by a 40-0 wipeout the next season.
OCT 1 • AT SAN ANTONIO CENTRAL CATHOLIC
The only road stop in four weeks is a series that has pivoted from non-district to district competition since 2017 with Eagle Football owning four consecutive wins.
In hosting its third consecutive socially distanced football game of 2020, Kopp delivered three touchdown passes and a slam dance St. Thomas defence shut down the Buttons in a 31-14 verdict for the Eagles' first on-the-field victory of the season.
OCT 8 • VS. SAN ANTONIO CHRISTIAN
The second-ever meeting with the private, non-denominational Christian school established in 1972.
Last season in the first road encounter of the pandemic era, Kopp shook a shaky start with a school-record eight touchdown passes as Eagle Football racked 37 unanswered points in the first half in a 65-14 blowout.
OCT 15 • AT SAN ANTONIO ANTONIAN COLLEGE PREP
The second trip to San Antonio in three weeks will feature another 2020 TAPPS playoff team and the Eagles looking for a decided dose of deja vu for a fourth straight victory over the Apaches.
Last season Kopp connected with receiver Cameron Price '22 for a nine-yard touchdown in overtime and defensive back Aidan O'Hare '21 sealed the decision with a clutch end zone interception as Eagle Football staged a dramatic 35-28 win. The theatrics earned the Eagles their 13th consecutive district victory since 2018.
In their most recent visit to Antonian Stadium, Kopp tossed for 314 yards and two touchdowns in a first half detonation where St. Thomas plastered points on its first four series to coast to a convincing 41-27 dismantling in a game not nearly as close as the final indicated.
OCT 22 • AT ST. PIUS X
The clash that has routinely determined at least a share of the district championship shifts north on Shepherd Drive.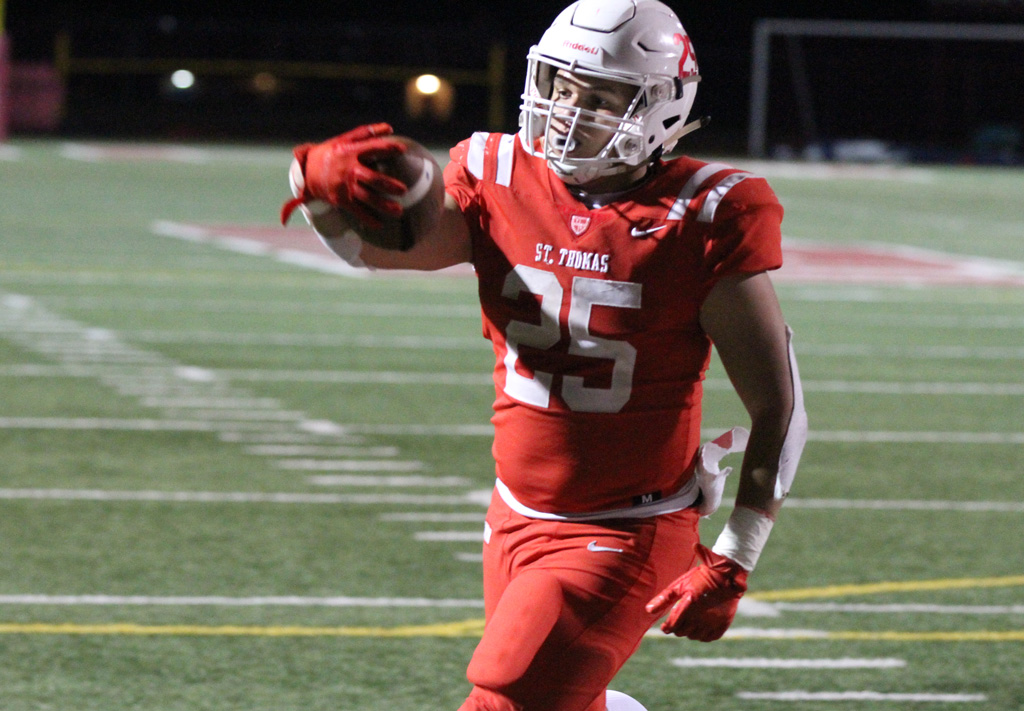 In 2020, running back John Fontenot '21 rammed, jammed, bruised, and bolted to four touchdowns while an Eagle defense turned tenacious during the meaningful moments in a 49-21 rout. The 14th straight district triumph gave Eagle Football a sensational Senior Night send-off with a third consecutive district title and seventh in nine seasons.
St. Thomas continues to dominate the series with three straight wins and eight since 2012.
In 2019, Eagle Football used an avalanche of 40 consecutive points for a commanding 47-21 verdict behind five touchdown strikes from Kopp to face-plant the Panthers with an outcome so devastating it required an autopsy.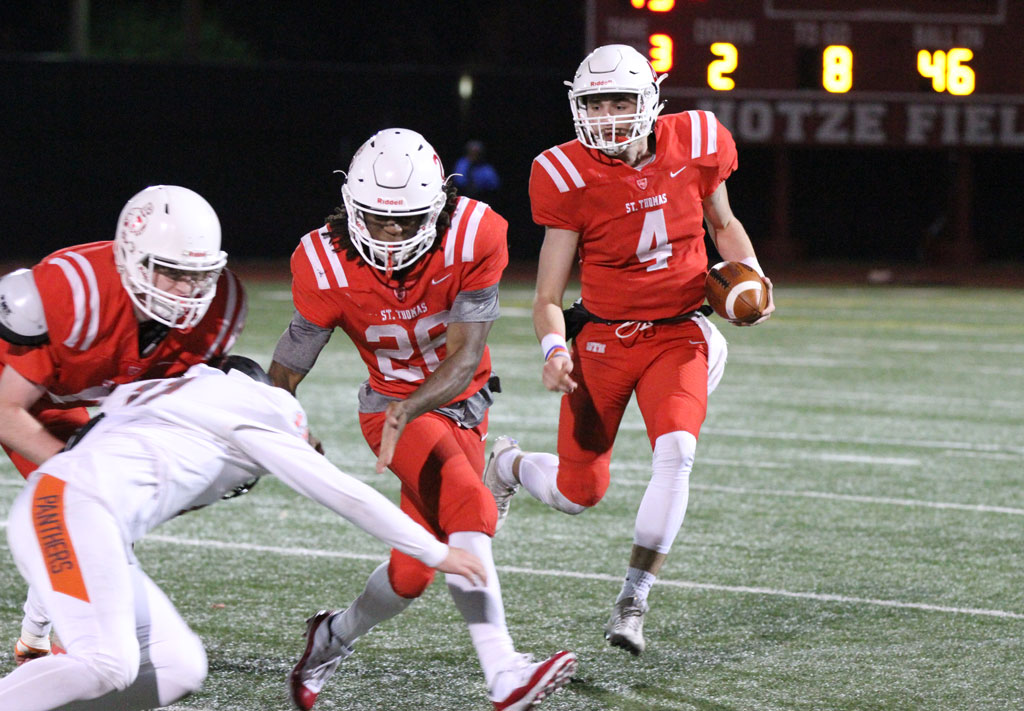 In 2018, quarterback Peyton Matocha '19 (Miami) put on a dazzling display of talent, skill, precision, will, and want with seven touchdowns including four in the third quarter when Eagle Football seized control to rally for a stunning 52-49 shootout to reclaim the district crown.
From 2012-15 the Eagles captured four straight showdowns with the district title at stake by a combined score of 144-62. In the stretch dating to 2011, Eagle Football has enjoyed nine victories in 11 games.
Nov 5 • VS. TOMBALL CONCORDIA LUTHERAN
Following an open date, the Eagles will again conclude the regular season with a duel they have dominated in recent years. St. Thomas has collected 10 knocks in 11 tries by a combined margin of 340-117.
Last season Kopp rifled three touchdown passes while sudden running sensation Johann Cardenas '24 romped for 157 yards and three more scores in a 48-17 runaway as St. Thomas finished the regular season with a furious seven-game win streak.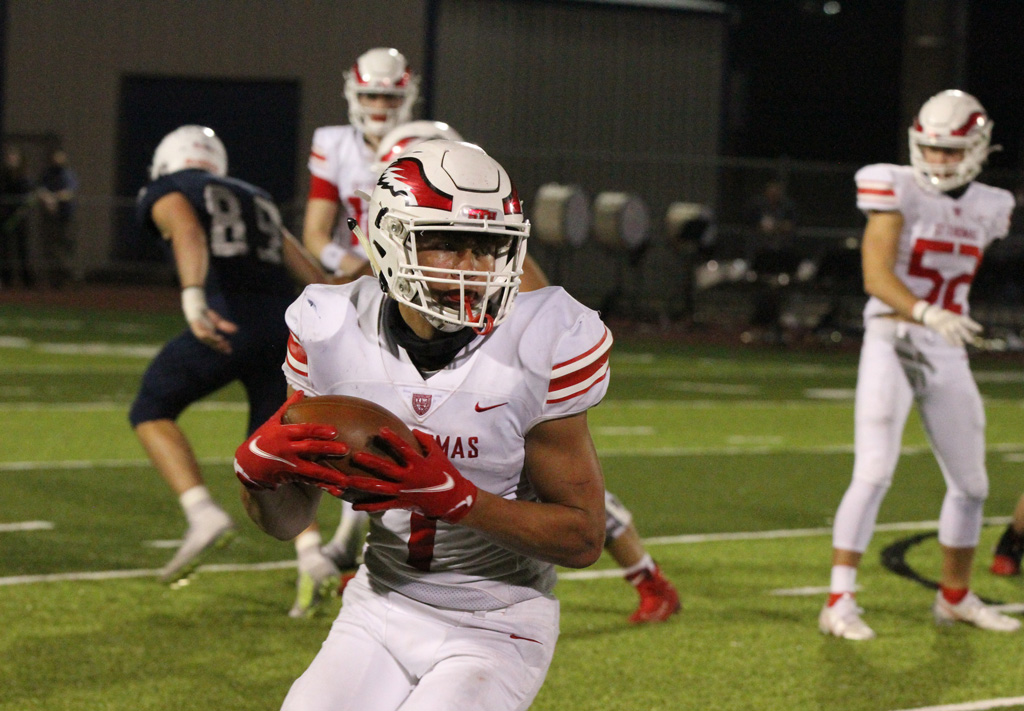 Kopp expanded his season touchdown passing total to 29 while the precocious Cardenas imbued a natural kinetic state that creates the sensation of always moving forward. He racked run totals like overripe fruit spinning in the window of a slot machine, converting a pair of short-range scoring bursts before bolting 25 yards in the third quarter for an emphatic 42-10 cushion.
Eagle Fight Never Dies!