The Most Reverend George A. Sheltz '63, retired Auxiliary Bishop of Galveston-Houston with a near lifetime of commitment to sacramental life, a spirit of hospitality, and self-emptying through service, passed December 21 at the age of 75.
"The prayers of the St. Thomas community are with the family of Bishop Sheltz, his colleagues, and many connections," St. Thomas President Fr. James Murphy, CSB said. "He engendered tremendous respect among all who were fortunate enough to work with him, not only because of his formidable expertise, but even more because of his wisdom, his collaborative spirit, and his genuine care for people. It's a personal honor to say he was a trusted friend. We are saddened by his absence and ask for God's consolation for his loved ones. May he rest in peace."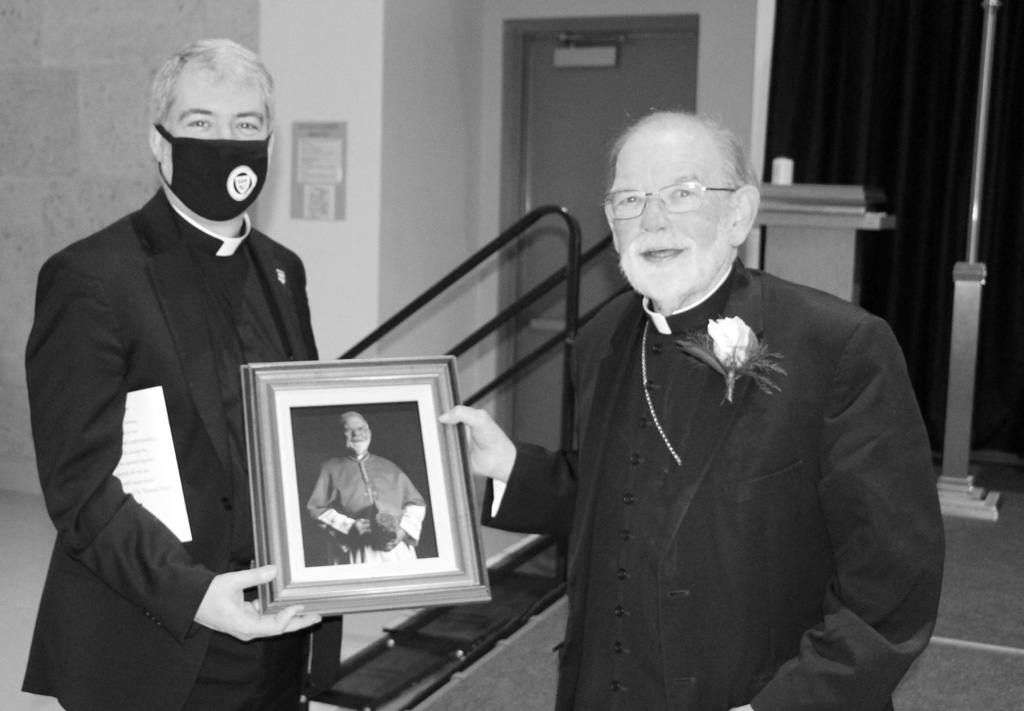 In January of 2021, Bishop Sheltz was saluted with induction into the St. Thomas Hall of Honor, the school's highest alumni distinction. He joined an acclaimed inner circle of former scholars with exceptional contributions to their professions and communities. The Bishop spent more than five distinguished decades serving with concentrated excellence in his home diocese, first as the spiritual shepherd for six parishes – Assumption Church, Sacred Heart Co-Cathedral, St. Vincent de Paul Church, Christ the Redeemer Church, Prince of Peace Church, and St. Anthony of Padua Church.
In 2000, Pope John Paul II named Bishop Sheltz a prelate of honor with the title of monsignor. He proved to be an integral part of the Church's chancery in a depth of important roles while making a significant and lasting impact for the largest Roman Catholic diocese in Texas and the 5th largest in the United States – secretariat director for clergy formation, chaplaincy services, vicar general, chancellor, and moderator of the curia. In February 2012, he was appointed to auxiliary bishop of Galveston-Houston by Pope Benedict XVI, filling a position that has been vacant for two years and assisting Daniel Cardinal DiNardo in an archdiocese with nearly two million Roman Catholics in a 10-county region.
"There is real sadness for us at the death of Bishop Sheltz," Cardinal DiNardo said in a statement. "He was such a kind and generous man, a faithful priest. Whenever I asked him to do anything, he always said 'yes' and did so cheerfully. He was a great model of a diocesan priest, conscientious. He mirrored Christ very much."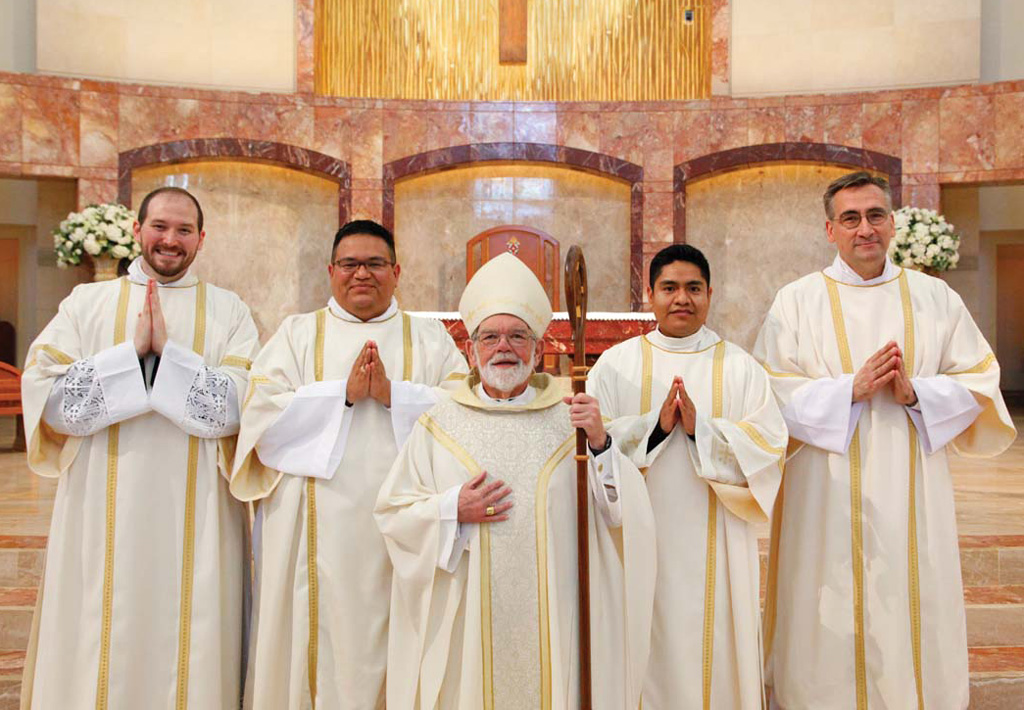 Pope Francis accepted Bishop Sheltz's resignation on June 22 at the age of 75. He was succeeded by Auxiliary Bishop Italo Dell'Oro, CRS. "Bishop George was a good man and a good and humble priest. And he was a bishop with great humility, George trusted that God had chosen him and served Him faithfully even through undue suffering until his death. Now, I trust that he is in God's peaceful embrace."
Bishop Sheltz was born and raised in Houston with deeply rooted bonds within the Catholic Church. His father George Sheltz Sr. '37 was in the first class of deacons ordained for the diocese. Uncle Monsignor Anton Frank '26 was the first native Houstonian ordained for the diocese. His late brother Anton Sheltz '68 was ordained for Galveston-Houston in 1976.
Bishop Sheltz entered St. Mary's Seminary, graduated from the University of St. Thomas with a Bachelor of Arts in philosophy, and earned a Master's from the seminary in theology. In May 1971, he was ordained for the then-Diocese of Galveston-Houston by Bishop John Morkovsky.
"The Archdiocese lost a fully dedicated and wonderful priest in the death of Bishop Sheltz," Archbishop Emeritus Joseph A. Fiorenza said in a statement. "He was a friend to all who knew him and ready to help those in need of his priestly ministry, and always offered good advice to those seeking his help. I will miss him as a good and steady friend."
Funeral arrangements for Bishop Sheltz:
Visitation and Vigil, Thursday, December 30, 6:00 p.m. and 7:00 p.m. at the Co-Cathedral of the Sacred Heart
6:00 p.m.
Mass of Christian Burial – Friday, December 31, 1:30 p.m. at the Co-Cathedral of the Sacred Heart
The Mass will be live streamed at www.archgh.org/live.
Amegy Bank is graciously providing additional parking available in their new garage on the evening of the vigil and the day of the funeral.
The burial follows at Forest Park Lawndale cemetery.
Eternal rest grant unto them, O Lord, and let perpetual light shine upon them. May their souls and the souls of all the faithful departed, through the mercy of God, rest in peace. Amen.
Catholic. Basilian. Teaching Goodness, Discipline, and Knowledge since 1900.