Jake Wright '22 and tag-team partner Cameron Price '22, quarterback and receiver, the forever fling and cling of Eagle Football, confirmed to be far more dangerous than advertised by their deceiving tales-of-the-tape.
Neither measured above six feet tall yet they operated as a gargantuan pair without parallel for one of the most improbable joy rides of the 2021 Texas high school gridworld.
Wright topped the state's regular-season passing charts with 3,326 yards while peerless Price was third in the Great State in receiving yards with 1,317 on 72 catches. Wright's jaw-dropping production was against a single solitary interception in what developed into a better than fiction one-and-done senior rampage. He connected on 73% of his throws with 14 of his 38 touchdown tosses directed at Price.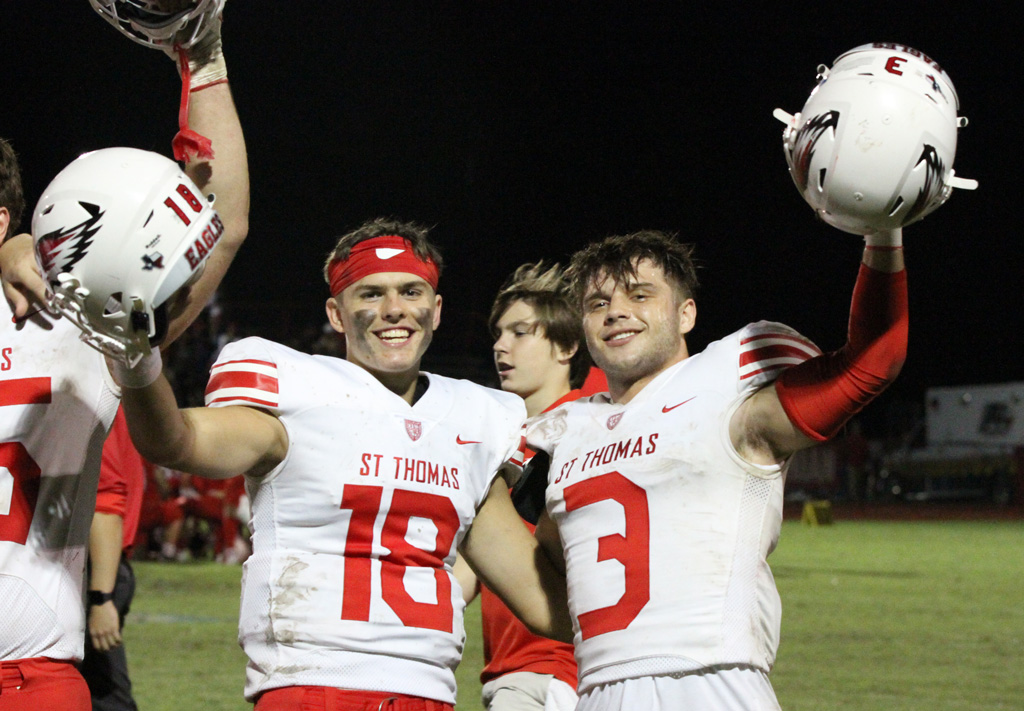 Their startling weekly installments of new-age passing pyro were delivered with OG sensibilities.
The Trill Twins.
Trill – a mashup of the words true and real – minted by Houston rapper Bun B who was often reluctant to apply the moniker with quick judgment. Wise logic from the truly trill one. But Bun would no doubt certify the stamp for the Eagles sizzling stat-stuffers. He fully understood the power of two, just as he was never meant to be a solo artist, and achieved his greatest success when paired in the great Texas rap duo UGK.
—
The email arrived for Rich McGuire in late February of 2021. The head coach of Division II Pittsburg State in Kansas requested a callback, likely interested in one of McGuire's graduating Eagle Football players. But in the course of the 15-minute conversation, Brian Wright quickly shared that he was reaching out on behalf of his son Jake who was looking for a favorable transfer landing for his senior high school season. The Wrights had family in Houston for support and the reputation of the St. Thomas program was enticing to consider a bold move.
McGuire indicated he would be at his Grand Lake vacation house during spring break, about a 75-minute drive to the Pittsburg campus, and would be willing to visit with the family to discuss some particulars.
"By the way, you didn't mention what position Jake plays?"
"Coach, I wouldn't be calling you if he wasn't a quarterback?"
—
Brian Wright was the offensive coordinator and quarterbacks coach at Toledo for four seasons and the offensive coordinator at Florida Atlantic from 2012-15. He was preparing for his second season as head coach at Pittsburg State when McGuire arrived at the Gorillas indoor facility to give Jake an insta look-see.
"He shows up from high school, jumps into the drill work with the college guys, just shorts and a t-shirt," McGuier says. "Right away, you see Jake doesn't have the biggest size but he could spin the ball, accurate, solid footwork, and mechanics. Fundamentally sound. Coach's kid."
McGuire forwarded some video clips on his smartphone to offensive coordinator Matt Hudson for rapid reaction. The return text read "That will do."
McGuire then met with Jake, Brian, and his wife Laura and discussed how a transfer could potentially work. There would be no guarantees of playing time. Any and all consideration would have to be earned.
"When I left Pittsburg, I honestly thought I would never hear from them again," McGuire says. "Crazy idea. Who's going to send their kid to Houston out of nowhere for one football season?"
In May, McGuire received a message from Jake. "I'm coming. Will be there the first week of June. Have a summer course already scheduled. When do workouts start?"
—
After a series of shared 7-on-7 duties and the preseason proving ground, Wright emerged as the St. Thomas starter for 2021. He then proceeded to deliver doses of statistical dominance and staked his claim for having not only the best campaign of any quarterback within the TAPPS hierarchy but also among the elite anywhere in the Texas high school ranks. He was nearly flawless for 11 consecutive starts, thriving in the midst of Hudon's see-the-Matrix play-calling ability, which sort of neutralized the "WuT AbOUt hIs aRm StrEn?" angle.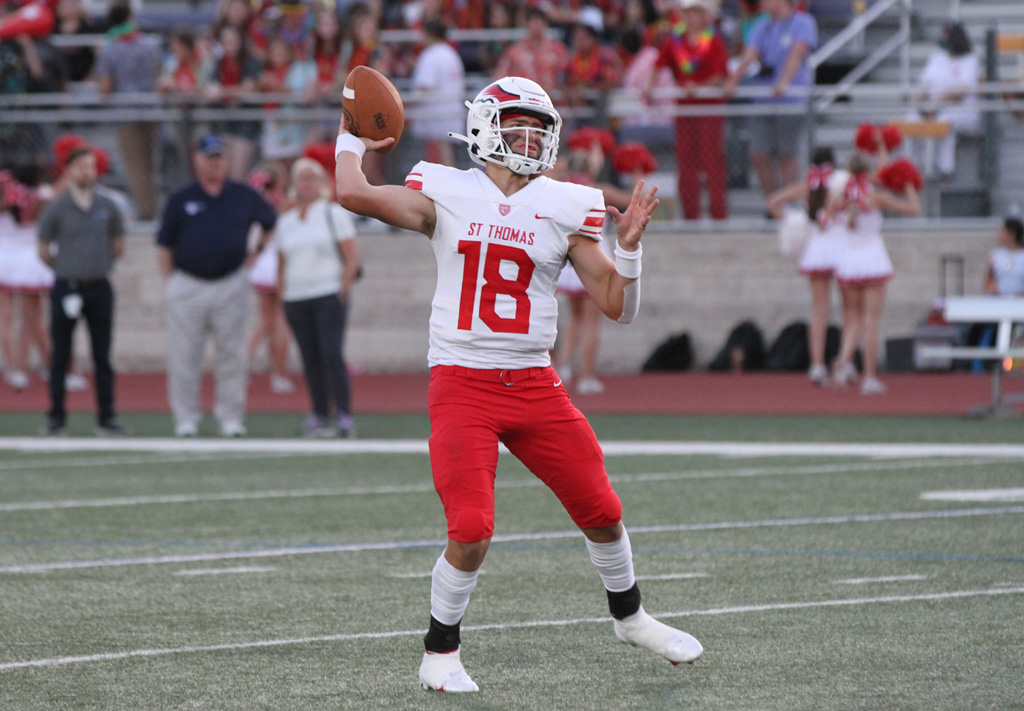 "It was stunning how quickly Jake learned the schemes," Hudson says. "This playbook is deep, college-level quick-tick demands. Multiple progressions. Setting protections. His efficiency from the beginning was remarkable. He simply didn't make mistakes – maybe one bad decision all season. And right away, we knew he hated to lose. Just win. Didn't care how."
Wright discovered a soul mate of sorts in Price who had seamlessly negotiated his own relocation to St. Thomas following his sophomore year. He was a boundless, glue-grip receiving craftsman exploiting underneath against combo zones, relentless in the screen game, and a matchup nightmare when facing man coverages regardless of the technique. He conquered to win slants, back shoulders, whip routes, and go balls. He broke through and past frailing defensive backs for yards all over the field after contact or the catch.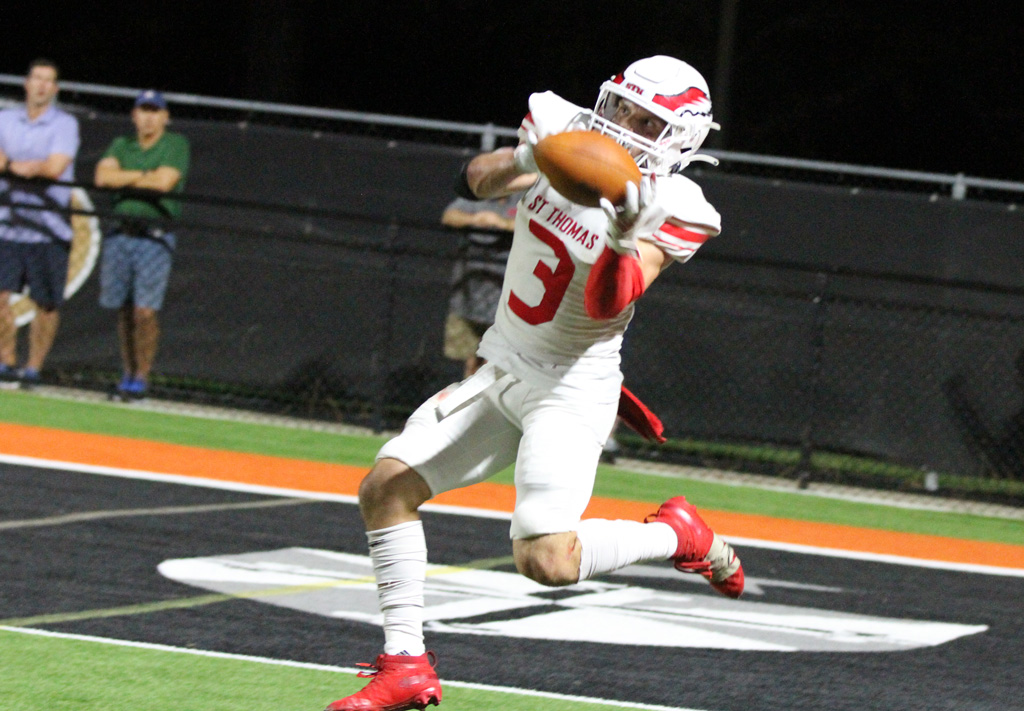 "Cameron is an outstanding Texas high school football player. He could play for anyone in the state," McGuire says. "If he's four inches taller, he's a five-star recruit. Everybody in the country would want him. More than anything else, he came to play every time the ball was kicked. He was ready to go to the fullest."
The stunning profile ascent of Wright and Price didn't need to be activated by a Dave Campbell's Texas Football cover story or a meme going viral on TikTok. Off the field, their personalities are as quiet as ants crawling on cotton. Come Friday night, their exploits exploded into overdrive with wicked-awesome fluorescence, the border-to-border rep built on the field, not driven by an algorithm that flooded attention to check out the hottest must-see mojo. Their lists of distinction were so long that they looked like the spring touring itinerary Bad Bunny.
Wright was recognized on Bally Sports Southwest as the Built Ford Tough Player of the Week for private schools in Texas and by H-Town High School Sports with Todd Freed. Price was highlighted during Week 9 as the KPRC & UTMB Health Athlete of the Week. They were both first-team all-state and all-Vype Houston, and finalists for offensive player of the year by the Touchdown Club of Houston.
—
The compulsion to prove. Again and again. Therein lies the legacy.
You don't have to be exceptionally fast. You don't have to grow exceedingly tall. Unmatched strength is not required. But undeniable will, yes.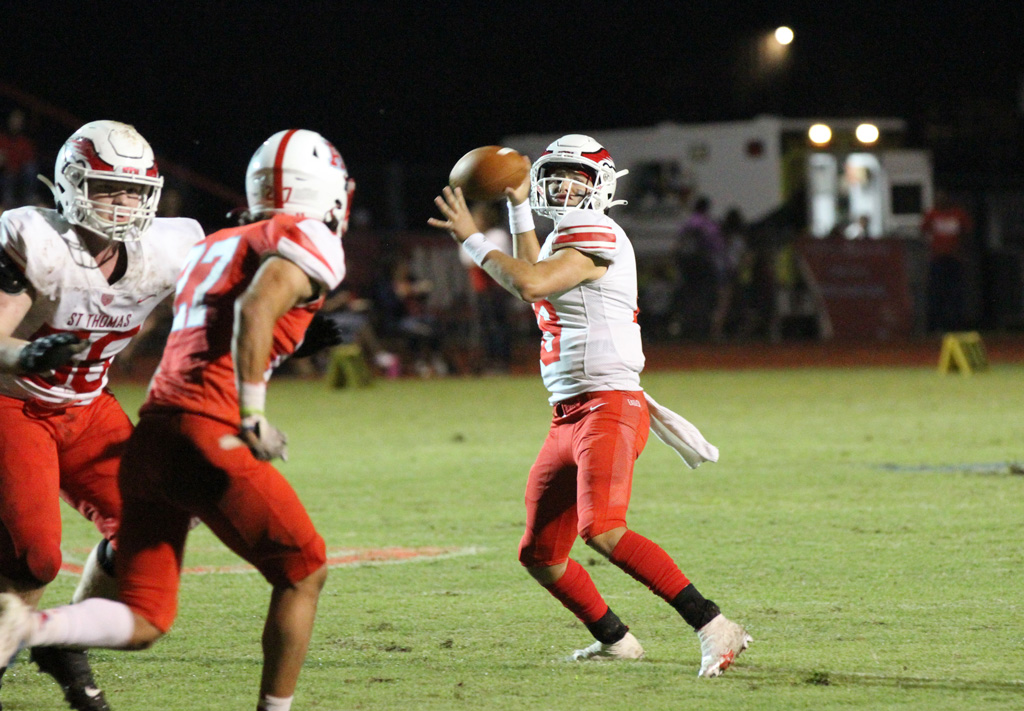 Your game can be skillful, fortified by wits and grace and style and uncoachable instinct. Those are the gifts. And cool. Absolutely, cool. The Neanderthal bruise brothers from the defensive line may charge at your face and you would step to the right, step to the left, let them pass with their misguided fury. Cool. The disguises of the defensive backfield would fall away before your eyes. Cool. You would seize the perfect play for the perfect moment, then run it perfectly. There never would be doubt. You simply would be better in the high-pressure bit of football business.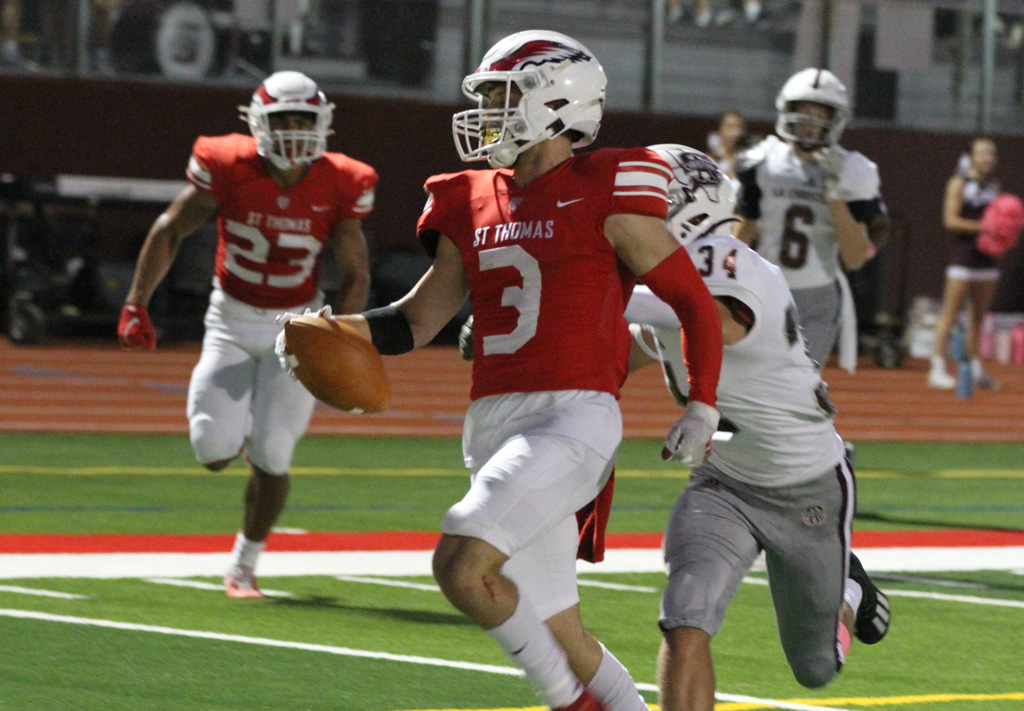 You would render detractors wrong. Then make them shut up.
You can't do it! Yes, we can!
Isn't that the heartbeat of sport?
Trill.
Eagle Fight Never Dies!