Thomas Pham '23 is carving a distinctive profile by continuing not only a thriving legacy of previous Eagle scholars but also his family's ascending reputation.
Pham has earned the prestigious rank of Eagle Scout, the highest reward in the Boy Scouts of America (BSA), a milestone accomplishment is richly recognized throughout the United States. He secured his honor through Troop 642, chartered by the Memorial Drive Presbyterian Church. The troop recently celebrated its 50th anniversary and has produced more than 600 Eagle Scouts, one of the highest totals in the United States.
Pham completed his challenging service project which benefitted Regina Caeli Parish. He orchestrated 38 participants and 350 volunteer hours that enriched a shrine area dedicated to St. Michael the Archangel. The effort also dramatically enhanced the landscaping of the surrounding grounds.
Pham has assumed numerous leadership positions within Troop 642, including quartermaster, patrol leader, and troop guide. He's attained 30 merit badges to become eligible for a Bronze Palm. Pham has served two summers at the Sid Richardson Scout Ranch, plus a summer at the Camp Chris Dobbins in Colorado.
The accomplished Pham is an exemplary two-sport scholar-athlete excelling in a rigorous Honors and AP program with an extensive range of extracurricular involvement including the distinguished St. Thomas theater program and student government. Pham was recently selected as a Catholic School Vicariate on the Youth Archdiocesan Council and remains committed to Our Lady of Lourdes Catholic Church where he is a weekly altar server and teacher's assistant for the CCE and Vietnamese Saturday school programs.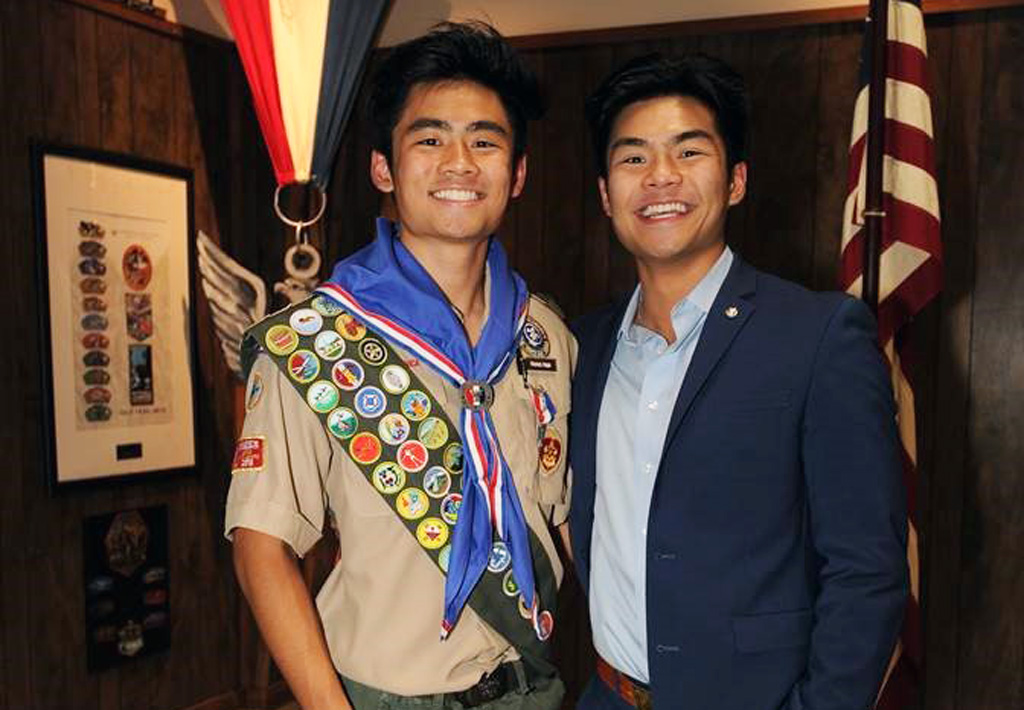 Pham is following the supreme standard of his acclaimed older brother Patrick, also an Eagle Scout and the 2021 St. Thomas valedictorian. The recipient of the 2021 Rev. Carl M. Allnoch, CSB Athletic Memorial Trophy for Excellence in Academics is now studying marketing and finance at the Canfield Business Honors Program at the University of Texas at Austin.
Patrick concluded a profound St. Thomas scholar-athlete career teaming with Gus Boettcher '21 with a ground-breaking first place in Duo Interpretation at the prestigious National Speech & Debate Association Tournament. The national championship prestige for the thundering twosome was the first in school history in one of the largest competitive college preparatory events in the United States that date to 1931.
Thomas Pham's collective scouting successes are a testament to a deep dedication to the BSA values of character, citizenship, community service, and allegiance to the purpose and goals of his respective troop – all consistent with the Basilian credo of Teach Me Goodness, Discipline, and Knowledge.
Catholic. Basilian. Teaching Goodness, Discipline and Knowledge since 1900.