Josh McLean '22 shattered three school records and was the catalyst in two critical first-place relay results to power Eagle Swimming to a commanding TAPPS Division I East Regional championship at the University of Houston Campus Recreation and Wellness Center.
St. Thomas roared to 220 points to easily outdistance The Village School (95), Tomball Concordia Lutheran (60), and St. John XXIII (31).
McLean established a new St. Thomas mark in the 200 yard freestyle (1:42.77) in a 1-2-3 sweep with Charlie Ramirez '22 (1:56.60) and Tyler Sandrock '24 (1:56.88), then wiped out the 500 free standard which had stood since 1992. McLean's time of 4:42.00 fronted a 1-2-3-4 assault with Luke Burke '24 (5:57.39), Zach Haine '25 (6:05.34), Alex Erickson '23 (6:11.40). McLean concluded a sensational Saturday with a sizzling lead swim in the 400 free relay that set another St. Thomas best for 100 yards. He tag-teamed with Ramirez, Sandrock, and his brother Dylan '22 to punctuate the St. Thomas runaway rout with a dominant 3:24.44 victory.
McLean also partnered with Dylan Sandrock, Ramirez, and Carrick Brogan '22 to capture the 200 medley relay in 1:42.40.
The Aqua Eagles overwhelmed the field with a devastating depth of talent and performance in the third season with head coach VanArthur Jones.
Brogan, Owen Sweeney '25, Ben Thoede '24, and Tyler Sandrock piled valuable points with a second-place finish in the 200 free relay.
Sweeney (2:26.57), Ryan Bordas '25 (2:26.78), Ryan Gentile '24 (2:28.19), and Matthew Healey '25 (2:41.47) raced to a 2-3-4-5 result in the 200 individual medley.
Brogan (22.73), Dylan Sandrock (23.14), and Thoede (24.14) claimed 2-4-5 in the 50 free.
Thoede (54.45), Max Kaase '23 (55.26), and Hudson Hollingsworth '23 (59.18) took 1-2-4 in the 100 free.
Tyler Sandrock (57.56), Ramirez (57.80), and Bordas (1:04.63) raked 2-3-5 in the 100 butterfly.
Dylan Sandrock (1:00.24), Brogan (1:01.75), Kaase (1:04.86), and Chris Guthrie '25 (1:09.84) posted 2-3-4-5 in the 100 backstroke.
Ryan Gentile '24 (1:10.95) and Sweeney (1:11.54) contributed 3-4 in the 100 breaststroke.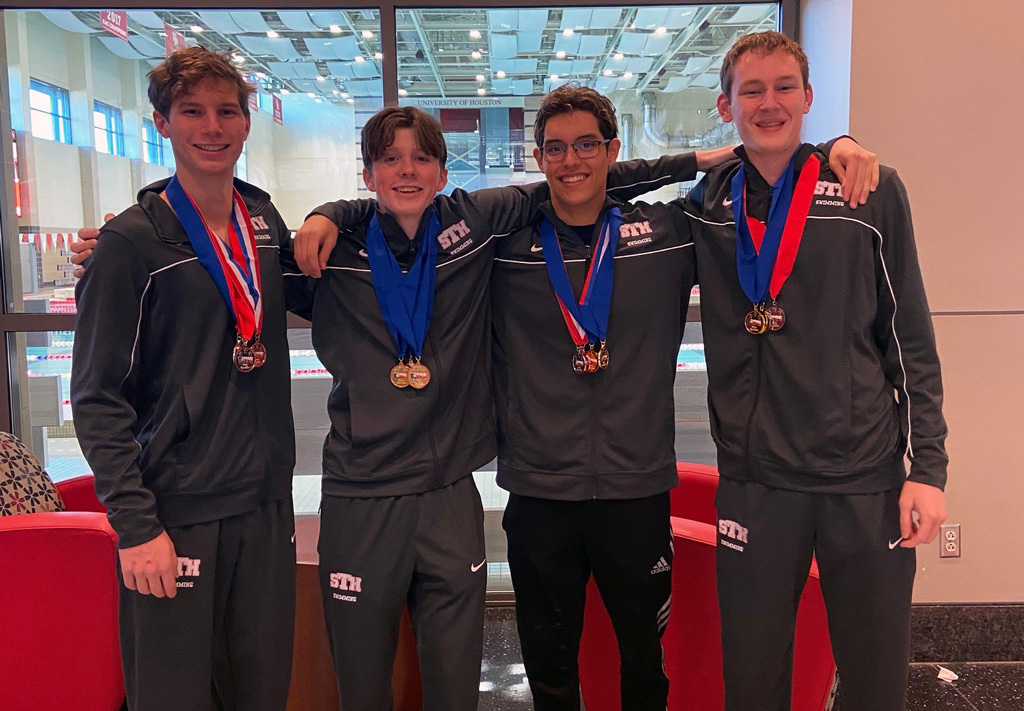 St. Thomas will take sizable momentum into the state championships at the Josh Davis Natatorium on February 9 in San Antonio. The program's recent four-year surge includes its first-ever state title in 2019, successfully retaining the crown in 2020, and then adding a state runner-up result in 2021 to match the 2018 finish.
Eagle Fight Never Dies!