The work is a meditation on the relationship between mind and matter.
The educator crafts an infectious culture that ignites imaginations, broadens creative horizons, and fosters confidence.
The rewards are as customary as they are emphatic testimony to the rise and reputation of St. Thomas Fine Arts.  And the undeniable impact of faculty member Mike Nebel.
Another host of Eagle scholars in ceramic arts have gained acclaim from the premier juried competitions in the United States, as predictable as the changing of Grenadier Guards at Buckingham Palace. Or James Bond and Jason Bourne escaping the clutches of evil. An uninterrupted steady stream of excellence that would make Tom Brady take notice.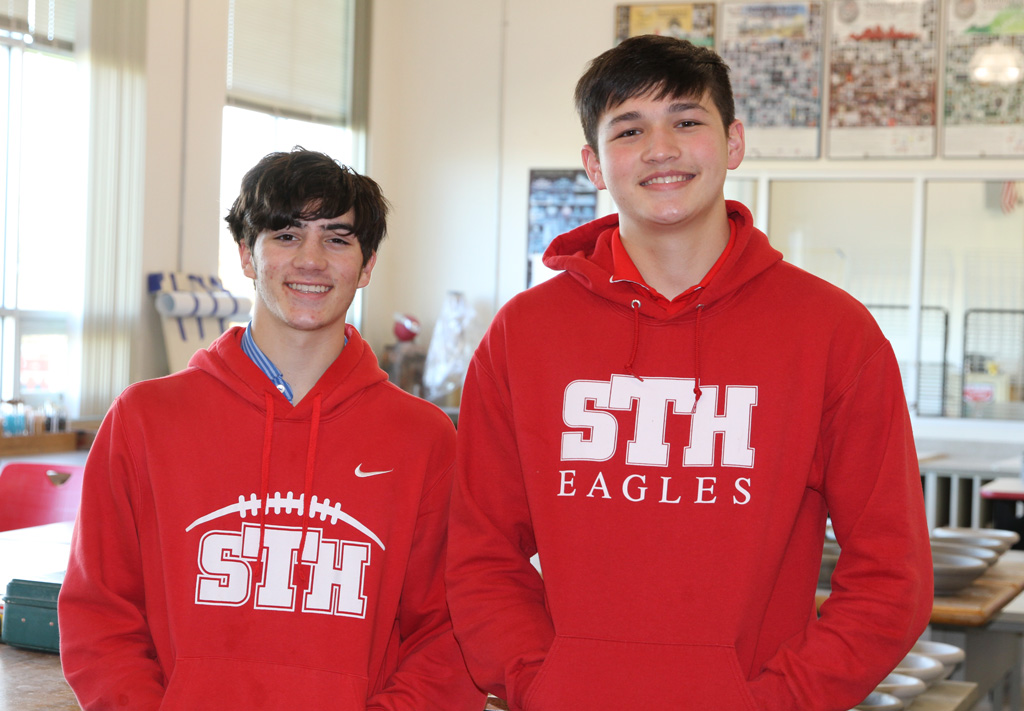 Caleb McClure '22 and Nicholas Ferruzzo '23 captured Gold Key acclaim in the 2022 National Scholastic Regional Art Competition, leading another annual parade of St. Thomas merit.
The latest in a long series of distinctions includes Silver Key distinction for Keenan Sencio-Sims '24, John Westby '23, Braydan Salinas '25, Jacob Gergen '24, George Antill '23, and Samuel Hanse '24. Another half dozen Eagles earned honorable mention – Luka Ljuboja '25, Knox Vacek '24, Alex Ostrom '22, Brandon Maya '23, Alex Yankowsky '25, and Julian Winstone '23.
Roberto Asencio '24 also received an honorable mention for his work in Scratchboard Portrait.
Fourteen of Nebel's scholar-artists were recognized out of 18 entries. A confirmation of the program's aim to provide the highest caliber of education for those poised with talent and aspiration to flourish.
"This exhibition represents a range of creativity, from simplistic to complex," Nebel says. "From seven inches in height to more than two feet. And only two seniors in the group. You can never predict what will register during subjective judging."
The outside validation provides particular pride for Nebel. In his 15th and final academic year at St. Thomas, closing more than four decades inspiring and mentoring students with the fascination of interpretation, he presented a challenge that was unprecedented in his tenure.
"I wanted all my first-year students in the fall semester to have an accelerated project and compete at an elite level with second-year themes," Nebel says. "And I wanted unique pieces. Great credit goes to the students. They knocked it out of the park. So much individual effort, dedication, and execution. They didn't allow themselves to become frustrated early in the development when the results weren't meeting their expectations. The clay was talking to them and they had to listen to do what the clay wanted to do, not what they wanted to do. It's a remarkable showing."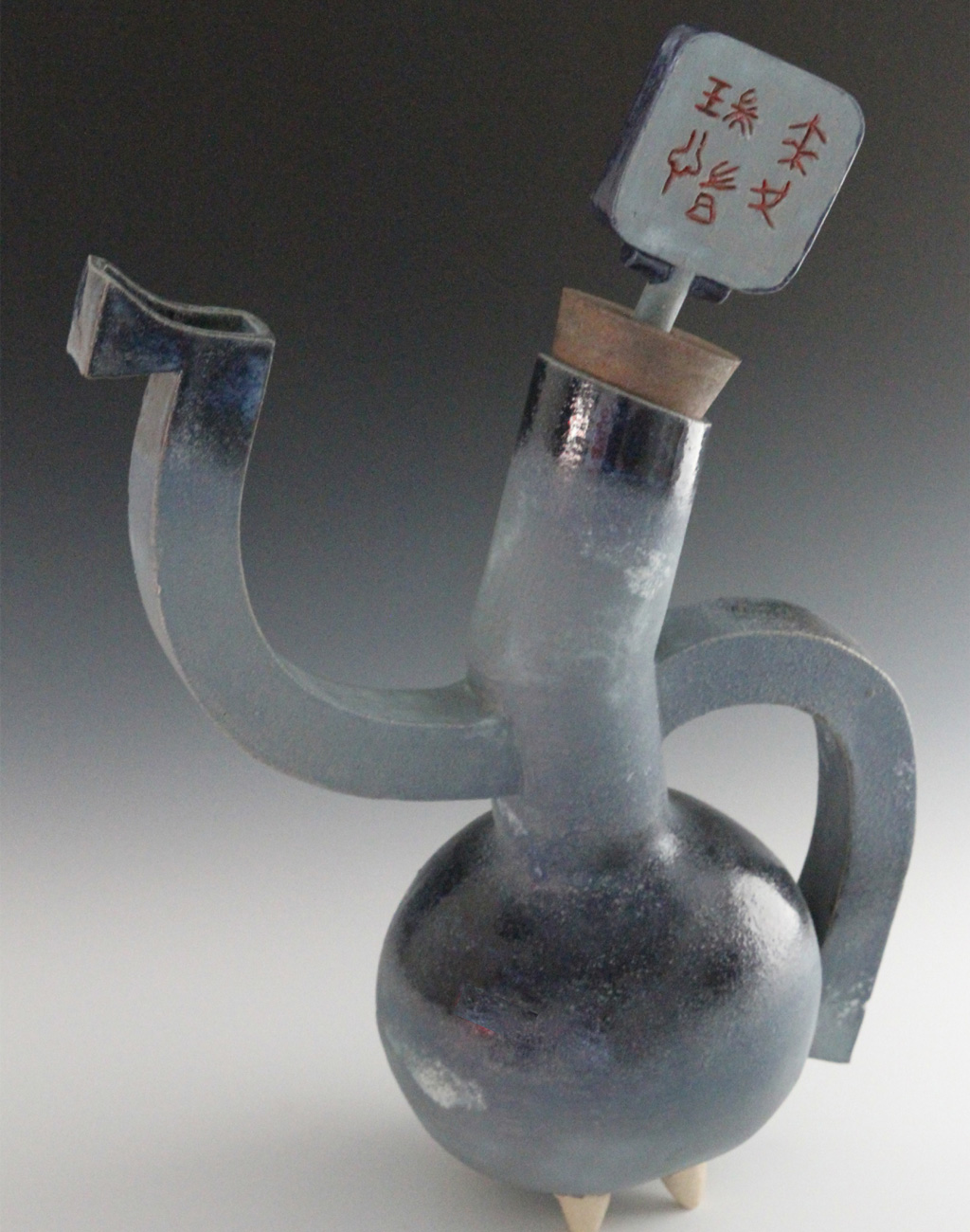 McClure's breakthrough came as a Ceramic I student. "Right away you notice the tubes from the handle to the spout," Nebel says. "He used a new glaze for a softer shine. The handle incorporates cork and the Chinese characters pay homage to his grandfather – the alpha translates into 'Caleb McClure.' The red dye symbolizes longevity and peace. Really impressive."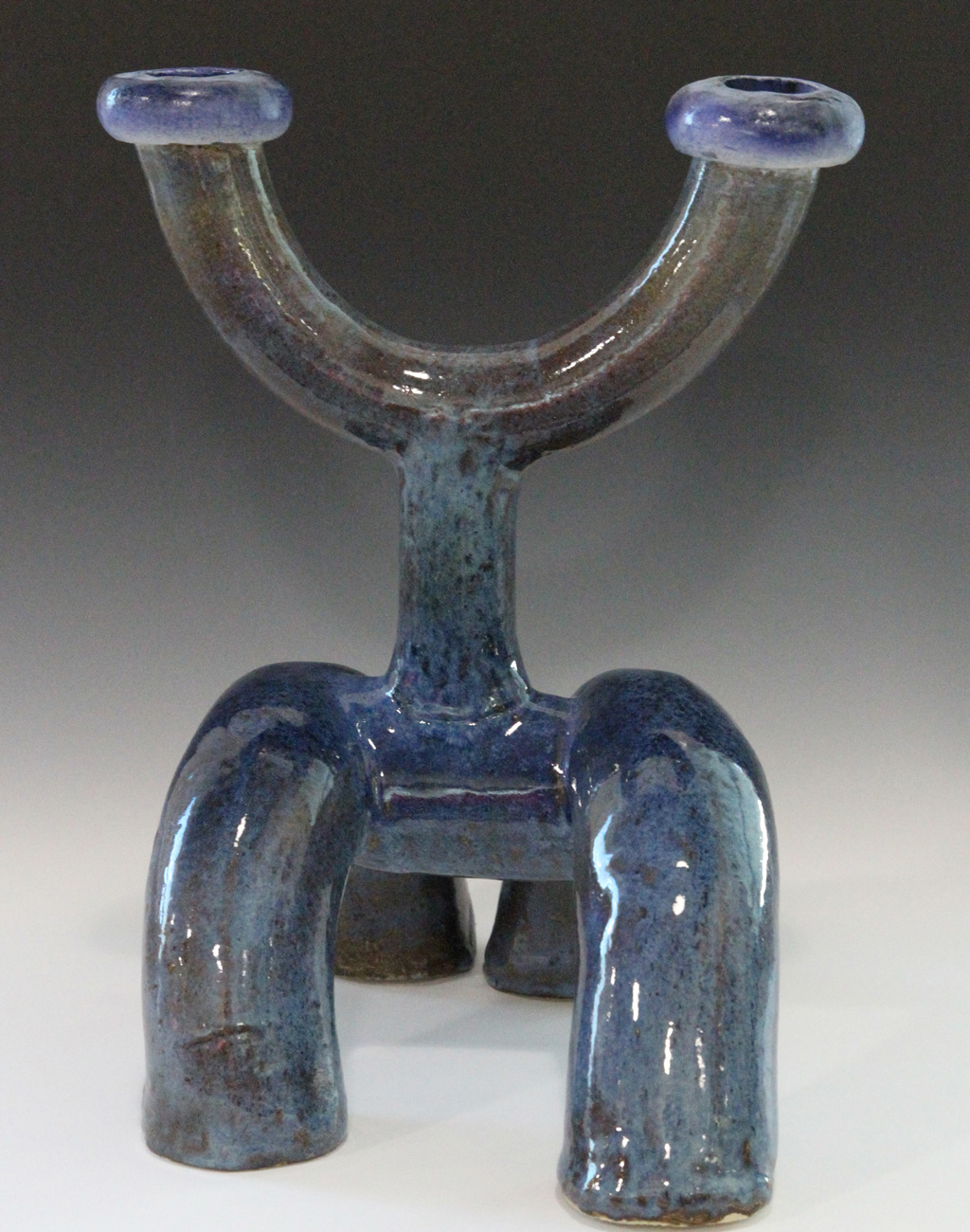 Ferruzzo utilized "contrasting blue shades on the glaze with some a white frosting effect. Overall, it's a very striking piece."
During Nebel's celebrated St. Thomas stay, he has orchestrated a seismic shift for the program, providing a rigorous yet supportive environment that relied on persistent curiosity and due diligence, exposing students to a wide range of traditional techniques and contemporary concepts while encouraging their signature style.
Nebel's lab is a stimulating fulcrum for artistic and intellectual growth. With the realization that discipline and freedom go hand in hand with creative activities, he instilled a balance between the acquisition of traditional skills and the promotion of innovation. Responsibility was placed on the individual student to find meaningful content and an effective means to express it.
Among the many constants, Nebel's awareness of the diverse backgrounds of his students, their variety of motivations and personalities. He respects each individual with compassion and demanding old-school, family loyalty. The dual dose of motivation encourages them to identify their emotions or inner visions and establish a voice by combining influences from the world around them with personal identity and symbolism.
"I teach the way I would want someone to teach my sons or my granddaughter," Nebel says. "There's an expectation for their best effort and to never settle for good enough. It demonstrates the type of students St. Thomas attracts. They're driven to achieve, regardless of the discipline. And this last group wanted to not only live up to the previous success but expand to another level. Every year, so many students at St. Thomas accept leadership roles in so many areas of our campus life."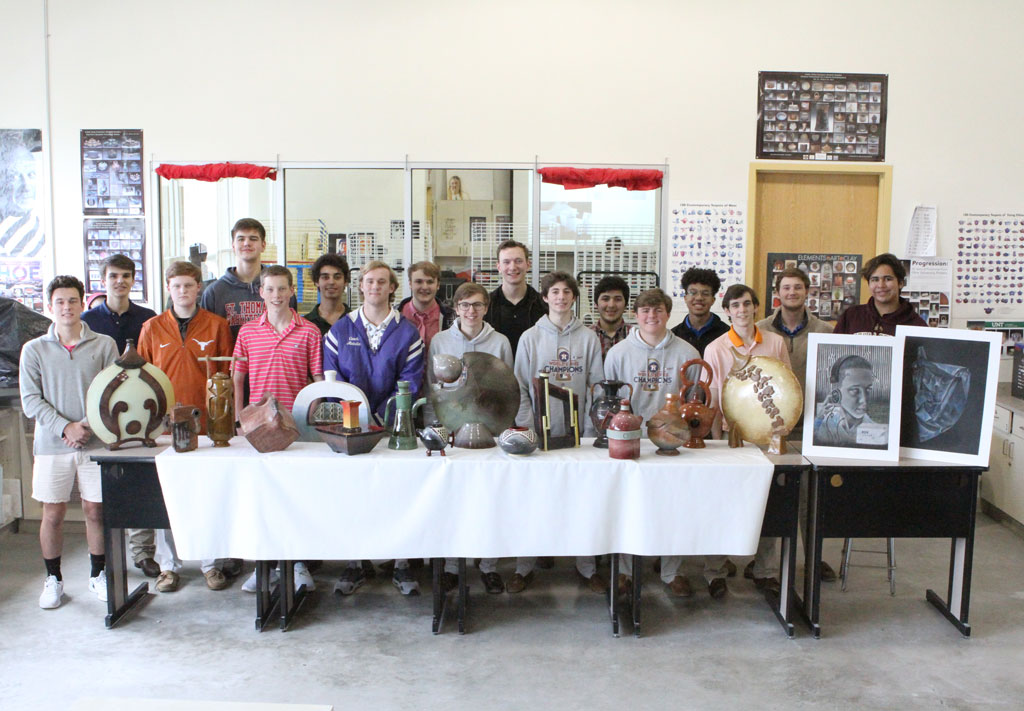 Nebel will leave St. Thomas with his own legacy forever entrenched. The mastermind behind a model program in peak prowess committed to persistence and promise but most importantly – the process. Encouraging and empowering motivated scholar-artists to engage in visual storytelling as the primary inspiration, with opportunities for increased exposure through special events a bonus dividend.
Catholic. Basilian. Teaching Goodness, Discipline and Knowledge since 1900.