The mission of St. Thomas Fine Arts is to create a curiosity for scholars to explore their intuitive talents, navigate their inquisitive journeys, and express themselves while possibly gaining national recognition.
One of the most complete and diverse programs in Texas is shepherded by faculty member Mike Nebel. And the next breakthrough example extending the firmly established St. Thomas reputation within Ceramic Arts belongs to Keenan Sencio-Sims '24 who earned recognition for the 25th Annual National K-12 Ceramic Exhibition.
The acclaimed event is designed to showcase the country's best age-specific ceramic art. Sencio-Sims' Spiraling Shadows was selected for the national show March 16-18 at the SAFE Credit Union Convention Center in Sacramento, California. The competition was again extreme with Sencio-Sims receiving distinction among nearly 900 national entries. Jurors determine superiority based on three criteria: originality, technical expertise, and the emergence of a personal vision or voice.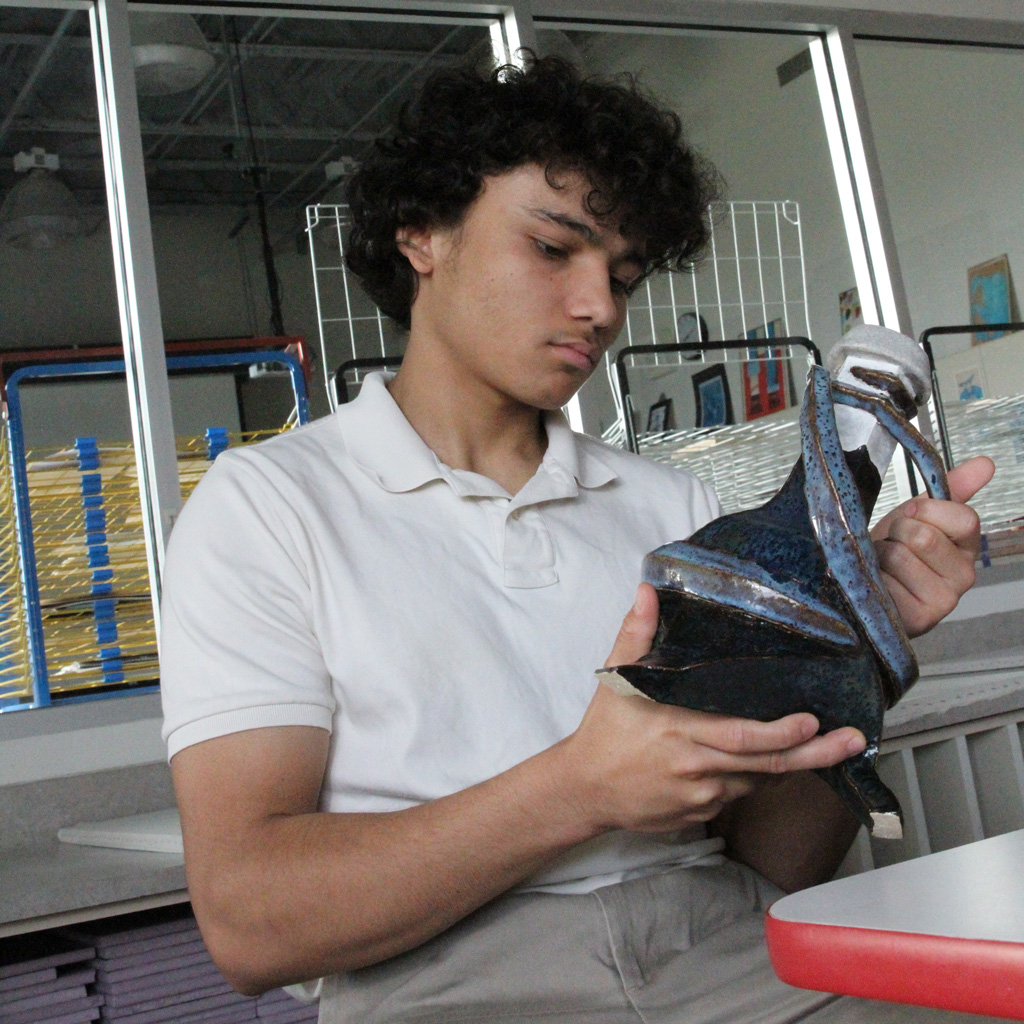 "Keenan is a rising talent and produced a wonderfully expressive sculpture," Nebel says. "There's a complexity that engages the viewer on a visceral level. The audience is pulled into the piece. The remarkable detail and finish is testament to his vision and commitment to execute.  And what's particularly gratifying is that I taught his brother Kaylon in 2012 and he won awards in the TAPPS state art competition.  Great symmetry. "
In the uber-creative world within St. Thomas Fine Arts, expectations are ever-present, the standard long ago elevated to supreme heights. Successes are measured most by a student's continuous critical and intuitive dialog with the work to gain increased self-knowledge and inventive growth.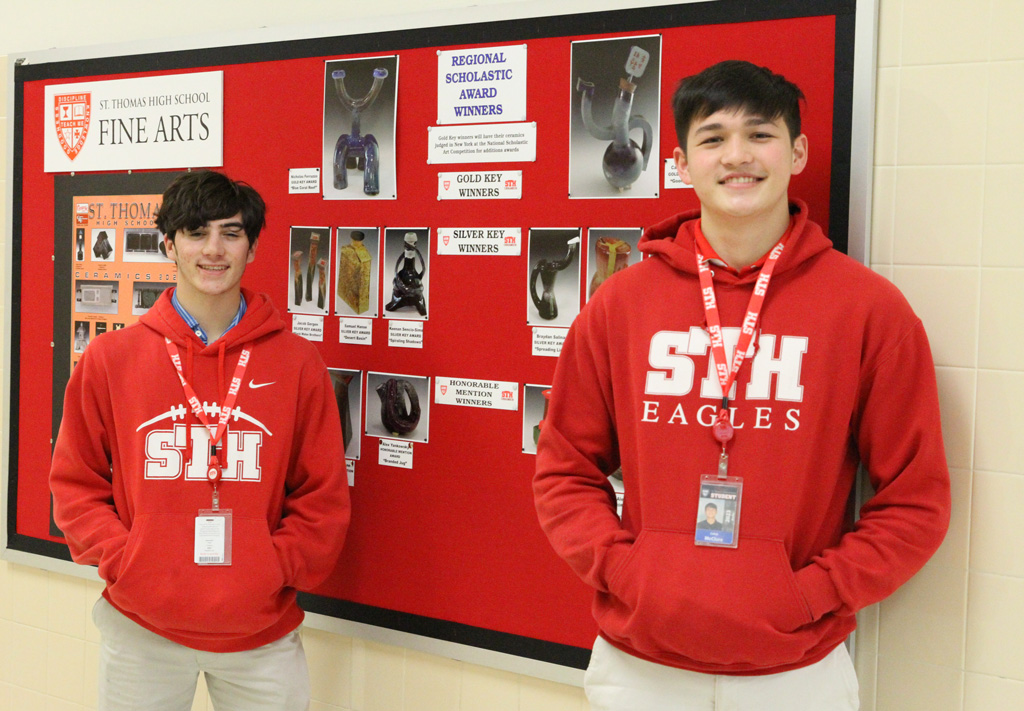 Previously in the academic year, Caleb McClure '22 and Nicholas Ferruzzo '23 captured Gold Key acclaim in the 2022 National Scholastic Regional Art Competition, leading another annual parade of St. Thomas merit that included Sencio-Sims earning Silver Key distinction. He was joined in the latest in a long series of distinctions by John Westby '23, Braydan Salinas '25, Jacob Gergen '24, George Antill '23, and Samuel Hanse '24. Another half dozen Eagles earned honorable mention – Luka Ljuboja '25, Knox Vacek '24, Alex Ostrom '22, Brandon Maya '23, Alex Yankowsky '25, and Julian Winstone '23.
Clay is one of the oldest art materials known to humanity, used for both utilitarian purposes and creative expression.
Nebel's leadership within the St. Thomas curriculum has consistently offered a rigorous, hands-on investigation of the multifaceted medium with great expressive possibilities. The lab serves as an incubator for a particular aesthetic that relies on equal parts wonderment and due diligence. Students are exposed to a wide range of traditional and contemporary techniques. Critiques are productive vehicles for understanding others' work and discussing tangents relevant to all aspects of art making.
Nebel believes that for scholar-artists, manipulating three-dimensional materials is a means of developing a psychological and intellectual flair that often collides with a society driven more and more by technology. Self-expression morphs into self-esteem.
"I could not be more proud of the group for their commitment to excellence," says Nebel, who is concluding his 15th and final academic year at St. Thomas, closing more than four decades inspiring and mentoring students with the fascination of interpretation. "I challenged the students to make this last showing representative of what had come before them. They answered with an emphatic effort that lives to the legacy of what has been achieved within the program. They identified exactly what our passion is, what our spirit is, that sense of purpose. And they responded to the St. Thomas standard."
Catholic. Basilian. Teaching Goodness, Discipline and Knowledge since 1900.