St. Thomas is proud to salute Oni Mouton '23 for earning the prestigious rank of Eagle Scout, the highest achievement in the Boy Scouts of America (BSA).
Mouton continues the thriving legacy of Eagle scholars who have reached this milestone accomplishment that is richly recognized throughout the United States. Since the BSA inception in 1911, only four percent of scouts have earned this honor after a lengthy review process.
Mouton achieved his distinction through Troop 46 chartered through St. Luke's United Methodist Church. With more than a decade in BSA, he has served various leadership positions including patrol leader, troop guide, and chaplain aide.
Mouton's service project benefited the Presbyterian School in the Museum District where he "spent many years preparing for high school and particularly the challenges of St. Thomas. I wanted to give back to a place that gave me so much."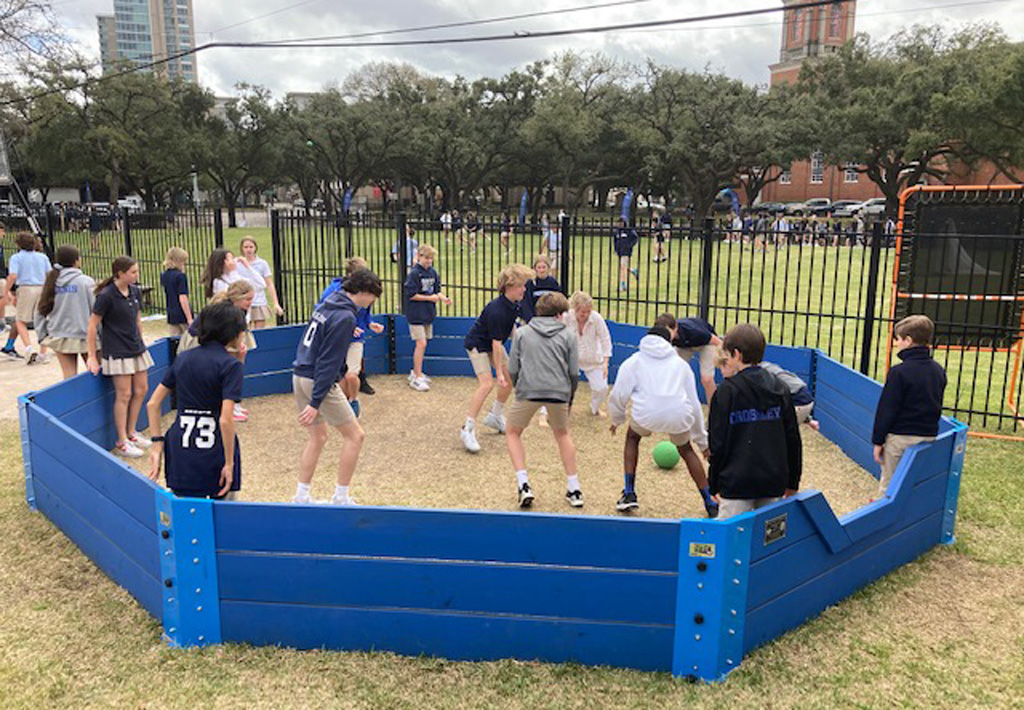 Mouton shared a game with the PS community introduced through class trips to Camp Cho-Yeh and the T-Bar M Camp in New Braunfels. Gaga Ball is a dodgeball variant thought to have started in Israel that has gained immense popularity in recent years. Mouton organized and led a group of scouts and adults assembling the octagonal pit that quickly became a center piece of campus activity for elementary and middle school students.
Mouton has contributed to a series of summer camps in Colorado, Arkansas, and the Florida Keys.  The National Honor Society member and Eagle Ambassador is a two-sport student-athlete in Eagle Track and Field and Eagle Cross Country. His collective successes, on and off-campus, are a testament to a deep dedication to the BSA values of character, citizenship, community service with strict allegiance to the purpose and goals of Troop 46 – all consistent with the Basilian credo of Teach Me Goodness, Discipline and Knowledge.
Catholic. Basilian. Teaching Goodness, Discipline and Knowledge since 1900.