Gold medal-winning Luke Malveaux '23, Sam Cordova '23, Colton Ritchey '23, and Boyd Quinlan '24 all seized top-three results to power Eagle Wrestling to a strong fourth-place finish at the Texas Prep State Wrestling Champions.
Host St. Thomas racked 131 team points, one slot ahead of recently crowned TAPPS state champion Dallas Bishop Lynch.
The Eagle fab four will advance to the 86th National Prep Wrestling Championships held February 25-26 at the Show Place Arena in Upper Marlboro, MD. Wilkes Hawkins '24 will also participate in the most prestigious and historic schoolboy competition in the United States after taking fourth place at Prep State at 126 pounds.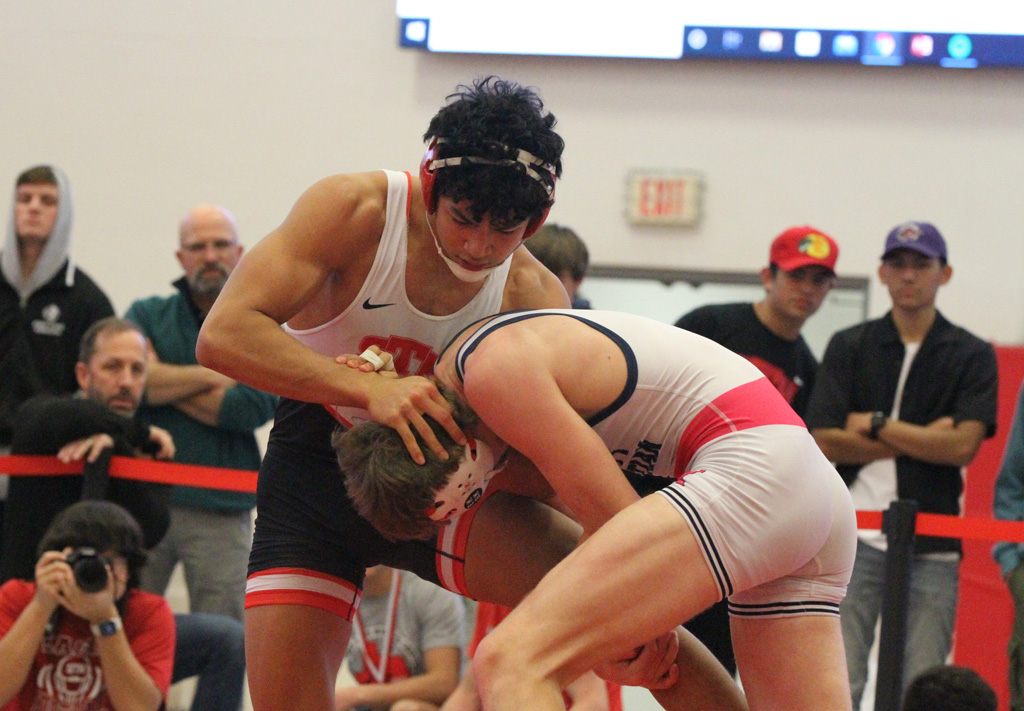 Malveaux maxed at 182 in sudden victory to roaring approval from an enthusiastic Reckling Gymnasium crowd and continued an acclaimed junior season.
Cordova captured the silver at 160. Ritchey (120 Fall 2:44) and Quinlan (138 Fall 4:07) both earned bronze distinction.
Trace Langin '25 (195), Michael Kanakidis '24 (220), and Tyler Langin '23 (285) all reached the third-place match.
Previously, Malveaux was an individual winner and the outstanding performer leading Eagle Wrestling to third place at TAPPS State. Ritchie again ruled 113 after both were silver medalists in 2021 in their respective weight divisions.
The TAPPS team tally with nine individual place winners continued major mojo for St. Thomas with head coach Michael LeHolm. He's now orchestrated four top-three finishes since 2019 with a pair of runners-up.
Malveaux will front a group positioned to potentially follow the Prep All-American legacy of previous Eagle performers, including four medalists from 2012:
Alex Jacobs '19 (8th 2019 145 and Central Michigan)
Ricky Regas (7th 2012 145 and 7th 2013 152)
Nicholas Bennett '12 (7th 2012 145)
Travis Bradford '12 (6th 2012 170)
Nicholas Rossi '12 (7th 2012 285)
Thomas Mancha '06 (4th 2006 189)
Eagle Fight Never Dies!