This story was originally published in the "Eagles' Nest" Spring 2022 publication.
One of the celebrated virtues of executive leadership in the 21st century is the willingness to be bold. In an age when disruption is always around the corner, calculated risk with large promise trumps cautious prudence that limits the downside. But someone has to walk out on that limb.
Greg Phillips '82 is an adventurous optimist whose indefatigable nature, intellectual prowess, and sizable management skills are a formidable combination. As an acclaimed corporate attorney and impassioned civic servant, he has made a career out of making a difference. He's that rare individual who inspires both respect and affection.
Yet beneath that gentlemanly manner burns a relentless pursuit for results. Phillips has remained connected to his beloved alma mater and now acts as the chairman of the board to help assure the next generation of promising scholars participate in the same rich Basilian experience he has found invaluable to his own success.
"I had friends growing up who didn't make the wisest choices and paid the price," Phillips says. "I was right there with them, could have gone either way. My life took a decidedly different path and St. Thomas was a huge reason why. The school opened my eyes and opened doors that I never imagined. People like (former principal) Fr. (Albert) Gaelens, coach (Mike) McConnell), coach (Jim) Schwarzbach, and others mentored me because they cared. Who am I to take advantage of so many blessings and keep them to myself? How can I not reach out to the next "me" and push that young man in the preferred direction?"
Phillips inherits an institution that is healthy and well-positioned. He brings expertise with a sensibility for innovation and collaboration to ensure that St. Thomas remains strong across all sectors.
"College preparatory has morphed into a highly competitive enterprise," Phillips says. "Families have a wide range of choices and we have to be proactive and intentional in making St. Thomas a prime option, regardless of the socio-economic profile. We've embraced that goal as our immediate priority."
There are many ways to assess the performance of a board president. Fundraising success often tops the list, mobilizing support for a range of ambitious initiatives. But that may be only the most visible aspect of the imprint. Phillips' exceptional interpersonal talents and strategic planning process has sought and received widespread input and buy-in.
"To influence a place like St. Thomas you need someone who can build genuine relationships with all constituencies, and I think that is one of Greg's signature strengths," says President Fr. James Murphy, CSB. "He is an authentic leader who builds consensus with people who may be very different."
Phillips possesses a firm appreciation for the potential of private school academia. He credits St. Thomas as the catalyst for his profound personal and professional growth. Phillips and his wife Cynthia have exercised the same gateway for their three children. Wesley attended St. Thomas before Westbury Christian High School and then Morehouse College. Both daughters are proud alumni of St. Agnes Academy. Madison is studying at Howard University and Sidney is finishing her master's in global affairs at Rice University after graduating from the University of Texas.
In addition, Phillips has served as a foundation board member at St. Agnes, plus the boards at The Regis School of the Sacred Heart, Annunciation Orthodox School, the Houston Angel Network, the Houston East End Chamber of Commerce, BBVA Compass Bank, and the Houston Technology Center – always displaying the direction needed to drive measurable outcomes.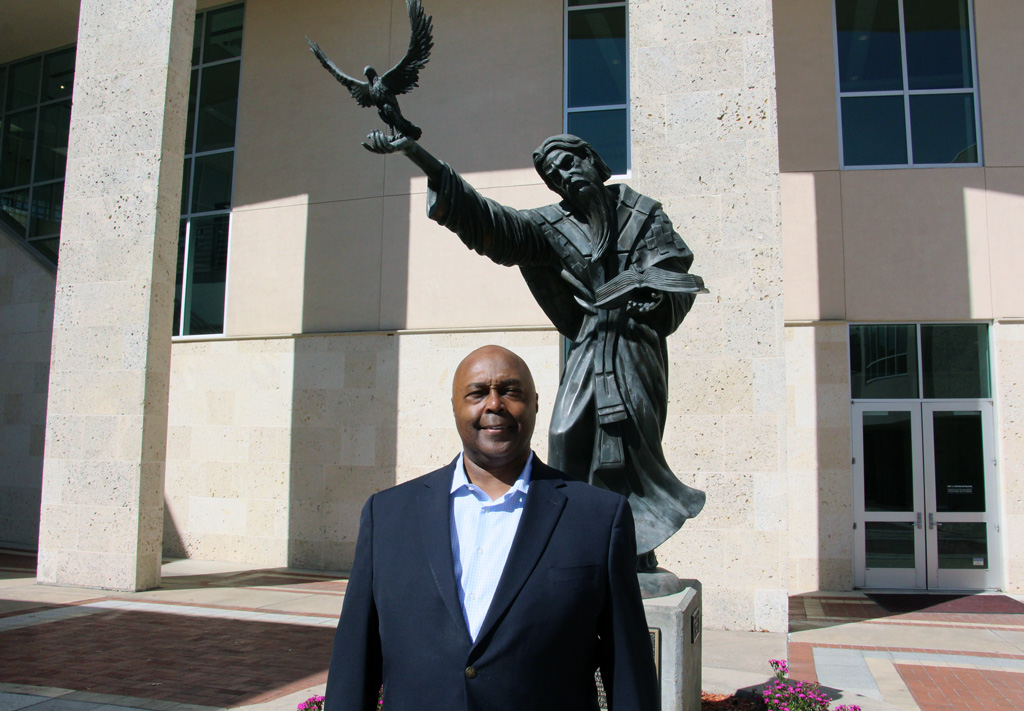 "For me, it starts and ends with family," Phillips says. "I've wanted to invest with schools because that's where my kids were spending the majority of their time. I've been blessed that Cynthia has shared that same enthusiasm and supported those efforts. It's always about relationships, not transactions."
Phillips is the co-founding partner of Phillips Kaiser, a law firm of Houston business attorneys, and co-founder of The Legacy Project, a project dedicated to increasing diversity in the legal field.
He earned his Bachelor of Science in Engineering from Southern Methodist University and his Juris Doctor from the University of Texas School of Law.
But Phillips remains emphatically connected to his family's roots in East Texas where they still own property. His parents were sharecroppers in Grapeland, then relocated to the South Park neighborhood south of the 610 Loop in the early 1960s.
While he was zoned to attend Jones High School in HISD, Phillips sought St. Thomas after graduating from St. Theresa Catholic School where his mother was on the faculty. He found an immediate peer group of friends from St. Peter The Apostle in the Greater Third Ward, plus rewards he couldn't have anticipated.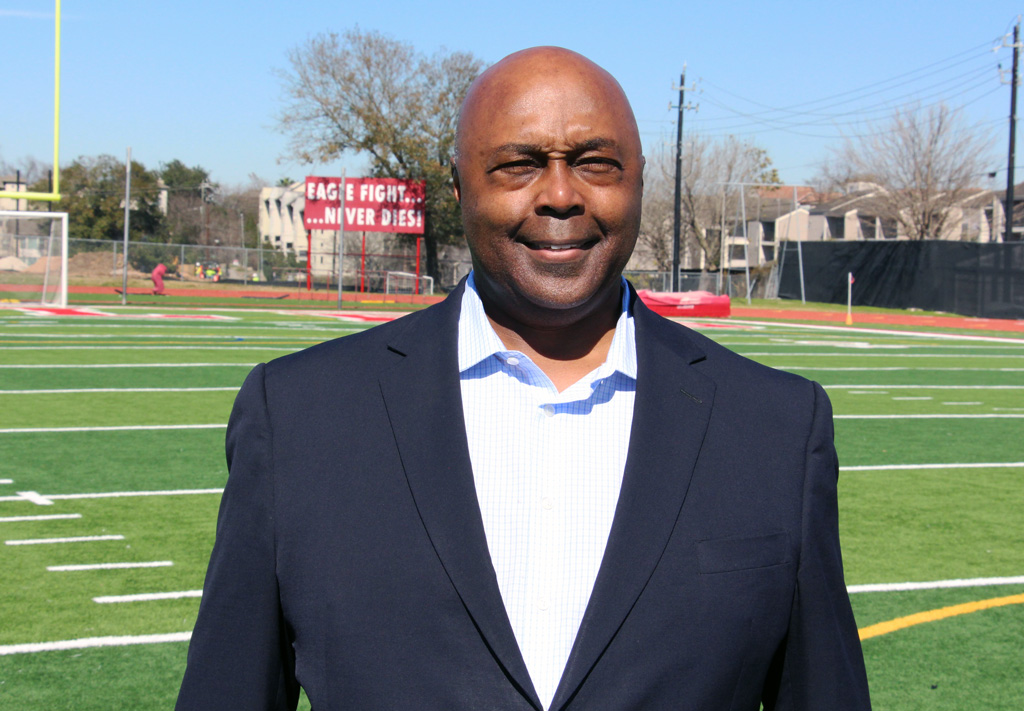 "My freshman year I'm lined up at the back of the line for a football drill," Phillips says. "Coach Schwarzbach pointed to me and said get your butt to the front. What he meant was segregation was over. This is 1978. I want you to lead calisthenics every practice. I want you to lead our team. I don't want you behind anyone. That gave me great confidence that I could accomplish whatever I put my mind to become. I think back to that moment even today at 56-years-old.
"Our freshman football team went undefeated. We then won the state title as seniors (in 1981) with Mike Haywood and Charlie Vatterott. I was a 170-pound all-state linebacker with an attitude to hammer whatever moved. But I realized in real-time that my future beyond St. Thomas would be through academics. I worked the books hard and was accepted into every college I applied to. I was set on Brown and the Ivy League but SMU offered a package where I actually made money as an undergraduate. It was a no-brainer."
Phillips exercised a two-year deferment before attending law school in order to bank coin and gain a real-world perspective. He opted for tech sales with IBM in Dallas and Sunnyvale, California, and later springboarded with his JD to associate general counsel at the Compaq Computer Corporation. He joined Enron in 2001 on the brink of its bankruptcy and remained as assistant general counsel to manage a team in the dissolution of more than 3,000 subsidiaries worldwide.
Through the crucible of serial transitions, Phillips nurtured a vital association with Craig Kaiser. The two first crossed when Phillips clerked at the large Houston-based firm Bracewell LLP. They then launched an independent practice that developed into a 26-lawyer operation across four cities. Most recently they co-founded Phillips Kaiser, where they provide general counsel and other legal services to small, medium, and large businesses.
"The journey has instilled both conviction and humility," Phillips says. "I've learned that not everyone views the world the way I do. And the various roles have stimulated my interest in a variety of domains. I'm just fascinated by the whole range of human experience. I've swung for the fences a lot. There were occasional strikeouts but I also made some serious contact."
Changing the world requires inspiration. Phillips believes that future generations can discover theirs at St. Thomas. He's committed to preserving access for students of all means, the school's continuing efforts to diversify the faculty, staff, and student body, and confirming a culture of inclusion. He has his eye on the long view, to posture St. Thomas "for maximum impact."
"Coming through here, you understand the true meaning of Teach Me Goodness, Discipline, and Knowledge, to take those words and make them real in your life," Phillips says. "Whenever I was faced with tough challenges, as a parent, as a professional, I would draw on that Basilian foundation to direct me appropriately. St. Thomas doesn't only teach curriculum. The school teaches character, molds leaders. That formation for me as a man is the reason I'm active here. And I tell students with utmost sincerity, whatever you put into this school is what you will get out of it. It's not pixie dust. You have to earn it. But embrace the Basilian values and you will be fueled for a lifetime."
Catholic. Basilian. Teaching Goodness, Discipline, and Knowledge since 1900.