Underlying yet another outrageously robust Round Up triumph is a recurring theme that sparks, then ignites a passion within the St. Thomas student body.
The inscription would read A little bit more.
A little bit more as it relates to embracing purpose and allegiance, sacrifice and selfless gratitude, tradition and legacy.
A little bit more in driving this unmatched student initiative again to scintillating success.
Relentless Pursuit
Somehow, some way, the unwavering Eagle student body racked the latest record-smashing total of raffle ticket sales – a jaw-dropping $670,610 – with all monies contributing directly to St. Thomas tuition assistance, a Basilian tradition for nearly a century.
Yes, $670,610.
The half-million-dollar mark crashed for the seventh consecutive year. The riveting eight-year sales spike rose to nearly $5.9 million. The new St. Thomas standard is $75,000 more than the previous Round Up mark set in 2021. The Class of 2023 detonated the explosion with $202,515.
Round Up repeatedly reheats one of the school's most venerable enterprises. But the yearly rise to unimaginable achievement isn't spawned from some mythical-like force – nothing resembling the wingspan of a Cthulhu, the power of a Minotaur, the snarl of a Werewolf – even though the results defy belief.
To go record-busting for the 17th time in 19 years would mean measuring beyond $595,145. Audacious, if not simply irrational. Universal commitment was essential, rather than the reliance on a few luminescent efforts.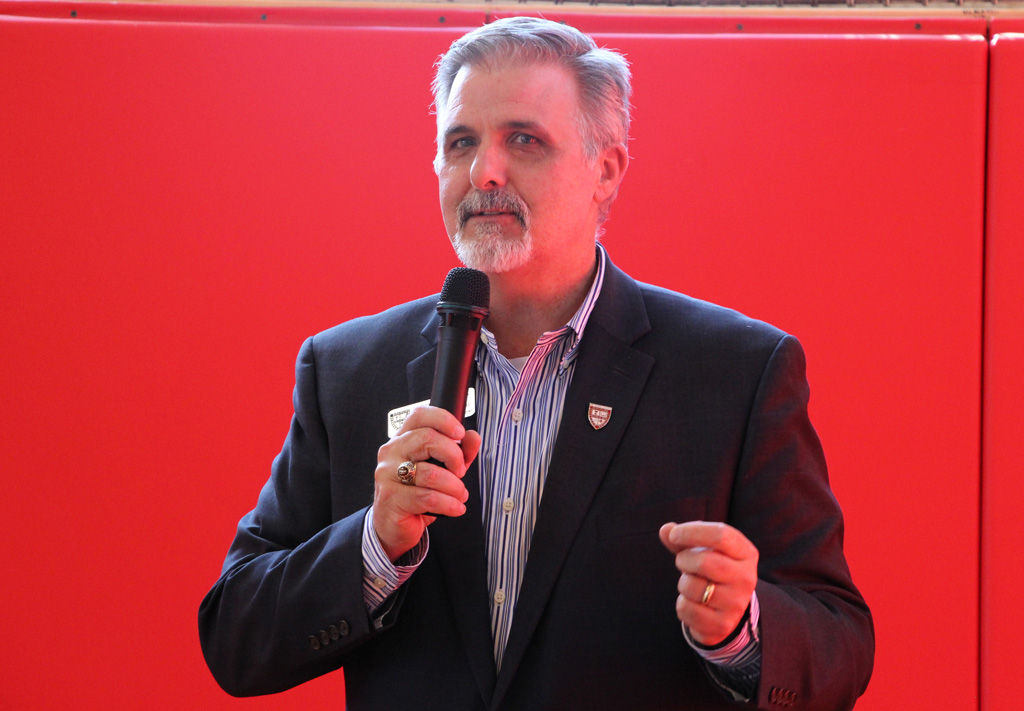 Vice President for Advancement Mark deTranaltes '83 spearheaded the signature brand of fundraising for the first time after more than a decade increasing philanthropic support for the school. Gazing at the colossus, he crafted a strategic plan, collaborating with Alumni Director Steve Cummings '07, and faculty members Darrell Yarbrough and Ray Davis, the defensive coordinator for Eagle Football.
The push was to focus on the process. To consistently execute the little things correctly. To channel the sentiment of the great statesman George Washington Carver – Do the common things in an uncommon way.
"We presented manageable units for the students rather than emphasizing some eventual mammoth total," deTranaltes says. "The response within the group was phenomenal. There were two leaders in every homeroom responsible to drive 18-20 students to move quotas, first one and then two and then a third. Some students needed additional help above and beyond the basic blueprint, so I was in direct contact to get everyone to the finish line. As we approached the final week, the student board adopted those still in need of help. There was simply no give."
Breaking the Mold
In recent years the roaring Round Up outcomes were driven by frantic final Friday finishes, students harnessing collective and aggressive late surges to erupt outbursts of raffle ticket sales.
In 2022, the Eagles broke form and gathered the grandest take of all.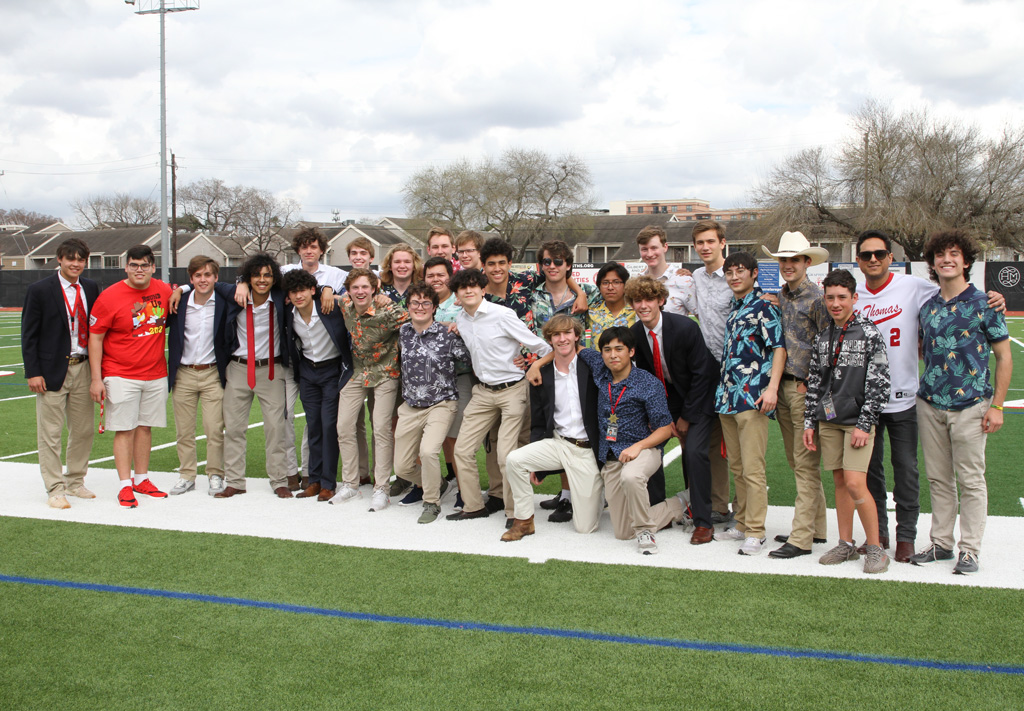 "The Thursday before the reveal was the monster collection day, a six-figure rally," deTranaltes says. "We entered Friday already ahead of last year's record. The group could have sat back satisfied. But this crew captured the true meaning of Round Up until the last possible minutes. The Senior Hustle brought in another $50,000."
The Power of Emotional Connection
Caleb Davis '23 set the individual sales pace with $29,105, the third-highest individual total in Round Up history. He was fourth overall in 2021 with $12,800 but shifted into overdrive with an ever-determined motivation now that his triplet brothers Cooper, Joshua, and Major had joined St. Thomas as freshmen.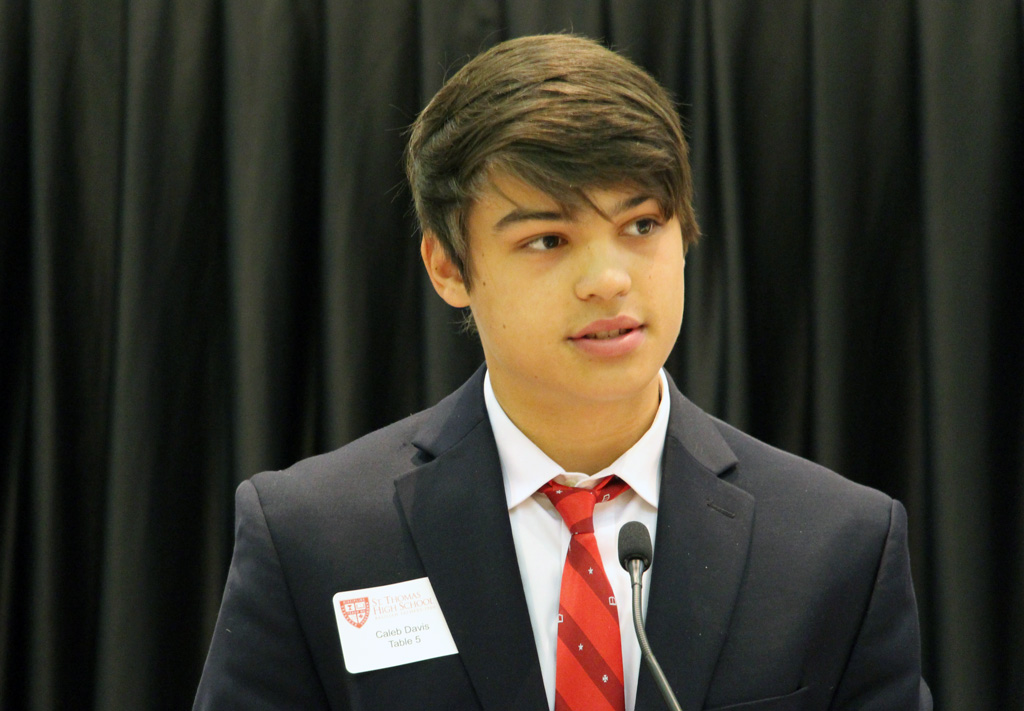 "The first thing I would say to my prospects is that I have three brothers here at St. Thomas and we're all on some form of scholarship," Davis says. "I have a goal to give back to the school that has been so generous with my family. They seemed to respond to my personal story.
"I kept my contact lists from the previous two years and asked for at least the same financial commitments as before, if not more. And whenever I approach someone, I leave asking for three-four referrals."
The TAPPS all-state defensive back admits that he's "a competitive person. And whatever I'm involved in, I'm going to give it my full effort. I quickly reached $10,000 (in sales) and there was a brief temptation to ease back. But I decided to finish strong and set myself up for an even bigger senior year."
The Kingpins
Davis steered a swaggering top-10 pack of entrepreneurs who generated more than $141,290.
Peyton Woodlief '22 fronted the Class of 2022 with $11,000 for his fourth consecutive top-tier performance after impressive totals of $9,505, $7,110, and $7,605.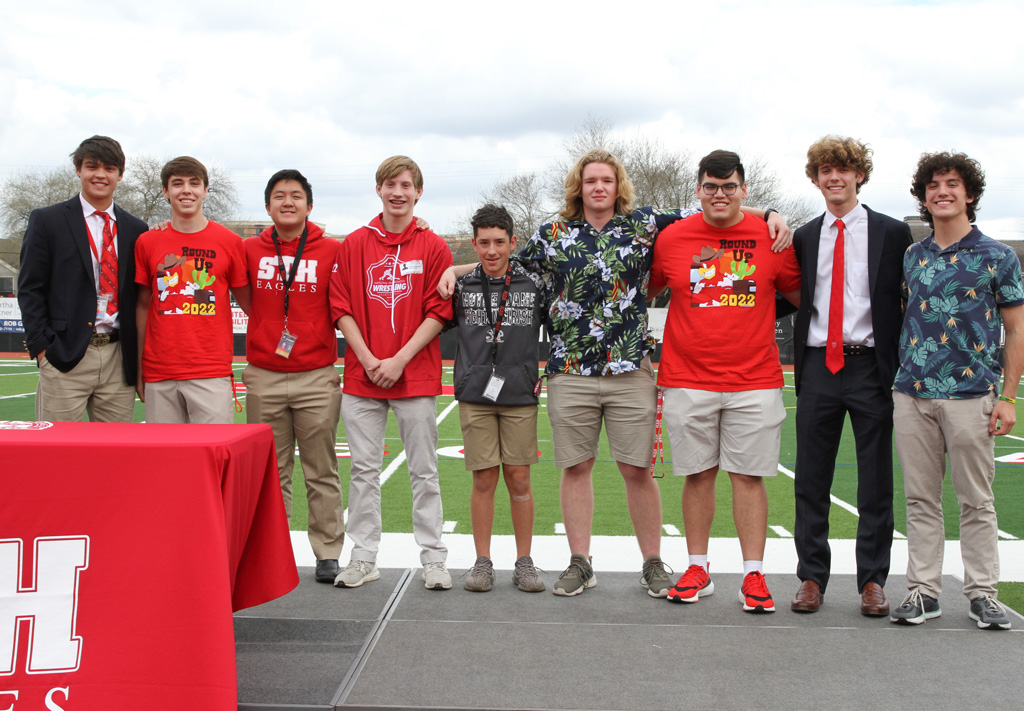 The precocious pair of Patrick McCarthy '24 and Simon Pham '24 continued sizzling sales. McCarthy's $22,945 was the sixth-best all-time total for $33,275 over two years. Pham racked up another $21,00 to stack with his $18,000 as a freshman.
The righteous Round Up ringleaders included James Quinlan '23 fourth overall with $13,990 and Anthony Hill '25 fifth with $11,540, followed by a powerhouse threesome from the Class of 2023 – Matthew Villafranca with $10,680, Benjamin Madden $8,880, and Braydan Salinas $6,520. Robert Longo '22 closed the top 10 with $5,720.
Eying the Prize
To seize sentiment from Corinthians, "In a race, all the runners run, but only one gets the prize. Run in such a way as to get the prize."
There is no mistaking the primary design of Round Up – ensuring a Basilian college preparatory curriculum and experience for all those who desire to continue the legacy.
Yet deTranaltes now eyes another perspective of the prize, adding to the impact first instilled as a student nearly 40 years ago and then through mentoring his son Mark Thomas '10 through three straight top-10 sales totals.
Among the lasting dividends of Round Up are core values that serve any purpose in life, a culture of inclusion and appreciation that applies to the marketplace, marriage, parenting, or simply being the best version of oneself.
"We had amazing spirit from the outset and watching true leadership develop was the most satisfying reward for me," deTranaltes says. "The command in breakout rooms from our leaders with their respective teams was amazing. I was blown away by that display. Tuition assistance is paramount. But breaking out of comfort zones, initiating calls, articulating the mission of the school, and closing the deals on such a grand scale are real-world skills that will benefit each student as they move forward with their lives."
The goals that the Eagles achieved once again paled in comparison to the daily due diligence required to reach their summit.
A little bit more.
Simple and proven.
Catholic. Basilian. Teaching Goodness, Discipline, and Knowledge since 1900.