It was a show for horticulturists, horror-cultists, sci-fi fans, and anyone with a taste for the outrageous.
Director Dan Green and the acclaimed St. Thomas Theater revived Little Shop of Horrors in a staging that felt garden-fresh while honoring everything that made the musical such an invigorating blast 40 years ago. The tale of falling for (and sometimes into) the wrong guy or the wrong vegetable bloomed again with doo-wop and gonzo puppetry – funny, schlocky, nutty, and at times, sad.
"I thought it would be a fun, dynamic production for the actors and audiences," Green says. "We tackled elements like never before but we're always trying to up our game. Our attitude is always, 'Why not?'"
Little Shop is satire hitched to a deliberate B-movie messiness, concocted from an adaptation of Roger Corman's 1960 cult film.  The havoc wrought in a deal with the devil features Casey Salvatiera '23 as the hapless Seymour, a browbeaten botanist anxiously pining for his insecure flower shop coworker Audrey played by Danielle Bartholett (Incarnate Word Academy '23 in her sixth St. Thomas production).
Seymour got much more than he bargained for when he started cultivating an exotic, previously unknown Venus flytrap-type that he hoped would save his Skid Row place of business. The bizarre little flora turned quite literally bloodthirsty yet made Seymour a minor celebrity. Attention brought fame. Fame brought money and love. And so Seymour was gladly coaxed into a Faustian pact with the carnivorous succulent – anything to keep the talking, singing, quite demanding plant alive, including tossing an occasional human lunch.
"Feed Me (Git It)."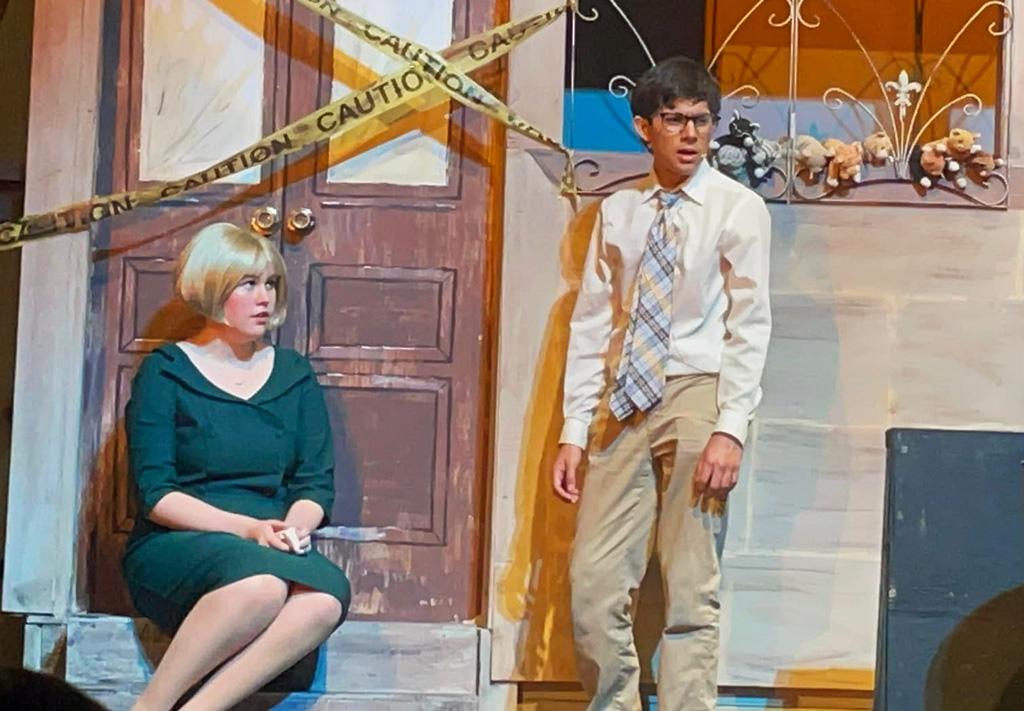 The mock-horror musical proved as charming and weird and funny and sweet as ever. Salvatiera is hilarious and endearing in tremendous voice anchoring the show, letting loose with a passion. He was entirely credible as a klutzy nebbish so hopelessly besotted with Audrey that he named his weird herbal discovery after her.
Bartholett was a perfect vocal match with a combination of grit and vulnerability, drawing laughs one moment and almost tearing the audience's heart out the next. Her plaintive "Somewhere That's Green" almost stopped the show with its unselfish sincerity and sentiment.
Among the captivating deluxe casting: an offstage Damian Wilson '23 providing the voice of Audrey II; Brian Deavers '23 (sixth St. Thomas production) portraying Mushnik, the manipulative florist who is only too happy to exploit Seymour's need for a father figure while watching business boom thanks to public curiosity about Audrey II; and Evan DeAnda '23 as Orin, Audrey's cruel dentist whom she wastes her favors and affection.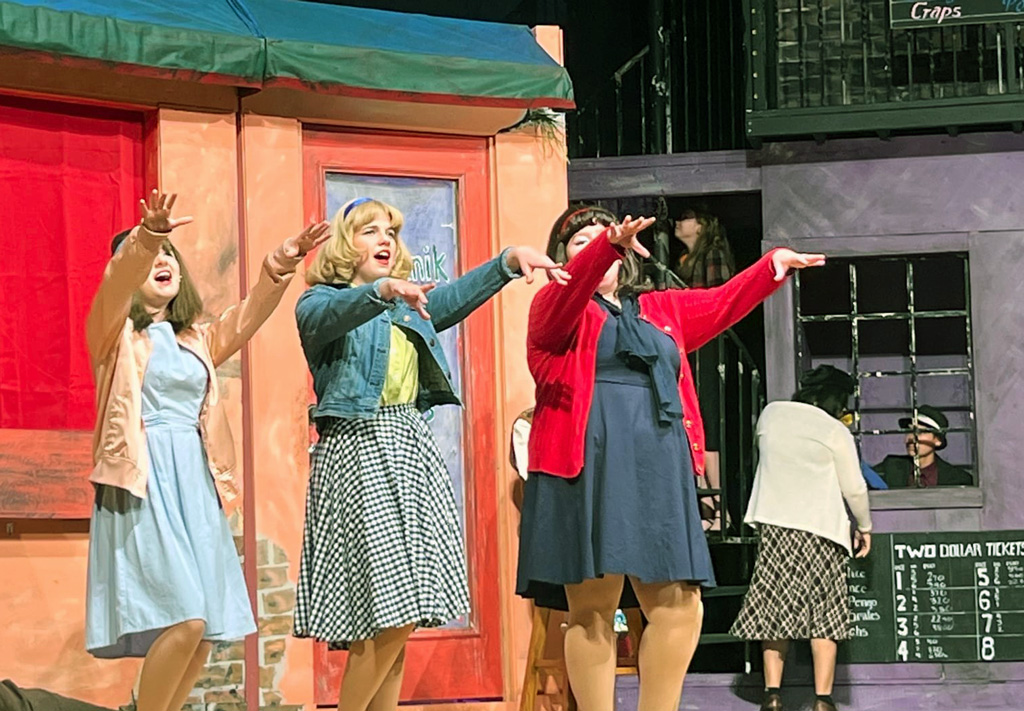 Equally flawless were Katie Dickenson (IWA '24) as Chiffon, Crystal Zoe Yokabaitis (IWA '23) as Crystal, and Flinn Burrell IWA '24) as Ronette – the simply divine, sardonic Greek chorus equipped with primo pipes, gorgeous harmonies, and flashing names borrowed from 1950s girl groups.
"The opening Friday and Saturday were two of our best-ever performances, tight and seamlessly in sync," Green says. "Not one component was the least bit missing. We knew immediately from rehearsals that we had something special with Casey and Danielle singing duets and great chemistry between Casey and Damian. Brian exhausted his efforts to capture that Yiddish accent, then sang and danced it every step. He's a game day player. Evan stepped up and owned his role hysterically. And I can't say enough about our do-wop trio blending so beautifully. We had big hitters from every spot on stage."
Green's track record for directing vibrant musicals grows more impressive each season. This latest in a series of creative productions was exceptional from the daffy, capacious script to the uptempo numbers with witty lyrics that became earworms by intermission. The garden of grizzly delights was delivered with economy and efficiency, drawing the humor out of perfected pacing and razor-sharp timing.
Green also consistently draws on the innovative skills of a superior design team for exhilarating results. For Little Shop, that need was magnified and the effort demanded an execution far beyond tutorials from YouTube University.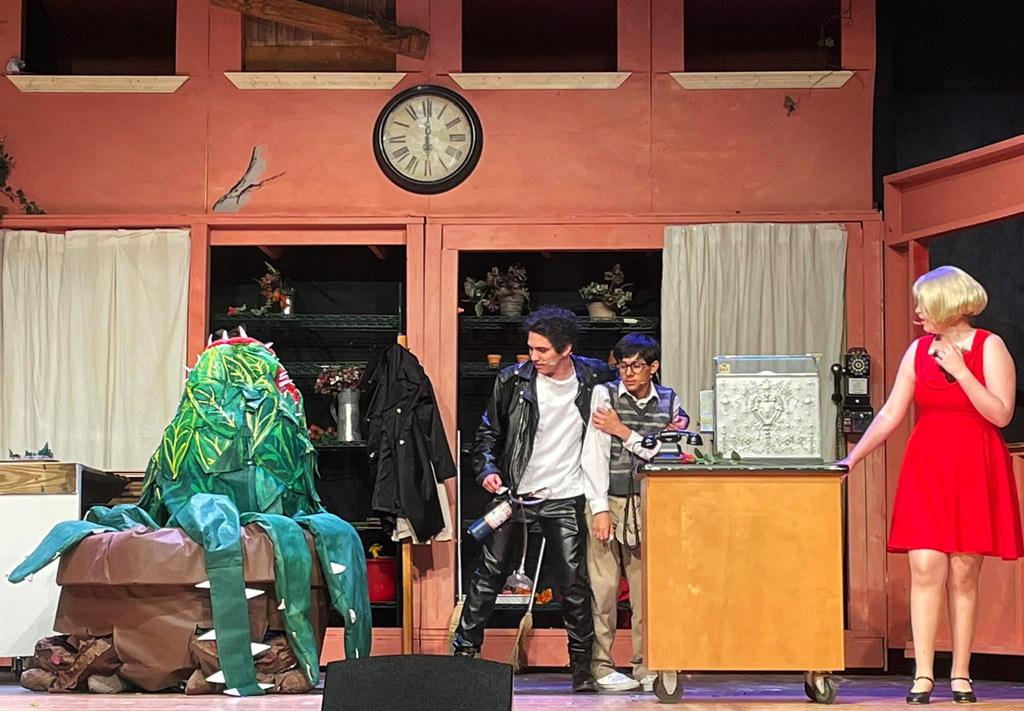 The essential nonhuman component was the brilliant plant puppetry. The versions of Audrey II appeared partly amphibian, partly reptilian. The largest iteration of Audrey II was freestanding and squatted upon the stage as a spectacle practically worth the price of admission all by itself. Unseen was the mastered manipulation by a host of puppeteers including student directors Alessio Del Castillo '22 (eighth production) and Joel Johnson '22 (seventh production), Cece Lee (IWA '22), Sophia Marcon (IWA '25), and Julia Hernandez (Mother of Divine Grace Homeschool '25).
"I trust the team we've built and we were all amazed at the overall look,," Green says about the confidence to embrace such a challenging enterprise. "We enjoyed great involvement from our artistic parents. Elizabeth Donnelly, Jennifer Dunn, Anne Frank, and Sherry Cruz all volunteered and helped craft Audrey II. My theater tech class built multiple versions of the puppet. The puppeteers were superb in matching the speech patterns to where they appeared identical.
"(Faculty member) Julie Dienno-Demarest came in and said 'I'll do props.' Great, make puppets. That's not what she expected but by the end, she made a hundred that were awesome and added to the light-hearted nature of the show."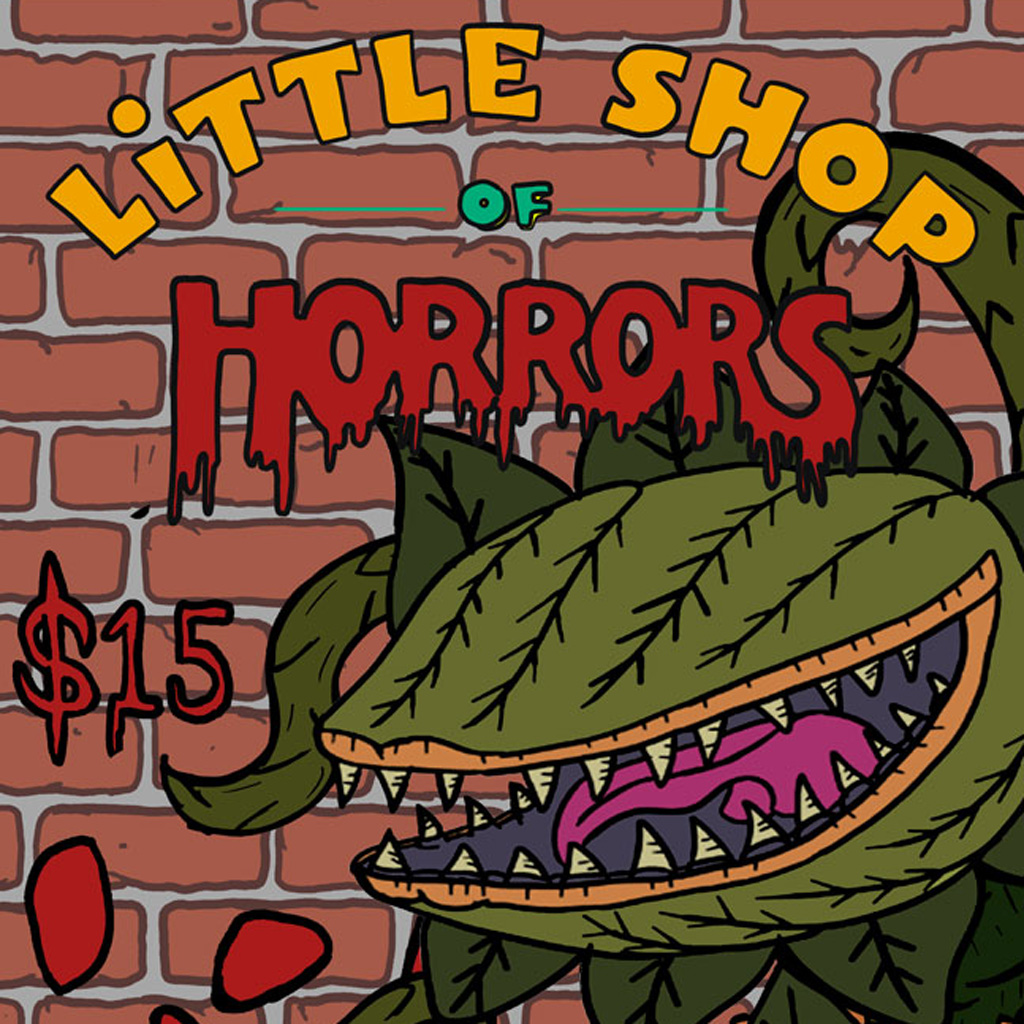 Additional expertise in full dazzling display was the unrivaled set construction and fluid scenic design spearheaded by faculty members Phil Gensheimer and Daniel Bryant '93, the rich talents of choreographer Katie Macaluso and music director Josh Wilson, and the sharp lighting from audio/visual coordinator Chris Hodge.
"In this program, we push to our reach every opportunity we can," Green says. "That's what excites the group. The students have so much energy and drive … you surf on top of that wave. Everyone appreciates the challenge and the struggle. Our junior and sophomore classes are filled with singers. Our senior class was incredibly dedicated with a great collaborative effort that was contagious. Whatever was needed, Mel Horner (IWA '22) and Claire Garcia (IWA '22) and Katy Koerner (IWA '22) and others were leading out front ensuring every detail was met. It all worked."
Little House of Horrors remains at heart a scrappy satirical, tuneful musical whose charms thrive most vigorously in an intimate house such as Cemo Auditorium. The catchiness of the melodies and the humor of the lyrics are ageless. The sad-happy complexity is what makes Little Shop pack a big punch, and Green's terrific revival will only deepen the devotion of those lucky enough to have caught it.
Catholic. Basilian. Teaching Goodness, Discipline, and Knowledge since 1900.