The Academic Awards Assembly is an annual St. Thomas celebration of not only emphatic scholarship and fervent mentorship but also the capacity for charity and compassion.
Elevating learning and yielding insights.
"Such formal recognition is a result of our exceptional scholars and our outstanding faculty," Principal Aaron Dominguez '96 said. "These students have excelled within a rigorous college preparatory curriculum, and have dedicated countless hours to volunteer efforts that have already had a positive impact on society. They will move forward into the global community and join St. Thomas' long history of civic contributors who are using their gifts to benefit others."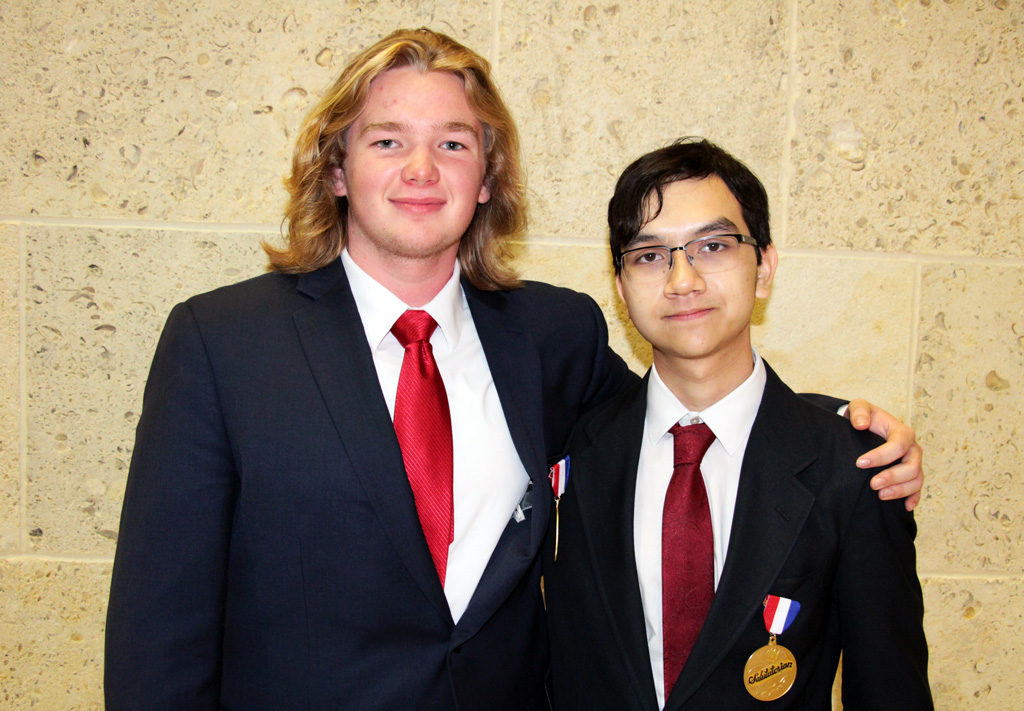 The Best of the Best
At the vanguard of achievement were valedictorian Peyton Woodlief and salutatorian Thanh-Vinh McColloster – exemplary scholars rising to the highest ranks within their class based on the calculation of their four-year grade point averages.
Woodlief earned select distinction in an impressive and extensive array of departmental disciplines including AP Calculus BC, AP Government/Advanced Economics, Advanced Texas Government, Advanced Journalism, Advanced Sacred Scripture, and Bioethics. He also joined five additional St. Thomas scholars selected as National Merit Commended Students from the Class of 2022, recognized for "the exceptional academic promise demonstrated by their outstanding performance on the qualifying test used for program entry." The St. Thomas total in this esteemed category grows to 39 since 2017 and now includes Carrick Brogan, Mark Cheek, Landon Croker, Brett Koehn, and Carson Ondo.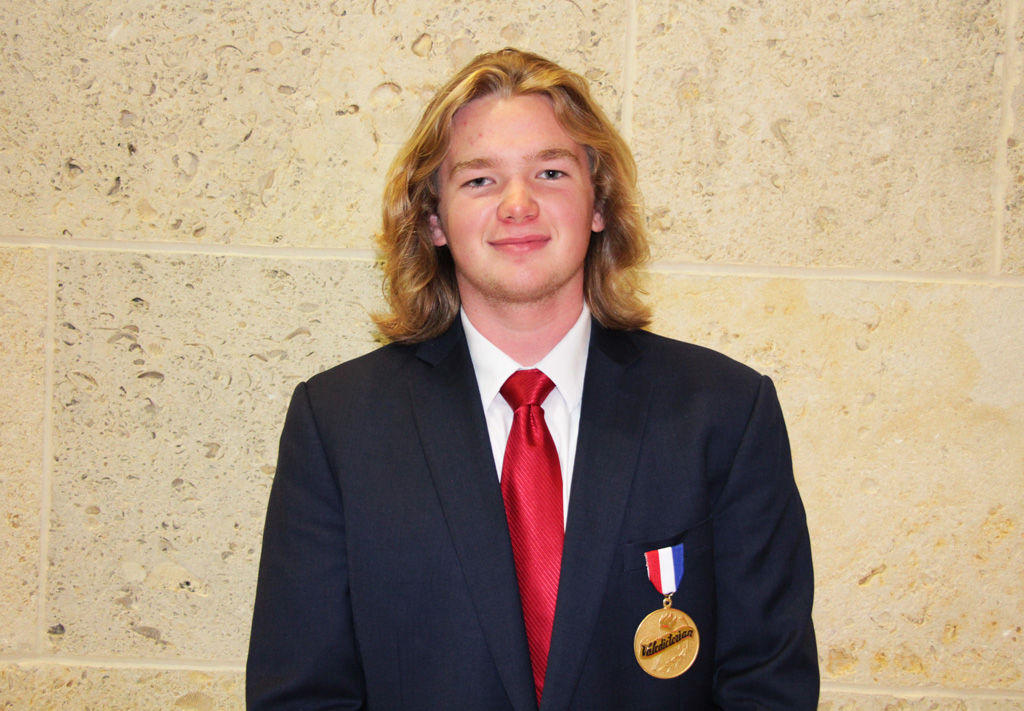 Woodlief is a member of the St. Thomas Chapter of the National Honor Society and gained permanent membership into the acclaimed St. Thomas Club – champion scholars with a minimum 4.0-grade point average for seven consecutive semesters. He fronted the Class of 2022 in the most recent Round Up fundraising effort that contributes hundreds of thousands of dollars yearly to tuition assistance. Woodlief sold $11,000 of raffle tickets for his fourth consecutive top-tier performance after impressive sales totals of $9,505, $7,110, and $7,605.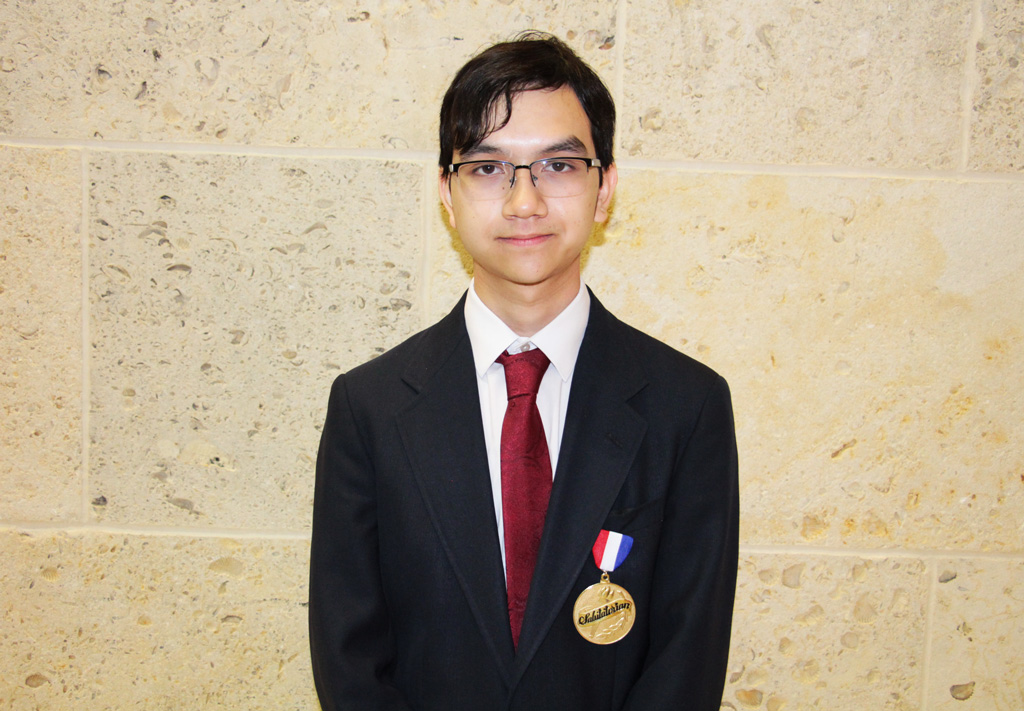 Previously McColloster, the NHS parliamentarian, and Elijah Phillips '22 earned finalist acclaim in the 67th annual National Merit Scholarship Program, both represented among the most elite scores taken from the PSAT Qualifying Test.
Robust Pedagogy
Eleven St. Thomas scholars were named to the College Board's Class of 2023 National Hispanic Scholars Program. Invitation for the honor was extended to students who scored in the top 2.5 percent among Hispanic and Latino PSAT/NMSQT test-takers in the region.
The latest group bringing the St. Thomas total to 31 in the previous five years includes Isaac Cabello, Samuel Cornell, Evan De Anda, Nicolas Gonzalez, Anthony Lilly, Luka Ljuboja, Jorge Morfin, Eduardo Pena, Jacob Pena, Braydan Salinas, and Casey Salvatierra.
Salinas was also selected as a National Indigenous Scholar and Seth Levy '23 as a National African American Scholar.
Austin Burke '23 was awarded the prestigious Goetzmann Writing Prize, named for St. Thomas Hall of Honor member William H. Goetzmann, Ph.D. '48, an emeritus professor of history at the University of Texas at Austin. He won both the Pulitzer and Francis Parkman Prizes in 1967, two of the most coveted in American history writing, for his book Exploration and Empire: The Explorer and the Scientist in the Winning of the American West.  The renowned historian played a key role in the racial integration of the university's faculty and in the development of multicultural studies in the humanities.
"These students will be tremendous ambassadors, and their achievement highlights the strong education they have received at  St. Thomas," Dominguez said. "Vibrant academic accomplishment is a testament to innovative and engaged classroom teachers, building strong relationships, pursuing both independent and team projects. And we collectively approach the pursuit of goodness, discipline, and knowledge as a way to serve our greater society."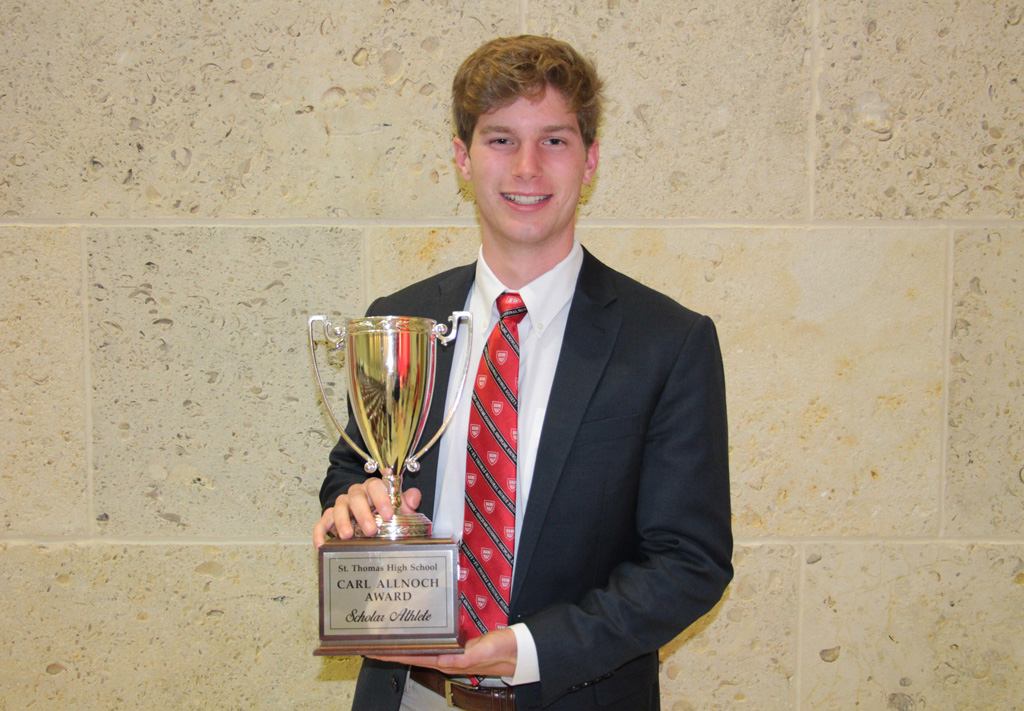 Servant Leaders
Brogan was among four Eagle coterie receiving exclusive accolades, excelling in a vigorous college preparatory environment while also separating through a compelling identity beyond the curriculum.
He accepted the Rev. Carl M. Allnoch, CSB Athletic Memorial Trophy for Excellence in Academics, in honor of the 16th principal of St. Thomas. Brogan is a two-sport student-athlete and important contributor during the unprecedented four-year ascent of Eagle Swimming that included consecutive TAPPS state championships in 2019 and 2020 and strong runner-up finishes in 2021-22. He was described as "a leader by example and a selfless teammate while always willing to help others … truly a Man of St. Thomas."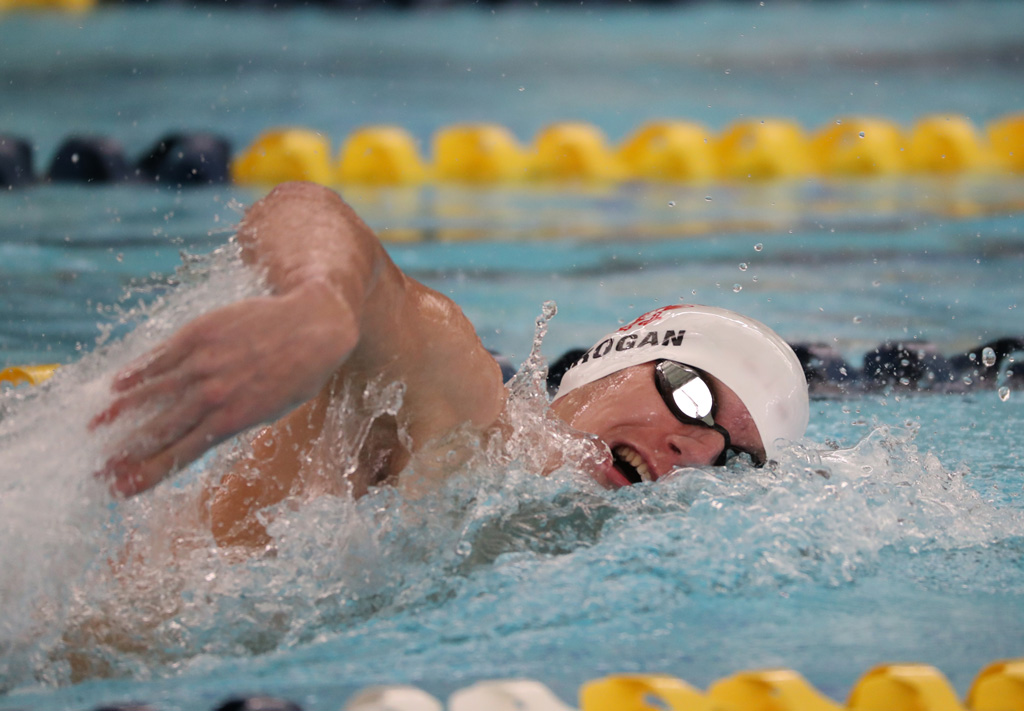 Brogan follows 2021 valedictorian Patrick Pham, Cooper Thomas '20, Ian Wheeler '19, Parker Rzasnicki '18, Sam Yeboah '17, 2016 TAPPS Male Athlete of the Year David Jones '16, Campbell Clarkson '15, and Joseph Lowry '14 as the most recent Allnoch Athletic Memorial Trophy recipients.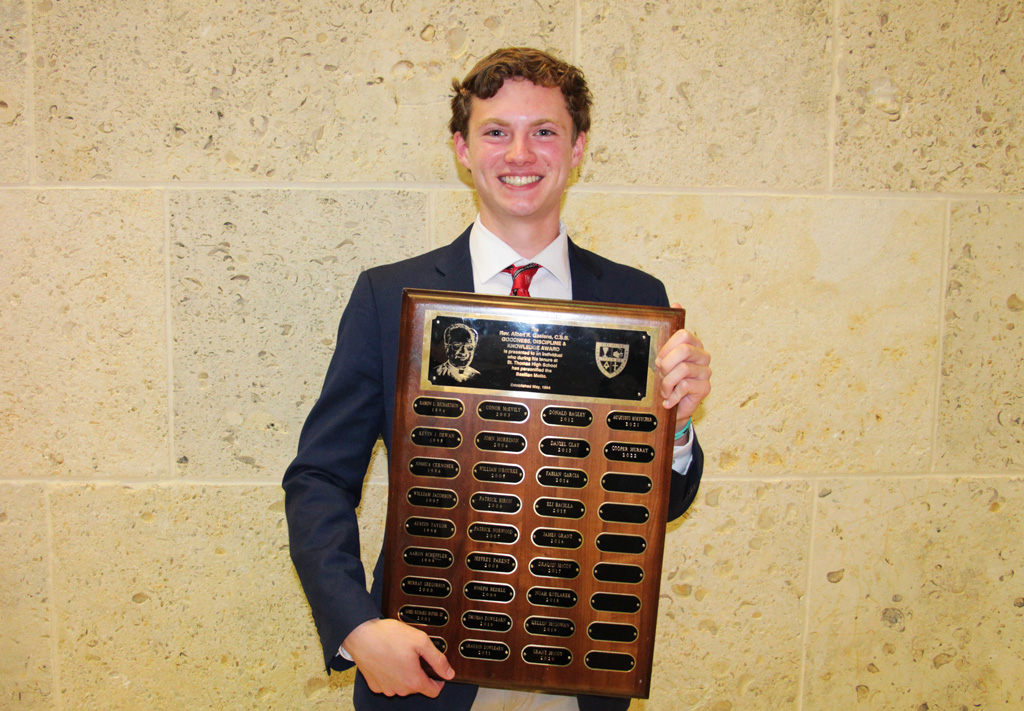 Cooper Murray '22 was selected for the Rev. Albert R. Gaelens, CSB Award, given to the senior student who best embodies the school motto of Teach Me Goodness, Discipline, and Knowledge. The 21st principal of St. Thomas executed a variety of essential roles on campus for a quarter-century before retiring in 2007. Seniors are nominated by their peers for this distinction and the faculty then votes on those receiving the most nominations.
Cooper's profile includes membership in the St. Thomas Club while excelling in a series of AP courses with an "unwavering commitment to Christian principles … reaching out to aid low-income families and their children, volunteering in food pantries, and mentoring younger students. There is an abundance of benevolence" in his character.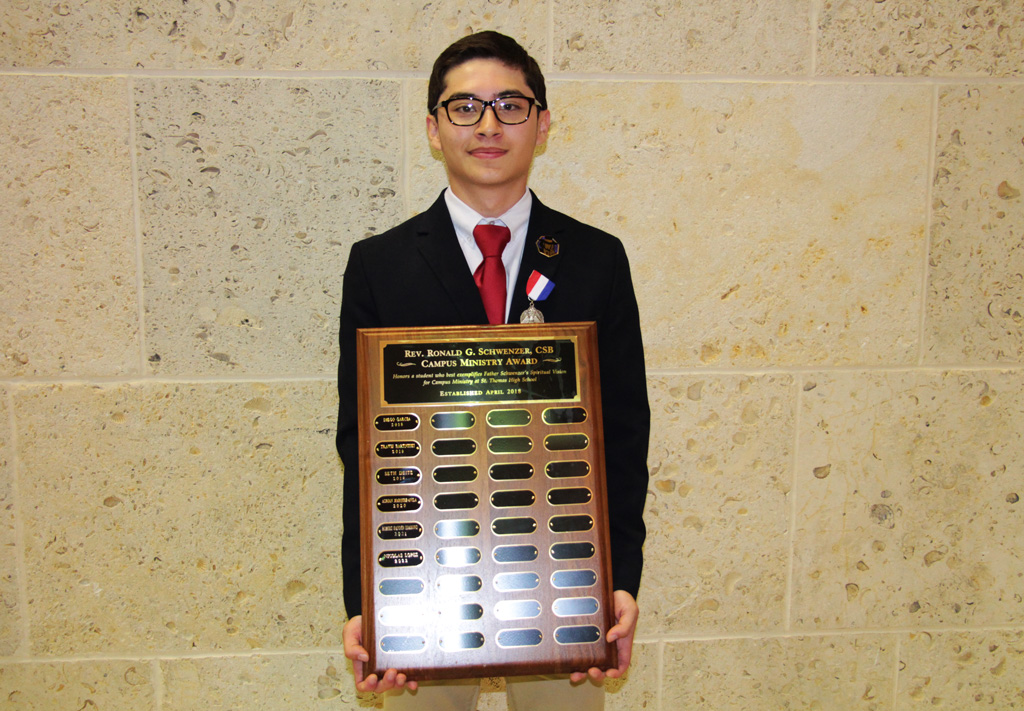 Nico Lopez '22 received the Rev. Ronald G. Schwenzer, CSB Campus Ministry Award for most exemplifying the Man of St. Thomas motto of Faith, Service, and Leadership. The 2022 most valuable player of perennial power Eagle Soccer also displays "a depth of kindness that his signature … his faith navigating his daily path … routinely above and beyond as an engaged minister and mentor. His gifts will be sorely missed."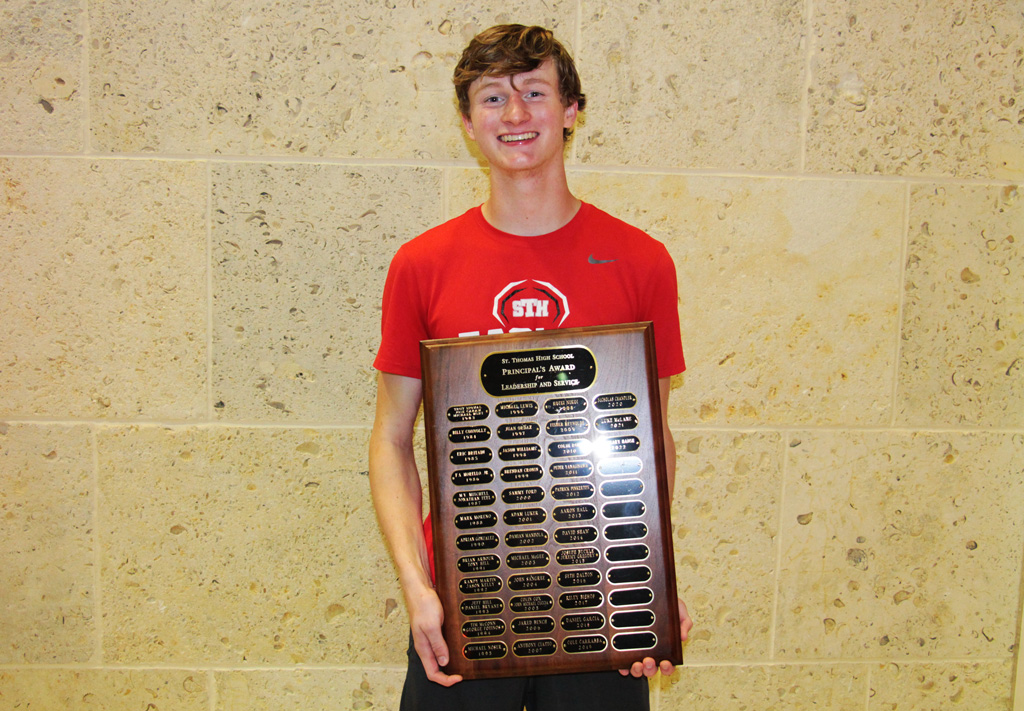 The Principal's Service and Leadership Award was given to Zachary Hanse '22. "A humble, kind, and genuine Man of St. Thomas … generously working with Joe O'Brien and our service team … with an impeccable dedication including more than 200 service hours earned largely at Camp Aquinas but also involving a wide variety of campus initiatives including food and blood drives."
Elevating learning and yielding insights. Developing critical thinkers, strong communicators, and ethical leaders. Discovering passion, path, and purpose. The St. Thomas Catholic Basilian intellectual tradition in full force.
Catholic. Basilian. Teaching Goodness, Discipline, and Knowledge since 1900.