Peter Bryant '25 captured first place in Persuasive Speaking to lead St. Thomas to an impressive fourth-place result at the TAPPS State Academic and Speech competition in Waco.
Bryant's state champion performance along with strong multi-event showings from Diego Ramos '22, Noa Clifford '24, and Brandt Peterson '23 were the catalyst igniting St. Thomas to second within the Speech and Debate events. Also contributing to the team total of 66 points were:
Luke Martin '23 third, William Massey '25 fourth, and Maximiliano Molina '25 fifth in Lincoln Douglas Debate
Ramos second and Oscar Jaimes '25 ninth in Original Oratory
Aedan McDaniels '25 third, Clifford sixth, and Ramos eighth in Poetry Interpretation
Peterson third and Clifford sixth in Prose Interpretation
Ramos third, Peterson sixth, and Clifford seventh in Solo Acting
Peterson and Jorge Morfin '23 sixth in Duet Acting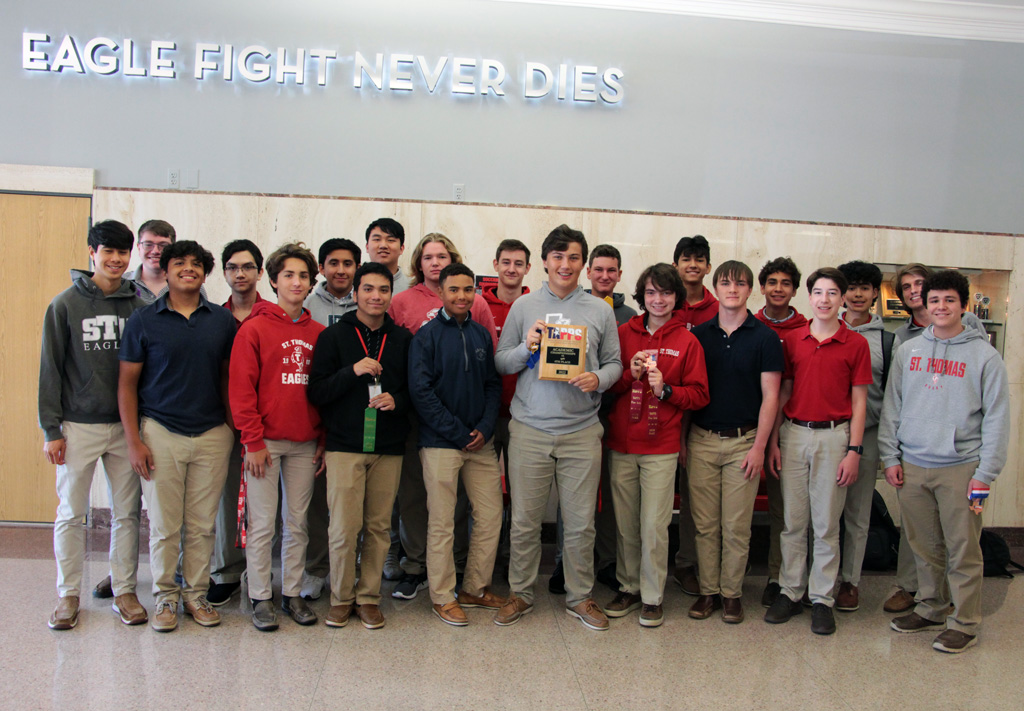 National Merit finalist Elijah Phillips '22 finished seventh in Number Sense and eighth in Advanced Math to pace the St. Thomas Academic achievement. The team total of 38 points included significant marks from:
Benjamin Brown '24 second, Champion Courville '25 third, and Joseph Romero '22 sixth in Social Studies
Aiden Clark '24 fourth in Literary Criticism
Daniel Robbins '25 fourth in Spelling
Brett Koehn '22 fifth in Ready Writing
Salutatorian Thanh-Vinh McColloster eighth in Science
Charles Ramirez '22 eighth in Spanish
The St. Thomas success guided by faculty members Jennifer Pearson and Darrell Yarbrough embodies the value of a rigorous college preparatory experience that prepares scholars to assume roles in leadership, responsibility, and service to society – always rooted in the Basilian ideal of Teach Me Goodness, Discipline, and Knowledge.
Catholic. Basilian. Teaching Goodness, Discipline, and Knowledge since 1900.