Their parallel journeys brought them to similar, unintentional destinations.
Like pathways through frontier and space, they encountered obstacles both obvious and unforeseen. Their tightly tuned talent, endless ambition, and deep-dive due diligence forged signature identities through exercises enlightening, tedious, rewarding.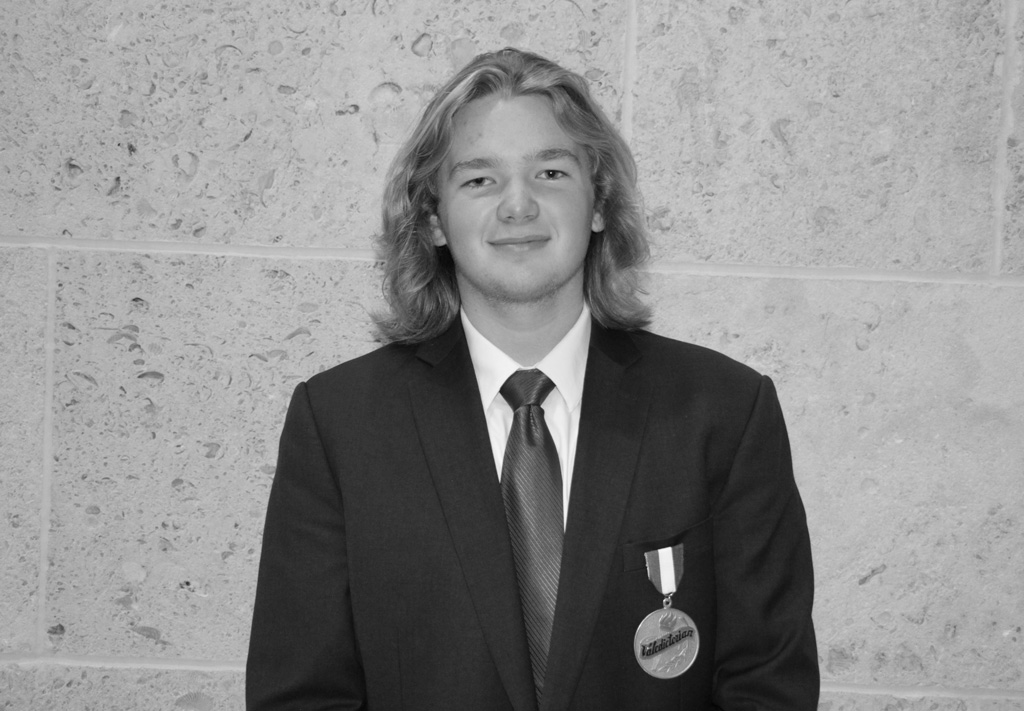 Peyton Woodlief '22 arrived at St. Thomas as a freshman from St. Elizabeth Ann Catholic School with a pronounced academic profile and lofty, justified expectations for the immediate future. Regimented and accountable with all the intellectual measurables. But the mere passing thought of Woodlief earning valedictorian was in his mind "unattainable."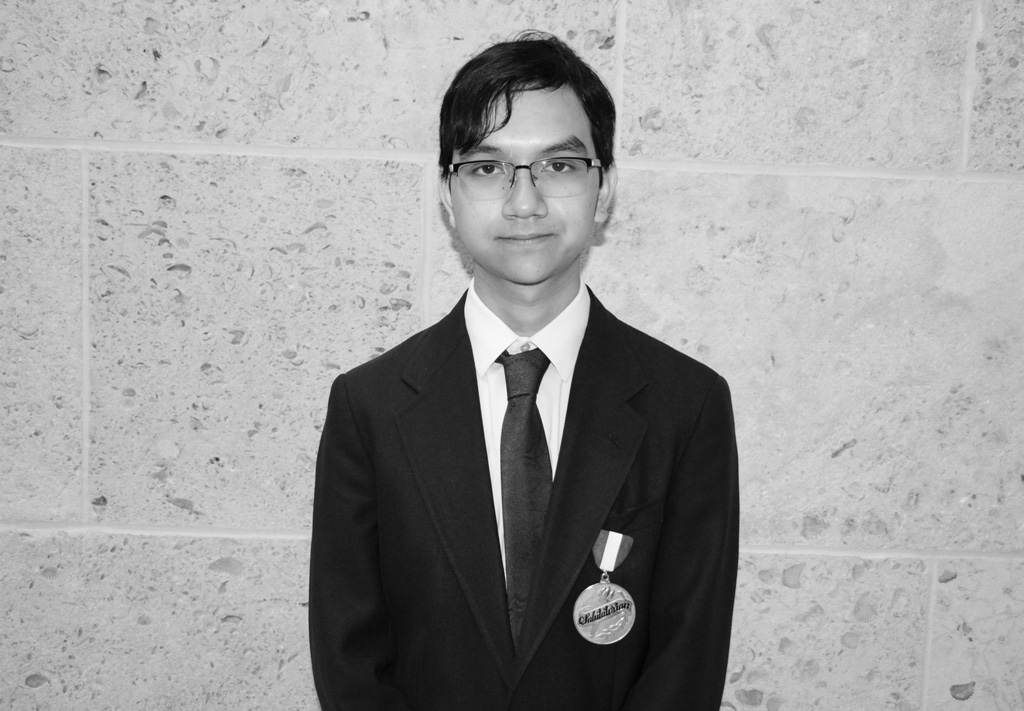 Thanh-Vinh McColloster '22 came with similar sterling middle school achievement at St. Jerome with a focus acutely fixed. His singular goal from the very outset was graduating in the top six percent of his class, therefore earning automatic admission into his university of choice – Texas at Austin.
The internal terms of engagement were planted if not firmly rooted in the fall of 2018. And the pair emerged after four years of exhaustive academic challenges at the vanguard of the latest acclaimed St. Thomas champion scholars. Valedictorian Woodlief and salutatorian McColloster – exemplary men of letters rising to the highest ranks within their class based on the calculation of their four-year grade point averages.
The process was not complicated, which is never to be confused with pedestrian. If the ascent were easy, anyone could climb.
Both are members of the St. Thomas Chapter of the National Honor Society and gained permanent membership into the acclaimed St. Thomas Club – impeccable performers with a minimum 4.0-grade point average for seven consecutive semesters.
McColloster, the NHS parliamentarian, was named a finalist in the 67th annual National Merit Scholarship Program, represented among the most elite scores taken from the PSAT Qualifying Test. Woodlief was a National Merit Commended Student, recognized for "the exceptional academic promise demonstrated on the qualifying test used for program entry."
Woodlief added select distinction in an impressive and extensive array of departmental disciplines including AP Calculus BC, AP Government/Advanced Economics, Advanced Texas Government, Advanced Journalism, Advanced Sacred Scripture, and Bioethics. McColloster excelled particularly in the Healing Racism studies within St. Thomas Theology.
Both are legacy graduates contributing to the rich St. Thomas tradition. Woodlief is following the lead of his older brother David '18 to attend Texas A&M University and study engineering, accepting the Lechner Scholarship and the Opportunity Award Scholarship. McColloster is contributing to a deeper family heritage. He plans to pursue a medical career as have his three older brothers (all St. Thomas graduates) and his father, Patrick McColloster, M.D. with the Baylor College of Medicine.
"Science and chemistry are where I hope to apply my talents," McColloster says. "I've joined my dad volunteering at the Missionaries of Charity addressing the health care needs of the homeless and undocumented. I've developed an empathy for those individuals who don't have the same economic advantages and access. I understand the value of giving back to my community wherever the need may arise."
Woodlief's outreach was weighed in gaining the prestigious rank of Eagle Scout as a freshman, and most emphatically in the unmatched Round Up student initiative. The Basilian tradition nearly a century in the making annually contributes hundreds of thousands of dollars to St. Thomas tuition assistance. Woodlief fronted the Class of 2022 in the most recent fundraising effort, generating $11,000 in raffle ticket sales to rank in the top-10 producers for the fourth consecutive year with impressive totals of $9,505, $7,110, and $7,605.
"I was motivated my freshman year to out-sell my brother, that sibling rivalry thing," Woodlief says. "But then a friend from middle school left St. Thomas because of financial reasons. I didn't want to see that happen again so I was particularly driven to produce as much as I could to the grand total (a jaw-dropping $670,610 in 2022).
Woodlief's uber-competitive nature extended even further away from the rigors of AP and GPA. To the ice rink of all places. A down-home, Texas-bred boy from suburbia in goal for the Cy Woods club hockey program in the Interscholastic League where he was a state champion as a sophomore and a difference-making three-year starter in the net.
Woodlief began skating when he was "four or five" and was introduced to the game before attending first grade. He developed superb mobility, instincts, positioning, and puck-handling ability. The checklist of attributes included flexibility and a wellspring of fearlessness.
Whether tracking the puck and then applying a quick-twitch, flamboyant windmill robbery or standing up and dropping to one knee or even stacking his pads to stop a hard-charging short-handed attack, there was nothing formulaic to Woodlief's style. He knew when to roam and challenge shooters, or remain in the crease outside his goal, consistently making the save that every shot warranted.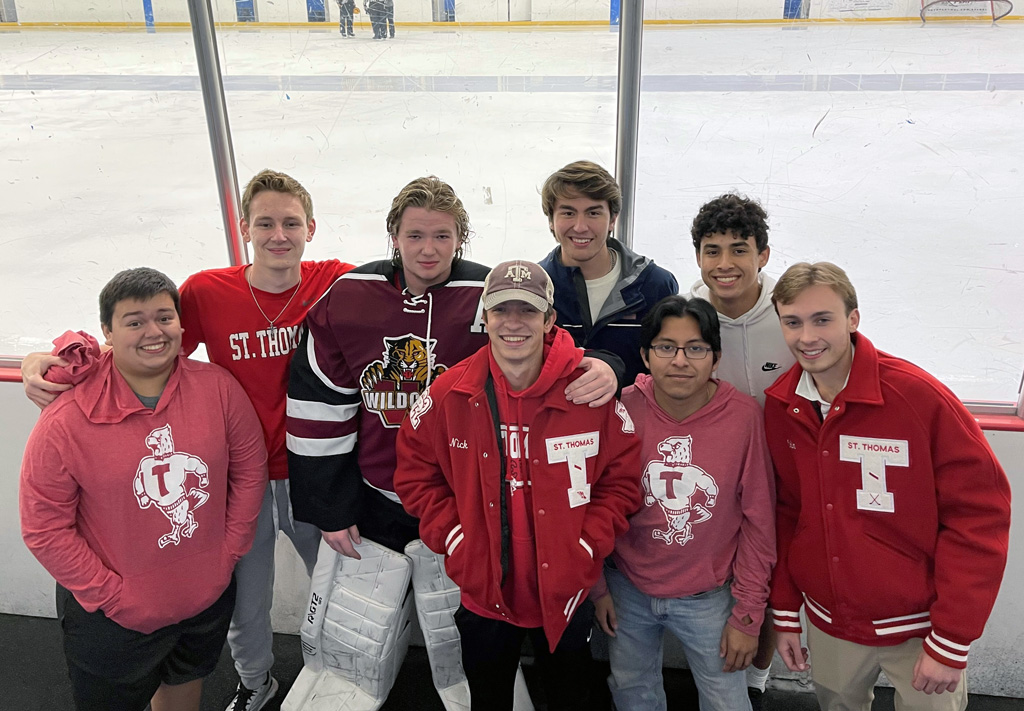 "It was fun but I missed not representing St. Thomas in some way," Woodlief says. "One of my best memories from this past (senior) season was having about a dozen classmates come out to a couple of games. That's as close as I got to that pride of playing for your school."
Goaltending is not a snapshot of past acclaim, it's a kaleidoscope of the present, continually twirling. And so, too, are Woodlief and McColloster, top shelf in the now after meeting the most stringent of scholastic demands. Refusing complacency, ever-evolving and aspiring.
"Once the valedictorian rank was official, the recognition felt good for about 15 minutes," Woodlief says. "I had a hockey banquet the next night and the satisfaction of those awards lasted about 15 minutes. Time to move on to whatever is next."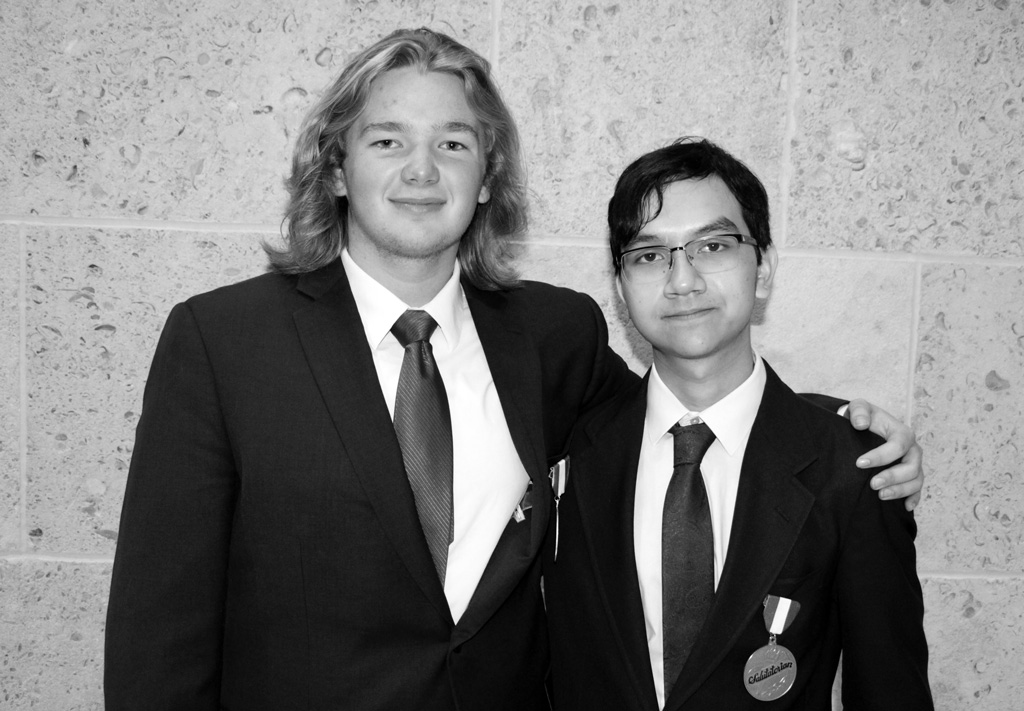 As they live out their series of Warholian successes, Woodlief and McColloster are confident in confronting the next chapters of their educational and personal experience with hope and gratitude. Within the communal spirit of the St. Thomas campus community where supreme scholars are savored with all the critical attention that a gourmet gives a Chateaubriand, they are respected by peers and faculty, known and remembered as not only studious but trustworthy and loyal and courteous, engaging if not garrulous.
Valedictorian Woodlief. Salutatorian McColloster. Setting the standard. Accomplished, inspired, and inspiring Men of St. Thomas.
Catholic. Basilian. Teaching Goodness, Discipline, and Knowledge since 1900.