The 122nd St. Thomas Commencement provided one sense of finality while flashing vast potential to drive optimism for the future.
The Class of 2022 assembled in a stream of Red and White at the Co-Cathedral of the Sacred Heart for a celebration that included the Baccalaureate Mass.  The festive evening embodied the value of a formative college preparatory experience rooted in the Basilian ideal of Teach Me Goodness, Discipline, and Knowledge. The illustrious scholars are now prepared and poised to pursue human aims and define true worth in the eyes of God.
President Fr. James Murphy, CSB, Principal Dr. Aaron Dominguez '96, Assistant Principal Mary Criaco, and Board President Greg Phillips '82 welcome Eagled graduates earning nearly $11 million in merit-based scholarships to esteemed colleges and universities throughout the United States.  Former St. Thomas president and principal Fr. Ronald Schwenzer, CSB served as homilist as the soon-to-be innovators, motivators, leaders, and caretakers were honored among their beloved families and supporters, saluted by St. Thomas faculty and staff whose exceptional service and distinctive contributions to Catholic pedagogy were essential to the collective achievements.
Living and excelling through the pandemic provided these scholars with a once-in-a-lifetime opportunity to evaluate what they truly value and solidified their decisions to pursue further studies in a chosen field or perhaps change course to best utilize their talents to make a difference in the lives of others.
Valedictorian Peyton Woodlief and salutatorian Thanh-Vinh McColloster addressed the gathering as if the graduates served as symbolic cornerstones – commemorating an establishment while also projecting future construction.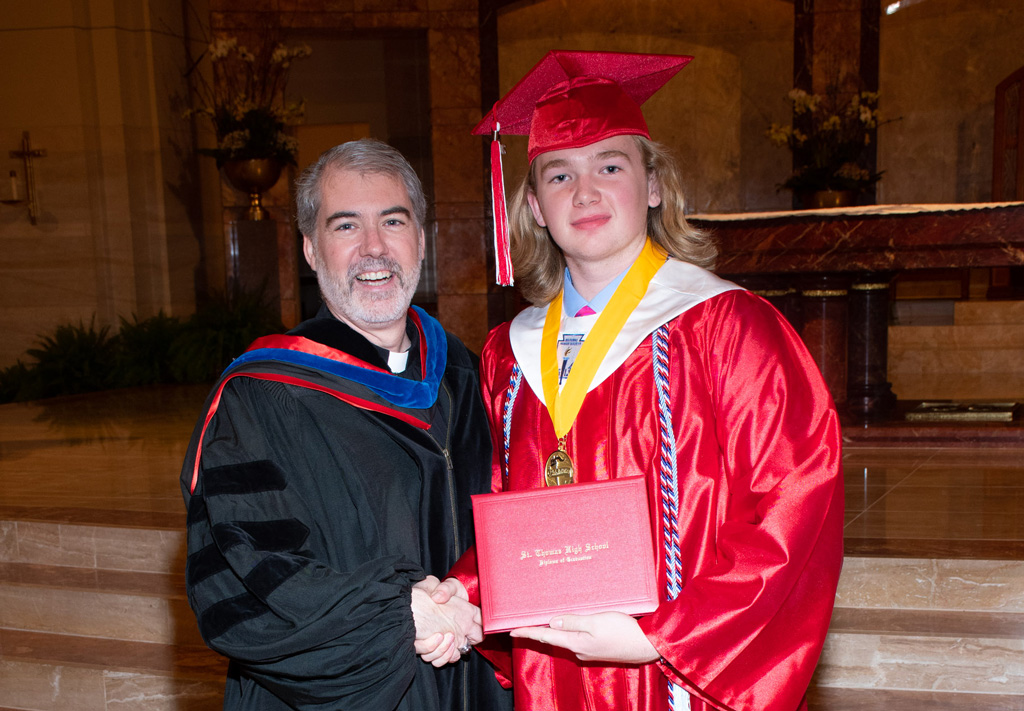 "We made it through (these four years) because of each other. Life is truly a group effort … and we have become stronger not only as individuals but a whole," Woodlief said. "And I only hope that our time (at St. Thomas) has taught us the value of prioritizing what is most important in life. As we all move on to the next stage, I hope all the members of the Class of 2022 can discover their own pillars to stand on along their paths. Go forward, have fun. Keep your family and friends close, God closer, and never forget to ask yourself the question of 'what will this cost me?'"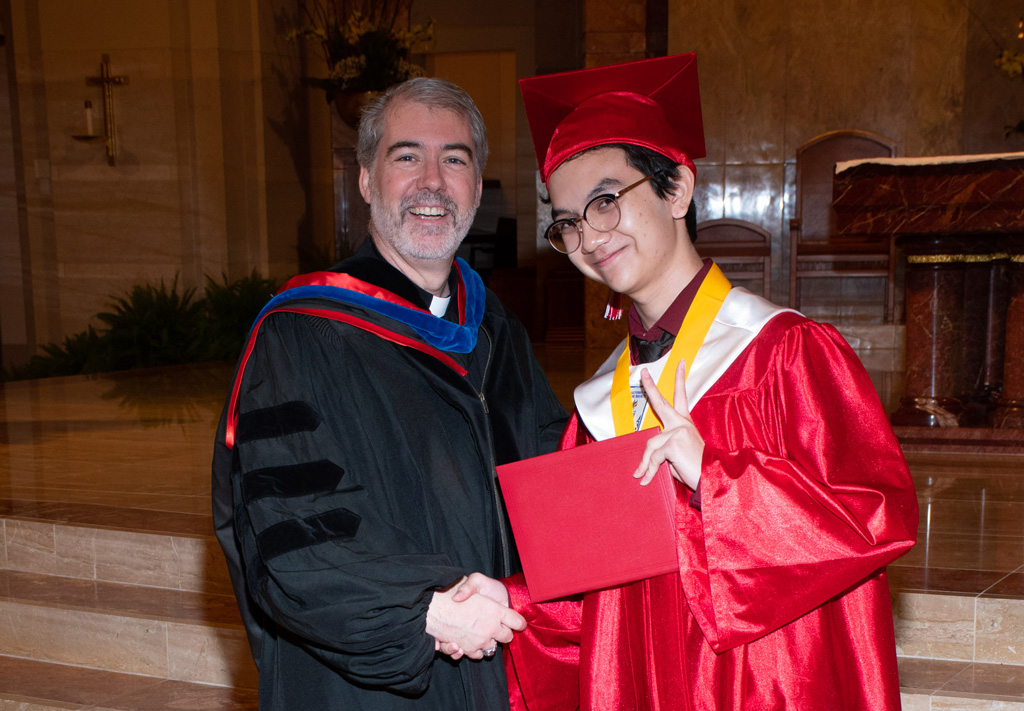 The multi-acclaimed Woodlief will study engineering at Texas A&M University. He and McColloster (above) were both members of the St. Thomas Chapter of the National Honor Society and gained permanent membership into the acclaimed St. Thomas Club – champion scholars with a minimum 4.0-grade point average for seven consecutive semesters.
Woodlief joined five additional St. Thomas scholars selected as National Merit Commended Students from the Class of 2022, recognized for "the exceptional academic promise demonstrated by their outstanding performance on the qualifying test used for program entry." The St. Thomas total in this esteemed category grows to 39 since 2017 and now includes Carrick Brogan, Mark Cheek, Landon Croker, Brett Koehn, and Carson Ondo.
McColloster, the NHS parliamentarian who will attend the University of Texas at Austin, earned finalist acclaim in the 67th annual National Merit Scholarship Program along with Elijah Phillips '22, both representing among the most elite scores taken from the PSAT Qualifying Test.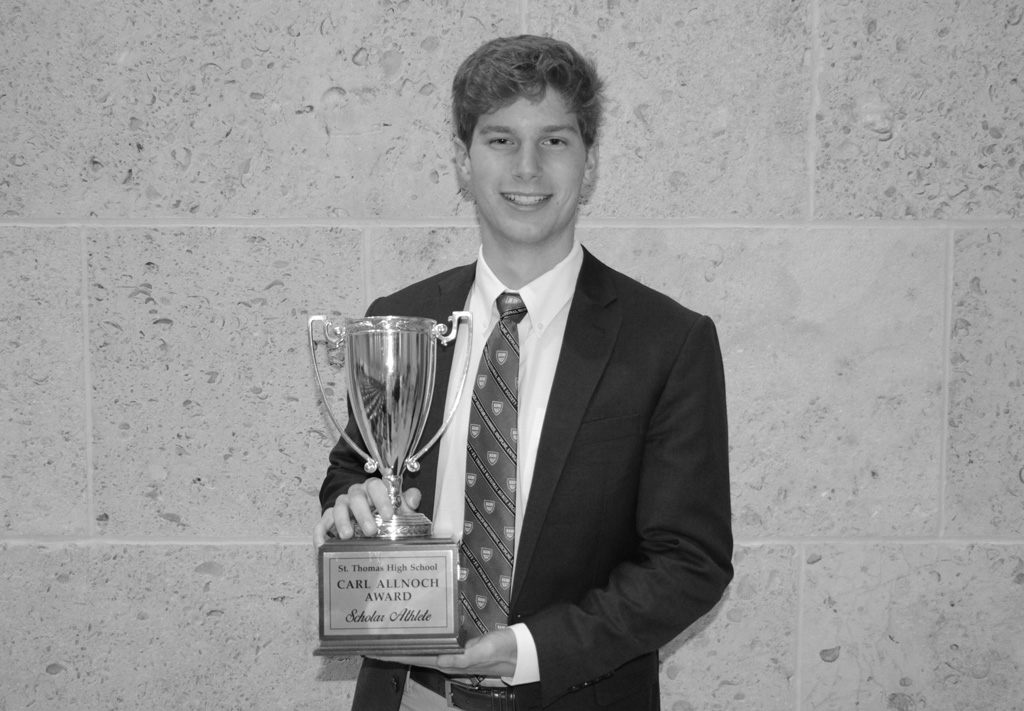 Brogan was among four Eagle coterie receiving exclusive accolades, excelling in a rigorous college preparatory environment while also separating through a compelling identity beyond the curriculum.  He accepted the Rev. Carl M. Allnoch, CSB Athletic Memorial Trophy for Excellence in Academics, in honor of the 16th principal of St. Thomas. The legacy graduate was a two-sport student-athlete and an important contributor during the unprecedented four-year ascent of Eagle Swimming that included consecutive TAPPS state championships in 2019 and 2020 and strong runner-up finishes in 2021-22. Brogan will continue his career competing for Spring Hill College in the pole vault. He was described as "a leader by example and a selfless teammate while always willing to help others … truly a Man of St. Thomas."
Cooper Murray '22 was selected for the Rev. Albert R. Gaelens, CSB Award, given to the senior student who best embodies the school motto of Teach Me Goodness, Discipline, and Knowledge. The 21st principal of St. Thomas executed a variety of essential roles on campus for a quarter-century before retiring in 2007. Seniors are nominated by their peers for this distinction and the faculty then votes on those receiving the most nominations.
Murray is another exemplary member of the St. Thomas Club while excelling in a series of AP courses with an "unwavering commitment to Christian principles … reaching out to aid low-income families and their children, volunteering in food pantries and mentoring younger students. There is an abundance of benevolence" in his character.
Nico Lopez '22 received the Rev. Ronald G. Schwenzer, CSB Campus Ministry Award for most exemplifying the Man of St. Thomas motto of Faith, Service, and Leadership. The 2022 most valuable player of perennial power Eagle Soccer also displays "a depth of kindness that his signature … his faith navigating his daily path … routinely above and beyond as an engaged minister and mentor. His gifts will be sorely missed."
The Principal's Service and Leadership Award was given to Zachary Hanse '22. "A humble, kind, and genuine Man of St. Thomas … generously working with Joe O'Brien and our service team … with an impeccable dedication including more than 200 service hours earned largely at Camp Aquinas but also involving a wide variety of campus initiatives including food and blood drives."
Multiple Eagle graduates will move on to prestigious destinations such as the University of Texas at Austin, Texas A&M University, Texas A&M University at Galveston, Texas Tech University, the University of Houston, Texas Christian University, the University of Texas at San Antonio, Trinity University, Auburn University, Louisiana State University, and the University of Mississippi.
Eagle scholars will also attend renowned institutions including Rice University, Yale University, Baylor University, Boston College, Loyola Marymount University, St. John's University, St. Edward's University, St. Joseph's University in Philadelphia, James Madison University, the University of Texas at Arlington, the University of Texas at Dallas, Rhodes College, Belmont Abbey College, the University of Arkansas, the University of Kansas, Schreiner University, the Florida Institute of Technology, The Citadel Military College of South Carolina, and Embry-Riddle Aeronautical University.
In between the reverence of tradition and the joyous moments of May 21 were invitations to take stock with satisfaction for the passion and perseverance in creating the journeys just completed, and next charge confidently for the ones about to embark on a shifting world. The Class of 2022 advances to lead lives of purpose marked by humility and be builders with enduring legacies, committing their gifts to change the world for the better.
Catholic. Basilian. Teaching Goodness, Discipline, and Knowledge since 1900.