The voice of baseball has been silenced.
In many ways, the voice of America. From the Lost Generation to Generation Z.
Legendary Vin Scully passed away August 3 at age 94. The beloved Los Angeles Dodgers broadcaster was the master of mesmerizing melodic play-by-play. And his iconic, illustrious past owns a sliver link to St. Thomas High School, a single eternal at bat that rendered Scully "as close to breaking down doing a baseball game or any other sporting event I have ever experienced."
Born and raised in the Bronx, New York, Scully attended Fordham Prep (founded by the Jesuits in 1841) and then Fordham University after two years serving in the Navy. While in high school he was talking with a good friend and baseball teammate named Larry Miggins. They quizzed each other one day on what they dreamed for their futures. Miggins revealed to Vin he wanted to be a major league ballplayer. Vin responded he wished to be a sports broadcaster.
You've probably never heard of Larry Miggins. We became dear friends in high school. Years later, he'd hit a home run against the Dodgers that remains the most personal I ever called. Pull up a chair. This is the story. pic.twitter.com/x1pADQrIuQ

— Vin Scully (@TheVinScully) April 23, 2022
"We wondered what are the odds of us making those goals," Scully related with his own inimitable style and grace. "Well, would you believe, in 1952, the St. Louis Cardinals came to Ebbets Field in Brooklyn. Who's in the lineup – my friend Larry Miggins. I'm on the air and I'm going to broadcast an inning in which he is coming to bat. Sure enough, he came up, and would you believe, he hit a home run which I described off left-hander Preacher Roe. As Larry ran around the bases, I could not believe a billion-to-one shot has occurred directly in my lap. That's the one that I'll never forget."
Scully would proceed to produce a signature career punctuated by cascades of spellbinding monologues with folksy wisdom and unequaled sense of the moment.
Miggins would hammer only one other home run in his brief stay in the major leagues. He and his wife Kathleen would later relocate to Houston where they raised 12 children with eight sons attending St. Thomas – Rory '74, John '77, Larry '78, retired United States Air Force Maj. Matthew '83, Neil '88, Robert '90, Patrick '92, and Michael '95.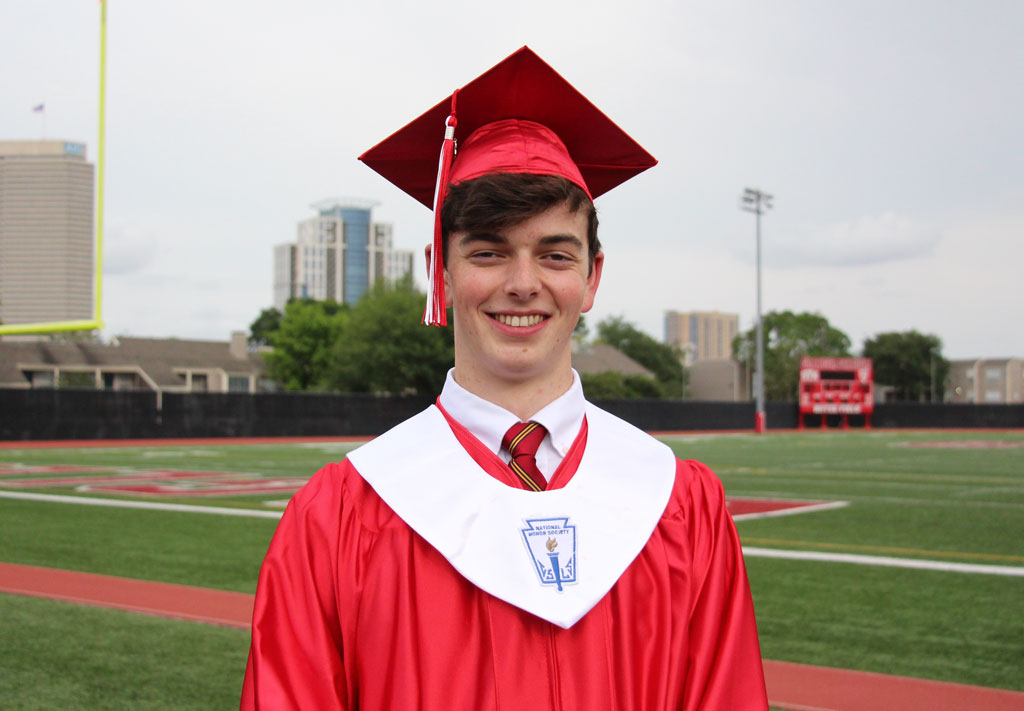 Matthew's son John '17 was the valedictorian of his class and graduated in 2021 from the University of Southern California as a Global Prize Award recipient.
Famed baseball scribe Tom Verducci of Sports Illustrated wrote that the "benevolence of Vin was rooted in his (Catholic) faith. He emphasized about 'the most essential thing' he learned from his faith and the church was 'the importance of continual communication with God.'" When Verducci asked Scully in 2016 if his wildest dreams had come true, Vin responded "Oh, for me, absolutely right on the money. I'm not only getting this job to do a sport that I love, but then God's charity allowing me to do it for 67 years. … It's overwhelming. I mean, I have a big debt to pay in heaven – I hope when I get there – because the Lord has been so gracious to me all my life."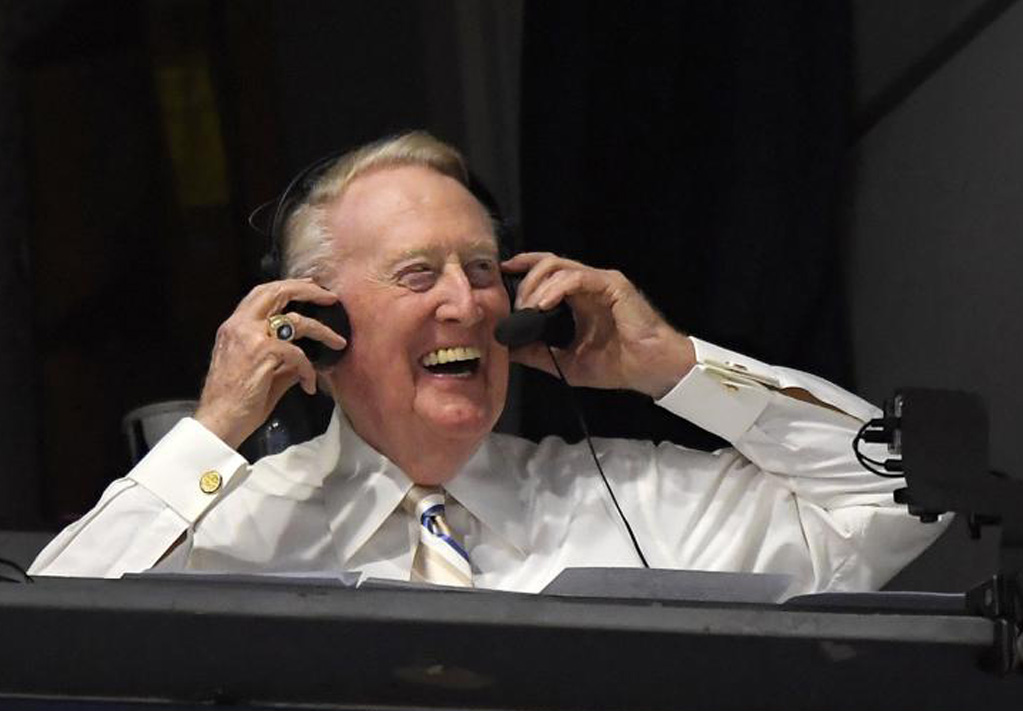 In 2000, Scully returned to Fordham University to give the commencement address. It was his first time back on campus since the Dodgers left for Los Angeles in 1958. "I'm not a military general, a business guru, not a philosopher or author. It's only me." He asked the graduates to follow the Ten Commandments, to "build a better moral climate. … Don't let the winds blow your dreams away or steal you of your faith in God."
And through that Catholic belief, Vin Scully emerged from the Church of the Incarnation, West 175th Street in Washington Heights, the Bronx to 67 years brilliantly describing the Dodgers while orchestrating and framing a national soundtrack throughout American sport with unmatched excellence, greatness, and mastery. Supreme talent. Breathtaking command of his craft.  One of one.  A giant of a man, not only as a broadcaster. He loved people. He loved life. He loved baseball. Always guided by God.
Catholic. Basilian. Teaching Goodness, Discipline and Knowledge since 1900.