The Roman emperor and Stoic philosopher Marcus Aurelius cultivated a particular approach – moral and psychological advice – that has remained as understandable as it is practical for 2,000 years.
Stoics believe that the true good resides in our own character and actions. And in that pursuit, Aurelius sagely observed that "it never ceases to amaze me: we all love ourselves more than other people, but care more about their opinion than our own."
During the most supreme offensive season Eagle Football has ever brandished, quarterback Jake Wright '22, receiver Cameron Price '22, and offensive lineman Wyatt Green '22 were unbeknownst prime practitioners of the Stoic teachings. Three pillars in the weekly assaults on opposing defenses and record books arrived anonymously at St. Thomas at separate intervals. They were surrounded by question marks from second and third-party judgments that suggested ordinary outcomes.
Physically unimposing. Raw or slow. If savvy or sure-handed, then undersized and unathletic and unproven.
But the trio proceeded as modern Stoics would describe with "the dichotomy of control," silencing the doubts and noise of meaningless outside evaluations to rely on the enduring virtue of self-belief. And in the process proved yet again, that there is no device or human insight to accurately calibrate relentless drive, fierce determination, and uncommon pursuit for excellence. Wright, Price, and Green merely distinguish between what was "up to us" and what wasn't.
And within weeks of each other in the spring of 2022, grand finale celebrations found Price as a future scholar-athlete at Yale University, with Wright seizing an opportunity at Pittsburg State to play for his father Brian Wright and Green cherishing the chance to study and perform at Trinity University.
Wright and tag-team partner Price were confirmed to be far more dangerous than advertised by their deceiving tales-of-the-tape. Neither measured above six feet tall yet they operated as a gargantuan pair without parallel for one of the most improbable joy rides of the 2021 Texas high school gridworld.
Wright topped the state's regular-season passing charts with 3,326 yards while peerless Price was third in the Great State in receiving yards with 1,317 on 72 catches. Wright's jaw-dropping production was against a single solitary interception in what developed into a better-than-fiction one-and-done senior rampage. He connected on 73% of his throws with 14 of his 38 touchdown tosses directed at Price. All with Green providing primo pass protection against on-rushing threats and nasty finishes in a highly productive rushing game.
Off the field, their personalities were as quiet as ants crawling on cotton. Come Friday night, their exploits exploded into overdrive with wicked-awesome fluorescence, the stuff that salivates screenwriters.
The serendipity took form after Brian Wright contacted St. Thomas head coach Rich McGuire in the spring of 2021 on behalf of his son. Jake was looking for a favorable transfer landing from Kansas for his senior high school season. The Wrights had family in Houston for support and the reputation of the Eagles' high-octane, quarterback-friendly air raid was enticing to consider a bold move.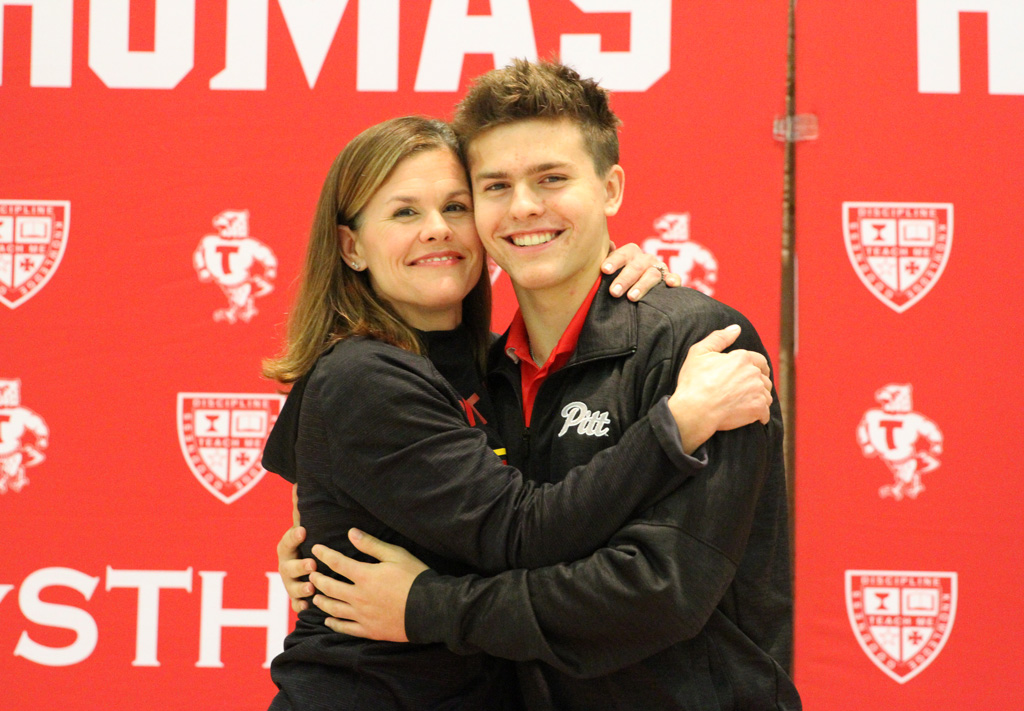 Jake and his mother Laura traveled to Houston during the spring break and met with St. Thomas teachers and coaches. Laura says "there was such a sense of community. I knew in my heart that it was the right move even though he was coming in as an unknown. But it was all up to Jake. There were no guarantees. He had to take that leap of faith for a shot to play college football."
Jake counseled one-on-one with McGuire and coordinator Matt Hudson. "The offense sealed my decision. Looking at their schemes, it was a perfect fit for me. Great gut feeling. Major set up in competition. Regardless of what anyone might have thought, I believed my best would be good enough to earn the starting job."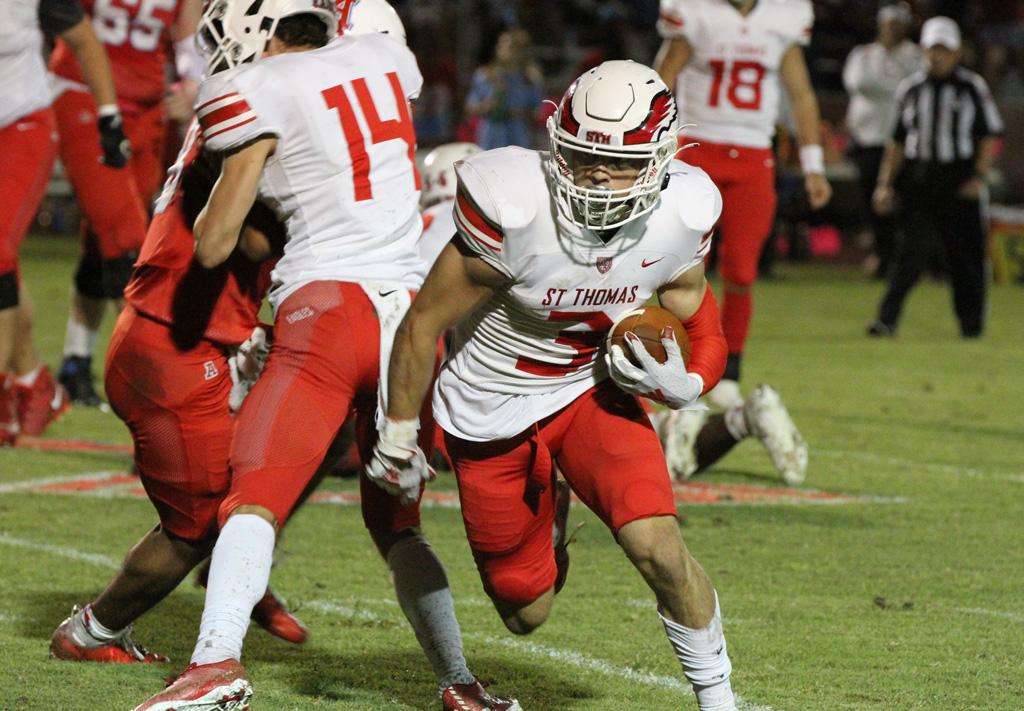 Price was already firmly in place on the St. Thomas depth chart. He had transitioned after completing his sophomore football season at Tomball Concordia Lutheran and quickly impacted within a group of riveting receivers that included Cameron Bonner '21 (Baylor) and Drake Martinez '21 (Colorado State). When evaluating St. Thomas during the transfer process, Price shadowed 2020 Elite 11 quarterback Maddox Kopp, now at the University of Colorado.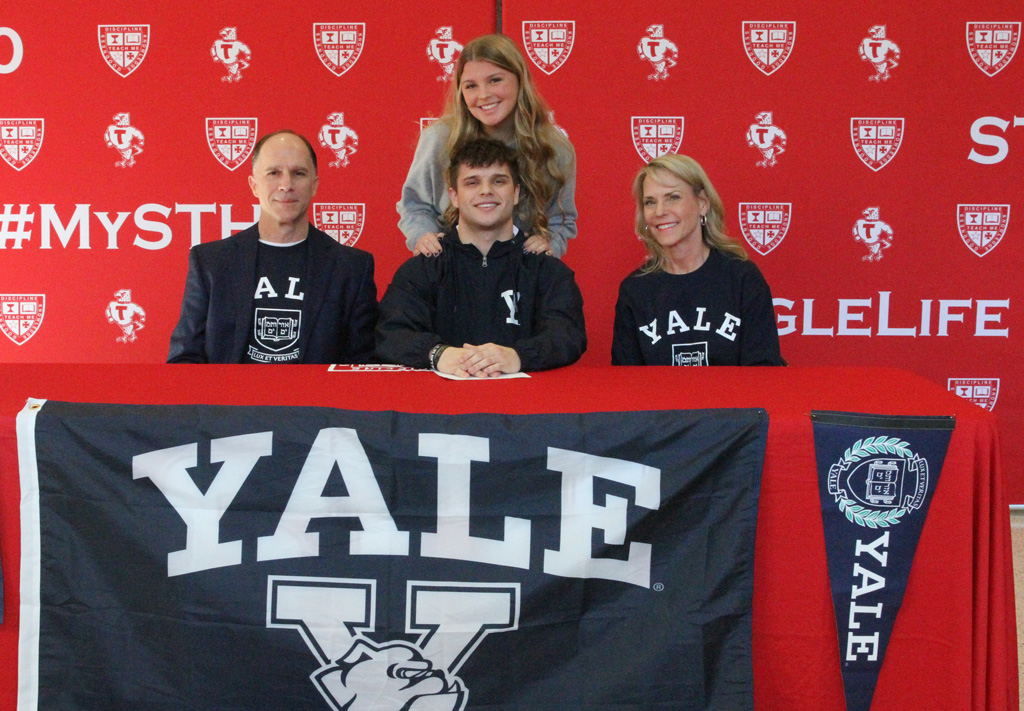 "Right away, I loved all aspects of St. Thomas, not only the football," Price says. "I was sold the first day on campus, felt the connection with classmates and teachers, coaches and teammates. Then it was up to me to make it happen. The sacrifices, Saturday nights in the gym instead of out with friends. Running routes in the dark or getting an extra lift in the weight room. I was never satisfied, on the field or in the classroom.
"And I honestly viewed St. Thomas as I do Yale. Four of 40. Four years that will dramatically influence the next 40 years of my life."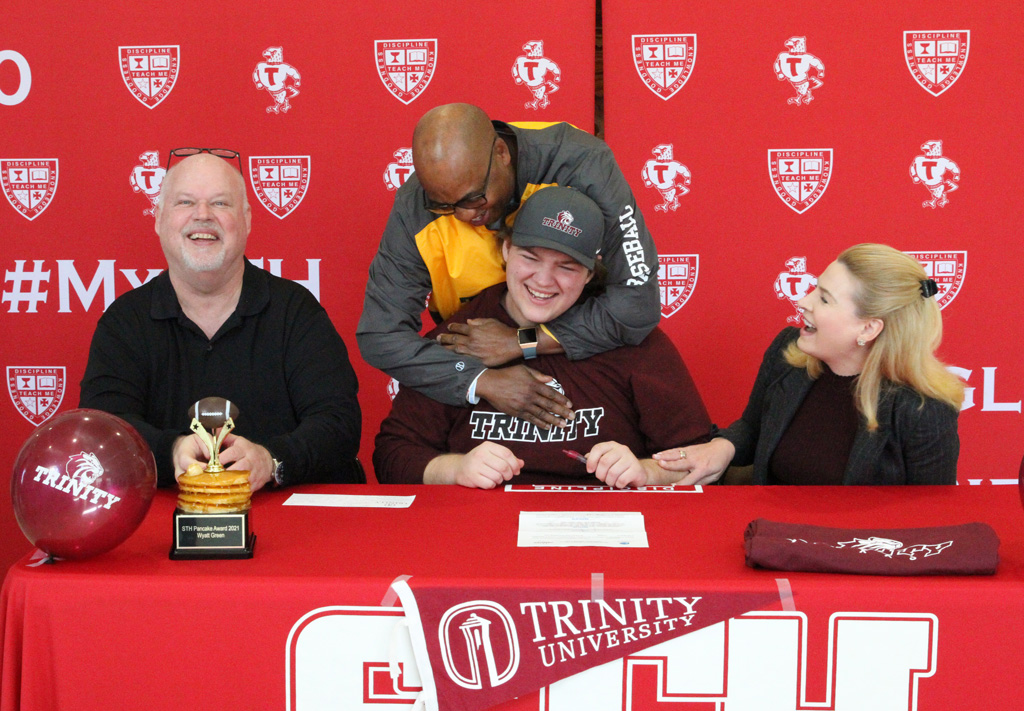 Green's progression wasn't nearly as immediate as his mighty mates. He entered the Eagle program more project than future star but steadily dropped weight, added muscle, refined technique, and perfected tendencies to pound on opponents with more intensity. As Green matured, he learned to collapse defenders in the run game and develop a more aggressive identity. He was also a force as a student leader within the renowned St. Thomas Round Up fundraiser, student government, and joined Price in the prestigious National Honor Society. The D-III college coaches became increasingly intrigued with Green's exemplary scholar-athlete profile.
And a significant setback along the way fueled his impetus to advance to the next level.
During his freshman year, Green tore the anterior cruciate ligament and meniscus cartilage in his left knee during a midseason practice. He was expected to miss the first two months of his sophomore campaign but the timeline to return was accelerated after a series of exhaustive recovery sessions with trainer Chris Valdez. The rehab was sliced to six and a half months and Green was cleared by the medical staff in time for August practices.
"The hard knocks were a blessing, made me a stronger person in a number of ways," Green says. "When I came into St. Thomas as a freshman, I never imagined the chance to play college football. I wasn't very athletic and the wrong kind of big. But the physical therapy taught me how to work with much more of a purpose and I transformed myself into something better. The mental challenges were the toughest part, building confidence. That's why the opportunity at Trinity is so gratifying, to see all that hard work pay off."
Stoics reflect on character strengths such as wisdom, patience, and self-discipline, which potentially make them more resilient in the face of adversity. They try to exemplify these virtues and bring them to bear on the challenges they face in daily life.
Wright, Price, and Green each focused on the immediate moment and accepted whatever they could not control undeterred. The dividend, if not a lifetime of tranquility, was the absolute satisfaction of achievement in denying the doomsayers.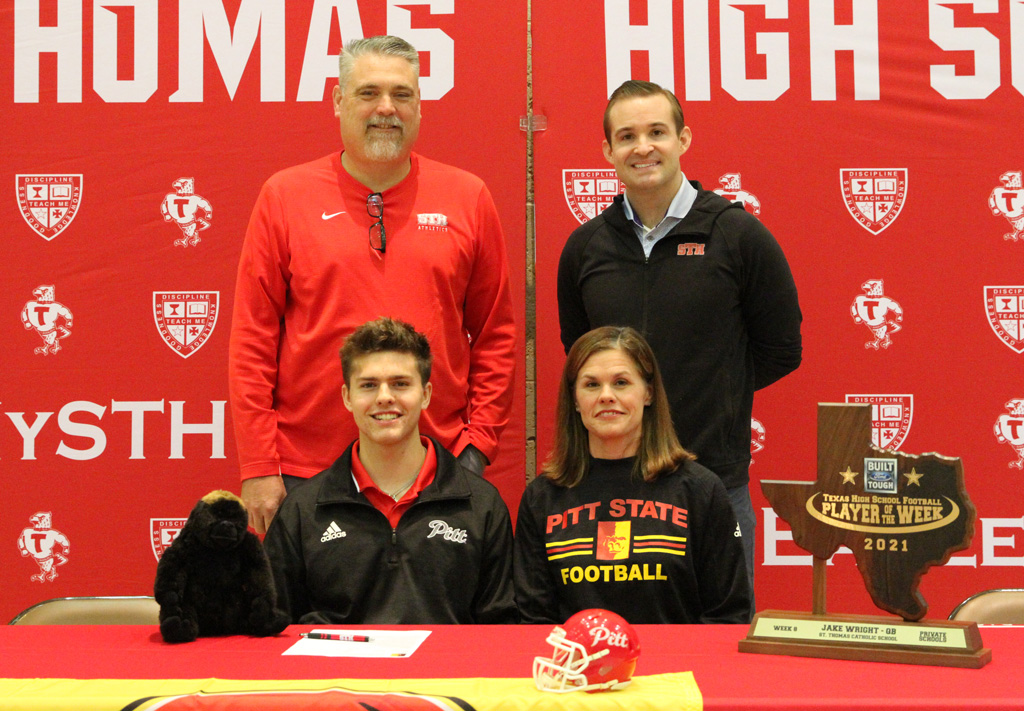 "Growing up, I was always on the practice fields with my dad, always in the meetings, always trying to learn as much as I could," Wright says. "I watched the college quarterbacks up close. They seemed larger than life. And I said to myself, that's who I want to be one day. And now the dream comes true to play college football, to play for my dad. I wouldn't have the opportunity without so much support, and that includes the people at St. Thomas."
Eagle Fight Never Dies!