St. Thomas has built its recent gridworld reputation on a pyrotechnics passing attack centered around a series of record-smashing quarterbacks who spring boarded to the collegiate level.
The about-face for Rich McGuire entering his sixth campaign as head coach is that it's the other bunch that enters the 2022 season as the known quality – a nasty defensive identity for hammering relentless, robust, and rousing results.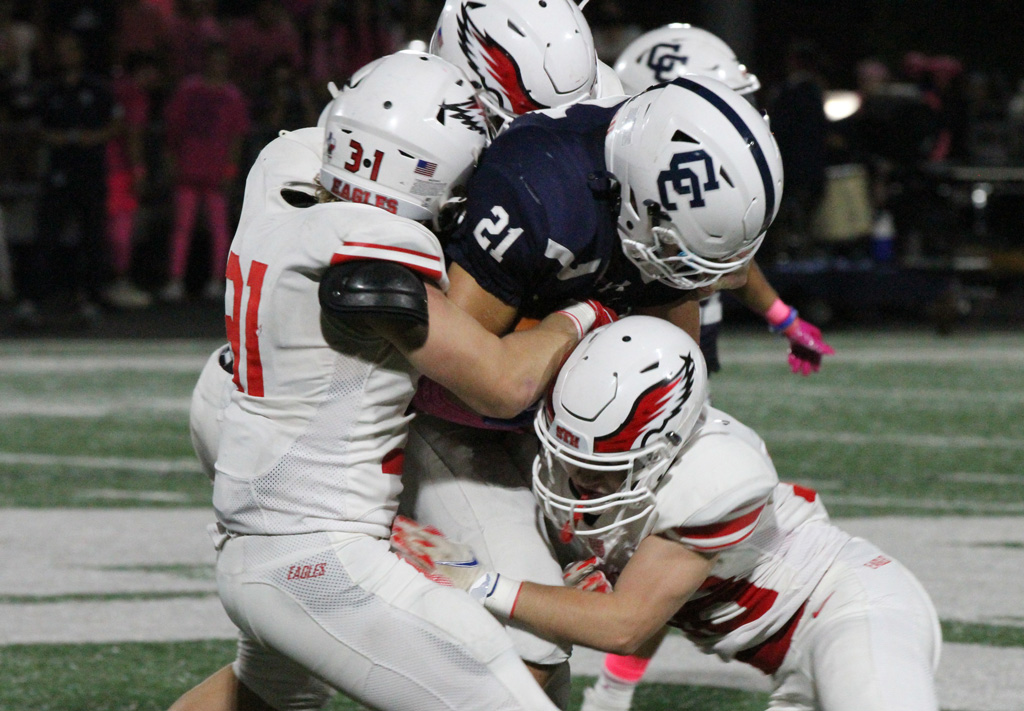 The demolition crew is headlined by marauding terror Tyler Langin '23, TAPPS all-state linebacker Zach Rocha '23 (part of 99 tackles in 2021), and all-state defensive back Caleb Davis '23, all  Houston Chronicle preseason all-private selections. The terrific trio is joined by wrecking ball linebacker Jack Ward '23, lineman Dominic Ori '24, and newcomer Michael Anthony Okwura '24. Coordinator Ray Davis adds four quality cover corners roaming the secondary, including second-team all-state Marquis Kiatta '24 and Keenan Bonner '24 (brother of Cameron '21 and Baylor).
Playing well together tends to make everyone more recognize the talents of the individual.
"We will be extremely aggressive and disruptive up front, bringing pressure off the edge and collapsing the pocket," McGuire says. "And we have depth, a rotation that means we'll have fresh legs on the field and the ability to leverage down-and-distance matchups. (Junior) Aron Valentine takes over at free safety with Caleb moving to the strong spot. He'll be a much more active downhill force defending the run and short passing game."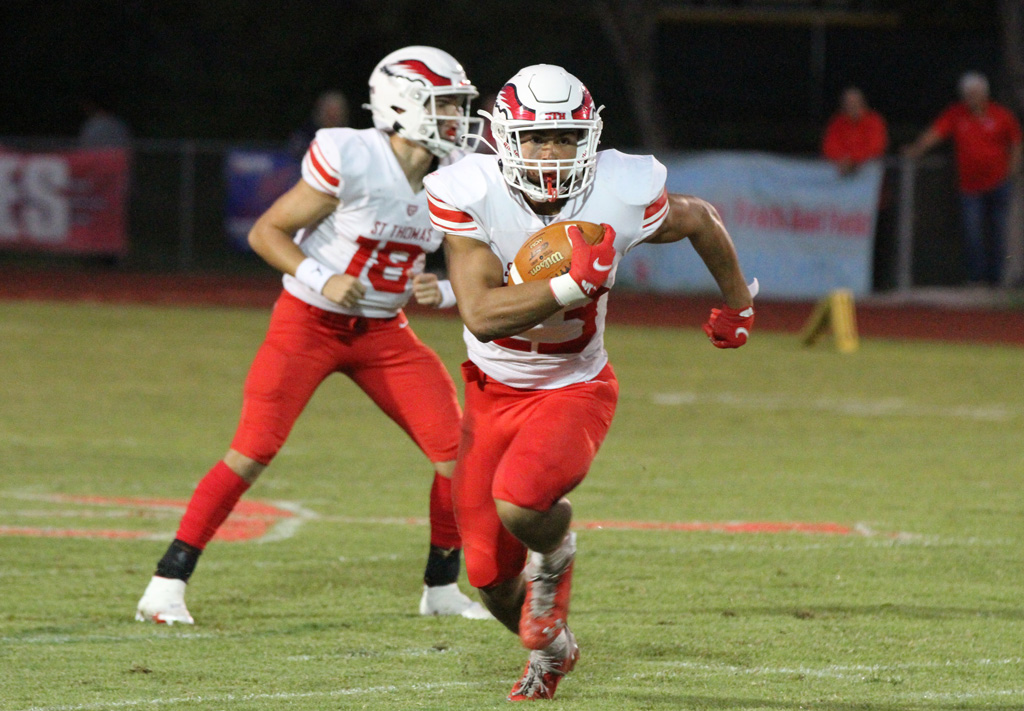 Humvee of a running back Johann Cardenas '24 figures to again batter and bruise overmatched defenders while dramatically enhancing the future value of his name, image, and likenesses. Another Chronicle preseason selection, the explosive game-breaking threat is capable of explosive romps and savage stomps. He racked nearly 1,500 yards from scrimmage as a sophomore with 14 touchdowns, averaging seven yards a carry and 15 yards a reception.  Witness his season bests 72-yard run and 74-yard reception – both for touchdowns.  He's a home run threat when given merely a crack.  The man-child playmaker pairs strength, speed, and vision and is equally fearless in blitz protection as a rare every-down lethal weapon.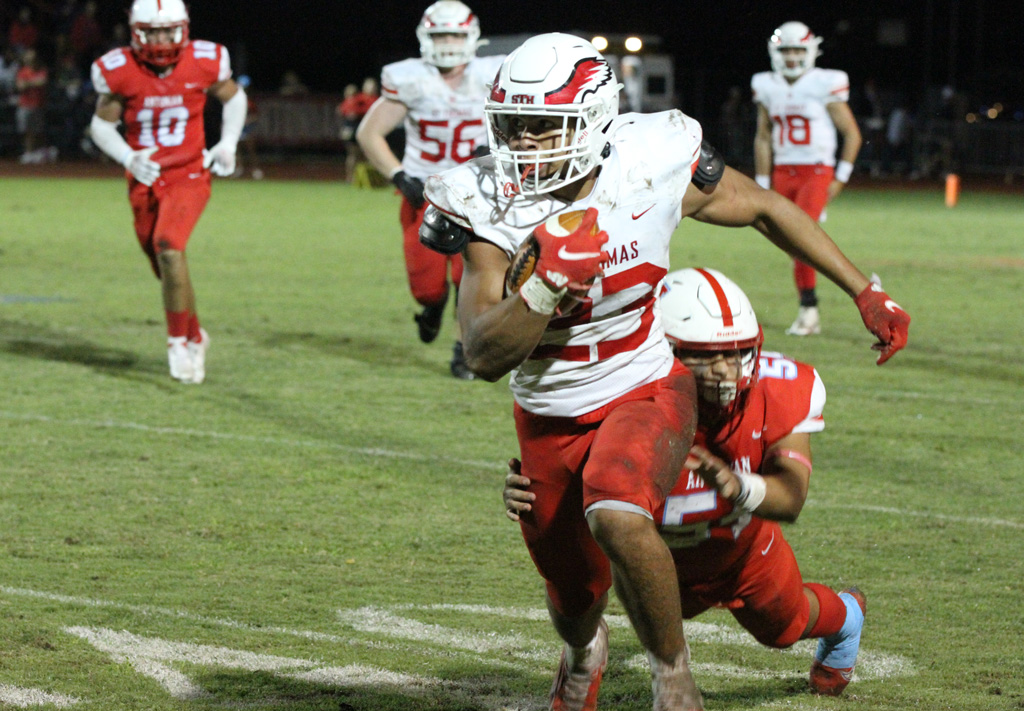 There is zero doubt that Cardenas will gain sizable chunks of yardage between the tackles and in space, touching the ball 15-20 times a game, forcing defenses to dedicate another player to the box and leave more favorable matchups in the passing game. He's emerged as the face of the offense after gathering measurable momentum and confidence on the summer camp circuit collecting multiple Division I offers. And while Cardenas readily supplies an emphatic exclamation to the 2022 Eagle arsenal, the question is who delivers the encore to the scintillating rodeo of one-and-done Jake Wright '22 (Pittsburg State).
In the modern game, the quarterback is the all-important mission-critical position – the most vital presence on the field where it's more than just throwing and catching and winning games. It's chemistry and leadership, and comfort and cohesiveness. It's directing the show and lighting motivational fires.
Two-sport dynamo Donte Lewis '24 projects as an electric fit into coordinator Matt Hudson's high octane scheme that remains "the same with a slightly different flavor." While Wright executed with the strictly prescribed efficiency of a Japanese bartender for more than 3,300 yards and 38 touchdowns and one measly interception, Hudson figures to lean into Lewis's mobility. There's the confidence he will grow into a quarterback versed enough to make the plays that seize games at the highest level.
"Donte has top-tier arm talent. There's not a single throw he cannot make," Hudson said. "He worked extremely hard this offseason and in camp. The mental capacity that he possesses is extremely high. You saw him take ownership of his role as the guy that's going to be out in front. He absolutely answered the bell. He'll continue to mature with reps and experience as we continue down this road."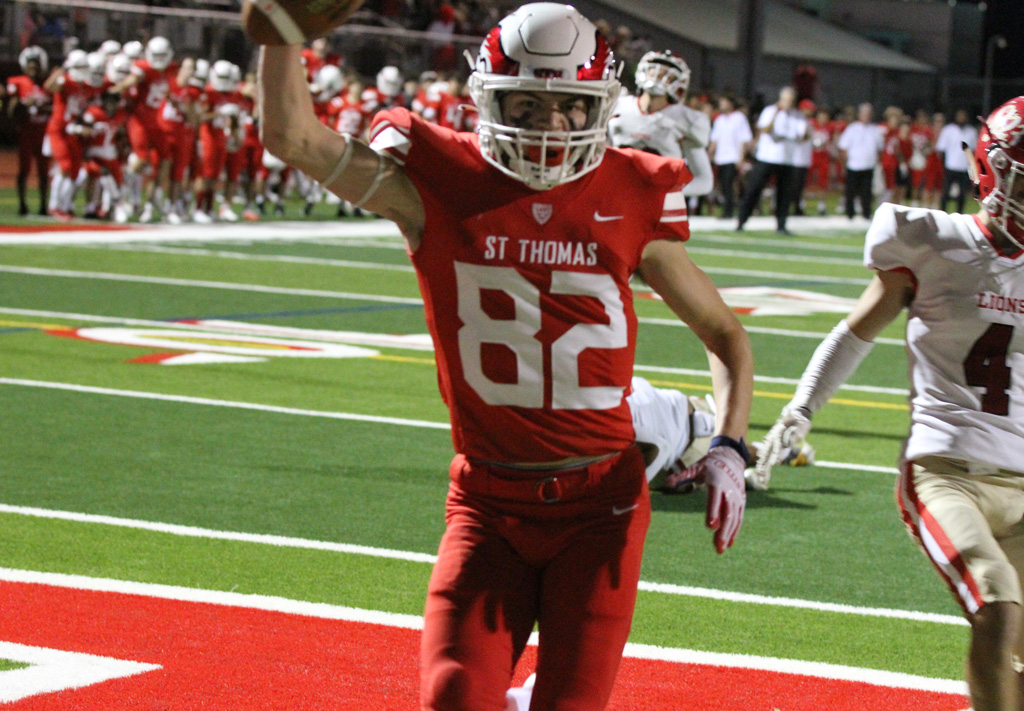 The Eagles lost peerless pass-grabbing Cameron Price '22 to graduation and Yale University but they return a deep athletic group that should give Lewis a chance to stretch the field. The conga line of prime choices includes Larry Benton III '24, Preston Bowman '23, Caleb McClure '23, Shafer Henderson '24 along with versatile Luke Edgecombe '24, Trey Robinson '24, Nick Ferruzzo '23, and James Dickinson '23.
The offensive trenches are anchored by Matthew Villafranca '23, Charlie Boettcher '23, Max Dagley '23, and Michael Staron '23.
St. Thomas is ranked no. 9 in Dave Campbell's Texas Football preseason private state rankings.
The show debuts August 26 at St. John's with the home opener September 2 against Lumberton, followed by Catholic Bowl II against Fort Worth Nolan Catholic at The Ford Center at The Star in Frisco.
[CLICK HERE FOR CATHOLIC BOWL II TICKETS THROUGH SEATGEAK]
The program under McGuire's leadership has posted 19 district wins in its previous 20 games and eight straight victories at Hotze Field inside Granger Stadium.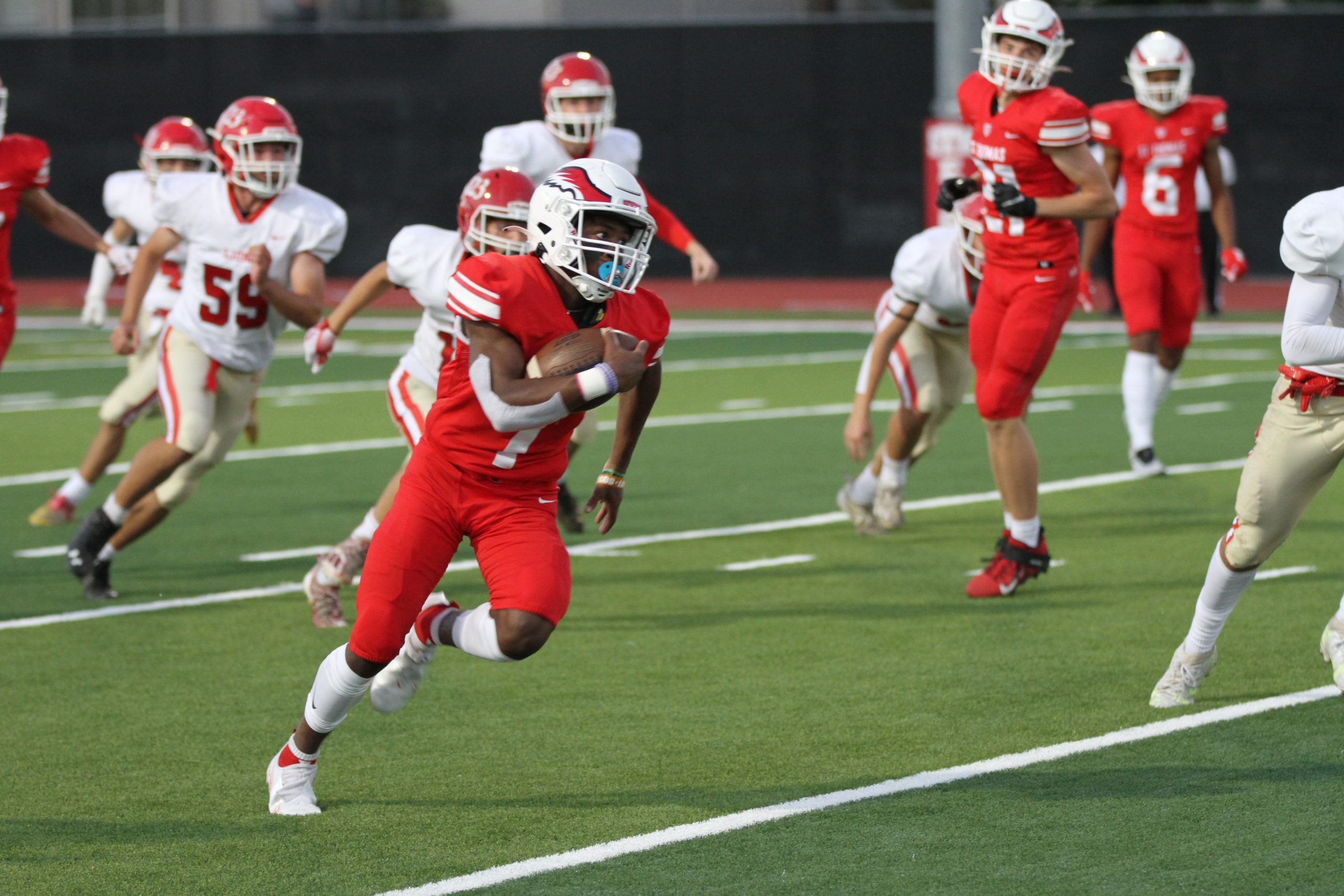 The Eagles will need to prove they can consistently win at the line of scrimmage if they hope to make the expected deep push into the postseason. But if they stay healthy, Lewis shines as expected, some seemingly explosive receivers help him discover consistency, and a veteran diabolical defense performs up to the advance billing, then St. Thomas is the prohibitive favorite to raise the district trophy for the fifth consecutive season. And much more.
Eagle Fight Never Dies!