St. Thomas is excited to continue its participation in the prestigious Catholic Bowl event presented by Global Football. The Ford Center at The Star, the indoor stadium connected to the headquarters of the Dallas Cowboys, will again serve as the host venue.
The celebration of faith, freedom, and football will seize the majesty of Friday Night Lights as an opportunity for cultural exchange and authentic Catholic identity between three rising powers within the highest TAPPS ranks and an out-of-state college preparatory institution founded in 1911.
Eagle Football will face Fort Worth Nolan Catholic Saturday, September 10 at 5:30 p.m. St. Thomas defeated Plano John Paul II 38-31 in the inaugural pulse-pounding encounter. JPII will also return to The Star to face St. Edmund of Eunice, Louisiana.
Tickets are now available through SeatGeek.
"St. Thomas is again proud to team with Global Football and The Star to not only promote our school to a much broader audience but also engage in what is quickly developing into a premier event," Athletic Director Mike Netzel says. "Our scholar-athletes are thrilled about the chance to play in an outstanding facility. Our parents, alumni, and fans were so impressed by their experience last year and will again turn out to display their loyal support for St. Thomas. We'll travel and connect in a way that resembles a college bowl game experience."
"We are again excited to welcome all of the teams for the Catholic Bowl II at Ford Center," said Stephen Jones, Chief Operating Officer of the Dallas Cowboys. "I know how meaningful last year's involvement was for my alma mater Little Rock Catholic. This event represents many of the reasons we built The Star and we look forward to showcasing another outstanding day of festivities."
The joint venture between the schools is the genius of Global Football, an acclaimed exporter and producer of American football and marquee matchups for U.S. colleges and high schools to play internationally. The games will be the climax of several days of special activities held to mark the occasion.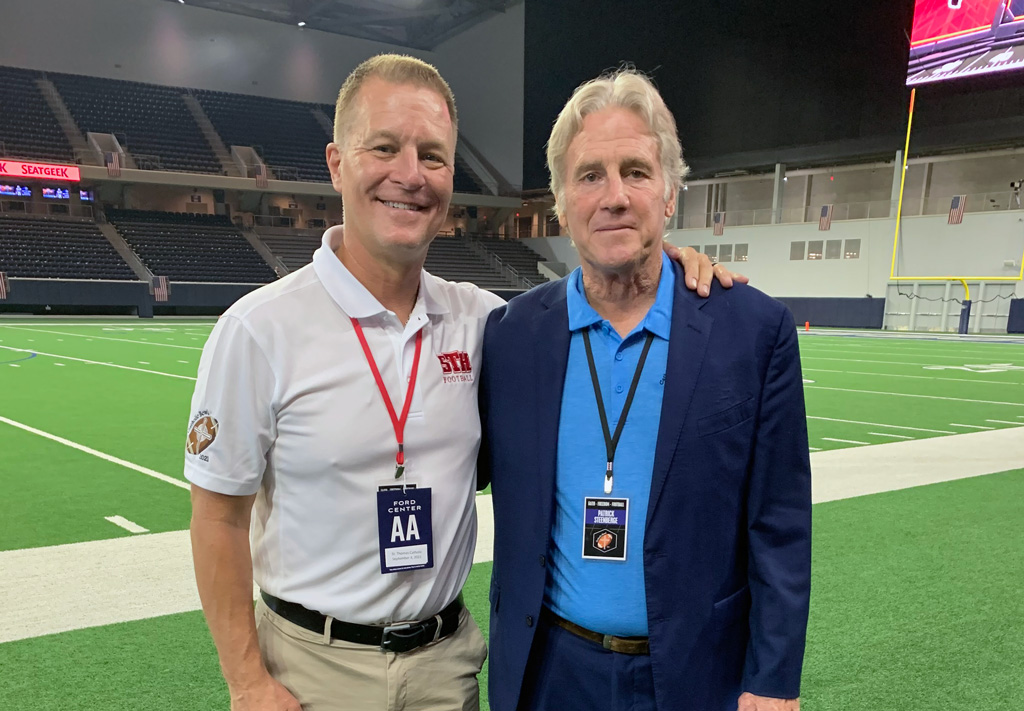 "The Cowboys are a world class host and brand. And we are thrilled to again participate with the Catholic dioceses of Dallas and Fort Worth," said Patrick Steenberge (above, right), founder and president of Global Football since 1996. "Our debut doubleheader delivered two exciting games, both decided in the final seconds. The tribute to the 20th anniversary of the 9/11 attacks was riveting, the response to faith, freedom, and football striking in our enthusiastic crowds. The standard has been established and our encore promises to be a powerful opportunity to renew and ignite meaningful relationships."
In addition to Catholic Bowl II, the ambitious 2022 football schedule for St. Thomas includes a second visit to the Dallas-Fort Worth Metroplex, a district trip to San Antonio, and a four-game home slate opening September 2 at Hotze Field inside Granger Stadium against Lumberton.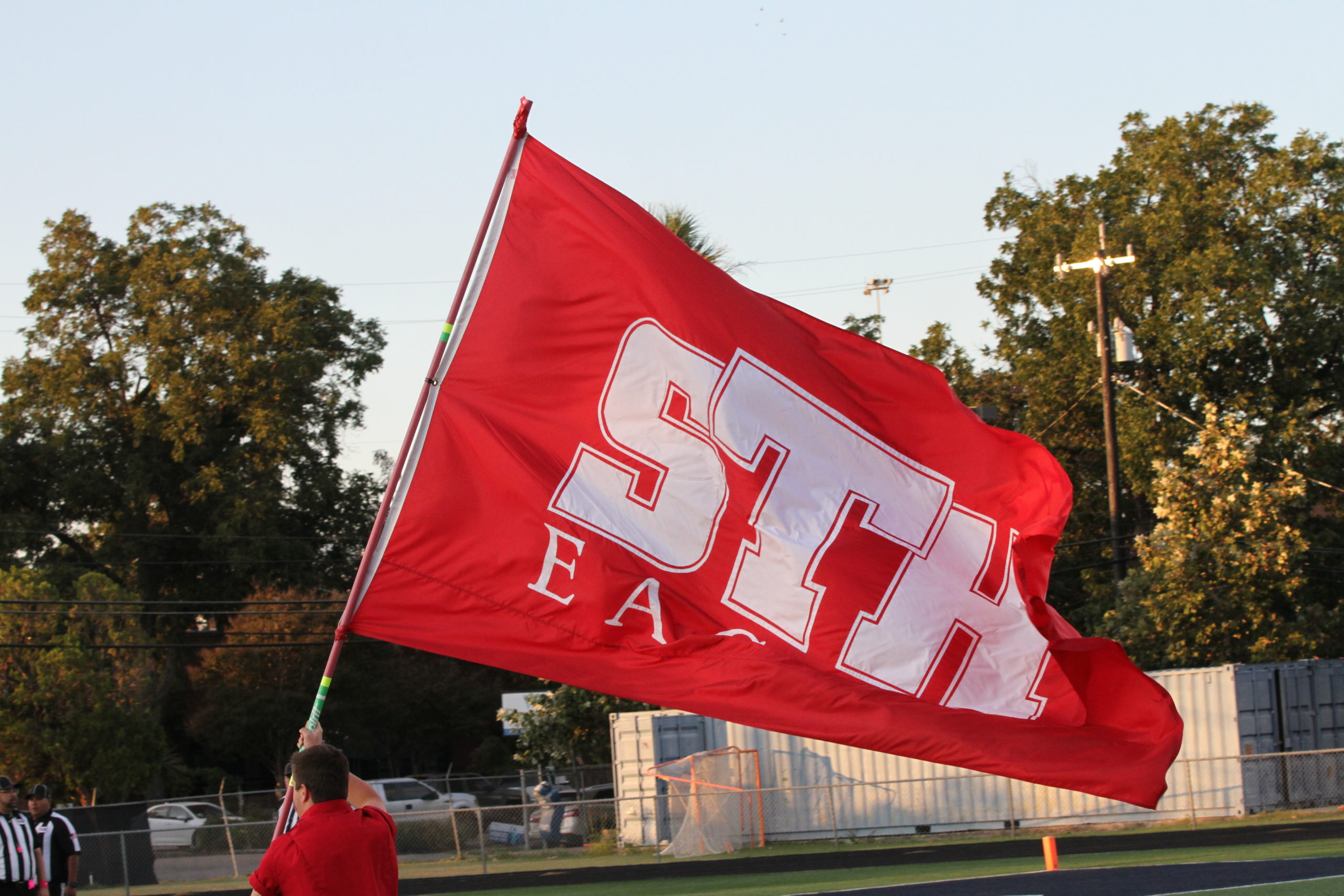 Eagle Football will kick off the season at The St. John's School on August 26.
The Eagles will face five district opponents including a first-ever installment with The Village School and an October 7 date at San Antonio Central Catholic.  The annual series with St. Pius X remains positioned away from the once traditional regular-season finale slot.
St. Thomas is aiming to maintain measurable momentum after finishing the 2021 season with eight high-octane victories and a split of the district title following three consecutive outright championships.
Eagle Athletics will continue partnering with HomeTown Ticketing to implement a contactless and cashless solution for fans and guests attending events at Granger Stadium.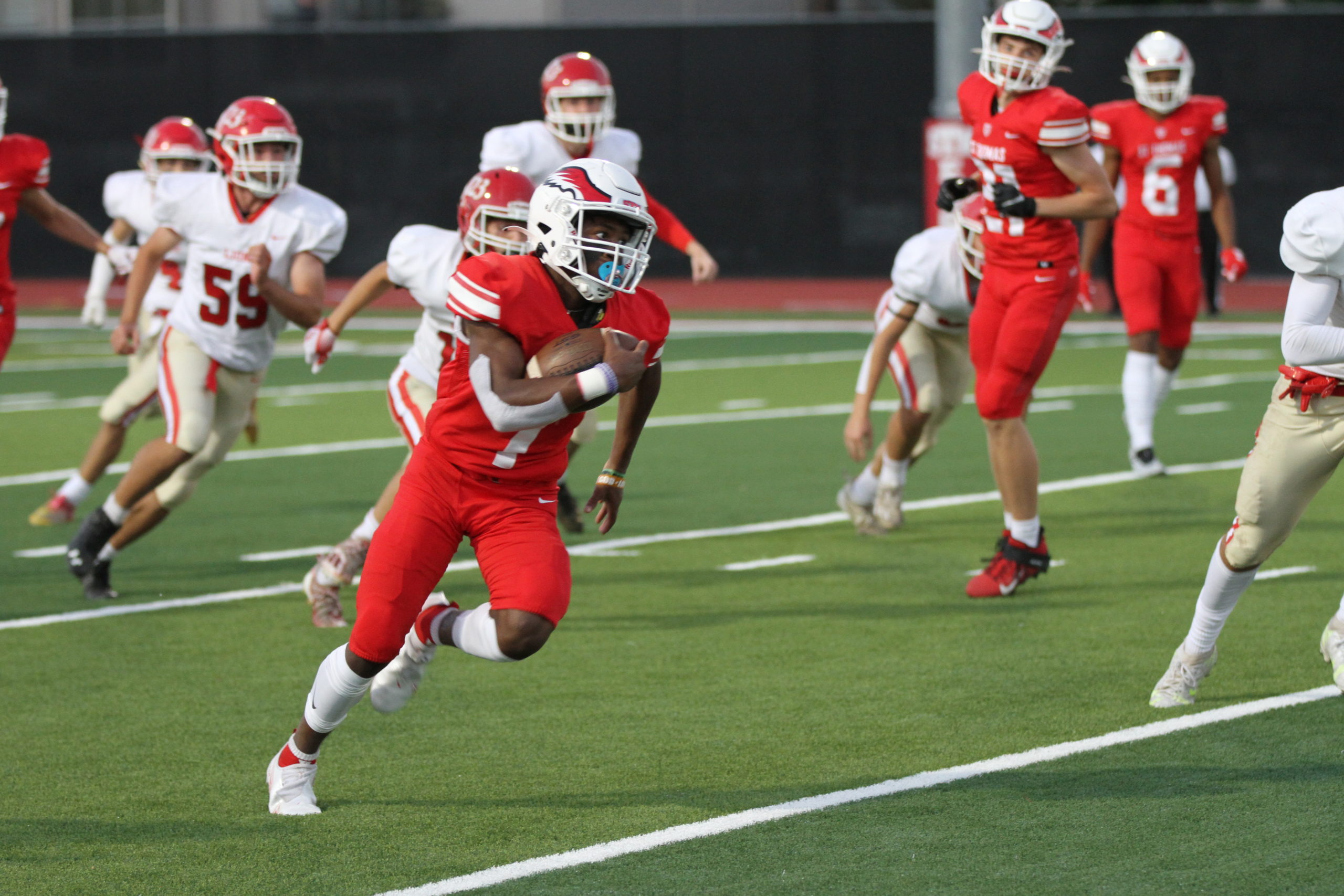 2022 St. Thomas Football Schedule
(Home games BOLDED; all games 7:00 p.m. unless otherwise noted)
Aug 26: at The St. John's School
Sept 2: vs. LUMBERTON
Sept 10: Catholic Bowl vs. Fort Worth Nolan Catholic
Sept 23: at Plano John Paul II
Sept 30: vs. THE KINKAID SCHOOL
Oct 7: at San Antonio Central Catholic
Oct 14: at Tomball Concordia Lutheran
Oct 21: vs. THE VILLAGE SCHOOL
Oct 28: at St. Pius X
Nov 4: vs. SAN ANTONIO ANTONIAN
GAME-BY-GAME
AUG 26 • AT ST. JOHN'S
The Eagles begin a new season on the road for the first time since 2019. The jaunt to Skip Lee Field will find the surging Mavericks in the fourth season with head coach Kevin Veltri and fresh from a campaign that began with seven consecutive wins and ended with back-to-back losses surrendering 80 points.
SEPT 2 • VS. LUMBERTON
The home opener will offer a fresh series against a 2021 playoff team from UIL Division I 10-4A. The Pirates rebounded from a COVID-racked 2-7 season in 2020 to finish 6-5 with a 56-39 bi-district defeat to Lindale.
SEPT 10 • CATHOLIC BOWL VS. FORT WORTH NOLAN CATHOLIC
The two programs have met seven times – all in the playoffs. Eagle Football owns a string of matchups dominated by slam-dance defense with five victories.
In 2015, quarterback Michael Keating '16 (Texas A&M-Commerce) threw for one touchdown and ran for another as St. Thomas advanced to the state semifinals for the third time since 2011. Keating racked 263 yards of total offense and found receiver Landon Malouf '16 in the first quarter for all the points the Eagles would need. They allowed only 151 total yards and eight first downs in the 17-0 verdict for its 26th consecutive victory at Hotze Field inside Granger Stadium.
In 2013, St. Thomas rode into the regional final with the mojo of a 10-game winning streak and its first undefeated regular season since 1939. Keating cashed a short-range touchdown for a 7-0 lead at halftime before Michael Reul '14 tag-teamed with Chistoper Zook '14 for a 29-yard score that doubled the advantage. But Nolan rallied to pull even with 2:53 remaining in the fourth quarter on a 55-yard interception return touchdown that forced overtime. St. Thomas couldn't convert a 43-yard field goal on its first possession and an immediate Nolan score sealed a 20-14 heartbreaker.
In 2011, the two teams combined for only 265 yards in a 7-3 state semifinal rock fight defeat in what proved to be the head coaching finale with Donald Hollas. Eagle Football had posted playoff wins over Dallas Bishop Lynch and Austin St. Michael's to rescue a season that started 0-2 and stood 4-5 in November.
In 2002, Steven Schoeffield '03 romped for 92 yards and two touchdowns as Eagle Football never trailed on its home turf for a 24-10 bi-district decision.
In 2001, Stephen Lemrond '02 delivered three field goals in a 24-0 home shutout in the state semifinals. Quarterback Andrew Locke '03 was the catalyst in a resounding rebound from a two-win campaign the year before to a state title showdown with San Antonio Central Catholic.
In 1972, Dan Arleth '74 crashed into the end zone from three yards out and the Eagles staged a late, decisive defensive stand for a 7-2 win to capture the second of what would be three straight TCIL state championships. The program's eighth crown in 10 seasons closed out the halcyon heights of Eagle Football.
In 1971, future St. Thomas Sports Hall of Famer Del Leatherwood '73, Larry Martin '72, and Hank Dentler '72 supplied the punch in a 20-0 bi-district shutout at Delmar Stadium. Future Oklahoma star and NFL running back Horace Ivory was limited to 51 rushing yards after exploding for a school-record 296 the previous week. The Eagles would defeat El Paso Jesuit 30-14 for their second state title in three seasons.
SEPT 23: AT PLANO JOHN PAUL II
Following an off week, the Eagles travel again to the Dallas Metroplex for a rematch with Plano John Paull II, now coached by 2008 graduate Nick Schiele who replaced former Florida State national champion and five-year NFL cornerback Mario Edwards after just one season.  George Teague remains as athletic director (yes, the former Dallas Cowboy, Terrell Owens-blasting safety) after stabilizing the program on the heels of three straight 0-10 seasons and a 58-game district losing streak that spanned nearly 10 years.
SEPT 30 • AT KINKAID
The private school programs will meet for the seventh time in nine years with interruptions courtesy Hurricane Harvey in 2017 and COVID-19. In that mix, Eagle Football posted three consecutive season-opening knocks over the Knights by a combined margin of 109-51.
In 2021, quarterback Jake Wright '22 (Pittsburg State) continued his poised and polished aerial assault with four touchdowns, two to game-breaking receiver Cameron Price '22 (Yale). St. Thomas battled from down double-digits to a six-point edge heading into the fourth quarter. But the lead vaporized in a last-second 48-41 defeat at Barnhart Stadium.
In 2019, quarterback Maddox Kopp '21 (Colorado) totaled 244 passing yards and two touchdowns, receiver Cameron Bonner '21 (Baylor) grabbed two scores, and a rejuvenated Eagle defense rarely bent and never broke in a 27-10 road victory for the first St. Thomas win of the season.
In 2016, Eagle Football trailed 10-0 in the first half then seized control of the game with 27 straight points behind a fresh core of game-breaking threats to secure their 27th straight win at home and their fifth consecutive season-opening victory.
In 2015, Keating threw for two touchdowns and ran for a third while David Jones '16 (Cornell) and Grant Delpit (LSU and the Cleveland Browns) each returned interceptions for touchdowns as the Eagles racked five scoring plays of at least 40 yards in a crushing 44-7 triumph.
In 2014, William Heck `16 tallied four touchdowns, Keating tossed for another two, and an opportunistic defense shut Kinkaid out over the game's final 17:00 to secure a 38-24 victory.
Oct 7: AT SA CENTRAL CATHOLIC
The series that has pivoted from non-district to district competition since 2017 continues with Eagle Football returning to the 2021 scene of the crime. Wright connected on four scoring throws, three to receiver Joe Rick Madden '22, but St. Thomas couldn't hold the advantage in the closing moments in a 35-31 loss, its first district defeat in 16 games.
Oct 14: AT TOMBALL CONCORDIA LUTHERAN
The Eagles travel for the third time in four weeks and renew a head-to-head they have dominated. The Grand Canyon-esque gap reads 11 overwhelming wins in 12 tries by a combined margin of 385-117. Last season the flame-throwing Wright blistered the Crusaders for four touchdown passes to cap a record-smashing regular season while Johann Cardenas '24 battered and bruised for three scores in a 45-0 stomping. The three-time defending undefeated district champions earned a share of a fourth-straight title.
Oct 21: VS. THE VILLAGE SCHOOL
A first encounter with the Vikings who are making the transition from TAPPS Division V. The Village returns a core talent group from its first-ever state title and a third state final appearance in four years.
Oct 28: AT ST. PIUS X
A second three-game road show in four weeks is the clash that once routinely determined at least a share of the district championship. And the Eagles will shift the series north on Shepherd Drive for the second straight season.
St. Thomas continues to own the long-standing rivalry, raking four straight wins and collecting nine knocks in the previous 10 games. From 2012-15, the Eagles captured four straight showdowns with the district title at stake by a combined score of 144-62.
In 2021, the Eagles struck with spontaneous combustion not seen since Squid Game erupted on streaming audiences, exploding for 37 unanswered points through the first three quarters. Wright rifled for 362 yards with four touchdowns, two to the peerless Price, as St. Thomas burned and buried their hosts 37-14 for the Eagles' 18th district win in 19 games.
In 2020, running back John Fontenot '21 rammed, jammed, bruised, and bolted to four touchdowns while an Eagle defense turned tenacious during the meaningful moments in a 49-21 rout. The 14th straight district triumph gave Eagle Football a sensational Senior Night send-off with a third consecutive district title and seventh in nine seasons.
In 2019, Eagle Football used an avalanche of 40 consecutive points for a commanding 47-21 stomping behind five touchdown strikes from Kopp to face-plant the Panthers with an outcome so devastating it required an autopsy.
In 2018, quarterback Peyton Matocha '19 (Miami) put on a dazzling display of talent, skill, precision, will, and want with seven touchdowns including four in the third quarter when Eagle Football seized control to rally for a stunning 52-49 shootout to reclaim the district crown.
Nov 4: VS. SAN ANTONIO ANTONIAN
The close to the regular season brings an opportunity for a fifth straight victory over the Apaches.
In 2021, Wright sliced, diced, and scorched for 345 yards with four touchdowns in a scintillating display with Price for an impressive, business-like 35-14 victory. The Eagles were never threatened and rarely stymied in stamping their 17th district win in their previous 18 games. They bolted to a 21-0 advantage while allowing one Antonian first down, bludgeoned the Apaches for 478 total yards, didn't turn the ball over on offense, and racked a season-high six sacks.
In 2020, Kopp dialed in Price for a nine-yard touchdown in overtime and defensive back Aidan O'Hare '21 sealed the decision with a clutch end zone interception for a dramatic 35-28 home win.
In 2019, Kopp raked 314 yards and two touchdowns in a first-half detonation when St. Thomas plastered points on its first four series to coast to a convincing 41-27 dismantling in a game not nearly as close as the final indicated.
Eagle Fight Never Dies!