During the recent Thanksgiving holiday season, a select group of St. Thomas scholars was inspired with an appreciation for all the many blessings life has bestowed on them.
Instead of flooding stores and retail websites on America's so-called Black Friday to grab never say die deals in the spirit of materialism, the senior students gave strong consideration to their new-found gratitude, and how to contribute to something bigger than themselves.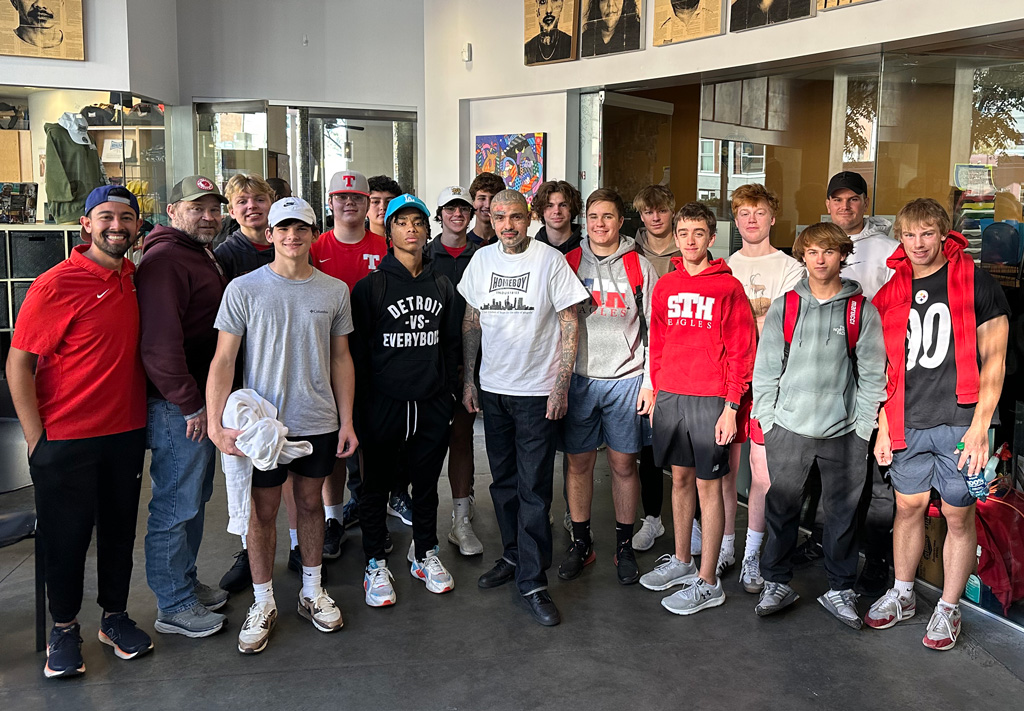 The catalyst for the St. Thomas 14 – Finnian Charnquist, Paul Dunn, Jackson Guyre, Rocco Hill, Cole Kelly, Nick King, Alex Lynn, Jack Mathis, Oni Mouton, Colton Ritchey, Harry Tardy, Harrison Watts, Aric Weeks, and Victor Zamora along with campus ministry director Andrew Quittenton and Dunn's father Jason – was a four-day immersion into a crisis on the streets – the homelessness in Los Angeles.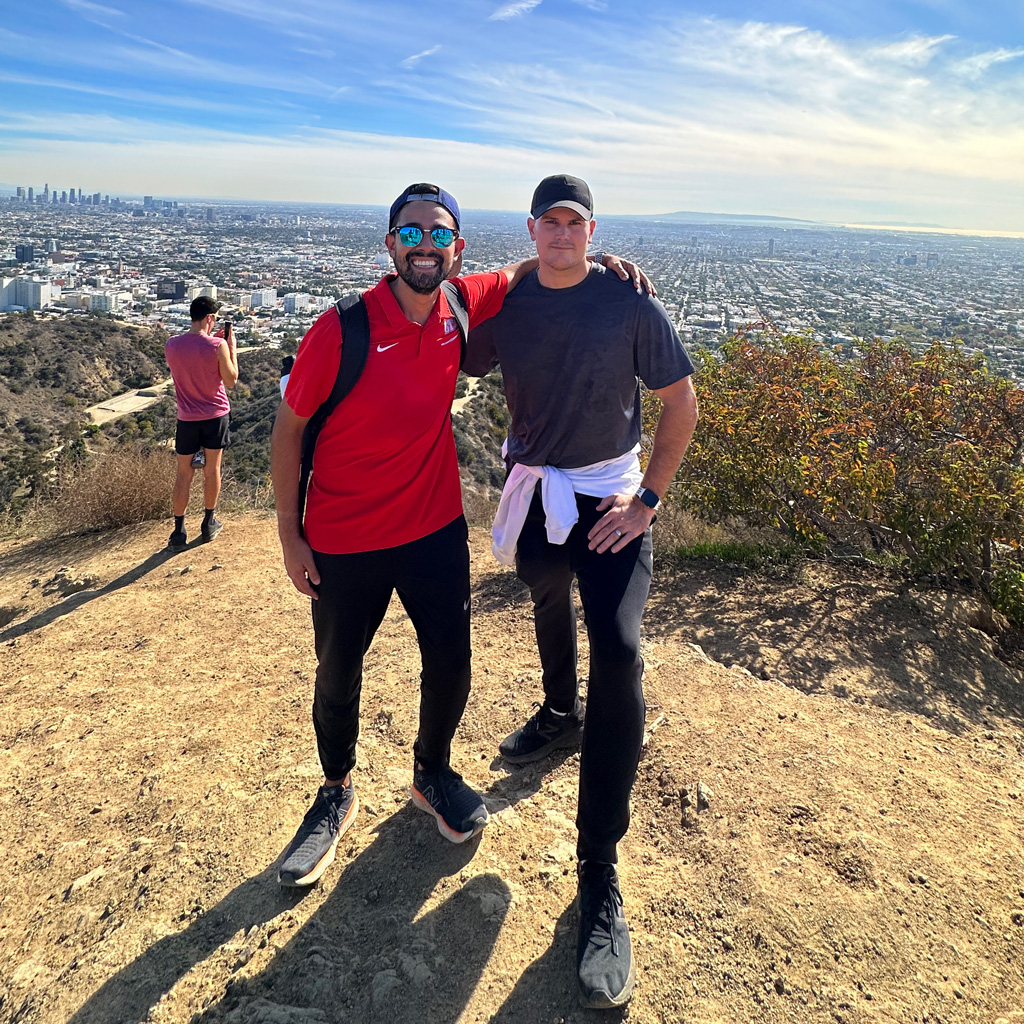 The venture was the passion of St. Thomas theology faculty member Danny Hernandez '08 who organized and executed the student-driven participation in conjunction with his Social Justice curriculum. The sojourn through Skid Row, Homeboy Industries, the Los Angeles Mission, and the Ventura Correctional Facility provided riveting accounts of the raw reality evident every day – unsheltered people, often suffering from abandonment, mental illness, drug addiction, struggling to stay safe and stay alive.
"Students can be presented with a high volume of facts and textbook examples of extreme hardship but what they experience firsthand is much more powerful," Hernandez says. "I wanted that practical component outside the classroom."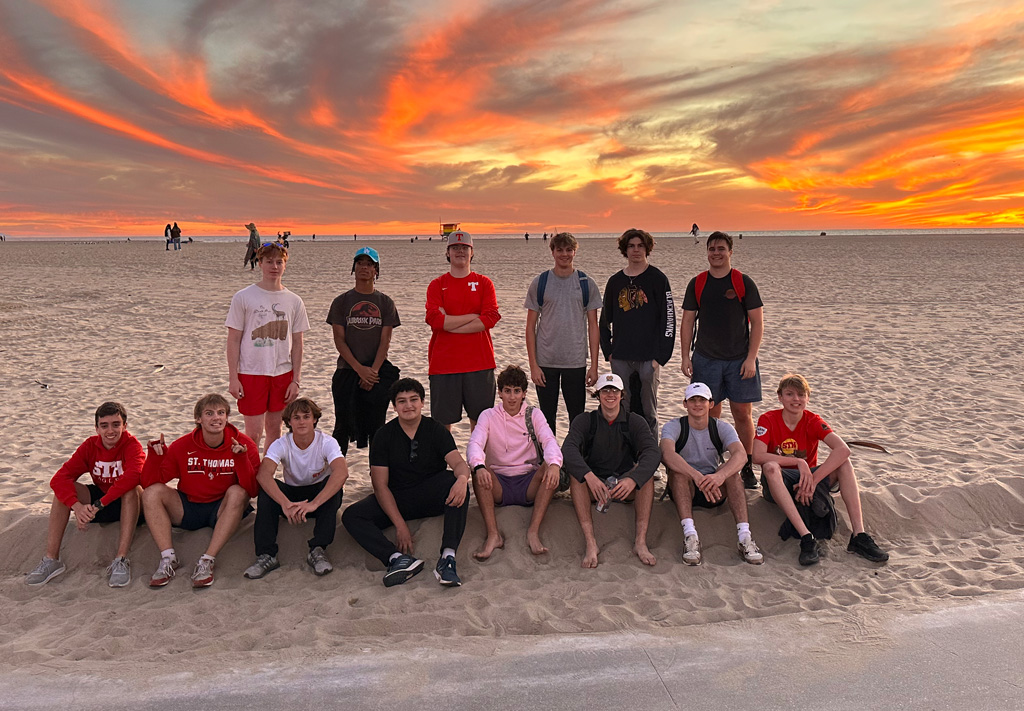 The Southern California contradiction is starkly illuminated. Within proximity of glittering beaches and glossy skyscrapers lit by perpetual sunshine, in the shadows of 28 Fortune 500 companies, is the contrast between vibrant wealth and acute misfortune. Perusing iconic locations such as the Hollywood Hills or the Santa Monica pier, visitors are confronted with malnourished bodies wrapped in old coats, the young and old begging for their next meal.
The St. Thomas contingent resided at the Dolores Mission School committed to serving low-income families in Boyle Heights in East Los Angeles. The first day's four a.m. alarm signaled the start of preparing breakfast and serving through the Guadalupe Homeless Project.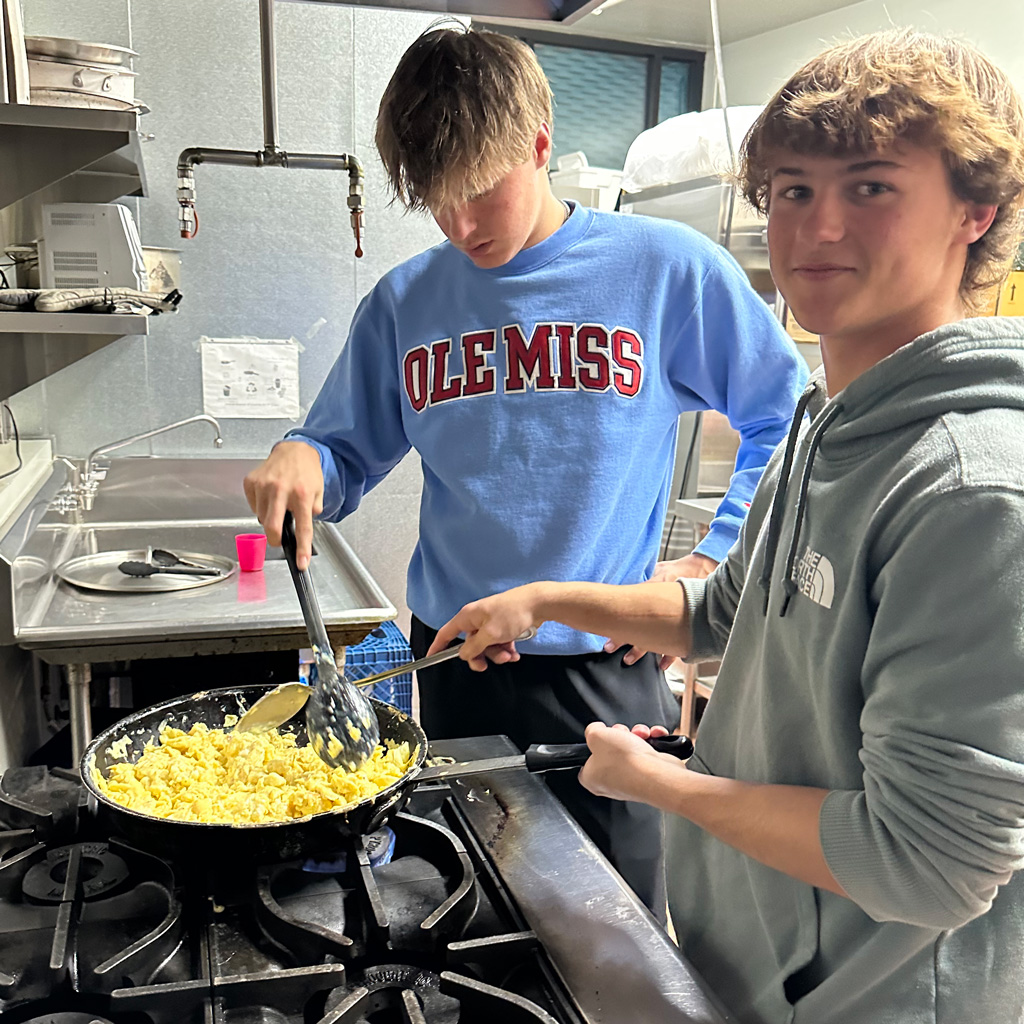 The following day the St. Thomas group took an eye-opening tour of the Ventura Youth Correctional Facility. They walked the prison and heard the affirmation of a corrections officer affectionately known among the inmates as "Family." His succinct message to Eagle students struck with sledgehammer effect: "First, decide if you're a participant or merely a spectator. If you participate, be curious about those who are here but not judgmental. Their lives are often filled with despair and without hope. How do you treat those who have perhaps done horrendous things, those who are poor and vulnerable? Treat them with human dignity."
Homeboy Industries was founded by Fr. Greg Boyle, a Jesuit priest with more than three decades of ministry to gang members in Los Angeles. The local saint of unconditional compassion stokes a mission of redemption and the largest gang intervention and re-entry program in the United States. His vision has morphed into a series of businesses including a restaurant, a bakery, a café, and farmers' markets created to provide optimism, training, and support to previously incarcerated and gang-involved men and women.
Hernandez is driven by Fr. Boyle's genuine concerns and actions to create lasting solutions to gang violence – people reinventing their lives in forward-thinking, social enterprise endeavors. His book Tattoos on the Heart honed on his work in the ghetto and a breathtaking series of parables galvanized by his faith is a staple in Hernandez's Social Justice teachings.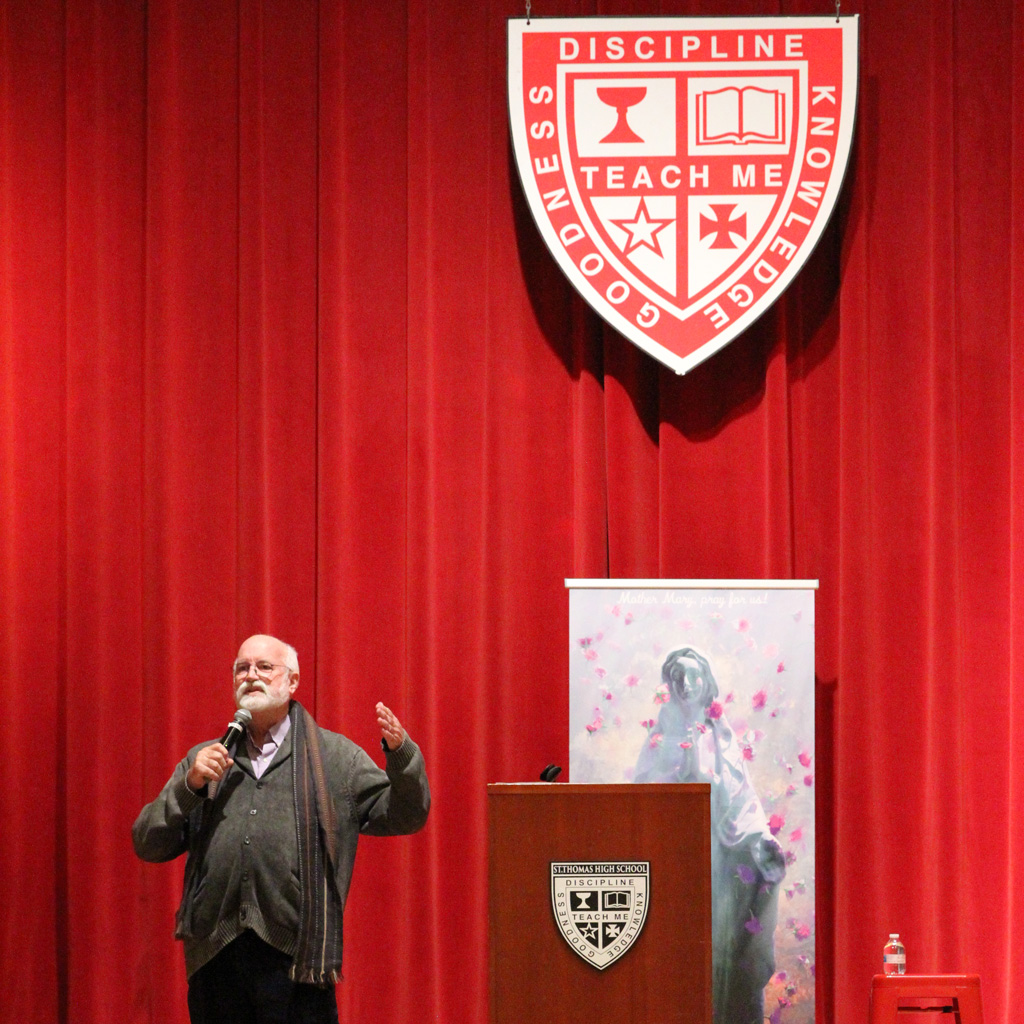 During the 2021 academic year, the St. Thomas community engaged in Fr. Boyle's compelling testimony and riveting example of dedication to God through service to others. He delivered a stirring talk, first to Eagle students, faculty, and staff, and later to St. Thomas parents and supporters.
He hoped that the interaction and dialogue would invigorate and inspire the school's collective spirit to provide relief wherever they may encounter deprivation.
"We are all asked to live as though the truth is true," Hernandez says. "The real question is do we live our faith? We say forgive others but do we practice it? The messages throughout our stay were of dignity and that we all require forgiveness and reconciliation, to see Christ in those who are on the margins."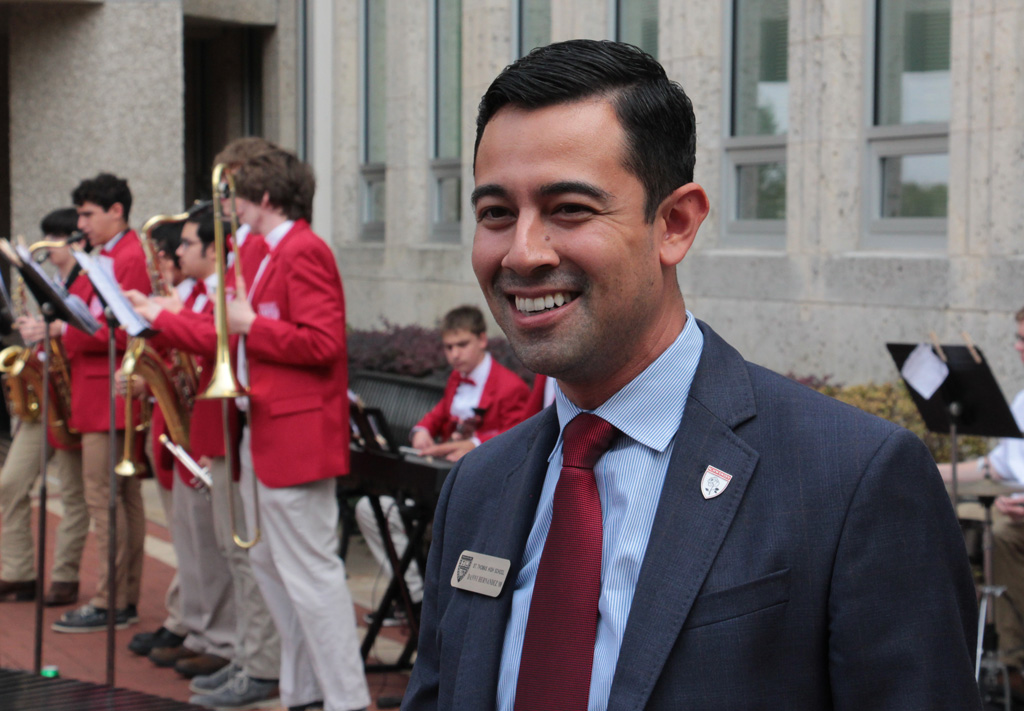 Hernandez is for all practical accounts a lifelong Houstonian but Los Angeles and the West Coast are forever calling to his soul. It is where he and his brothers were born, where his parents met and married before relocating the family to Houston when Danny was five years old.
He laments the history of homelessness in Los Angeles that goes back nearly 150 years, to the late 19th Century. Skid Row's proximity to the rail station meant the area was many transplants' first point of contact with the city, and therefore where they settled.
Themes emerged throughout the subsequent decades – economic downturns, mass migrations, and a lack of affordable housing led to more and more homelessness – those on the streets, in makeshift shelters, living in tents and cars and RVs. The annual count rises by 14% per year like clockwork, presuming a 2022 total north of 80,000.
Weeks and his Eagle brothers moved in and around the Skid Row encampment, a district directly east of downtown Los Angeles that covers roughly three square miles and spans more than 50 blocks and contains the largest concentration of homeless people in the world.
"I came to Texas from Detroit when I was 14 and was familiar with lower-class housing. Skid Row was shocking," Weeks says. "The sheer numbers are difficult to describe or comprehend.
"I've grown up getting up at 5:00 a.m. to work the soup kitchens for the homeless. The trip reinforced not to forget my roots, and what I was previously taught – look out for the underdog, give back to people, and remember that everyone is equal. We all bleed the same blood. Volunteerism is only a temporary solution. I hope to become successful as an adult and contribute to something more permanent, invest in the quality of life for others."
At the same time as the immersion trip, St. Thomas faculty member and director of student activities Joe O'Brien spearheaded a Thanksgiving food drive for the Loaves & Fishes Soup Kitchen, a program run by Magnificat Houses, a Christian assistance ministry.
St. Thomas students raised more than $3,000 and generated more than 350 meals largely prepared by Hernandez's father Jesus at his flagship Arandas Bakery. The remaining funds helped restock the kitchen's pantry with non-perishable items. This latest interaction was consistent with the multi-tier goals of O'Brien and Hernandez – raising awareness through education and showing solidarity with those who are in in dire distress. Affecting short-term relief may fuel continuing answers that address systemic causes.
Hernandez and St. Thomas Campus Ministry emphasize to students that social justice is not merely an opportunity but an obligation. It is a duty to help others. To serve others. To illustrate those virtues of courage and justice toward and for and through others. To assist people who are afflicted. To help alleviate someone's worry and fear. And at times, that translates into putting food on their table.
Giving without seeking reward.
Hernandez's pedagogy is built around the Seven Themes of Catholic Social Teaching – Life and Dignity of the Human Person; Call to Family, Community, and Participation; Rights and Responsibilities; Option for the Poor and Vulnerable; Dignity of Work and the Rights of Workers; Solidarity; and Care of God's Creation. He first established a connection with Fishes & Loaves during his sophomore year at St. Thomas. In recent years Hernandez has collaborated with Eagle fathers Rafael Garcia and Ed Cordes in leading students to aid the under-served in Honduras. His participation is in the commitment that institutions of higher education have to better the human condition of all people.
In the book of Genesis, Abraham is told that he has been blessed, and thus must be a blessing to others. That's one essence of Christianity – if given an undeserved gift (life, talent, success), then give freely in return.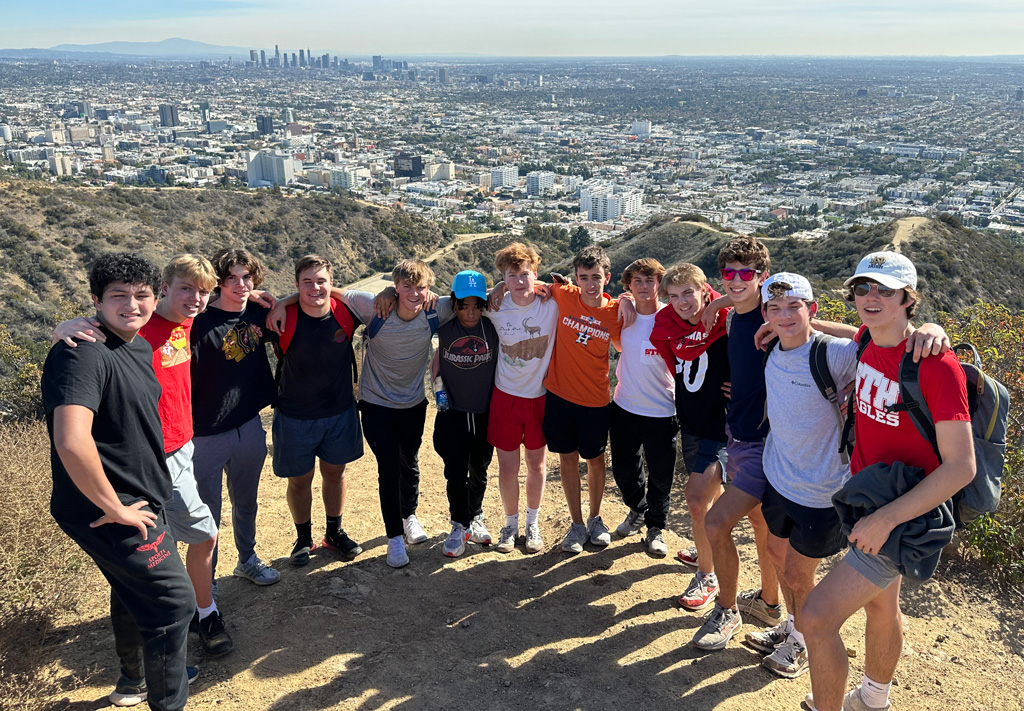 "Initially, students often see service as a checkmark, an obligation," Hernandez says. "And then many seek additional opportunities because the deeds make them feel good. Still not enough. Service is about how we help each other and mutual respect. It can't be about a provider and a recipient. That causes a disconnect. There's no equality. I want our students to understand they are better people because of their participation and are being made better people because of whom they are engaging. The two sides make each other better and save each other."
Hernandez is boldly continuing a St. Thomas legacy of service, appealing to his senior scholars through activism, volunteerism, and community-based learning.
Embracing a personal responsibility for each individual, based on talents and gifts, to contribute to the common good. And at the same time, promoting a culture of social justice that can flourish when society removes barriers so that each person can contribute fully to the betterment of that society.
Human dignity. A call to family.
Catholic. Basilian. Teaching Goodness, Discipline and Knowledge since 1900.