The scholar crushes the calculus quandary in a manner to make forever wizkid Will Hunting take notice.
The baller is a working 6'8" paragon of the switchable, floor-spacing, rim-running, spoke-in-the-wheel center archetype, sprinkling himself all over a box score.
The musician delivers a vibrant, full-throttle tone, or quiet and pensive, within a collective wavelength, unifying around a common melody before launching into a cumulative sensation.
The politico relentlessly dives into campus government and seeks other like-minded initiators working toward the same goals of improving student life and representing the student voice.
The four are ultimately one. Jake Pike '23 – the latest St. Thomas renaissance man without limits, the king of compartmentalization discovering inspired ways to blend his academic, athletic, and artistic passions into a rare, broad breath of resounding success.
A National Merit Commended student. A member of the National Honor Society for the second consecutive year. A rip roaring 4.7 GPA. A self-proclaimed "math guy" excelling through a slew of rigorous curriculum. The demands of the fall semester were Advanced Placement Environmental Science, AP Statistics, AP Literature, Advanced Philosophy, Advanced Economics, Broadcast Journalism.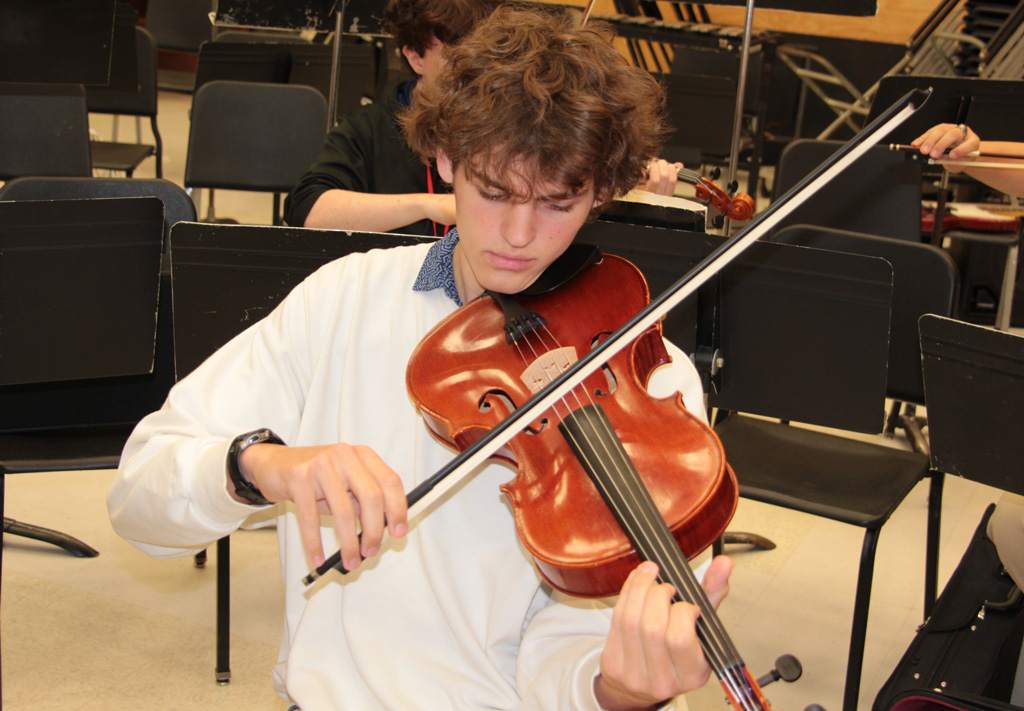 And Orchestra.
Viola anyone?
All for starters.
In the spring, let's mix in War and Antiquity, and Christ in Popular Culture, just for variety.
Jake Pike is emphatic when he declares "I'm very competitive at everything I do and it starts within my family."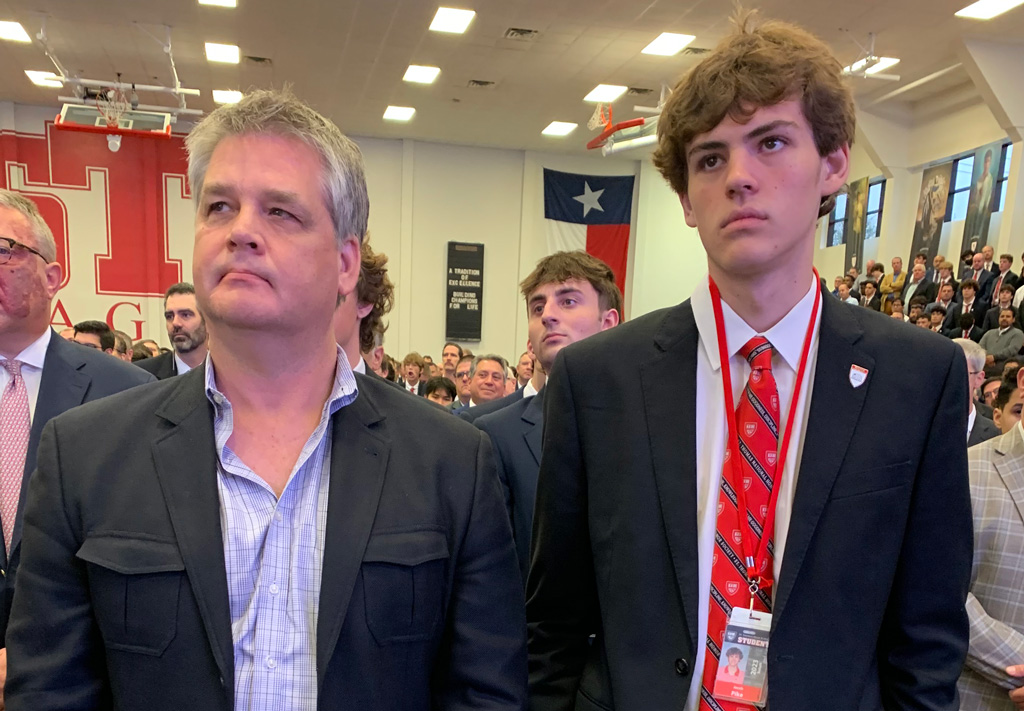 Credit Jake's parents Troy and Connie for setting the high-arcing standard Pike gained to appreciate during his grade school years and the pronounced influence of two older sisters. Izzy Pike is now earning her undergraduate degree in speech pathology at the University of Oklahoma. Frankie is a brand and advertising coordinator at 3rd + Lamar, a sleek Austin-based media company and advertising agency.
The lessons learned were to measure only against potential. Pike's mantra is "strive to be the best" whether dissecting the motives of Macbeth or pursuing his musical muse or moved by the beat of a bouncing basketball.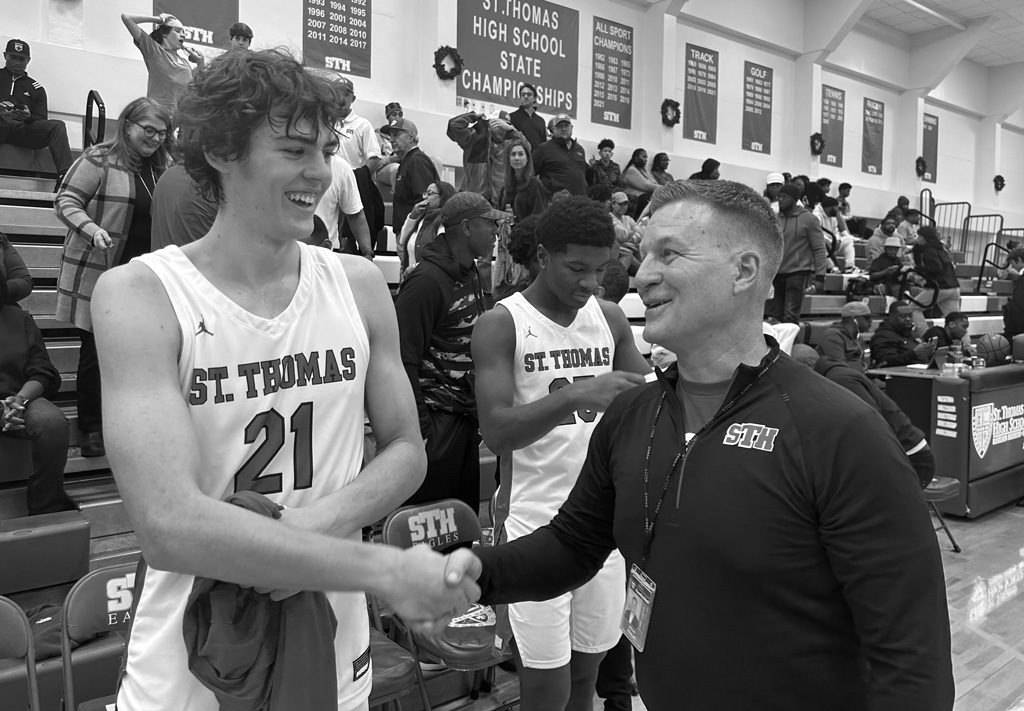 "I challenge myself to achieve as much as I can," says Pike. "At St Thomas, we have the opportunity to pursue a wide range of interests. I organize every day and understand what's required. Orchestra is built into the academic schedule. I utilize study halls. Basketball practice is later in the afternoon. Time management is essential and doable. If you invest the work, regardless of the interest or expertise in the particular discipline, the results never suffer."
Pike specifically selected St. Thomas out of Spring Branch Middle School as the canvas to paint his vast technicolor megapixel expressions.  Kind of sort of.
"My parents made me," Pike says with a laugh as to how he decided on high school. "Actually, I wanted to go to public school where many of my friends were attending. But when the options were exclusively private, I did choose St. Thomas. It was the most welcoming."
The fit proved most favorable. And Pike's turbo-charged senior routine wasn't complete without serving as the 2022-23 St. Thomas student body president. Pike and vice president John Heyburn successfully campaigned on a "represent the people" platform and are determined to fulfill their manifesto.
"I was involved in student government in middle school and it was always my plan to run for president," Pike says. "John and I are aggressive in pushing the agenda, whether it's senior privileges, extracurricular or fundraising activities. We helped generate more than $40,000 for the walk-a-thon. Our pledge was to have the students benefit and have the best possible year."
Pike is every college admissions counselor's dream candidate. Driven. Curious. Amiable and eminently sensible. An ego that rattles in a thimble. And the hoop dreams have delivered his grandest public identity. Eagle Basketball Head Coach Karnell James knows Jake as "a natural leader. Guys gravitate to him. His energy is contagious. He's the coach on the court that every championship-caliber team needs."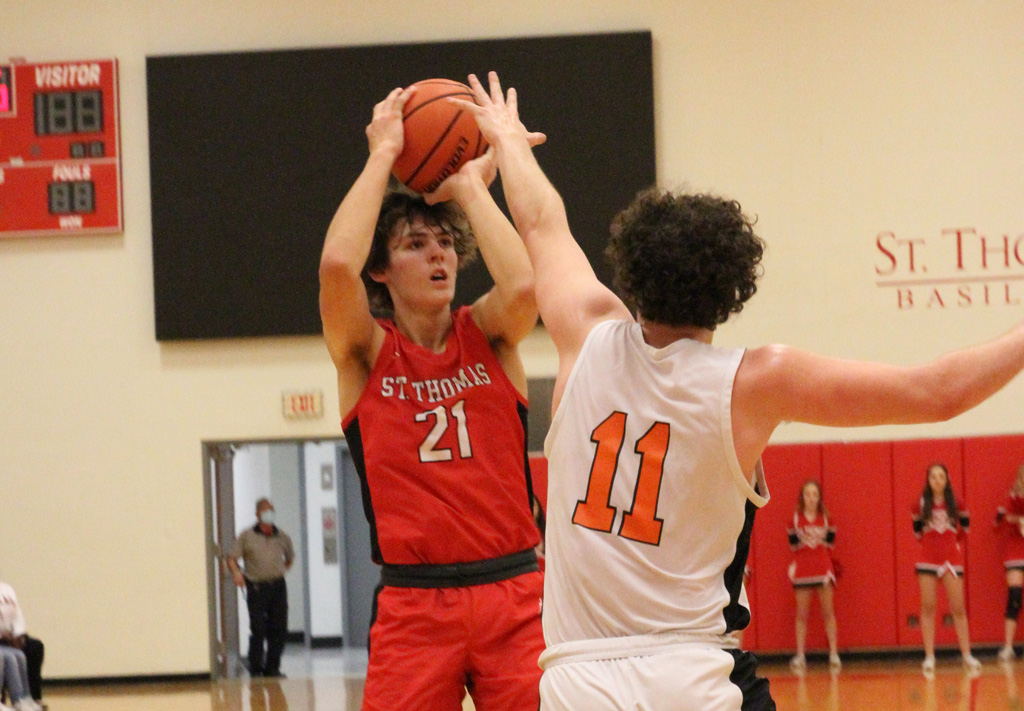 Once upon a schoolboy time, a player with Pike's size would have been parked in the painted area within close proximity to post up, dunk, block some shots, gobble a double-double. But Jake possessed broader horizons and exemplifies the transformation of frontcourt players who have turned the hoopworld inside-out over the past two decades.
Pike has morphed into The Great Enabler. Whatever is demanded, he can make possible. A quick hyper-skilled big man with a feathery jumper and pump-and-go move (he should start a gas station chain). Passing and poise on one end, speed and length on the other.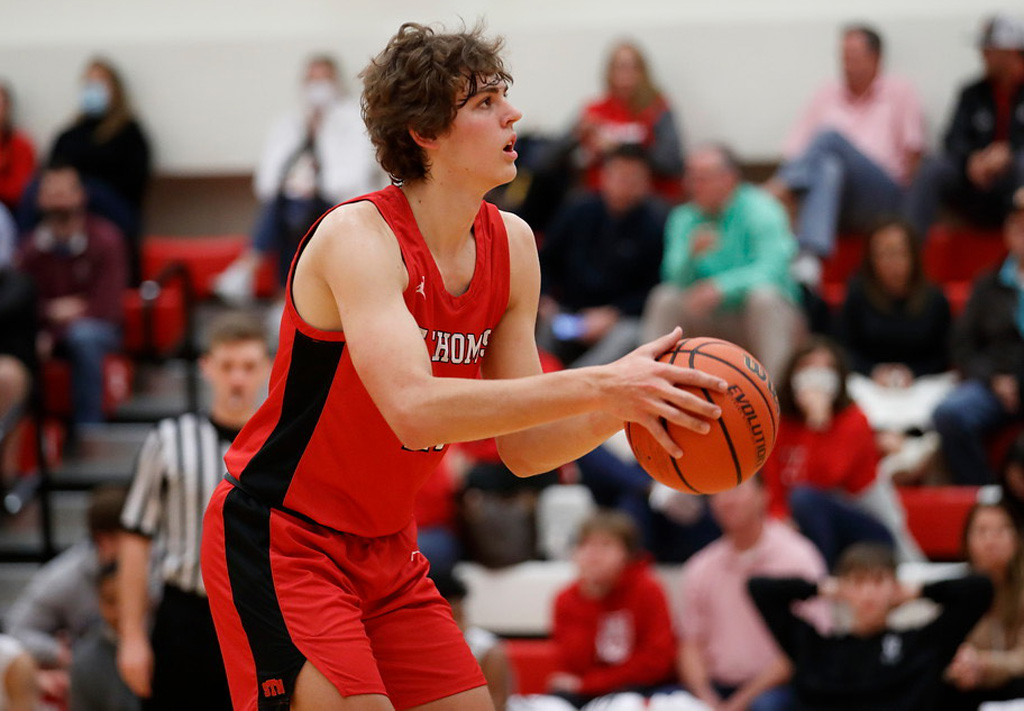 "He's developed into a knockdown shooter," James says. "Great timing defending aggressively without fouling. Positions and rebounds in traffic. Can finish and make free throws. Plus, he's a mature, stabilizing presence. Nothing rattles Jake."
Through the swirling chaos of COVID-19, Pike's sophomore and junior seasons were slammed with the repeated interruptions and shutdowns related to the pandemic. Pike augmented his development on the competitive summer circuit with the Houston Defenders AAU program that featured Chris Johnson and Jamari McDowell, a pair of primo guards who would sign with the University of Kansas. Pike demonstrated he could thrive in the five-out scheme with players running spread pick-and-roll and shooters spotting up around an army of nasty drive men.
But Pike's most emphatic impression on James came days after he accepted his first head coaching position in April 2020.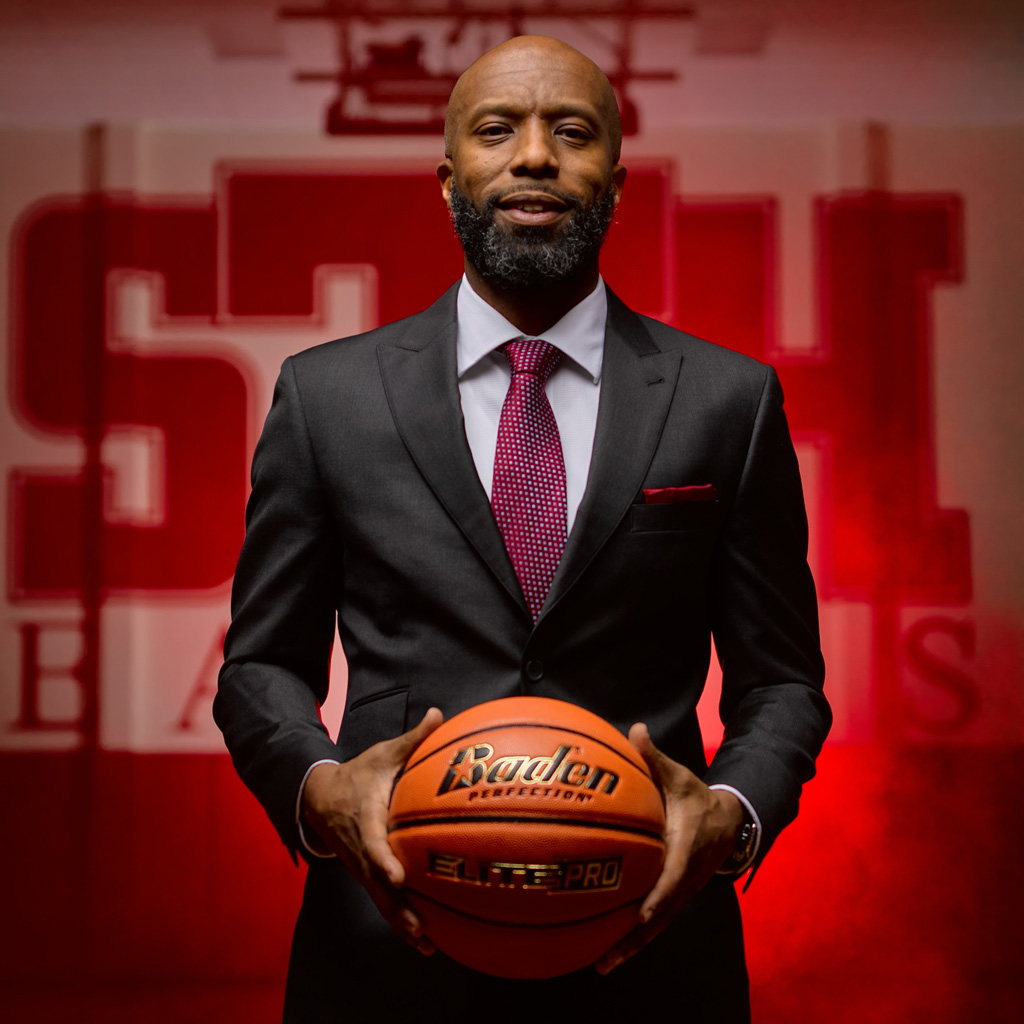 "We immediately lost three starters. It was man overboard in many instances," James says. "Jake was a 6'7" ninth grader and could have transferred anywhere in the city. He met with me and said 'I'm staying with you.' He believed in the school, believed in the program, believed in me. I cannot tell you what that meant personally. I'm thrilled that his senior year is being rewarded with a season that is making all of us proud."
Perhaps Pike the math guy is drawn to a game about spacing, the geometry, the puzzle of it all. His hardwood linear solution requires no simplex algorithm to derive the correct answer.
"State championship. That's all I want."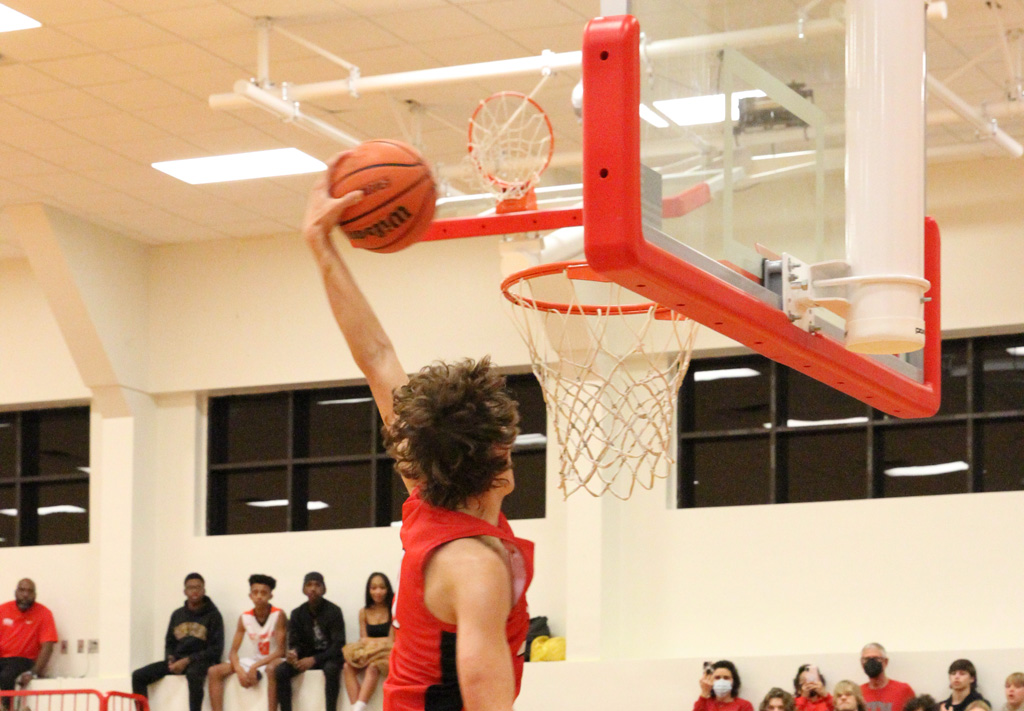 Eyes on the prize. With Pike as the fulcrum pivoting with the feisty, dynamic talents of J'Mar Franklin '24, Aron Valentine '24, and Evan Levy '25, the Red & White roared into the New Year with a gaudy 15-1 win-loss record – one of the best beginnings in program history – and a lofty state ranking among the power elite private schools.
"We have a tight group always looking to improve," Pike says. "The chemistry is strong. We know we can rely on each other regardless of how a game unfolds."
On the court, in the classroom, in raucous discussions, or in contemplative solitude, Pike is all about testing himself, calibrating his strengths and minimizing his weaknesses in the midst of daily trials, deepening his self-control and commitment. For next.
"He sees the biggest picture and the end game for adult success," James says. "Jake is taking full advantage of attending a premier college preparatory school. He's pouring in the work now so that future options will present themselves, in basketball or wherever his talents take him."
Eagle Fight Never Dies!