Austin Burke '23 and Damian Wilson '23 earned finalist acclaim in the 68th annual National Merit Scholarship Program.
The two exemplary scholars are being considered for 7,250 Merit Scholarships worth more than $28 million – National Merit $2,500 Scholarships; corporate-sponsored Merit Scholarship awards; and College-sponsored Merit Scholarship awards.
Burke and Wilson separated from an initial group that included more than 1.5 million students who entered the prestigious 2023 NMS program. The National Merit's mission is to recognize and honor outstanding student scholars throughout the United States.
Semifinalists were chosen based on scores from the Preliminary SAT/National Merit Scholarship Qualifying Test.
Seventeen additional St. Thomas scholars were selected as National Merit Commended Students from the Class of 2023, recognized for "the exceptional academic promise demonstrated by their outstanding performance on the qualifying test used for program entry." The St. Thomas total in this esteemed category grows to 56 since 2017 and now includes:
Benjamin Brown
Isaac Cabello
Caleb Davis
Evan De Anda
James Dickinson
Thomas Erb
Alexander Erickson
Nathaniel Hulvey
Garner Kelling
Vincent Le
Evan McCarthy
Caleb McClure
Charlie O'Leary
Jacob Pike
Caleb Sudkamp
Frans Vingerhoedt
Bradley Wight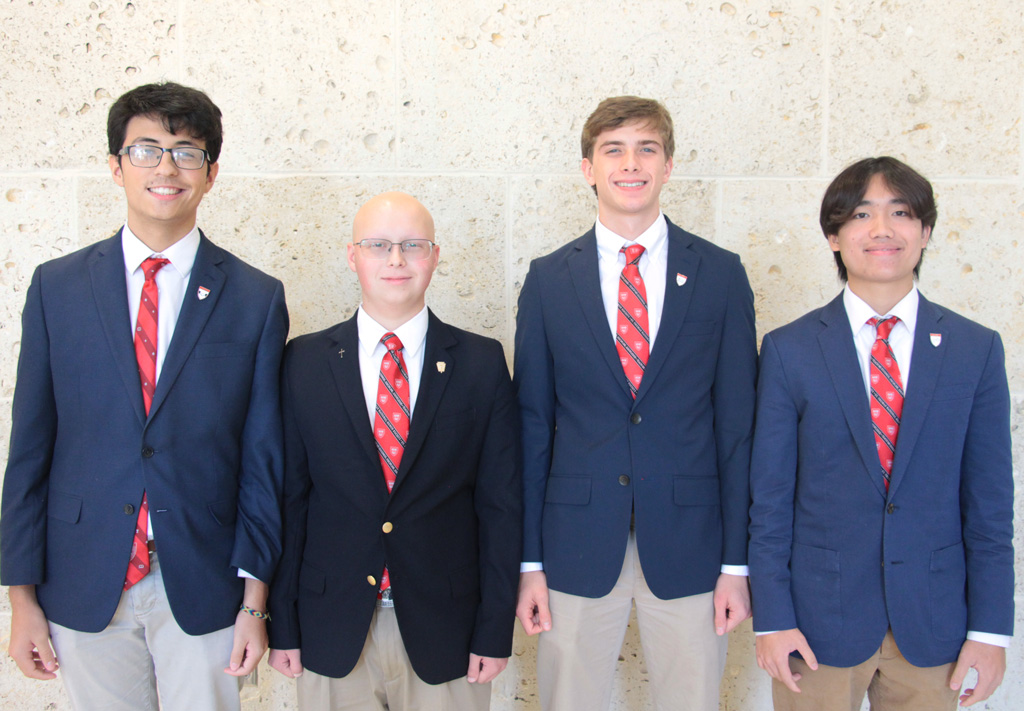 Ten additional St. Thomas scholars were named to the College Board's National Hispanic Recognition Program. Invitation for the honor was extended to students who scored in the top 2.5 percent among Hispanic and Latino PSAT/NMSQT test-takers in the region.
The latest group bringing the St. Thomas total to 42 in the previous six years includes:
Mateo Albrecht '23
Eduardo Carstensen '23
Manuel Cohen '24
Eldon De Anda '23
Rafael Joseph '24
Zackary Parker '23
Isaac Perez '24
Adrian Pruneda '24
Luka Salcedo '23
William Wittman '24
Luke Anigbogu '23 and Samuel Pratt '23 were selected for the National African American Recognition Program, and Levi Finkelman '24 and Thomas Roberson '24 for the National Indigenous Recognition Program.
These current results confirm St. Thomas as a leading college preparatory experience in Texas and a top-10 Catholic institution in the region. Much of a student's readiness stems from learning opportunities as freshmen and sophomores. St. Thomas builds on those experiences to provide students with a robust application and pedagogy for the SAT, a critical component in becoming a Finalist.
Sponsored by the not-for-profit National Merit Scholarship Corp, the program requires applicants to submit an extensive application that includes recommendations and an essay along with their academic record and subsequent SAT scores, school and community involvement, employment, as well as demonstrations of leadership and awards.
Catholic. Basilian. Teaching Goodness, Discipline and Knowledge since 1900.