The gritty, often-heartbreaking tale of justice, duty, love, and revolution. And the acclaimed St. Thomas Theater adapting the world-famous Les Misérables under the astute direction of Dan Green has never achieved grander heights, pulling out all the stops in a tremendously lavish, emotion-charged production at Cemo Auditorium in the Moran Fine Arts Building.
Shrewdly fashioned from the daunting 19th-century Victor Hugo novel and 1980s stage smash, Green's Les Mis delivered beautiful melodies and unbridled emotions. His stellar cast performed the towering passion with operatic intensity – belting tunes with a score that races through your head days after the live engagement. The gorgeous multilayered vocal arrangements operated on a visceral, gut level, whumping the audience in the solar plexus.
"The story illuminates the beauty of real love as sacrifice," Green says. "I hope and suspect that such a theme resonates soundly with everyone who has embraced their vocations, with everyone who has chosen to love God's creation. As we talked through the work in rehearsal, those ideas were at the core of the motivations for many of our actors in this production. Many of the seniors have said as much, which is deeply profound."
A responsible citizen fleeing his troubled past across war-ravaged France. Accessible and exhilarating in equal measure.
Evan De Anda '23 captivated as Valjean, the ex-con-done-good with a passionate belief that people can change. Stalwart Damian Wilson '23 mesmerized in his 10th and final St. Thomas production as the nemesis Javert who was equally determined that they cannot. As the conflicted male leads, Wilson's haunted constable and De Anda's hero took full command of the stage, offering the vocal dexterity and rich emotional center that doesn't necessarily come with that same territory.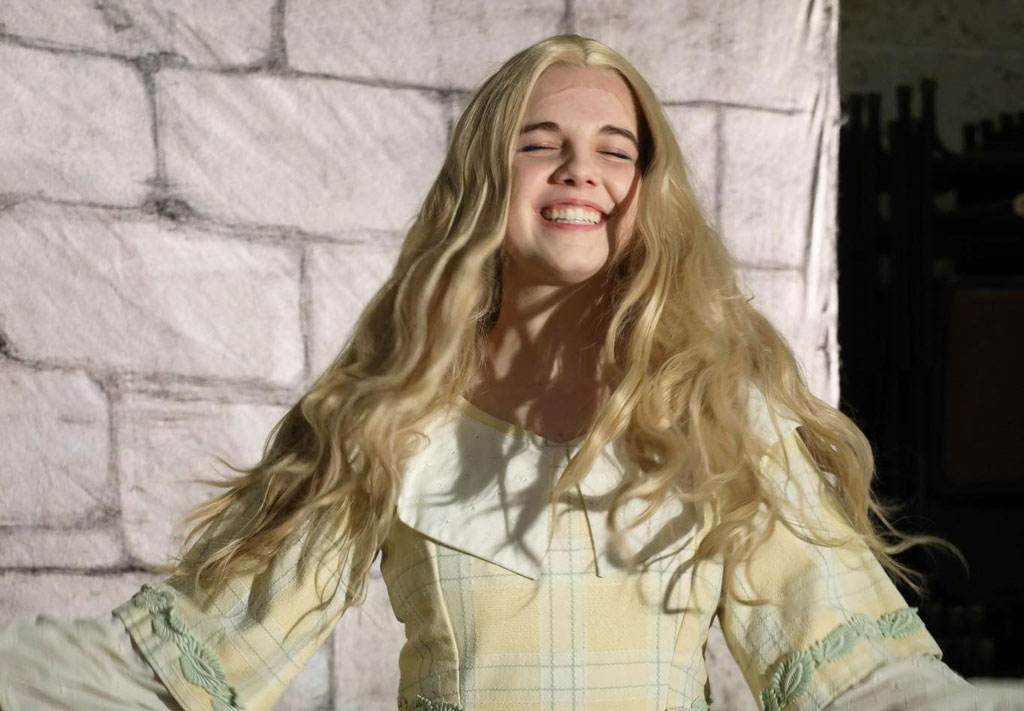 Female performers Danielle Bartholet (Incarnate Word Academy '23 and eighth STH production) and Flinn Burrell (IWA '24) made individual impacts with their soulful turns as doomed Fantine, pure and vulnerable but strong and defiant, and Eponine, both possessed of a vulnerability and humanity that the almost superhuman Valjean and Javert seem to lack.
"When we broke down each scene, we couldn't help but have conversations about the joys and hopes and mercies we all hope for," Green says. "Valjean's redemption, Javert's tragic rejection of mercy, Fantine's sacrifice, and Eponine's sacrifice all make sense only in a world illuminated by God's divine presence."
Sublime Zoe Yokubaitis (IWA '23 and 10th STH production) and Casey Salvatierra '23 played the gruesome Thenardiers with delicious mirth and malice. A wondrous Katie Dickinson (IWA '24) as the grown Cosette. Stirring Jorge Morfin '23 (eighth STH production) as the student leader Enjolras.  The raw Aidan Naquil '23 (sixth STH production) as handsome student rebel Marius who also had Cosette and Eponine pining vainly for his love.  Newcomer Jonah Moore '26 as the street urchin Gavroche. The battles, the poverty, the degradation, and the danger all felt relevant and real with a cast that never missed a note. Alongside stunning solo performances were surging ensemble numbers. Les Mis provided an epic scale and sweep that intensified the darkness that made it so relentless.
Fueled by rage and fired by wholesale suffering, this relatively simple story was massively complicated by the time it mixed with the Paris Uprising of 1832.  Besides being a feast for the eyes and ears, Les Misérables overflowed with rousing action and ravishing romance.
Green's grand reputation for directing vibrant musicals grows more striking each season. This latest in a series of uber-creative productions was a haunting and thrilling inspiration.
"We just like challenging everyone with difficult work that, if done correctly, can serve as its reward," Green says. "We've built giant, 30-person ships, castles that grow to two stories, the west wing of the Beast's castle … 16-foot-tall, man-eating plants … spinning stages, stairs that light up, haunted mansions, New York City. It was time for us to build Paris, a barricade, and some working cannons."
Throughout the experience in full dazzling display was the unrivaled set construction and fluid scenic design spearheaded by faculty member Phil Gensheimer and assistant principal Daniel Bryant '93, along with the rich talents of choreographers Katie Macaluso and Teresa Stranahan, music director Josh Wilson, and the expertise of audio/visual coordinator Chris Hodge.
Perfectly marvelous was Les Mis. At a time when all of us – perhaps each in our own way – are hoping for a brighter tomorrow.
Fight. Dream. Hope. Love.
Catholic. Basilian. Teaching Goodness, Discipline and Knowledge since 1900.