Barrett Gregory '18 was an eyewitness to the chaos engulfing a generation in crisis – of identity, of purpose, of religious belief. Through the collateral damage accentuated by the COVID-19 pandemic, he endured his own measurable personal pain, yet emerged from the darkness as a prized college graduate primed to advance into an established and thriving family enterprise.
In the wake of his December 2022 commencement at Texas A&M University, Gregory was energized with a surge of anticipation and freedom, his confidence fortified by a reignited Catholic faith. But Gregory was perplexed to be suddenly positioned at an unexpected crossroads.
Gregory was armed with a degree in Industrial Distribution Engineering with a minor in Spanish. His plight wasn't how to leverage his newly-learned skills to support best his future, his lifestyle, and eventually his family. He didn't question, "Will I be successful?" But instead, "What will my impact be?"
Marketplace or missionary?
Gregory isn't dramatic when he says that the verdict "until the final weekend was, 'No, I am absolutely not going to be a missionary.' I had gone to school my entire life to become an engineer and that's what I was going to do. But within a 36-hour window, while strongly considering the possibility, I completely flipped. My spiritual director asked, 'What are you holding onto that is preventing you from making this commitment?' Ultimately, I saw that the Lord was calling me despite everything I had dreamed of beforehand."
Gregory paused his transition to a corporate position in a company his great-grandfather launched nearly 80 years ago. Instead, he accepted a two-and-a-half year commitment with the Denver-based Fellowship of Catholic University Students (FOCUS), a Catholic outreach program founded at Benedictine College in 1998. Within weeks of his A&M graduation, Gregory was packing for the University of Arkansas where he'll anchor an expansion campus and confidently share the Gospel living as an authentic missionary disciple.
Gregory's gift is a charism, an internal zeal where he relishes "a desire for everyone I come across to know Christ and His love for them. That's my driving force."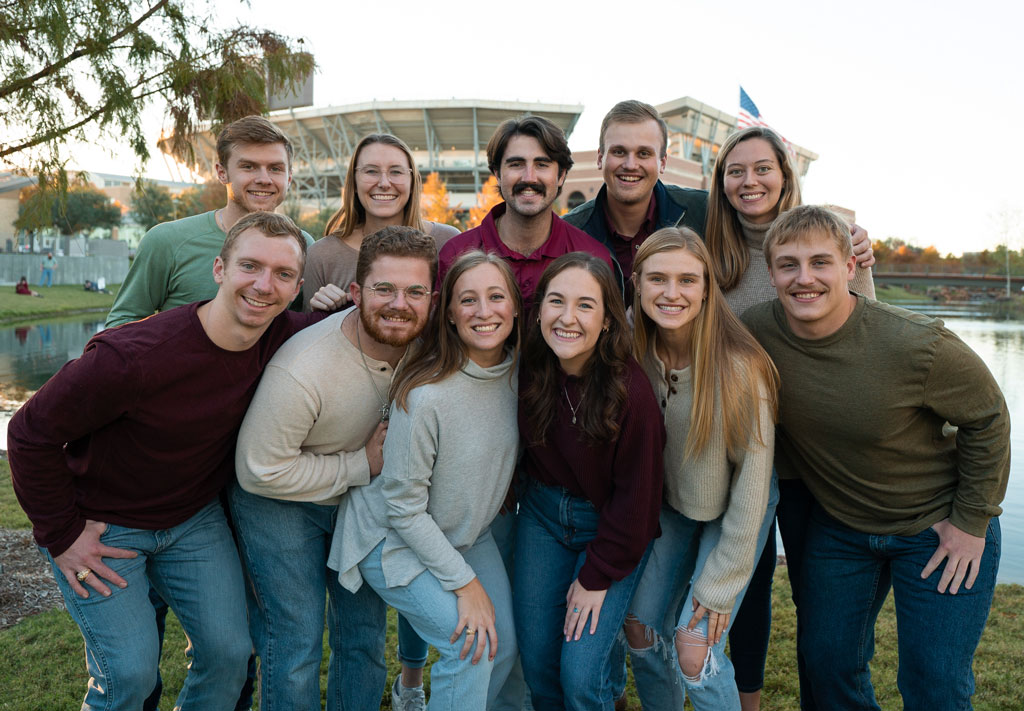 Gregory is role modeling to others through actions, rather than words, to serve as an apostolic, walking with men and women and bringing about conversion. The choice required steep self-reflection to identify a path for spiritual exercise. Gregory's faith is no longer what he was taught, but rather who he is and what he is doing through practice in the real world.
Think of a boxer undergoing a crucible of physical and emotional training – practice and technique, repetition and discipline – molding confidence to become one with his or her weapon.
Gregory re-enters the front lines embracing a call to a new evangelization with the intent to change the culture for Christ.
"The number of college students suffering from depression is astounding," Gregory says. "I was there. I've seen it. Individuals from all walks are without a solution aside from what the outside world is selling them. The role for FOCUS and me is to begin building that community where one can feel loved and wanted through Church. And I'm on fire to help provide that for those men and women."
The Catholic stronghold at Texas A&M where Gregory spent the last four and a half years remains largely invisible in plain sight. The St. Mary's Catholic Center serves approximately 17,000 students, representing roughly a quarter of the university's enrollment. More than 300 students attend daily Mass and more than 5,000 on weekends. There are more than 15 student-led organizations and more than 30 retreats are hosted every academic year.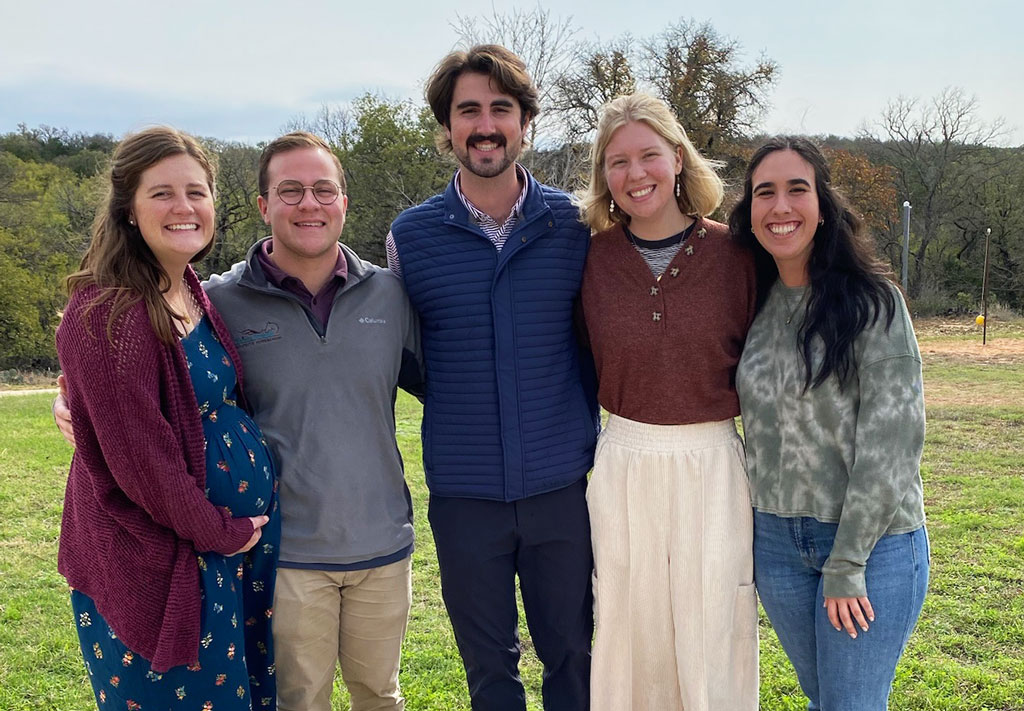 From this rich, fervent terroir, Gregory's renewed Catholic beliefs took firm root. But only through diligence and endurance to persist through difficulty did he gain the clarity to focus on progress, not perfection. Gregory unabashedly admits he "lost his faith for years, left the Church. I realized how empty and how much pain I was in during that time."
During the fall of the 2020 pandemic year, Gregory was rescued with "a breakthrough, a certain understanding that whatever I was going through, good times and bad, I wasn't doing it alone anymore. In those tough times when I felt the world was ending, I had someone to go to and lean on – Jesus Christ. And in the joyous moments, I knew He was the source of all goodness that would bring ultimate fulfillment."
Gregory continued to explore practical ways to witness the Gospel. He joined bible study groups that evolved into his discipleship. He pursued deeper involvement, recognizing that Catholic doctrine is not read once and magically understood at the soul level. It's a lifelong quest that requires dignity, candor, and most of all unflappable perseverance.
"I was going to Mass and hanging out with a great community of believers," Gregory says. "Jesus was in a circle of my life but other priorities were still seated in the middle. I was challenged to make Christ the center with everything evolving around him. I began scheduling my life around my faith rather than filling in the leftover blanks with my faith."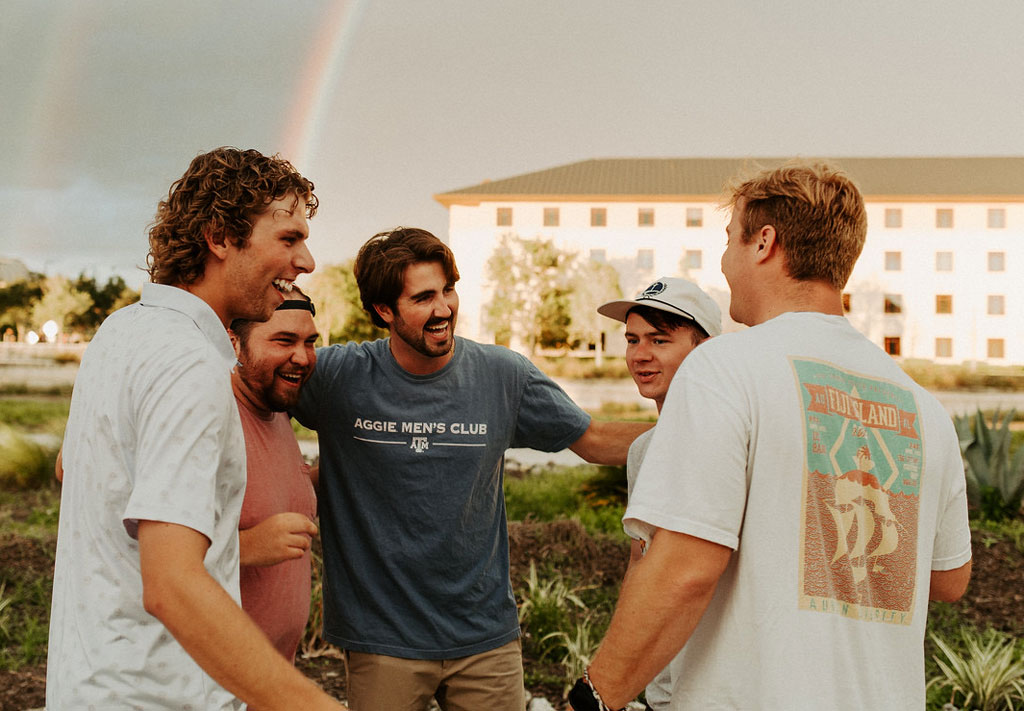 Gregory's engagement was compatible with his four-year involvement with Aggie Men's Club, a non-Greek social fraternity of Christian brotherhood that explores spiritual goals. Through that membership, Gregory participated in a mission trip to Guatemala in 2019.
In 2021, Gregory saw his resolve further strengthened by "a radical trust in the Lord." He participated in a recruitment weekend for FOCUS and joined a missionary team during his final semester in College Station working 30 hours a week.
Gregory paved the groundwork last summer for his courageous undertaking with an internship of sorts in Ave Maria, Florida with roughly 450 of the more than 860 FOCUS missionaries. In January, he participated in the weeklong SEEK23 conference in St. Louis with nearly 19,000 in attendance. The immersion was more than prayer and inspiration – daily Mass, tutorial, networking, team tactical discussions and workshops, and track-specific sessions on evangelization. Gregory and his fellow FOCUS missionaries then continue training throughout the year.
The ground-breaking FOCUS team at Arkansas is led by director John Paul Hernandez, a Strake Jesuit graduate who recently served two years at Texas State University. Interestingly, Gregory discovered one of his group's collaborators in Fayetteville is St. Thomas Aquinas University Parish. Each FOCUS missionary fundraises 100 percent of his or her salary, building a team of mission partners. Gregory brings a priceless depth of savvy understanding that any innovative start-up would desire for the ripe mix of success.
"I have the soft skills to embrace stepping into new situations and building meaningful relationships to be long-lasting," Gregory says. "There are two concepts that I'm keeping in mind first and foremost (in making this move). One, the value of a single soul is infinite and incomprehensible. Second, I may not witness someone completing the journey, steps 1-10. I may only see steps one and two, or only one. But I have an ultimate trust and cooperation with God's will that I may be an instrument in someone coming to know Christ. And that's all I can do, all I am called to do."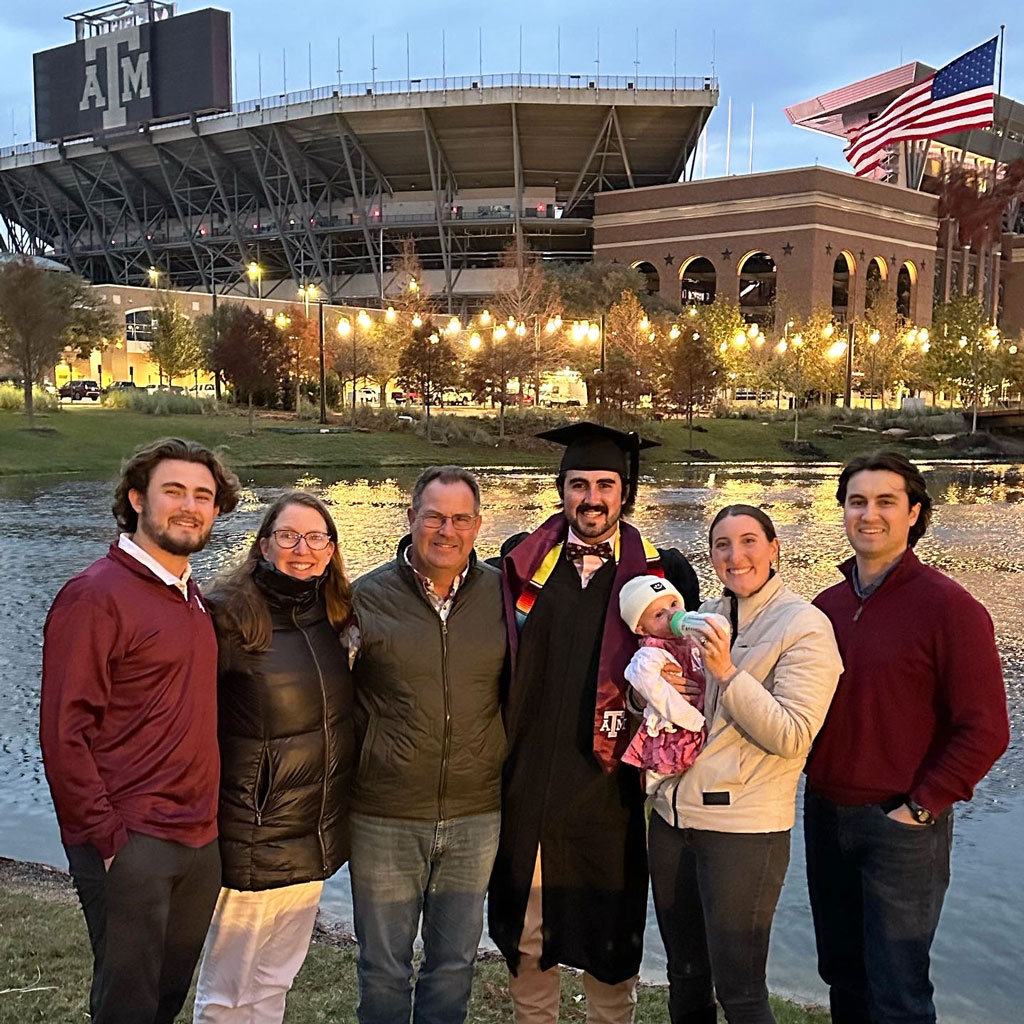 Barrett and his brothers Jeremy '15 and Griffin '21 followed their father's educational legacy at St. Thomas. Doug Gregory '87 is the president of Gregory-Edwards, Inc, a three-generational mechanical contractor company headquartered in Houston and founded in 1946 by his grandfather Kegham "Greg" Gregory. He was succeeded by Doug's father Bill who expanded the operation's premier reputation for dedication to quality, service, and excellence.
For years, Doug and his wife Meryl have been steadfast advocates for the unique mission of St. Thomas and the Basilian Fathers – subtly, overtly, emphatically. They're consistent contributors to the Round-Up and Eagle Eye Sporting Clay efforts which raise significant funds benefiting St. Thomas scholarship programs. Meryl has been a driving force within the renowned St. Thomas Mothers' Club, serving as president and impacting as an argent volunteer through countless causes, events, and initiatives.
Their sons reflect the Basilian ideals rooted in goodness, discipline, and knowledge. As a senior, Jeremy was the co-recipient of the St. Thomas Principal's Service and Leadership Award. He then earned his Bachelor of Science in Mechanical Engineering at the University of Arkansas and is currently a sales engineer at HTS Engineering in Houston. Griffin is studying at the Mays School of Business at A&M and will participate in a student exchange program this summer in Germany that includes his former St. Thomas classmate Luke McLane '21.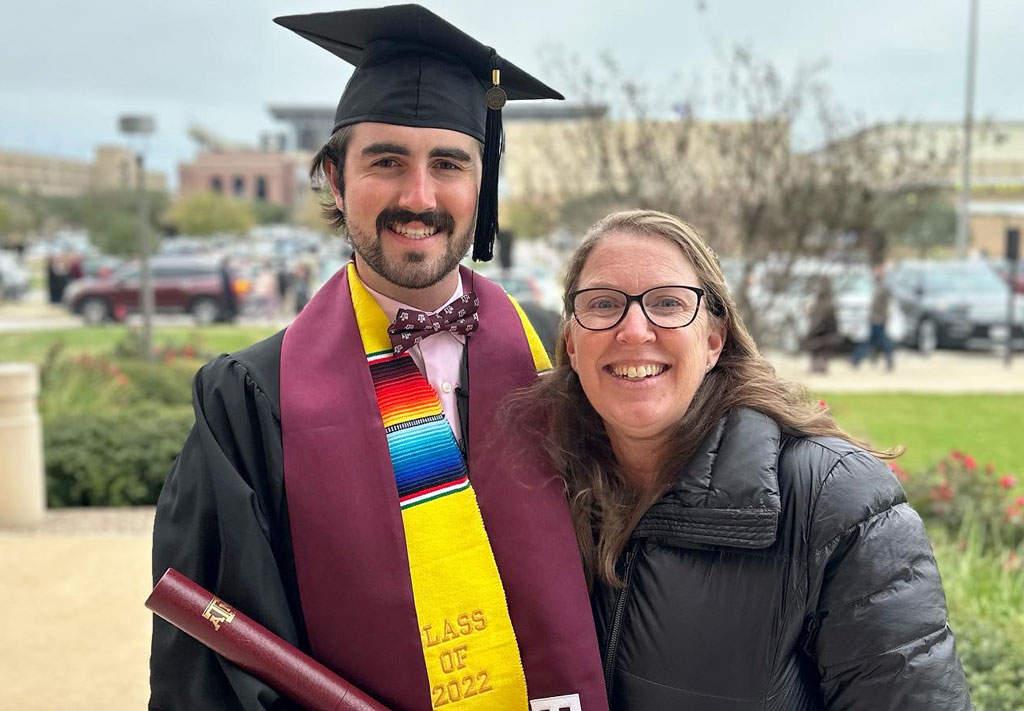 While the three Gregory siblings all display the divine virtues that define a Good Man of St. Thomas, Doug and Meryl are particularly struck by Barrett's "determination to do a good job for the Lord."
Doug says that "when Barrett was making his decision, he came to us and asked, 'What do you think I should do?' We said, 'You have to do you.' And he did."
Gregory embarks on his journey conveying an irrepressible joy that comes from intent, perspective, and gratitude. In a turbulent world, he humbly relishes contributing as a servant leader. Empathy over ego.
"There's a void in the lives of thousands of students and they can't determine what's missing," says Gregory. "I can find ways to relate to almost everyone I come across. I've experienced loss in my life by any definition – physical, emotional, monetary, a loved one. My perspective is not, 'I'm Barrett. I'm a missionary and I have all the answers.' It's more like, 'I know what stress or struggle or despair is like, and I want to walk with you through that.'"
In the constant 21st-century crossfire, many of society's and the Church's once-thought-to-be accepted tenets are under assault. Barrett Gregory discovered in the midst of the bedlam that his Catholic faith is a fulcrum to transform confusion and complexity into that which is clear and manageable. His focus is now fixed on the process. The task at hand. One action by action. Simply stated, never easy but certainly straightforward. One small gain by one small gain. Inspiring others. Driving impact. Selflessly leading by the Lord's example.
Catholic. Basilian. Teaching Goodness, Discipline and Knowledge since 1900.