St. Thomas proudly celebrated this spring three exemplary scholar-athletes extending their careers to the collegiate level.
Caleb Davis '23 to the Massachusetts Institute of Technology football.
Jake Pike '23 to Lehigh University basketball.
Zach Rocha '23 to Southwestern University football.
The prolific performers have accomplished multi-all-state recognition and are high-impact multi-sport leaders. Team captains. Significant achievers on the field, on the court, in the classroom, and in the community. And all embody the diverse Catholic Basilian experience that serves as the St. Thomas identity.
Earlier in the academic year, February's traditional National Signing Day provided more than the usual Red & White salute for another host of acclaimed St. Thomas student-athletes seizing the chance to continue their ambitious aspirations.
In the midst of the coast-to-coast carnival capping the wild world of frenzied football recruiting that long ago reached peak absurdity came the engrossing journeys of wide receiver Preston Bowman '23 to the Colorado School of Mines, lineman Tyler Langin '23 to Villanova University, and linebacker Jack Ward '23 to Drake University.
The fabulous threesome was flanked on the Cemo Auditorium stage by a multi-task trio from Eagle Baseball – Logan Duplantis '23 to the University of Dallas, Anthony Equale '23 to Washington University in St. Louis, and Brayden Hollie '23 to Galveston College.
The nine Eagles all navigated less than certain paths, conquering odds and obstacles without allowing frustrations, ill-timed circumstances, and self-doubt to douse their determination or deter them from fateful destinations.
The dual festivities confirmed the continuing elite achievement and expansive growth of Eagle Athletics since Mike Netzel assumed the leadership role in 2006. St. Thomas captured the 2021 TAPPS All-Sports Trophy, earning the prestigious distinction for the ninth time in the previous 11 years that the honor was awarded. Within the quest toward 19 state championships spread across seven sports, more than 155 relentless Eagles have now extended their careers to the university level.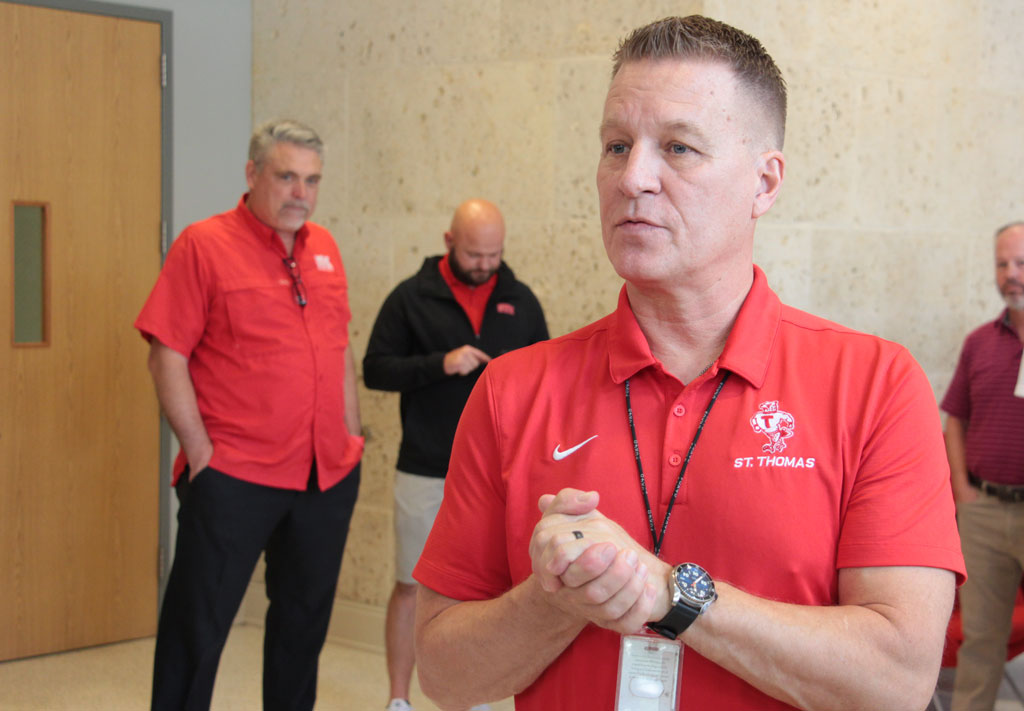 "Our entire focus is development," Netzel says. "The key to being successful is seizing what is needed to get the most desirable outcome. What do you need to do to reach your goals academically, athletically, and personally? That's the goal for St. Thomas, that's what we do. This is about a 40-year decision for our families, not a four-year one."
Eagle Fight Never Dies!