The St. Thomas campus community was blessed to gather for the first student body Mass of the 2023-2024 academic year and celebrate the Solemnity of the Assumption of the Blessed Virgin Mary "taken up body and soul to the glory of heaven."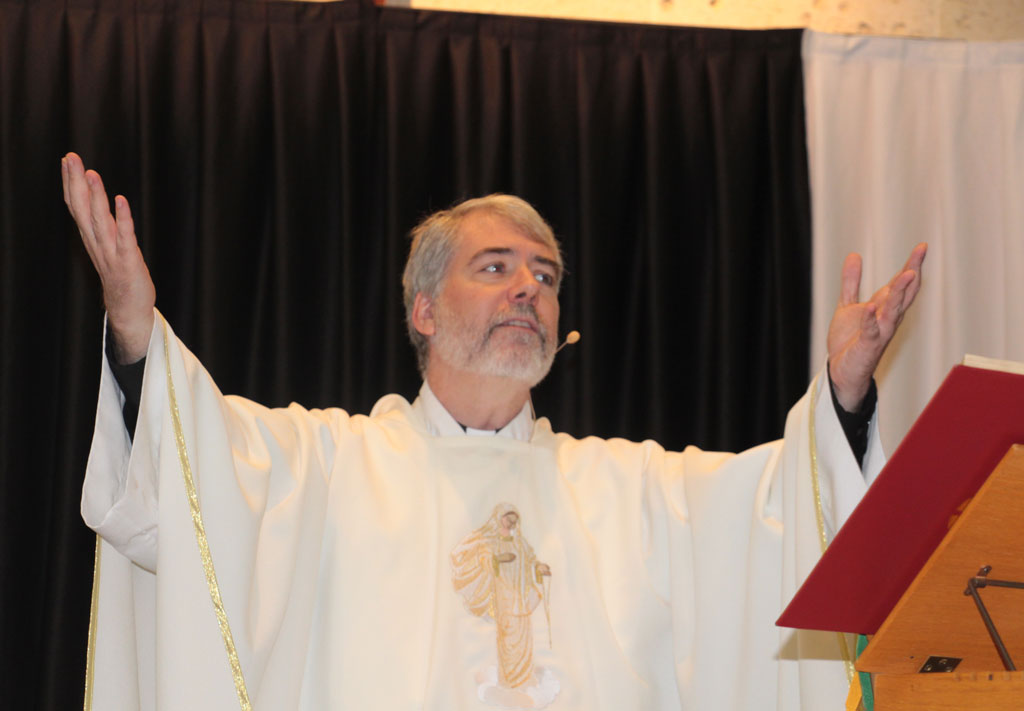 President Fr. James Murphy, CSB served as the principal celebrant for an attentive gathering in Cemo Auditorium, honoring Mother Mary's obedience, humility, and faithfulness.
The Gospel reading – St. Luke's account of Mary's visitation – focuses on the second of the joyful mysteries of the Rosary. Months into her pregnancy. Mary rushed to her older cousin Elizabeth who was also expecting a child. The passage includes the Magnificat when Mary praises the greatness of God and all He has done for her.
In his homily, Fr. Murphy spoke to "Mary as the exemplar because she stayed true to God's promise and was assumed into heaven. As we begin this school year, let's look for opportunities to show God what will make Him proud and show each other what will confirm God's love for us. Let's be proud of ourselves and allow God to be proud of us."
In Rome, Pope Francis urged the faithful and a crowd gathered in St. Peter's Square to adopt a "spirit of service," pointing to the model of the Blessed Mother who the Holy Father described as a "woman of service" to her neighbor.
"Our Lady travels almost 150 kilometers [about 93 miles] from Nazareth to reach Elizabeth's house," Pope Francis noted. "Helping is costly, to all of us. We always experience this in the fatigue, patience, and worries that taking care of others entails. Think of the many people (who) travel every day to and from work, and the many tasks they perform for others; think of the sacrifices of time and sleep in caring for a newborn or an elderly person; the effort in serving those who have nothing to offer in return, in the Church and in voluntary work. It is tiring, but it is ascending upwards, it is reaching heaven! This is true service.
"Let us try to ask ourselves: Do I live my work and daily occupations with a spirit of service, or with selfishness? Do I devote myself to someone freely, without seeking immediate advantages? In short, do I make service the 'springboard' of my life? May our Mother, assumed into Heaven, help us to climb higher each day through service and praise."
Catholic. Basilian. Teaching Goodness, Discipline and Knowledge since 1900.