St. Thomas is embracing a robust schedule for the 2023 football season, featuring six home games, a first-time encounter with an established TAPPS power from Central Texas, and a neutral site match with a UIL program making its transition to varsity competition.
Lofty Expectations
The Eagles return a slew of proven, high-octane talents for the seventh season with head coach Rich McGuire (43-24, 25-4). Among the headliners are Humvee running back Johann Cardenas '24 (verbal Vanderbilt), electric quarterback Donte Lewis '24 (verbal Kansas State baseball), savvy receiver Luke Edgecomb '24, marauding linebacker Tyler Day '24, rising defensive Michael-Anthony Okwura '24 (verbal Cal), and ball-hawking defensive back Aron Valentine '24.
Eagle Football is number three in the preseason private state rankings by Dave Campbell's Texas Football, who vividly and proudly showcased Cardenas in the 64th edition of the iconic magazine.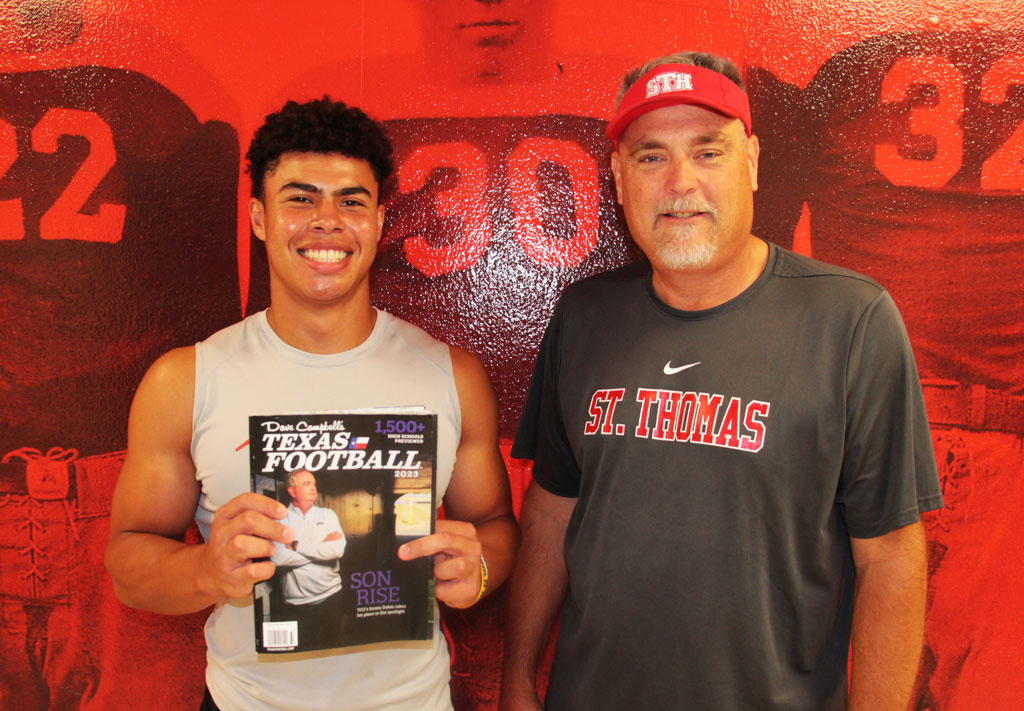 The Slate
The upcoming schedule will feature two five-game stretches with only one travel date.
For the second consecutive year, St. Thomas stages its season-opener against The St. John's School.
St. Thomas will welcome six-time state champion Austin Regents to Hotze Field inside Granger Stadium September 15. The Eagles will visit Kinkaid September 29 before navigating the four-game district race.
After hosting San Antonio Central Catholic and Tomball Concordia Lutheran, St. Thomas will travel to the University of Mary Hardin Baylor in Belton to face Walnut Grove, Prosper ISD's third high school expected to start as a Class 5A Division II program in 2024.
The annual series with St. Pius X is again positioned away from the once-traditional regular-season finale slot which is now filled by San Antonio Antonian.
Prime Position
St. Thomas is aiming to maintain measurable momentum after an energized 10-2 campaign and its winningest season since 2015. The Eagles advanced to their second TAPPS state semifinal in four seasons and fourth since 2014. Eagle Football entered the Division I postseason no. 2 in the Houston Chronicle private school rankings after seven consecutive weeks as the unanimous no. 1. St. Thomas closed no. 5 in the final Texas Football state poll. Eight Eagles were named to the Chronicle All-Greater Houston private team.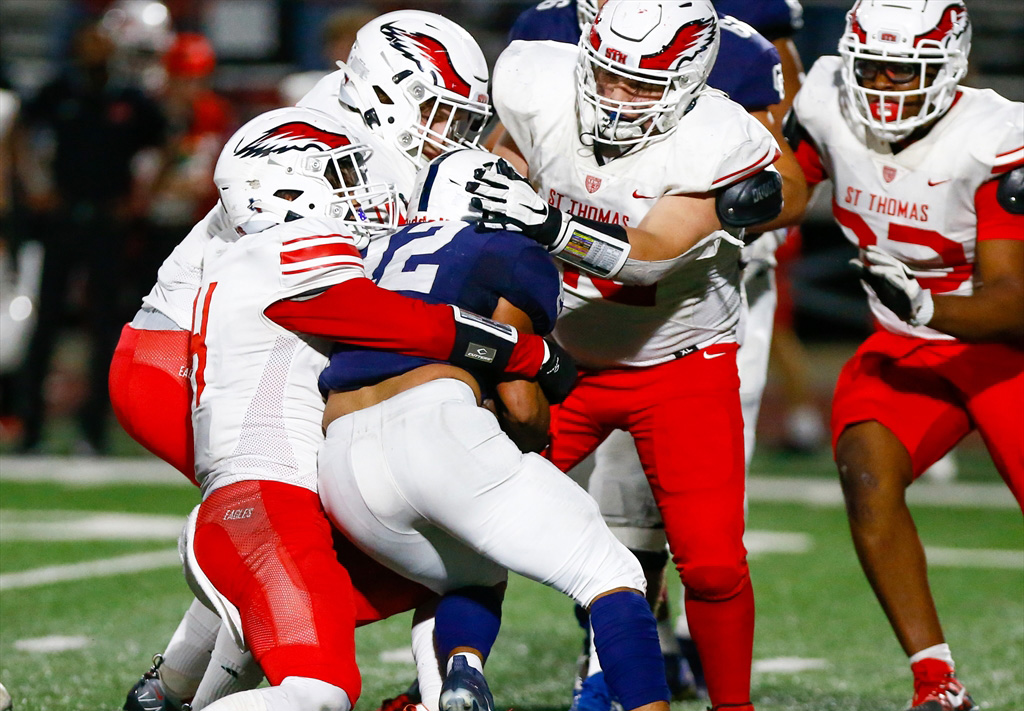 2022 St. Thomas Football Schedule
(Home games BOLDED; all games 7:00 p.m. unless otherwise noted)
Aug 25: ST. JOHN'S SCHOOL
Sept 1: at Lumberton
Sept 8: OPEN
Sept 15: AUSTIN REGENTS
Sept 22 PLANO JOHN PAUL II
Sept 29: at Kinkaid
Oct 6: SAN ANTONIO CENTRAL CATHOLIC
Oct 13: TOMBALL CONCORDIA LUTHERAN
Oct 20: Walnut Grove at the University of Mary Hardin Baylor
Oct 27: ST. PIUS X
Nov 3: at San Antonio Antonian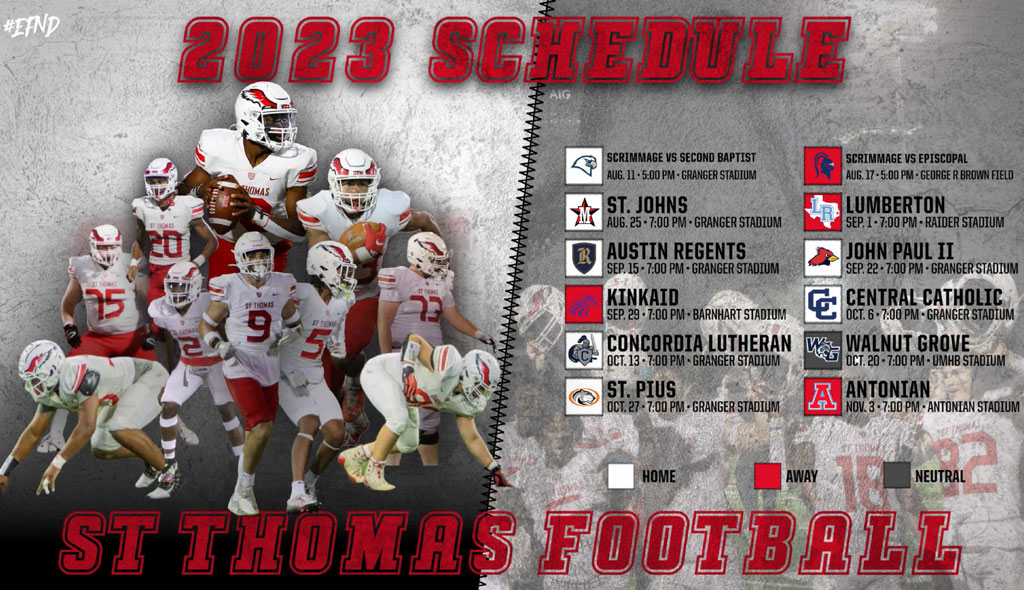 GAME-BY-GAME
AUG 25 • VS. ST. JOHN'S
The Eagles will aim for a second consecutive knockout of the Mavericks after a 43-28 victory in 2022 at Skip Lee Field. Lewis dropped a dizzy and delightful first varsity start with 477 total yards and six touchdown passes, three to breakout wideout Shaffer Henderson '23, and Cardenas turned beast-mode in the second half to thrust St. Thomas to a convincing triumph to launch the season.
SEPT 1 • AT LUMBERTON
The road opener will conclude a two-game series. Eagle Football handed the Raiders their only regular season defeat in 2022 which ended with a loss to Tyler Chapel Hill in the 4A Division I state quarterfinals to conclude an 11-2 campaign.  The play-making magician Lewis mesmerized in last year's staredown, romping and tossing for five touchdowns while Eagle Football's demolition defense feasted on four turnovers in a commanding 42-24 decision.
SEPT 15: VS. AUSTIN REGENTS
Following the open week, the Eagles will entertain a perennial championship contender from the TAPPS Division II ranks. In 2020, the Knights scored on a 69-yard interception return on the game's final play to dramatically take the state title after four straight runner-up finishes.
SEPT 22 • VS. PLANO JOHN PAUL II
The 42-0 runaway in 2022 was convincingly decided by halftime and indicative of a JPII season that concluded 0-8.
However, the previous Labor Day encounter in the inaugural Catholic Bowl required a pulse-pounding Eagle escape from a 10-point deficit late in the first half behind the workhorse Cardenas, startling jolts from receiver Cameron Price '22 (Yale), and a sudden late-tick takeaway from sledgehammer linebacker Jack Ward '23 (Drake University) to seal a 38-31 thrillarama.
SEPT 29 • AT KINKAID
The private school programs will meet for the eighth time in 10 years with interruptions courtesy Hurricane Harvey in 2017 and the pandemic in 2020. In that mix, Eagle Football posted three consecutive season-opening blows over the Knights by a combined margin of 109-51.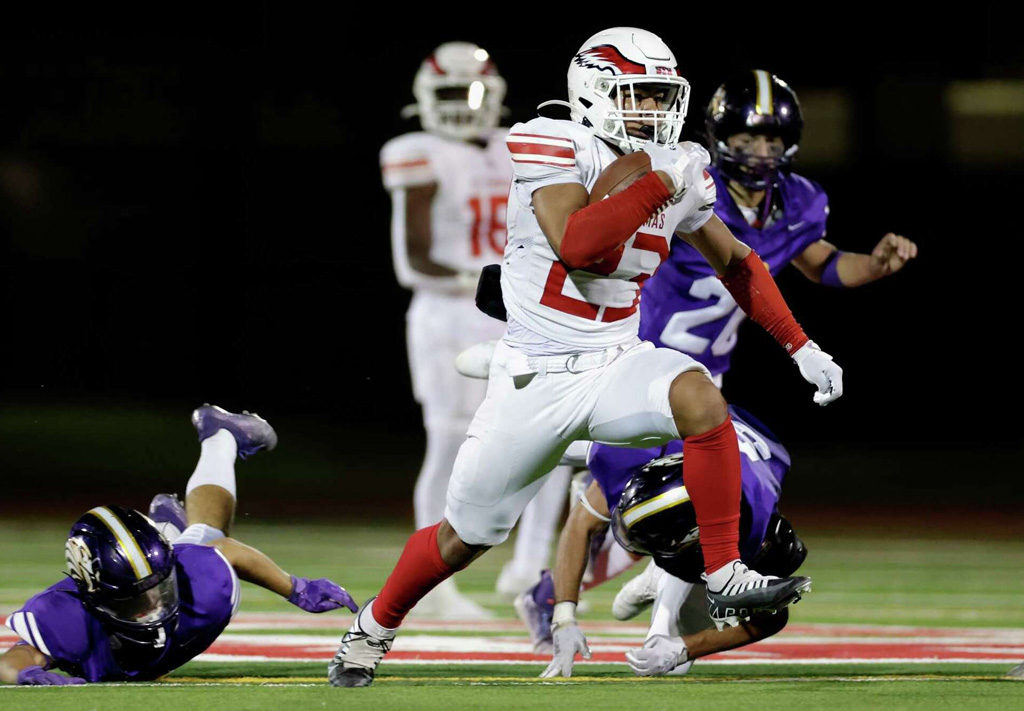 In 2022, the daring and darting Lewis threw four touchdowns, Cardenas roared for another with 178 rushing yards, and a gnarly St. Thomas defense forced three turnovers for a bullish 35-14 stomping.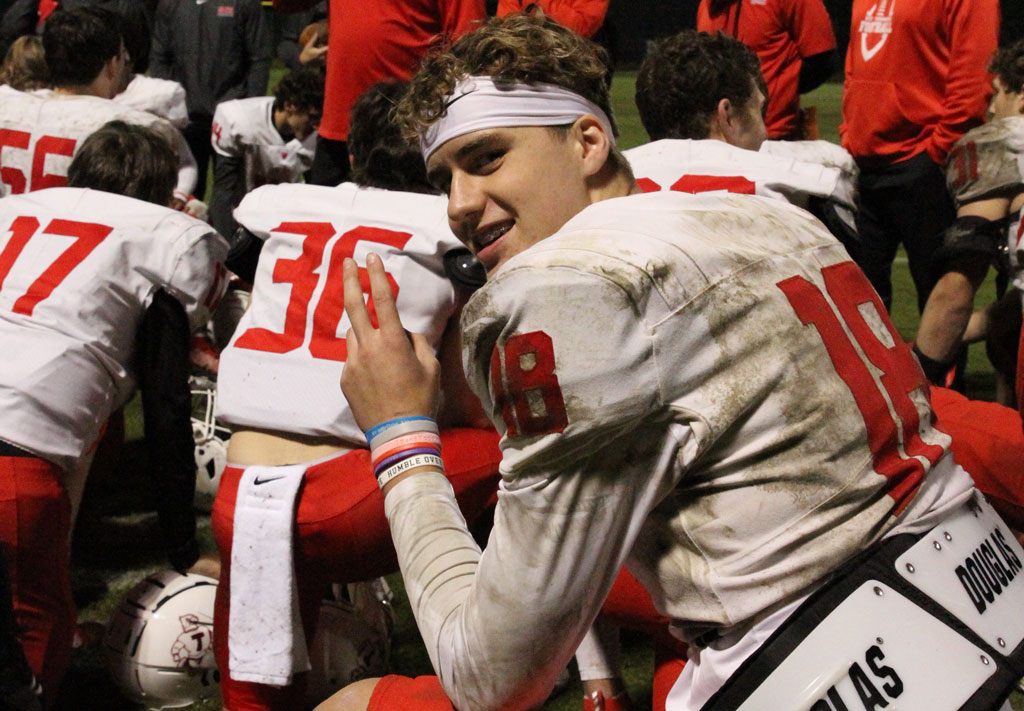 In 2019, quarterback Maddox Kopp '21 (Miami, OH) totaled 244 passing yards and a pair of scores to game-busting receiver Cameron Bonner '21 (Baylor). The 27-10 roadshow wrapped the first St. Thomas win of the season.

In 2016, Eagle Football trailed 10-0 in the first half then captured control with 27 straight points to secure their 27th straight win at home and their fifth consecutive knock to begin a season.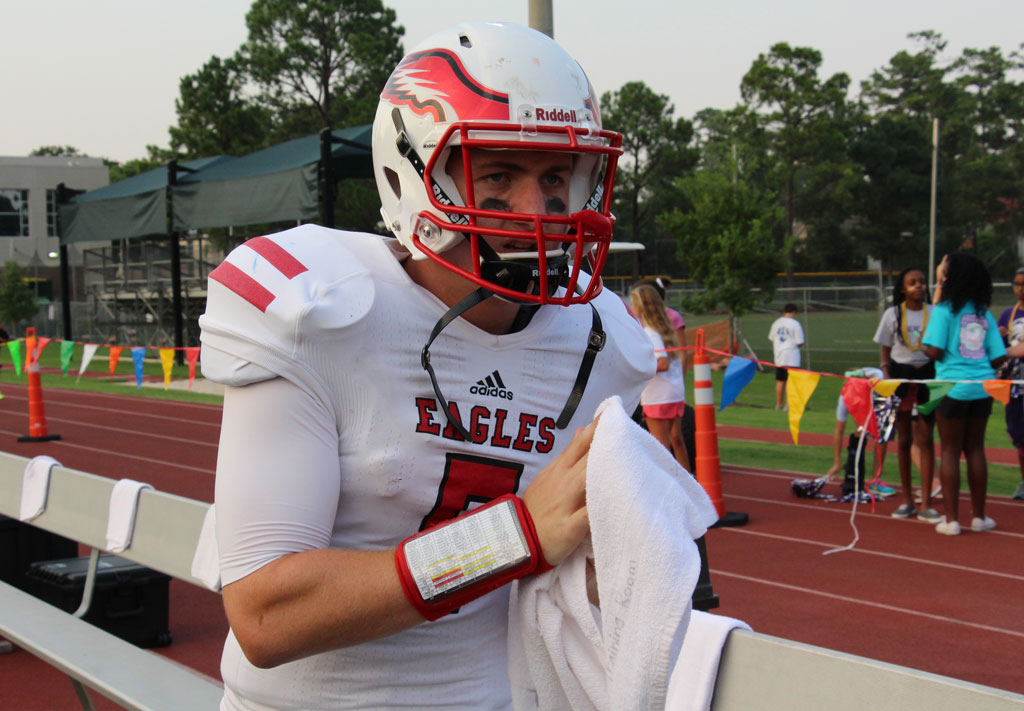 In 2015, quarterback Michael Keating '16 (San Diego) threw for two touchdowns and ran for a third while David Jones '16 (Cornell) and Grant Delpit (LSU and the Cleveland Browns) each returned swipes for touchdowns as the Eagles broke five scoring plays of at least 40 yards in a 44-7 masterpiece.

In 2014, William Heck `16 tallied four touchdowns and Keating aired out two while Kinkaid was shut out over the game's final 17:00 for a comfortable 38-24 win.
OCT 6 • SAN ANTONIO CENTRAL CATHOLIC
The series has pivoted from non-district to district competition since 2017.
Cardenas was the catalyst for a 35-18 road wipeout in 2021 with three touchdowns while the dynamic Donte delivered two fourth quarter scoring lasers to Henderson.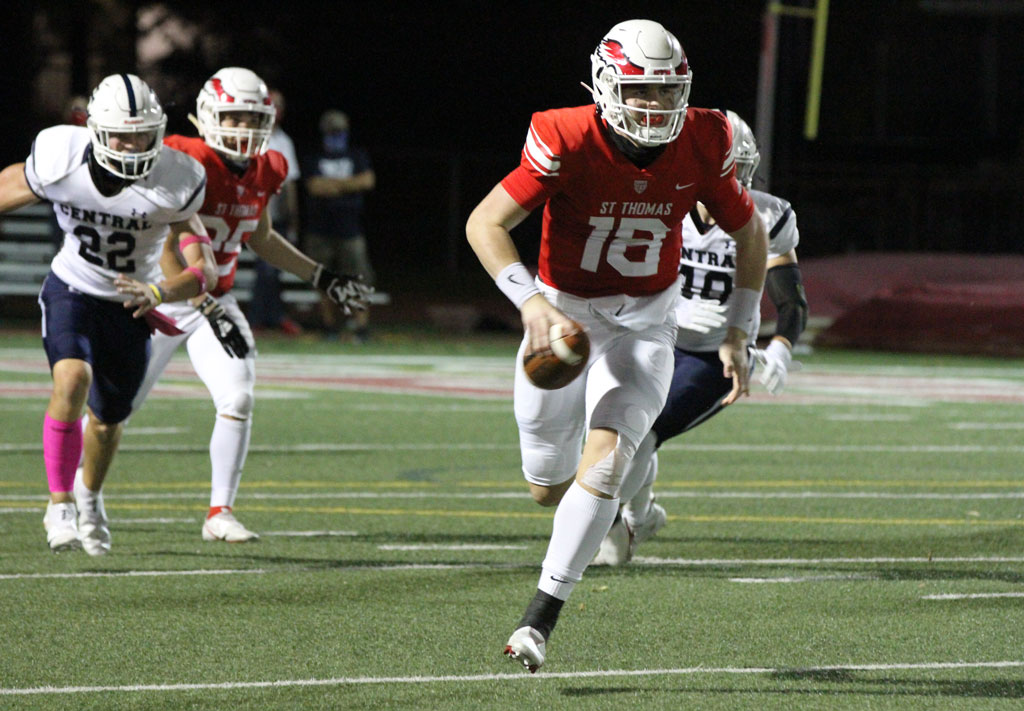 In 2020, a suffocating defense led by linebacker Kevin Silva '21 (Trinity) slammed the Buttons in a 31-14 mauling. Kopp detonated a thunderous first half assault with sizzling scoring strikes of 64 yards to Drake Martinez '21 (McNeese State) and 46 to Price on consecutive possessions.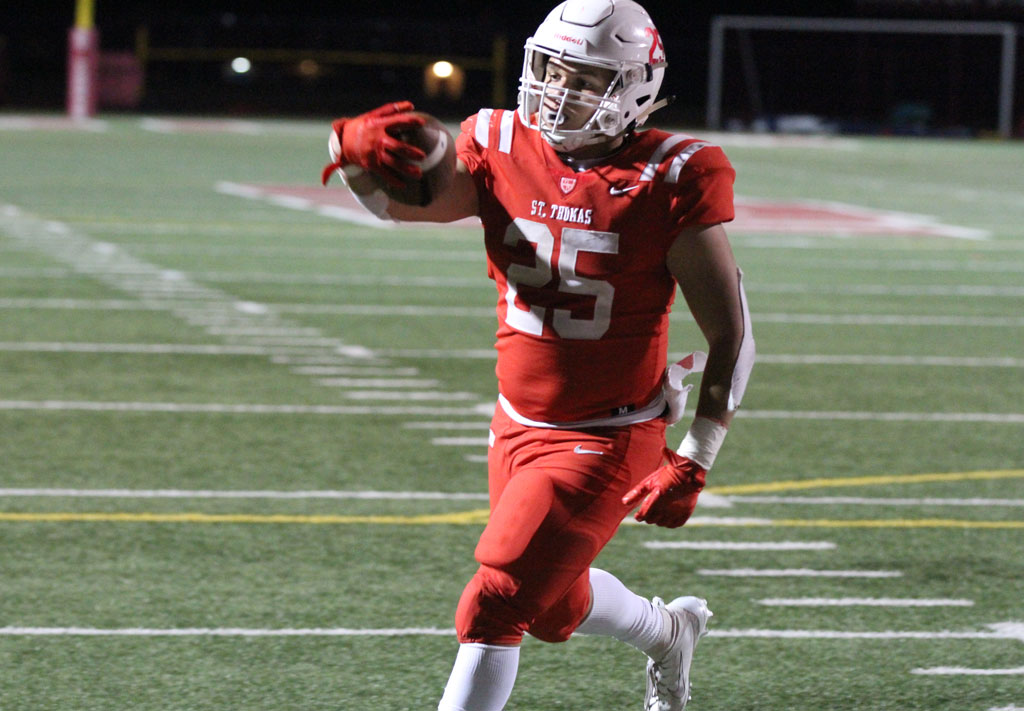 In 2019, running back John Fontenot '21 left defenders flailing on the ground like gored matadors on his way to two short-range touchdowns. A snarly, salty defense responded with two critical fourth quarter stops in a 21-19 thriller.
OCT 13 • VS. TOMBALL CONCORDIA LUTHERAN
The Eagles renew a head-to-head they have dominated with ease. The Grand Canyon-esque gap reads 12 overwhelming wins in 13 tries by a combined margin of 420-124. Last season the irrepressible Cardenas roared for 158 rushing yards on only 16 carries with four touchdowns in a 35-7 thrashing for a seventh straight win to start the season.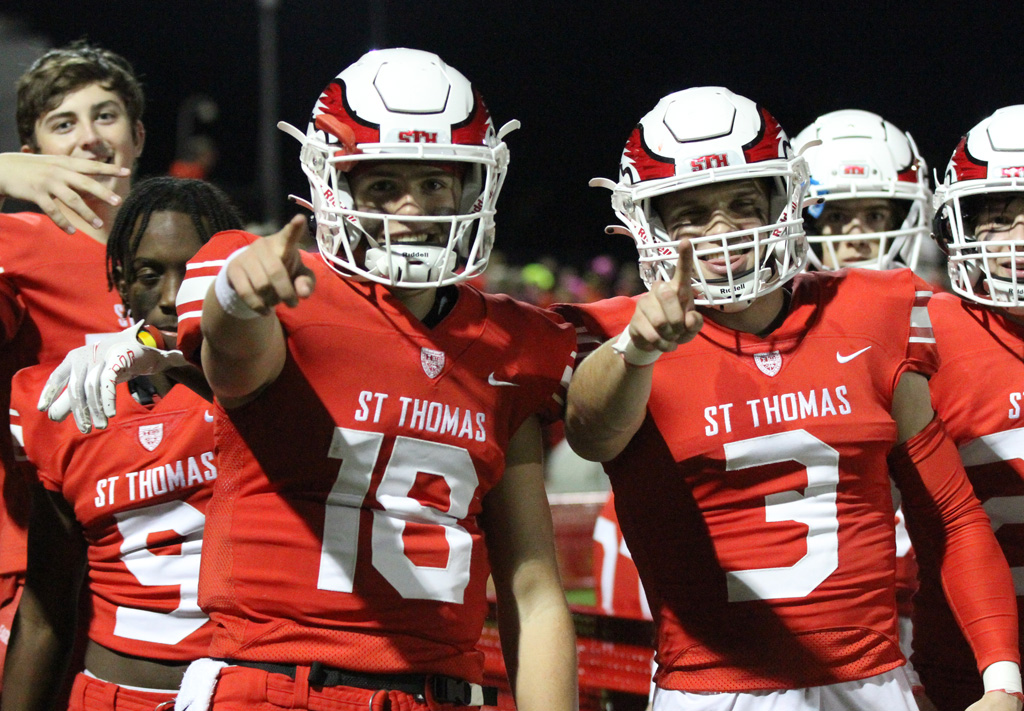 In 2021, Eagle Football administered a stop, rip, and roll to make J Roddy Walston & The Business rock with approval. Only 22 plays were needed on the first six St. Thomas possessions to produce a flood of points. Flame-throwing Jake Wright '22 (Pittsburg State) blistered TCL for four touchdown passes to cap a record-smashing regular season. The 45-0 bruising earned a share of a fourth straight district title after three straight undefeated championships.
OCT 20 • VS. PROSPER WALNUT GROVE AT UMHB
Eagle Football is part of what the UIL calls an outlaw schedule for a school in its first year before joining a district for 2024-25. Head coach Tommy Allison won the 1A Division II state title at Cayuga in 2009 after finishing as the state runner-up in 2008. He posted a 92-69 overall record in fourteen seasons as a head coach before spending the last two years as the offensive coordinator at Waco Midway.
OCT 23 • VS. AT ST. PIUS X
A third home date in four weeks will be the clash that once routinely determined at least a share of the district crown.
St. Thomas continues to own the long-standing rivalry, averaging 47 points per game in stacking five straight victories and collecting 10 of the previous 11 meetings.  From 2012-15, the Eagles seized four straight showdowns with the district title at stake by a combined score of 144-62.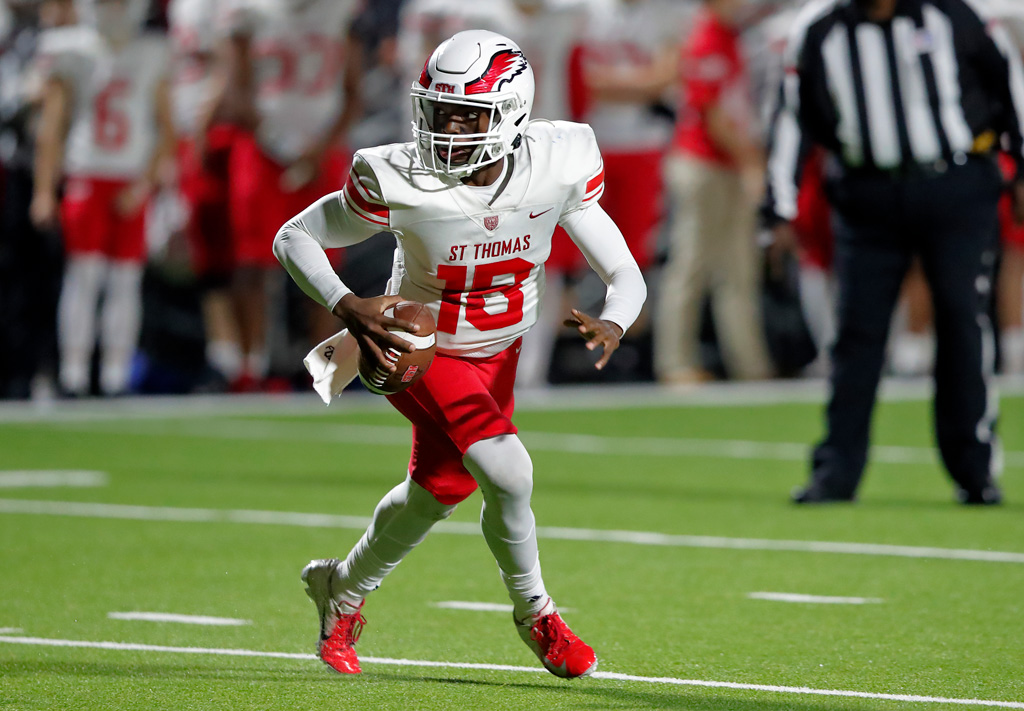 In 2022, dual-threat dynamo Lewis ran for 163 yards with three touchdowns, threw for 218 yards and a fourth TD. Grant Stewart '25 raced 30 yards down the left sideline for a third quarter pick six as the Eagles crushed SPX 49-24.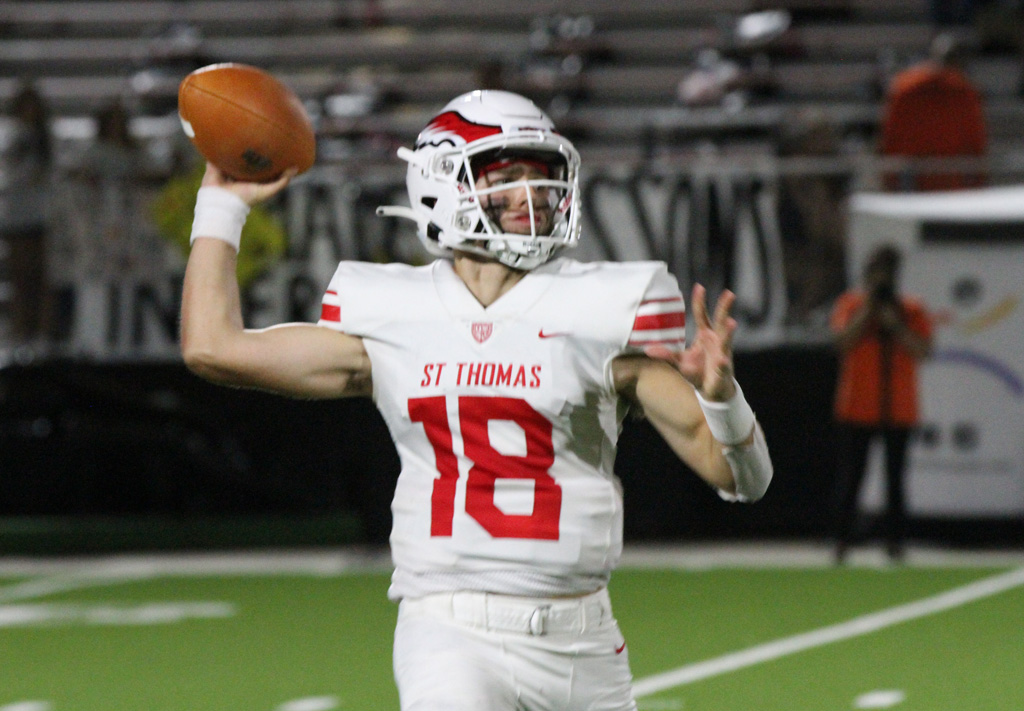 In 2021, the Eagles exploded for 37 unanswered points through the first three periods. Wright rifled for 362 yards with four touchdowns, two to the peerless Price, as St. Thomas burned and buried SPX 37-14 for the Eagles' 18th district win in 19 games.

In 2020, Fontenot rammed, jammed, and bolted for four touchdowns. The Eagle defense turned tenacious during the meaningful moments in a 49-21 rout. The 14th straight district triumph gave Eagle Football a sensational Senior Night send-off with a third consecutive district title and seventh in nine seasons.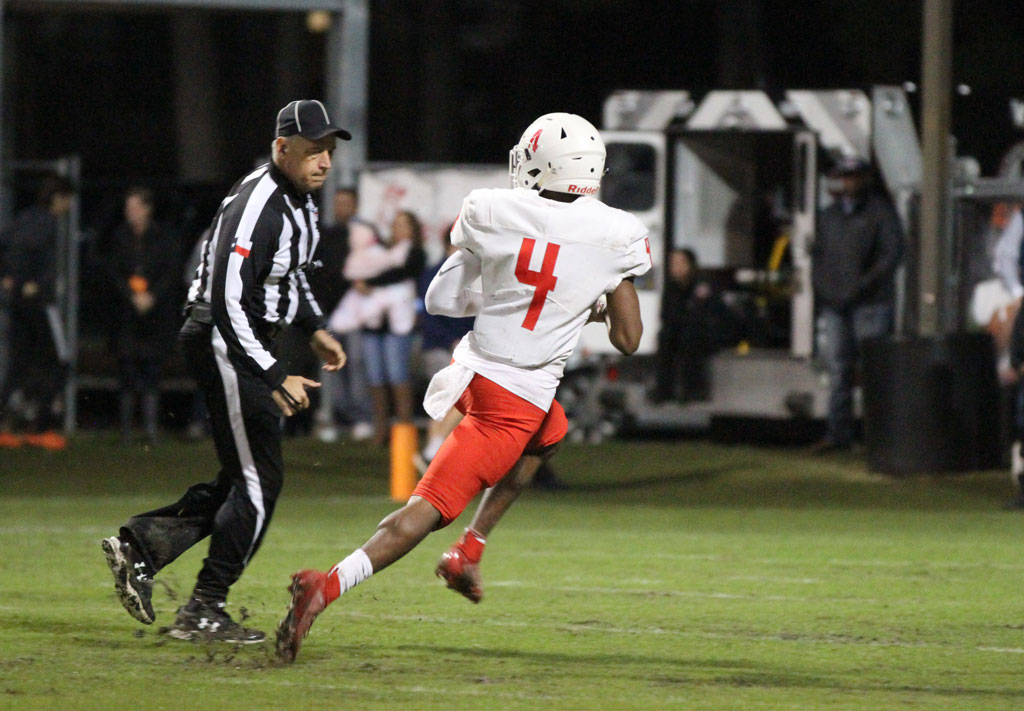 In 2019, Eagle Football used an avalanche of 40 consecutive points for a 47-21 stomping behind five rapid-fire touchdown throws from Kopp to face-plant the Panthers with an outcome so devastating it required an autopsy.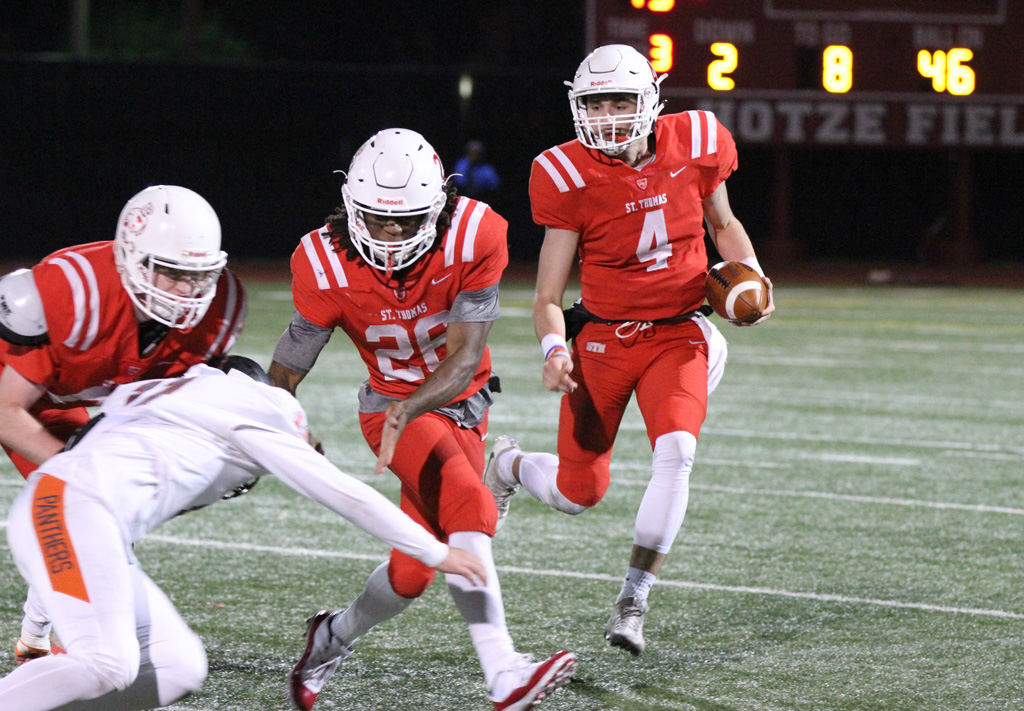 In 2018, quarterback Peyton Matocha '19 (Miami, FL) flashed a dazzling display of talent, skill, precision, will, and want with seven touchdowns including four in the third quarter when Eagle Football rallied to stake authority. The shock and awe 52-49 shootout reclaimed the district crown.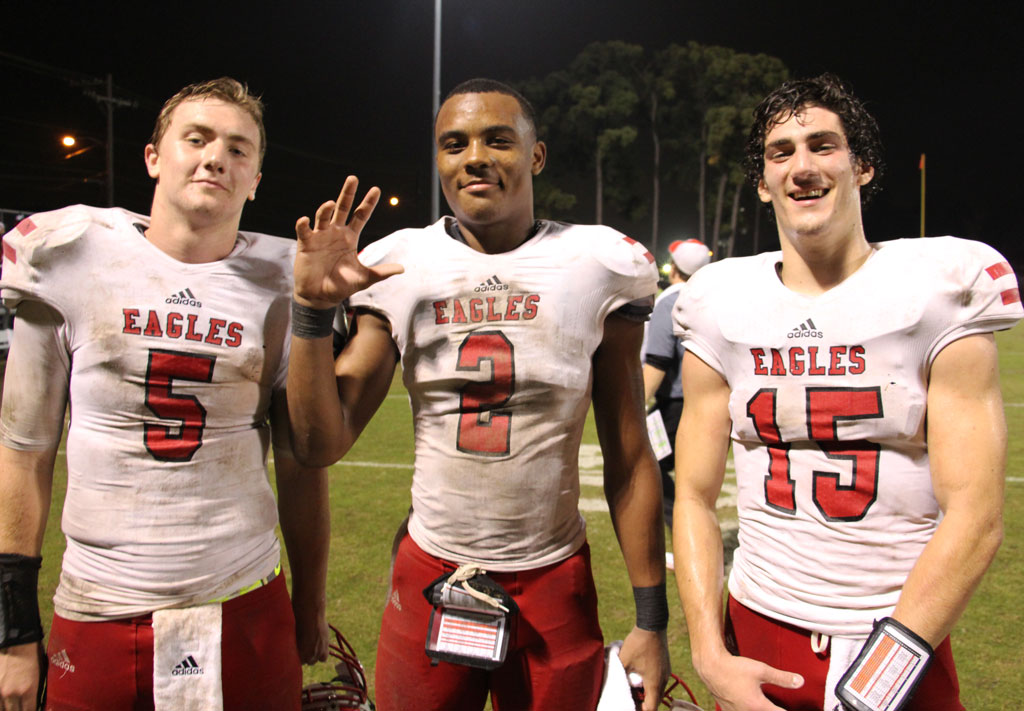 In 2015, Keating accounted for all seven Eagle touchdowns, including five scoring throws, two each to game-changing receivers Landon Malouf '16 (Texas A&M Track and Field) and Jhamon Ausbon '17 (Texas A&M), as St. Thomas roared back from down 10 points in the first quarter to a commanding victory – the fourth consecutive year the Eagles won a showdown with SPX in the regular-season finale for the district championship.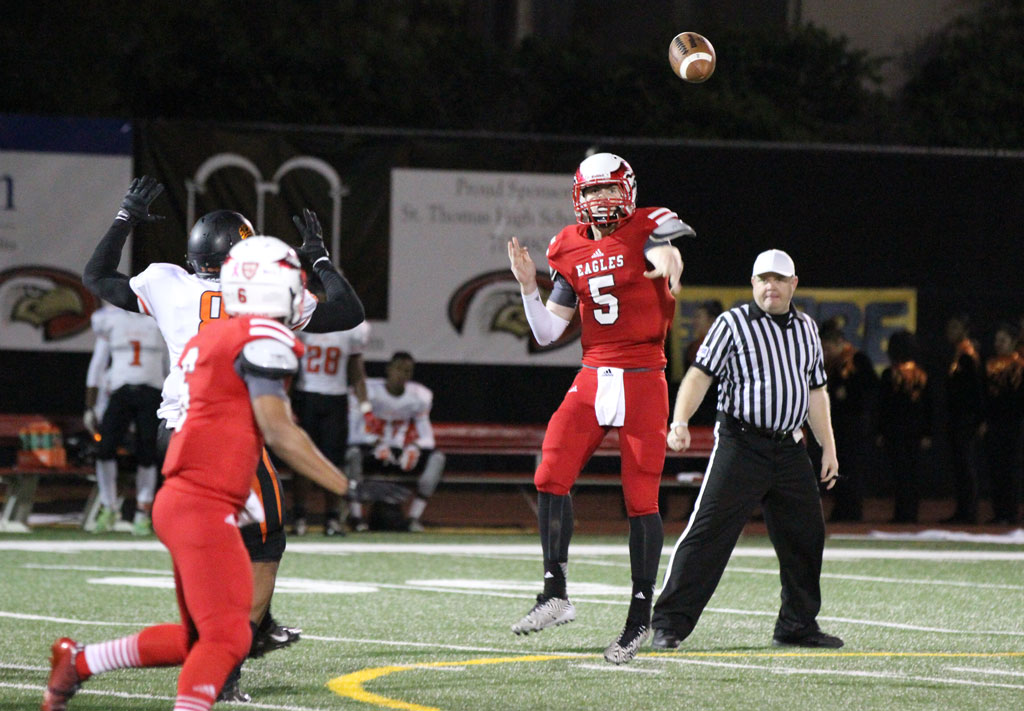 In 2014, Keating ran for two touchdowns, threw for two others as the Eagles rallied from a 14-10 halftime deficit with 28 unanswered second-half points to seal their third straight district title and 19th straight win at home. Their fifth victory in six games in the series and cemented a third straight nine-win regular season.
NOV 3 • VS. SAN ANTONIO ANTONIAN
The climax to the regular season brings an opportunity to avenge a disheartening 38-35 defeat that prevented Eagle Football from cementing an undefeated 2022 regular season and snapped a 10-game home-field winning streak.
In 2021, Wright sliced, diced, and scorched for 345 passing yards with four touchdowns in a scintillating display with Price for an impressive 35-14 victory. The Eagles were never threatened and rarely stymied in stamping their 17th district win in their previous 18 games. They bolted to a 21-0 advantage, bludgeoned the Apaches for 478 total yards, didn't turn the ball over on offense, and rolled up a season-high six sacks.
In 2020, Kopp dialed in Price for a nine-yard touchdown in overtime and defensive back Aidan O'Hare '21 sealed the decision with a super-clutch end zone interception for a riveting 35-28 home getaway.
In 2019, the Eagles plastered points on its first four possessions in a thorough 41-27 dismantling. Kopp orchestrated the theatrics with 314 passing yards and two touchdowns.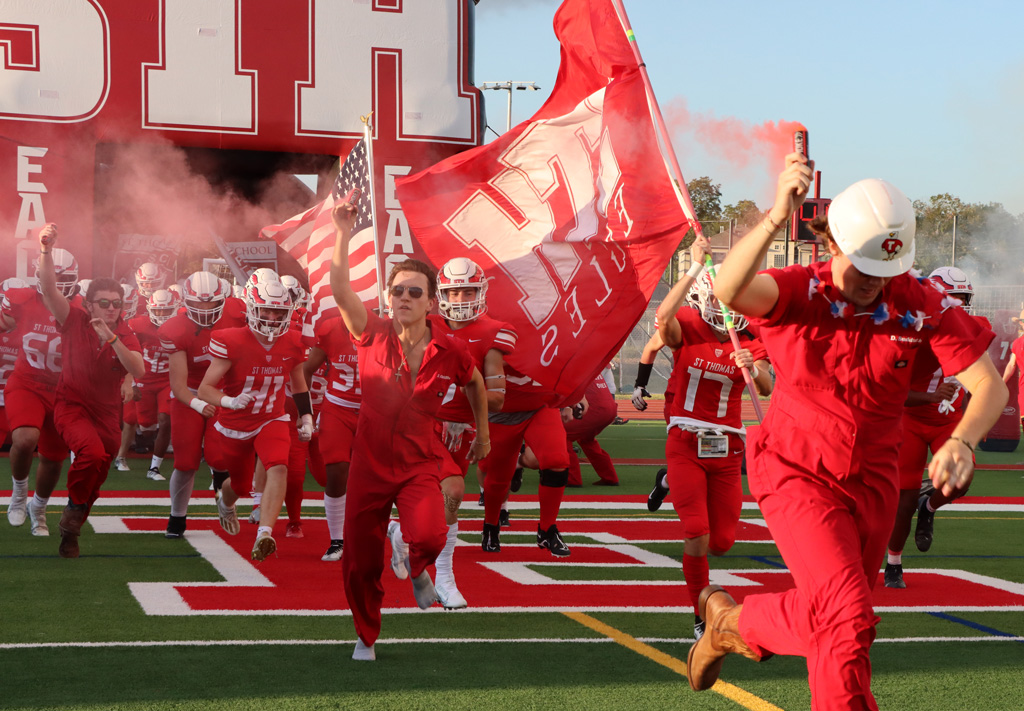 Eagle Athletics will continue partnering with HomeTown Ticketing to implement a contactless and cashless solution for fans and guests attending events at Granger Stadium.
Elite Athletic and Academic Performance
Eagle Football continues to enhance its elite, championship-caliber reputation off the field. In January, St. Thomas was named a state finalist for the 2022-23 National Football Foundation National High School Academic Excellence Award. This distinction was in partnership with the first nationwide recognition honoring teams with a team 3.0 or above grade point average.
St. Thomas was among only five private schools in Texas to share the acclaim with 48 public schools. More than 1,500 schools in the state competed during the 2022 season.
The cumulative St. Thomas team GPA as it applied was 3.48. The metric was calculated from a total of 71 student-athletes including 27 seniors, 33 juniors, nine sophomores, and two freshmen.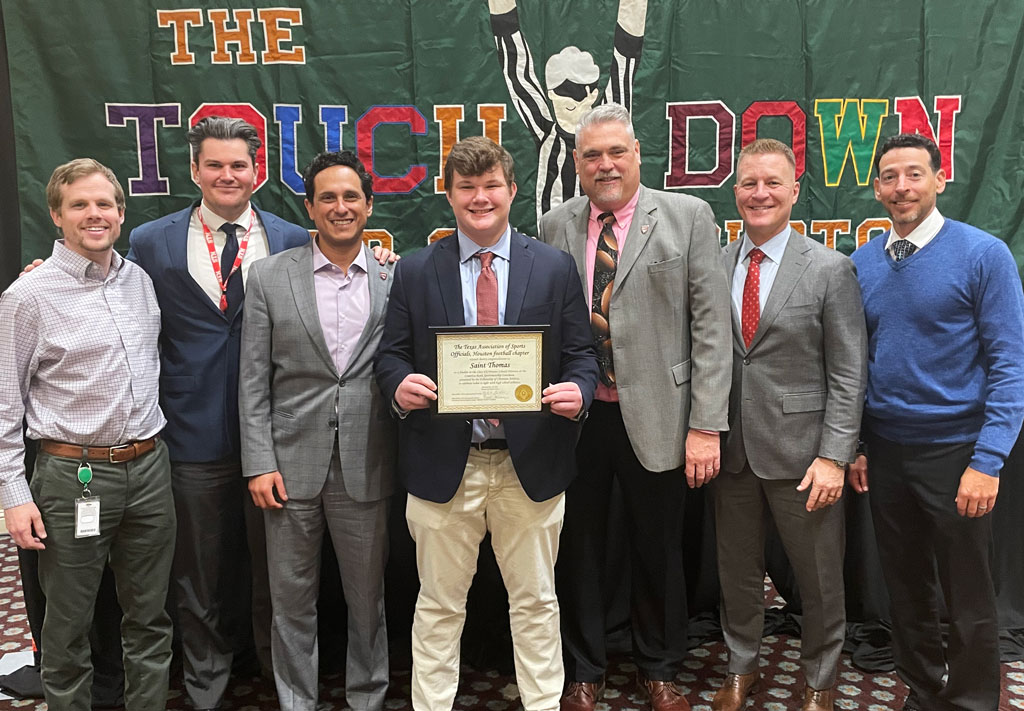 In January, the Houston Touchdown Club also recognized Eagle Football as a finalist for the 4A/Private Sportsmanship Award in conjunction with the Houston Chapter of the Texas Association of Sports Officials.
Eagle Fight Never Dies!