Nobody knows what intrinsically motivates the uber-accomplished and most renowned within society, those champions of commerce and celebrity, the power elite across the most inspired industries, be it corporate, political, military, media, or art.
The insatiable push to the outer limits is as mysterious and unique as the individual's DNA.
Sometimes the cultivation comes from finding – or rediscovering – an essential version of oneself. Often the desire derives from the most simple and human fact. We chase what makes us happiest.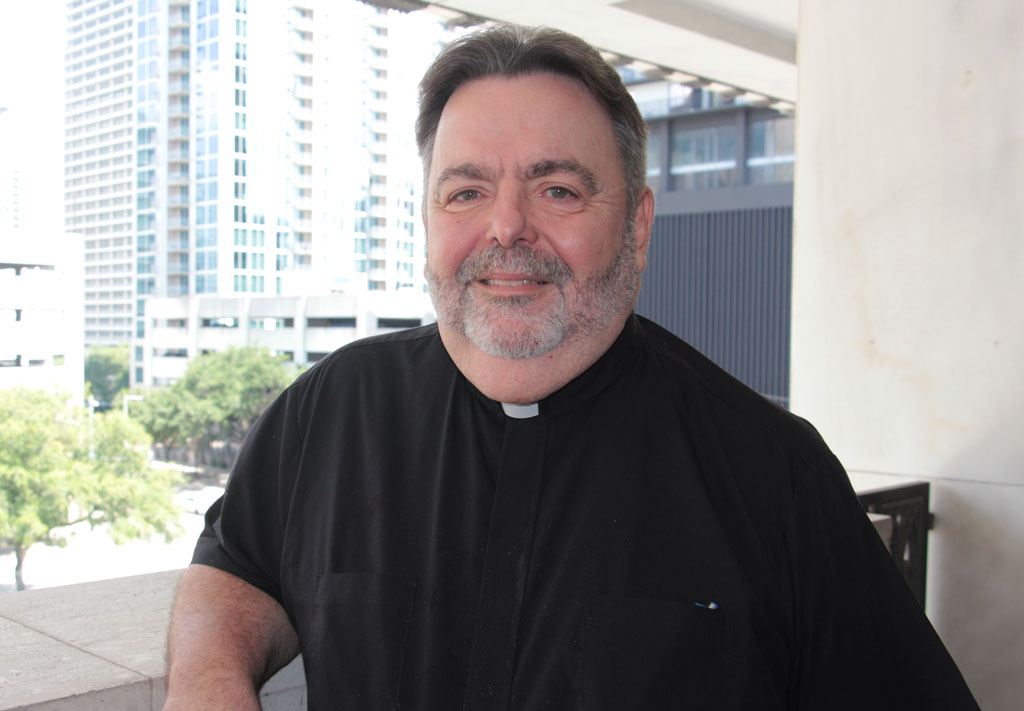 In 40 years of esteemed sacred life in service, that inspiring pursuit for Fr. Tom Rafferty '75 has embraced people as his purpose and priority, not the project. His purview over diverse areas of religious life has relied on building, then cementing relationships.
He is not so much defined by where he comes from, or where he's headed, but by whom he's taking along for the ride. "I did a wedding in April decades after performing the groom's baptism and his parents' wedding 34 years ago. Eight other adults approached me and said, 'You baptized me.' What a blessing to enjoy that kind of connection within just one tightly knit gathering."
From his scholastic years at St. Thomas and the University of St. Thomas, through St. Mary's Seminary, and assorted parish stops including St. Justin Martyr Catholic Church in Alief, St. Michael in the Galleria area, 14 years shepherding St. Anthony of Padua in The Woodlands, all before joining the administrative forces of the Archdiocese of Galveston-Houston, Fr. Rafferty remains struck by a lasting lesson learned as a first-time pastor in La Porte.
"Priests come and go, people remain," he says. "I've had families three generations sitting in the pews. During my assignments, I have the obligation to fortify their faith. And they'll stay long after I've moved on."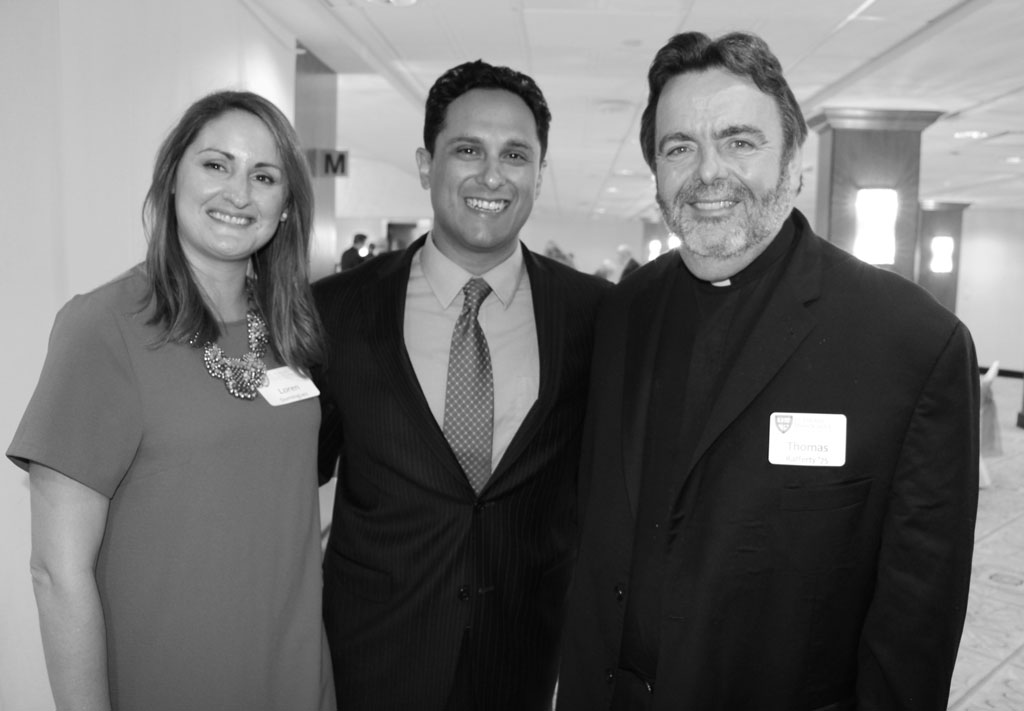 Fr. Rafferty shifts with ease from station to station in his robust routine. In the course of a typical month, he could be consulting with a deep confidant who has ascended to the high ranks of the United States Army, or discussing strategic capital campaigns with a befriended big-dollar benefactor, or speaking fervently with a Life Teen or marriage encounter group.
His dimension of personality and wide-ranging interests knows no boundary. Fr. Rafferty is equally adept at presiding over the Holy Week commemoration as discussing gameday breakdowns with his brother-in-law and fellow Texans enthusiasts in section 320 of NRG Stadium. He's entirely approachable as the celebrant of a Tuesday 8:00 a.m. Mass at St. Michael's and in the next breath can offer intricate plot points from the national tour of "Wicked" performing at the Hobby Center. And the upcoming Sunday, he's a resounding presence celebrating the latest candidates for Confirmation at St. Anne de Beaupre in The Heights.
And annually Fr. Rafferty "unplugs off the grind" during a driving excursion to northern Georgia, seeking solitude among the trails and mountain views and waterfalls. The rejuvenation fuels his soul to continue his deeply satisfying devotion to God and the Archdiocese "in any way that I can."
Serving parishes has been a significant impetus of Fr. Rafferty's calling. But the next signpost along his journey reads Ministry to Priests director in the Archdiocese. He's succeeding Fr. Phil "Skip" Negley, MS in a pastoral care role for more than 400 clergy from Galveston/Freeport to Huntsville, Sealy to Baytown.
Fr. Rafferty will provide one-and-one spiritual direction, sacramental reconciliation, support groups, and activities that strengthen the priestly life and the mentoring of the new/early ordained. The transition comes two years after he was appointed by Daniel Cardinal DiNardo Episcopal Vicar for Clergy and director of the Secretariat for Clergy Formation and Chaplaincy Services.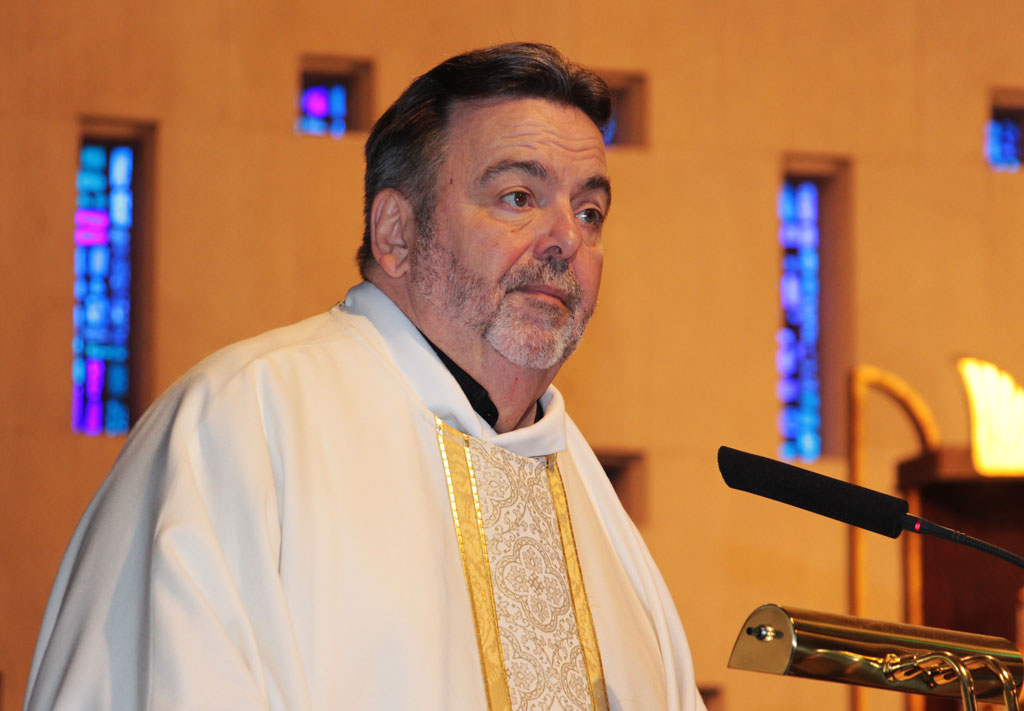 "I'm blessed that the Cardinal recognized my skill set is likely better served in this position," Fr. Rafferty says. "I'm particularly working with retired priests at St. Dominic's Village. I'll continue to live and will now office at St. Michael's."
And then Fr. Rafferty quickly adds with sly laughter: "As they say, after Jesus ascended into heaven, he began working at home."
Like most in the priesthood following vocational discernment, Fr. Rafferty's path is more random walk than the manifestation of a vision executed with precise preparation. And once he engages, he's all action. Decisions are needed to be made in quicksilver fashion, not always with abundant information and enough time. Just make things happen. The self-described doer relishes that challenge. "There is a satisfying feeling waking up every morning and knowing you're going to be in a position to do your best for God's good and the institution."
Fr. Rafferty was named after Fr. Thomas Francis O'Sullivan, the pastor of his home parish, All Saints Church in The Heights where the bedrock of Fr. Rafferty's lifelong mission was first nurtured by the emphatic leadership of future Auxiliary Bishop Emeritus Vincent Rizzotto and Bishop John McCarthy.
The Basilian influence also proved pivotal in Fr. Rafferty's commitment to the consecrated. He remains forever part of the St. Thomas terra firma. He's a consistent sideline guest at Granger Stadium for Friday Night Lights and remains actively involved with his mates from the Class of '75. The yearly Christmas festivities include Mass and white elephant gift exchange "where the proceedings quickly retreat to our sophomore year in high school. I consider them all family.
"I vividly remember Fr. (Les) Schaefer as a de facto disciplinarian. He could enter the cafeteria and 350 boys would turn deadly silent. Once a student asked, 'Why did you give me a D?' The retort – 'Because I like you.' Fr. (John) Wick was a Shakespearean philosopher. When discipline was necessary, he would tell a student 'to sit in the corner and hang your head in shame.' So many of the great Basilians were huge reasons I became a priest. When it was time to be solemn and serious, they were solemn and serious. And when it was time to have fun, they had fun. I could see through those men that this was a good life."
And in his 40th anniversary year as a priest, Fr. Rafferty isn't prone to think legacy as if the introspection suggests a completeness to accomplishments that he thinks is inaccurate.
"It's all about handoffs to the next generation because if they don't totally own it, it won't happen," he says. "But I couldn't see my life any other way. I've been so blessed with great friends and relationships that are incredibly gratifying."
Catholic. Basilian. Teaching Goodness, Discipline and Knowledge since 1900.