GAMEDAY CENTRAL
WEEK 1 – HOTZE FIELD INSIDE GRANGER STADIUM

St. John's School 49
Eagle Football 63
WHAT YOU NEED TO KNOW
Dual sport dynamo Donte Lewis '24 dropped a dizzy and delightful season debut, igniting an offensive tsunami as St. Thomas overwhelmed St. John's.
Lewis orchestrated a megapixel pyrotechnic display that maxed 382 passing and 353 rushing. The Kansas St. baseball commit took part in six touchdowns while flinging and romping for 499 total yards. Breakout receiver Luke Edgecomb '24 and nuclear sub Keenan Bonner '24 flashed outrageous career-best nights in a St. Thomas rampage.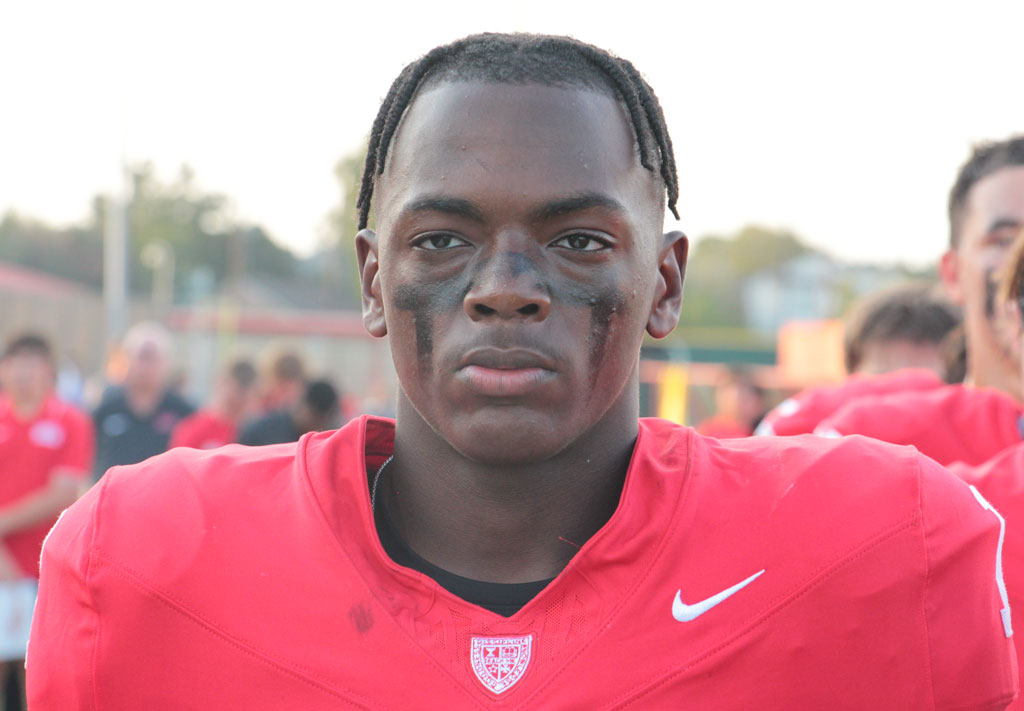 TURNING POINT
The Eagles built three 14-point cushions in the first half yet trailed 49-47 at the end of the third quarter.  They then responded rather impressively to tasting their own blood in their mouth.
Lewis (19-29, 382 yards) converted a fourth-and-eight from the St. John's 33-yard line with an artsy ad-lib flip to receiver Larry Benton III for 18 yards. Two plays later, Lewis (7 rushes for 117 yards) escaped to the right out of the shotgun pocket, planted, and delivered a dart to Edgecomb who finished their fourth touchdown connection of the night. The two-point conversion reclaimed the lead at 55-49.
Ball-hawking Aron Valentine '24 promptly corralled a deflected pass for his third interception. Bonner then settled the furious thrillarama with a 37-yard jolt to the end zone for his third touchdown and the frantic final margin.
FRIDAY NIGHT FIVE
1. Offensive coordinator Matt Hudson whipped more creative casting choices than the second season of The Bear (think Jamie Lee Curtis as the erratic, emotionally overwhelming mother Donna Berzatto). His see-the-Matrix play-calling produced six scoring possessions that required four plays or less. The 735-yard onslaught was the most for Eagle Football during the seven-year McGuire/Hudson tag-team.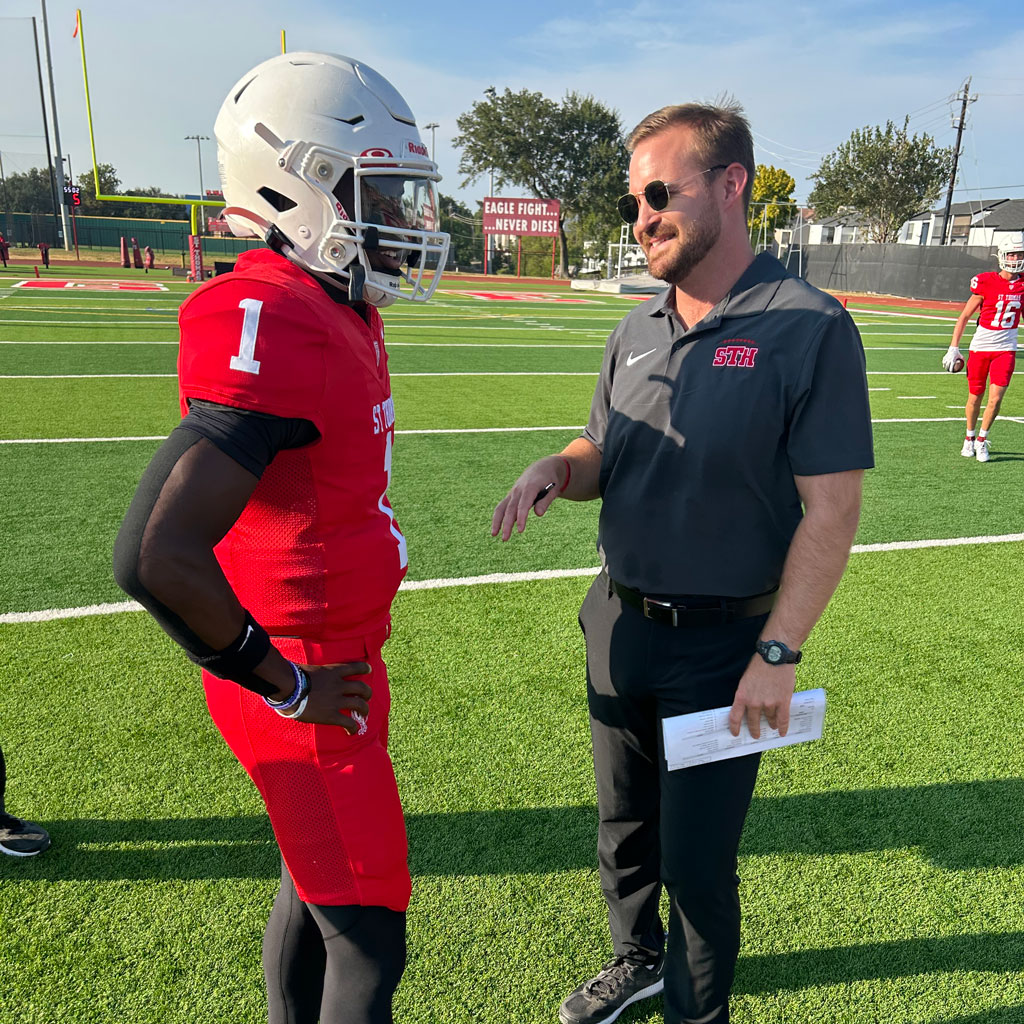 2. The lethal Lewis-Edgecomb combo opened the scoring with a 63-yard catch-and-run on the first St. Thomas series of the season. They closed the half with Edgecomb (10 catches for 245 yards) taking a quick hit strike in the middle of the turf, bouncing off two overmatched would-be tacklers, and racing 77 yards for 35-21.
3. After St. John's pulled even at 14-14, the electric Lewis struck with a vengeance. Facing third down deep in Eagle territory, he bolted right on an RPO, accelerated through the right corner, and rocketed untouched 81 yards to break the tie.
4. Midway second quarter Valentine added a 37-yard return to his second takeaway. Lewis capped the mini-drive, escaping pressure on third down for a 10-yard sprint for 28-14.
5. Bonner was bodacious filling for Humvee running back Johann Cardenas '24 (verbal Vanderbilt). The younger brother of Cameron '18 (Baylor football) roamed for 220 yards on 19 carries. The second of his trio of touchdowns was a 61-yard explosion for 47-42 with 6:05 remaining in the third period.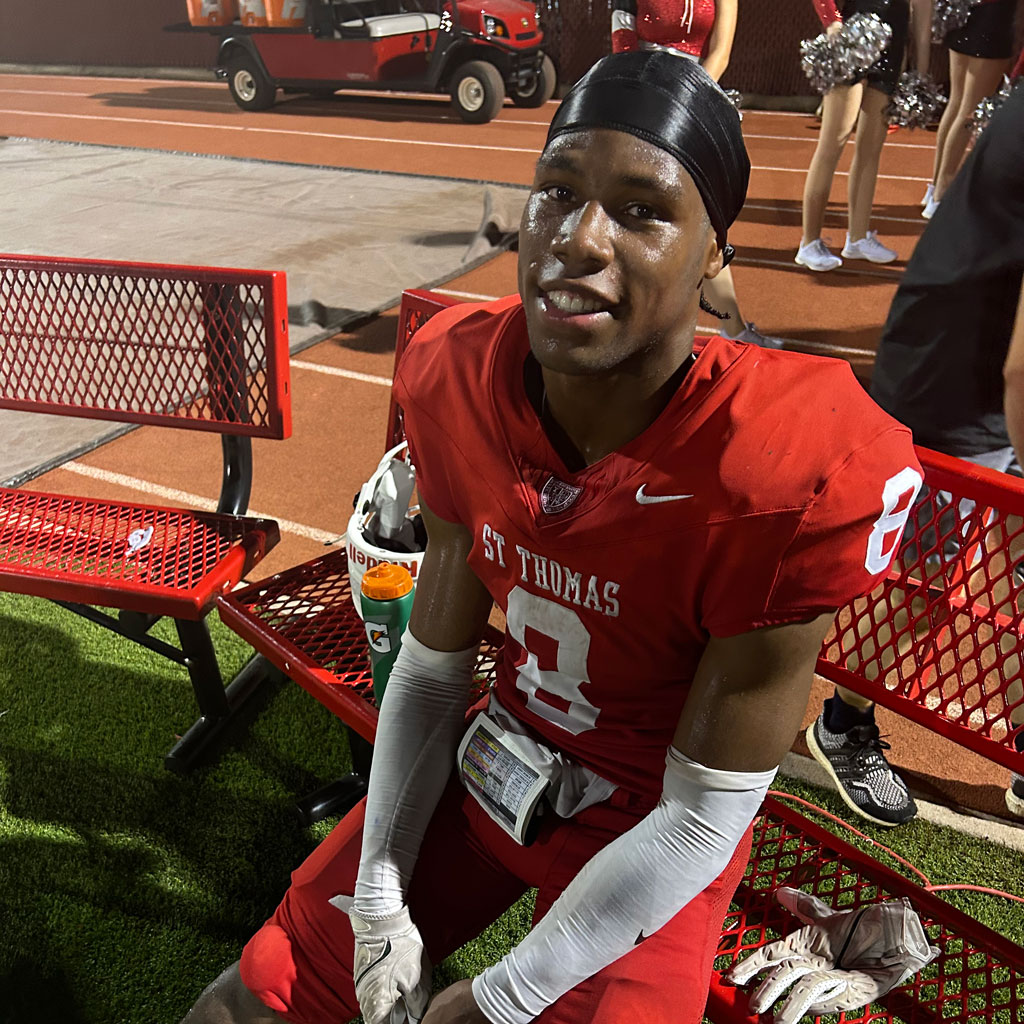 ROCKIN' THE FILLMORE
The victory raised McGuire's record to 43-23. The second consecutive season-opening knock over St. John's (43-28 in 2022) was the third in a row for St. Thomas overall. This is its most robust starting streak since raking five straight wins from 2012-16.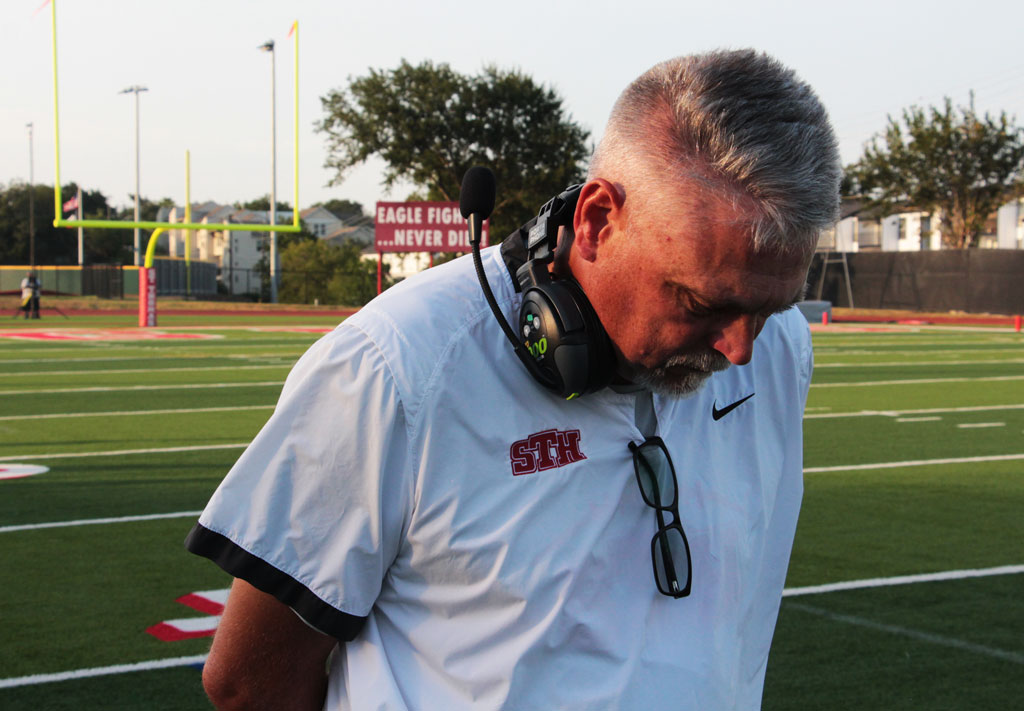 STATE OF PLAY
Eagle Football launched the campaign with a sense of aspiration shifting toward a new reality and a fresh batch of expectations. Experienced talent, improved depth, physical forces in the trenches, a difference maker in the sport's most important position. Based on the first impression, there was largely truth in advertising when the lights came on. The Eagles survived an opening night of living dangerously, thanks largely to a near flawless improv offense remarkably engaging and intelligent, but never gratuitously complex or unusual. Think Dexter Gordon on the tenor sax. The kind of performance that quickens the pulse of the program and projects for a promising journey.
PREGAME PICS
SIDELINE PICS
BIG BAM BOOM
St. Thomas begins 2023 number three in the state private rankings by Dave Campbell's Texas Football, the number one private in Greater Houston by MaxPreps (18th overall), and the number three private in Greater Houston by VYPE Houston.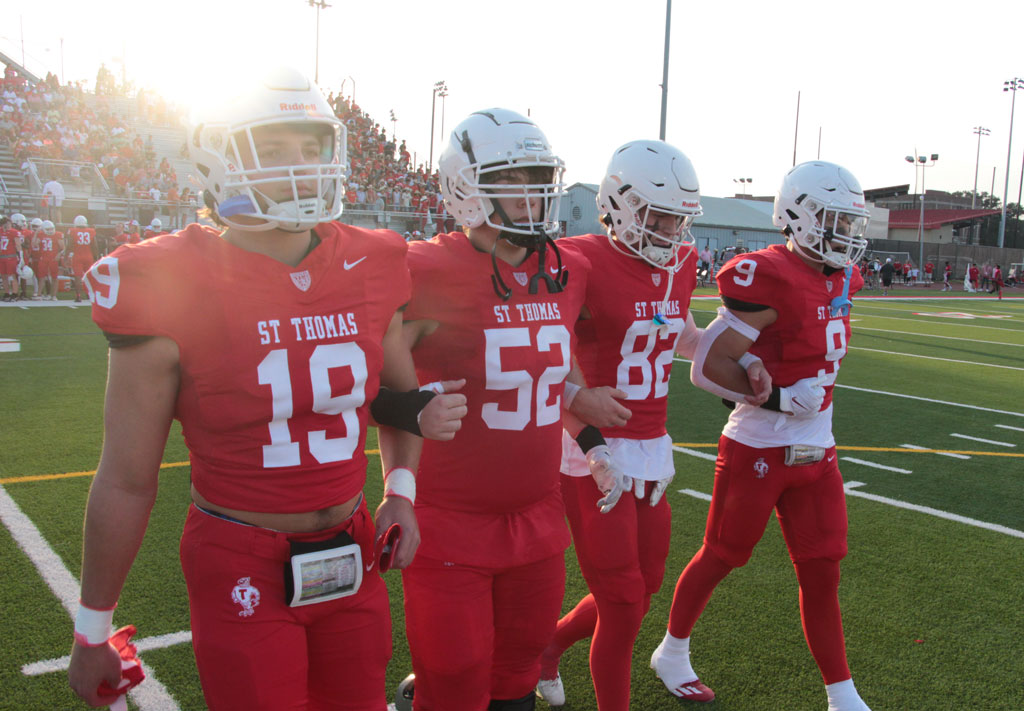 SIZZLING SETTING
The Friday Night Lights burned bright in more ways than one. Kickoff was in the midst of all-time record heat in Houston, reaching 100-plus degrees seven consecutive days.
DEJA VU ALL OVER AGAIN
In 2022, Lewis rocked his first varsity start with 477 total yards and six touchdown passes, three to receiver Shaffer Henderson '23 in a convincing triumph over the Mavericks at Skip Lee Field.
¡UNO!, ¡DOS!, ¡TRÉ!
St. Thomas debuted a state-of-the-art video board scoreboard in the south end zone of Granger Stadium.
The game was streamed by KPRC 2 as part of their Big Game Coverage.
Cardenas, Edgecomb, Lewis, Valentine, marauding linebacker Tyler Day '24, and defensive terror Michael-Anthony Okwura '24 (verbal Cal) were honorees at the Touchdown Club of Houston Preseason Private Kickoff Dinner presented by the Hildebrand Foundation.
SMELLS LIKE TEEN SPIRIT
Cardenas is among the state's top 100 football recruits and was vividly showcased in the 64th edition of Texas Football in July just eight months removed from tearing the anterior cruciate ligament in his right knee.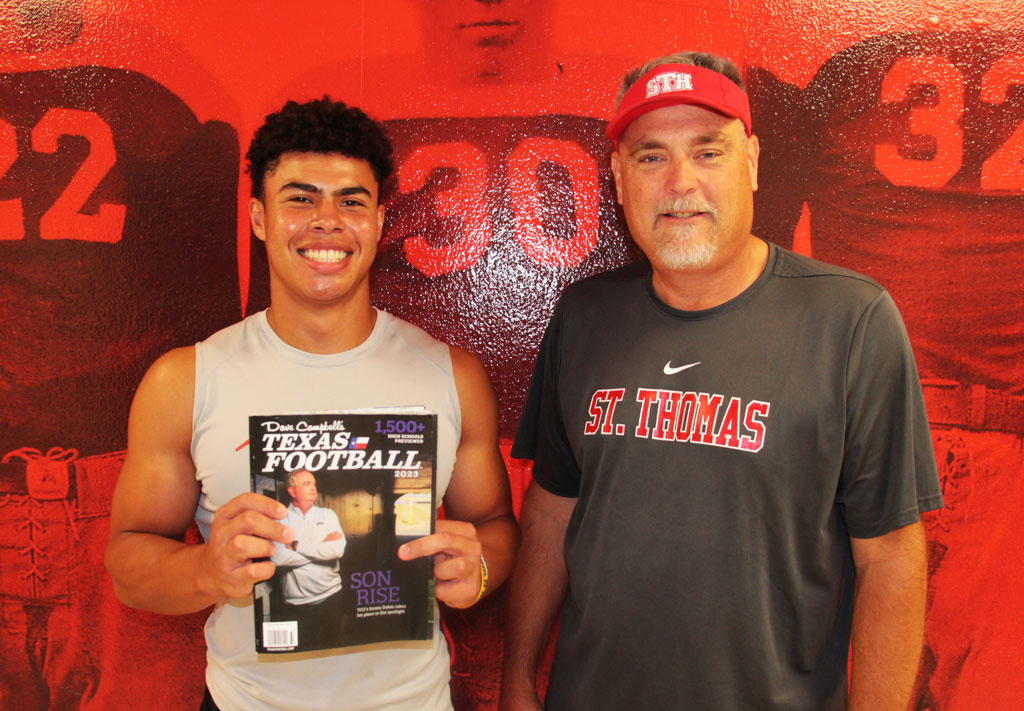 QB1 COVERING ALL BASES
Lewis was featured in the Hank Aaron Invitational, a showcase game at Truist Park in Atlanta in July capping two weeks of competition, coaching, and evaluation at the Jackie Robinson Training Complex in Vero Beach.
Lewis was among an elite group of 44 players invited for the exclusive event, powered by the MLB-MLBPA Youth Development Foundation and in partnership with USA Baseball. Lewis then gave his verbal commitment to continue his student-athlete career at Kansas St.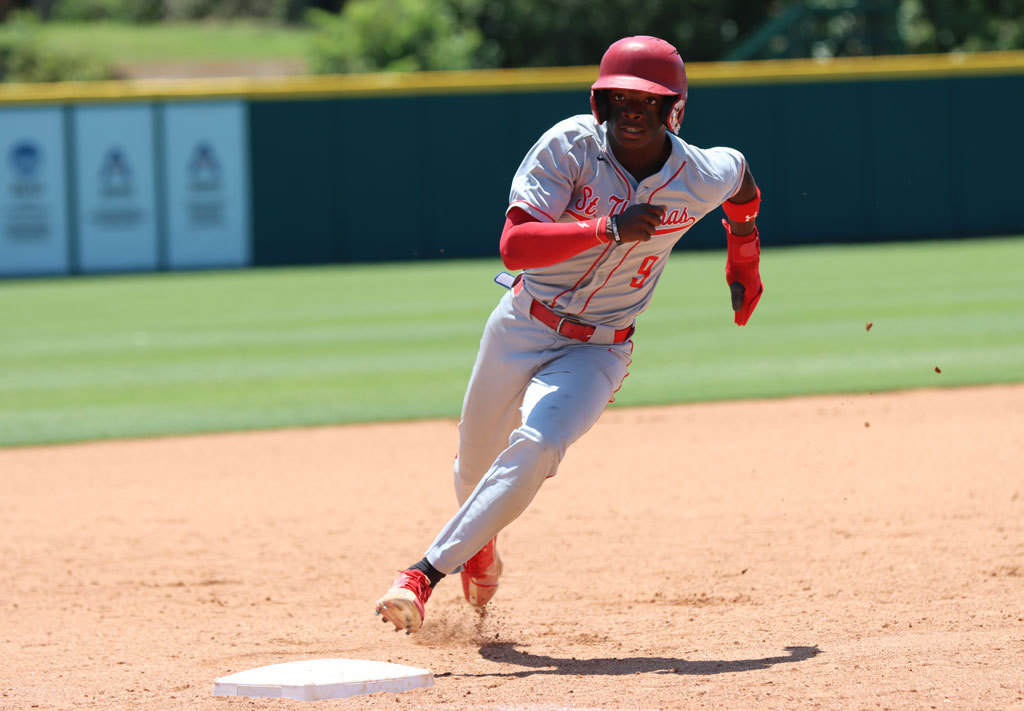 UPCOMING
The road opener against Lumberton will conclude a two-game series. Eagle Football handed the Raiders their only regular-season defeat in 2022. Lewis was mesmerizing, running and throwing for five touchdowns while St. Thomas feasted on four turnovers in a commanding 42-24 verdict. Lumberton then finished with a loss to Tyler Chapel Hill in the 4A Division I state quarterfinals to conclude an 11-2 campaign.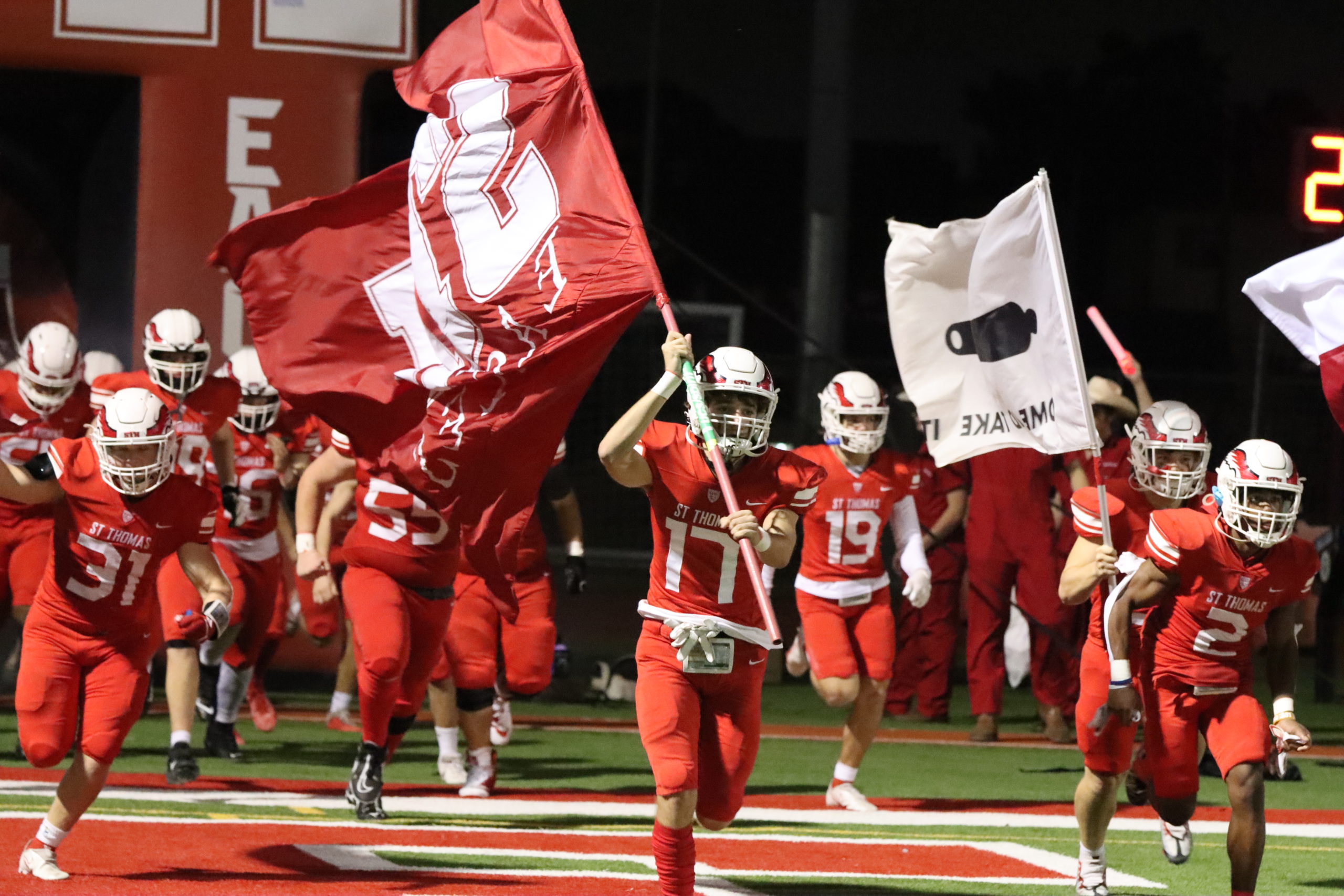 Eagle Fight Never Dies!