The St. Thomas Alumni Association routinely honors prestigious Eagle graduates as well as significant stakeholders for their professional achievements, personal sacrifice, outstanding leadership, and exemplary contributions to Basilian college preparatory education.
The Most Rev. Brendan Cahill '81, Bishop of Victoria, was celebrated prior to the final regular season game for Eagle Football, along with exceptional members of the St. Thomas faculty, Joe O'Brien and Philip Cuneo. The distinguished trio has brought substantial merit to the renowned institution through their diligence, ethics, and virtue, which enlightens collective understandings and fuels the advancement of society.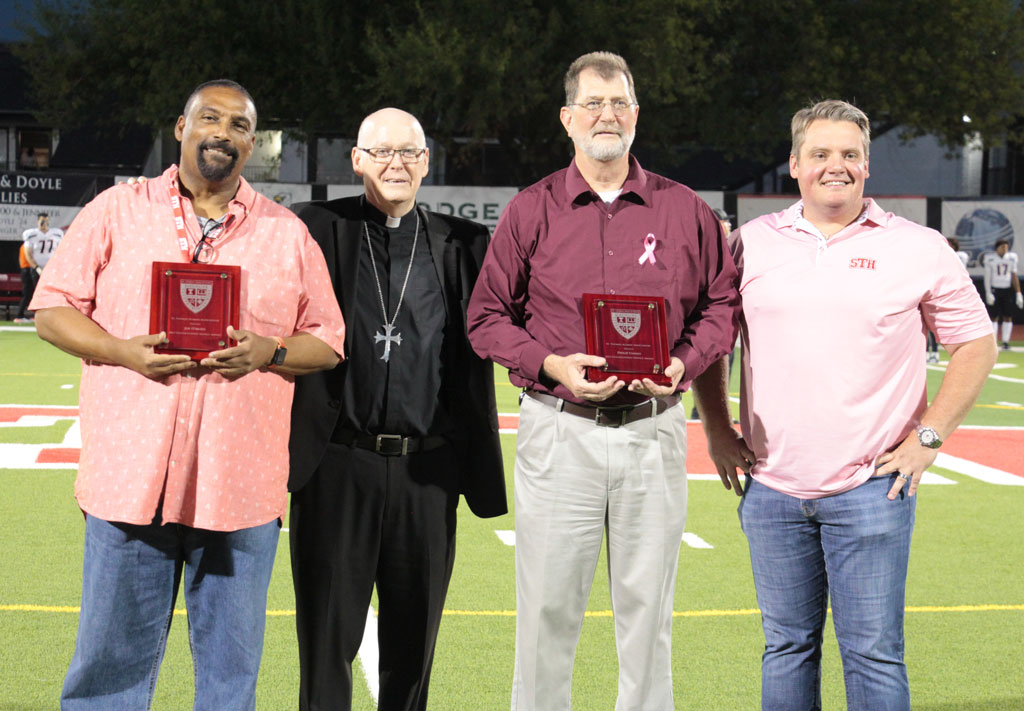 "I've been thinking about the impact of my many St. Thomas teachers and classmates," an enthusiastic Cahill said in October. "Louis Swilley in English. Jerry Taliaferro in World and United States History. Paul Rashard bringing us in on Saturdays to watch Jesus of Nazareth. The Basilian priests, our parents, and the Mothers' Club were all so involved, a force to be reckoned with during my years. I was so blessed to have had such support. In my mind, they are also being honored here tonight."
For more than three decades, O'Brien and Cuneo have furthered the Basilian mission and academic integrity of the school in a community of scholars, artists, and professionals dedicated to the pursuit of Teach Me Goodness, Discipline, and Knowledge. They consistently carried themselves beyond the accepted teaching and administrative responsibilities, bringing vision and enthusiasm, benefiting all.
Their sustained commitment to scholars through outstanding mentoring and passionate pedagogy has demonstrated the valued role such involvement plays in helping students reach their academic and spiritual goals.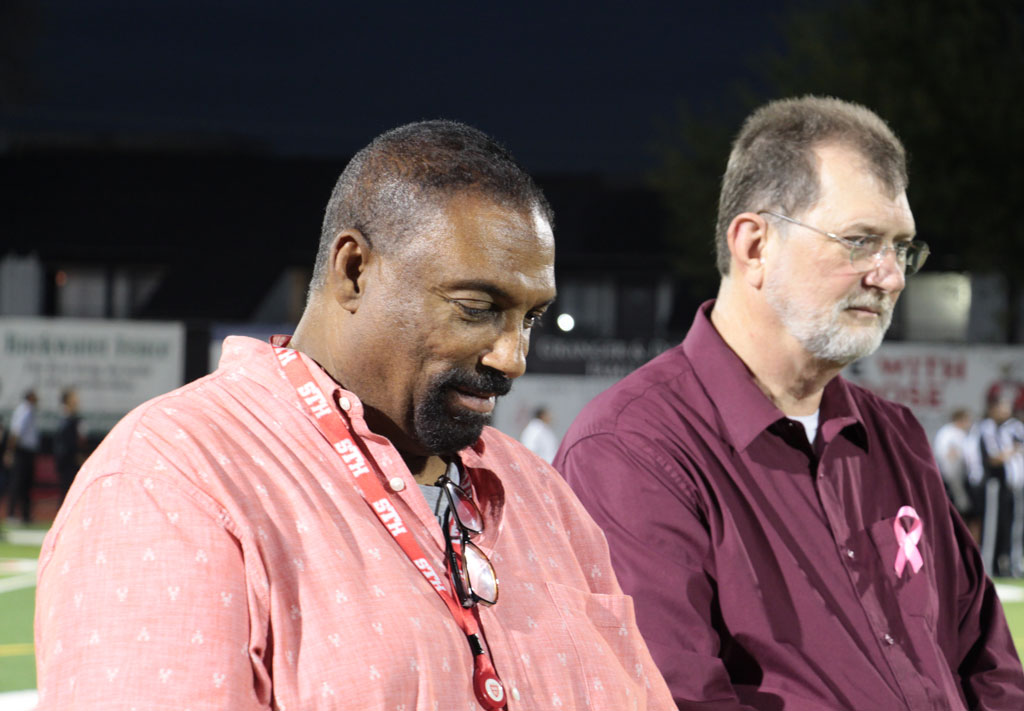 O'Brien is the Director of Student Life while Cuneo serves in the science faculty.
"I was never seeking this kind of attention but the response from colleagues and former students has been overwhelming," O'Brien says. "This brings a certain validation that my work has been meaningful and touched people's lives. I have always strived to make the St. Thomas community a better place than I found it. I'm humbled."
Cueno says "If I have contributed anything to St. Thomas it's because of the people before me. Isaac Newton once said, 'I stand on the shoulders of giants.' And that's me. (Former principal) Father Albert Gaelens. Former dean Dr. Ed Marintsch. So many others including my good friend Joe O'Brien. We have commiserated throughout the decades about teaching and impacting students. I am here tonight because of the great relationships at St. Thomas that have made me who I am."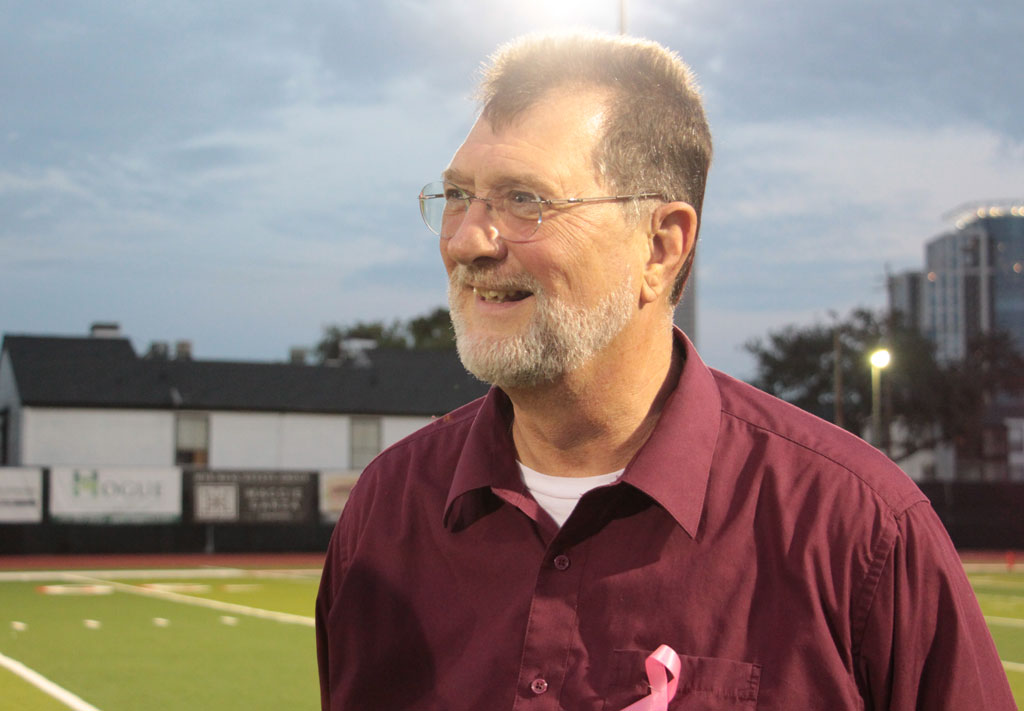 Cuneo and O'Brien share common ground outside of their St. Thomas experience. O'Brien is originally from New Orleans and earned his Bachelor of Arts from the University of St. Thomas where Cuneo received his Masters in Education after earning his Bachelor of Science from the University of New Orleans.
Cueno's introduction to St. Thomas was the 1989-90 academic year. O'Brien had already been on board since 1987 but only through some serendipitous circumstances that would suggest that Denzel Washington's Equalizer was indeed correct – "We all end up where we're supposed to be."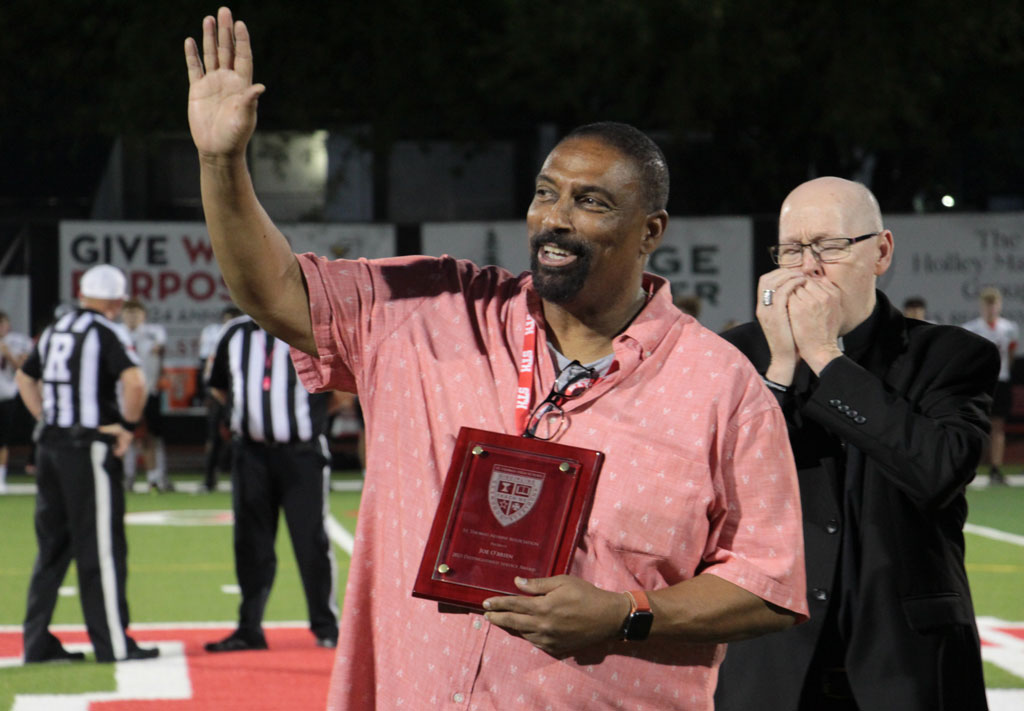 "Father James Gaunt passed me in a car on campus," O'Brien recalls in almost disbelief from his final days as an undergraduate. "He backed up to tell me there was a job opening to check out at St. Thomas High School. The next day, he finds me at lunch and says, 'What are you doing? You have an interview at St. Thomas at 1:00 p.m. Go upstairs and shave. I'm going to take you there.' He drove me to meet the principal, Fr. (Charles) Christopher. I walked out of his office with the job, wondering what the hell just happened. It was the grace of God. I had no intentions of staying here in Houston.
"I was in charge of Key Club in those first years, a service organization. I've recently returned to those roots and feel rejuvenated. The reward is having the students see Jesus Christ in as many forms as possible. Now I reaching the sons of young men whom I taught years ago, seeing those wonderful families take shape. What a blessing."
Cuneo echoes much the same sentiment: "I have grown in my spirituality during these years because of the support I've received within the St. Thomas community. It pervades throughout campus and the student body. That's what means the most to me personally."
After graduating from St. Thomas, Bishop Cahill enrolled at Rice University for one year and then entered St. Mary's Seminary in Houston in 1982.
Following ordination for the Diocese of Galveston-Houston in 1990, Bishop Cahill served as parochial vicar of St. Frances Cabrini Parish in Houston until 1992 and then Christ the Good Shepherd in Spring until 1994. He earned his Master of Theology with a specialization in African-American Catholic Studies from Xavier University in New Orleans, then his Licentiate in Dogmatic Theology in 1996 and Doctorate in Fundamental Theology from the Pontifical Gregorian University in 1999.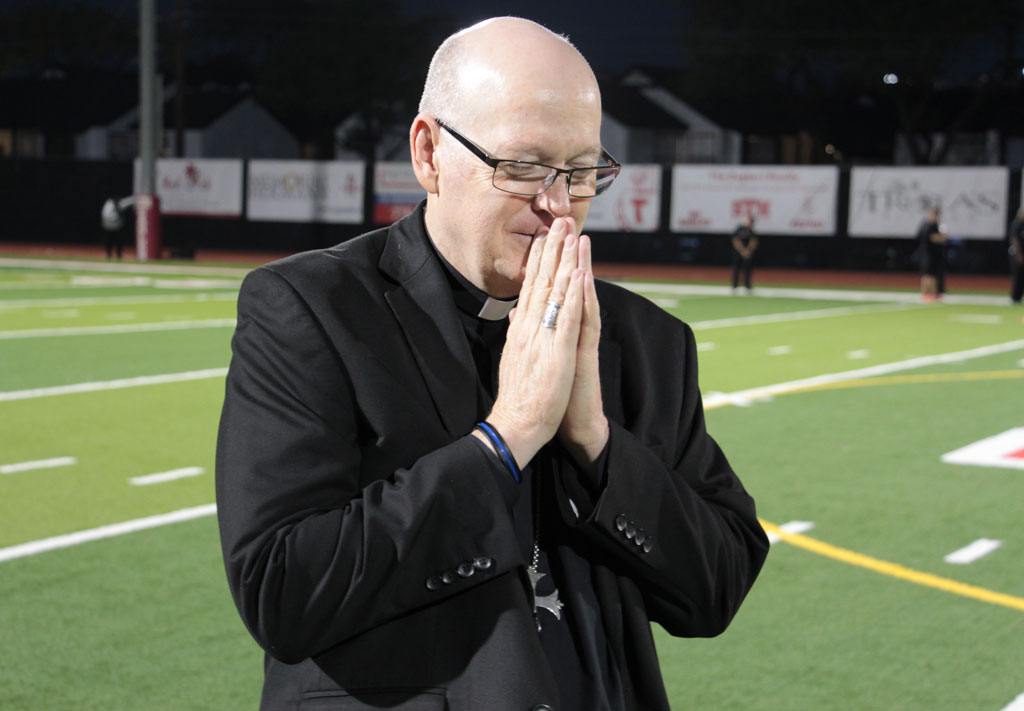 In 2015, Daniel Cardinal DiNardo ordained Bishop Brendan as the third Bishop of Victoria.
Since assuming his position, the Most Rev. Cahill has served on the sub-committee on African-American Affairs of the United States Catholic Conference of Bishops and as a consultor for the USCCB's Pro-Life Committee. He joined the Communities of Faith in Victoria with other Christian, Jewish, and Muslim leaders and has been an active supporter of the Gulf Bend Center Coalition for Mental Health.
Throughout in tenure near decade in Victoria, Bishop Cahill has committed to what he passionately describes as "family evangelization" as the bedrock of his ministry, the prism from which he shepherds his collective congregation – 50 parishes and 17 missions, more than 103,990 registered Catholics within 10 counties, and a population of 293,729.
"We've started a family counseling center that has proven to be a significant resource," Bishop Cahill says. "It's a stressful world in which we live. We've initiated a rosary congress with a devotion to the Virgin Mary and the Eucharist. Our families praying together is beautiful, for peace, for privation for sin, for trusting God's mercy. I believe in building relationships with people more so than facilities. It may be a harvest Mass in Weimer at a winery for the farmers or reaching out to the thousands who were hit hard by Hurricane Harvey. We listen to one another and console each other and raise each other to greater heights."
Catholic. Basilian. Teaching Goodness, Discipline and Knowledge since 1900.